The Giratina V Full Art is a part of the Pokemon Lost Origin expansion pack!
This expansion is one of the last few in the Sword and Shield era of the TCG, as we will be getting a new main series game pretty soon. So it is obvious that the TCG would like to end this significant era with a bang by releasing some of the best cards we've in a while, and that's what they're doing with Pokemon Lost Origin.
It features some great cards which any collector would like to get their hands on. One such card from the expansion is the Giratina V Full Art which has quickly become one of the most in-demand cards. So, in this blog post, we decided to shed some light on the; it's an illustration, and most importantly, its value!
Origins
As we all know, Giratina is the ruler of the Distortion realm, or the Dark Realm, as many call it. In short, it is the Hell of the Pokemon world, where no mortal being would ever want to go; even Giratina didn't want to go there. But was forced to do so.
Arceus, the Pokemon God, banished him to the distortion realm for his malice and evil activities. Since then, Giratina has become the big bad of the Pokemon universe, and the popularity of this Pokemon saw a resurgence with the release of Pokemon Legends: Arceus, which takes place in the Hisui region, which is the old name for Sinnoh.
Trivia
The Lost Origin expansion is heavily focused on the ruler of the distortion realm, and this shows in the number of cards with a Giratina on them. Apart from the Giratina V Full Art, there also are two other Giratuna cards with considerable hype.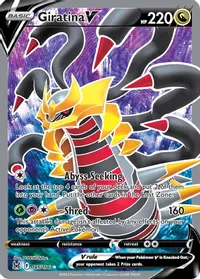 Illustration
The Illustration is one of the most important apsects of a card, and in this Illustration, the artist, who goes by the name N-DESIGN Inc, has nailed the Giratina Design.
The Pokemon is in its origin form, which looks like a worm. The artists also decided to show off the tentacles Giratina has. The art style of the illustrator is very similar to that of the games but just more detailed.
Some notable cards from this illustrator are the Zeraora V and Zeraora VMAX.
Value
The value of the Giratina V Full Art is around $20. That is a lot for a modern TCG card.
Even though $20 is a bit amount for a single card, it still doesn't match up to the best-selling cards from the expansion. As for the future of the card, the price might plummet even more as there is no unique redeeming quality to the Giratina V Full Art, which can be found in cards like Giratina V Alt Full Art. But 
Recommended – The Art of Pokemon: Mewtwo VSTAR from Pokemon GO!