The Mewtwo VSTAR is a part of the Pokemon GO TCG expansion pack!
Pokemon Brilliant Stars kicked off the year 2022 in style for the Pokemon community. The expansion celebrated the Pokemon Brilliant diamond and Shining Pearl Games. The Astral Radiance expansion followed Brilliant Stars and featured some truly fabulous cards; some of these cards are iconic and will be remembered for a long time!
Following these two behemoths' footsteps, the TCG came out with another expansion a few weeks ago, called Pokemon GO. As the name suggests, the expansion is kind of a promotion for the mobile game. The expansion features a few cards that have managed to garner the attention of millions of TCG fans around the globe!
One such card is the Mewtwo VSTAR which has been consistently selling for a very high price on reseller markets. So we decided to shed some light on this masterpiece so that you make an informed purchase if and when you choose to purchase it!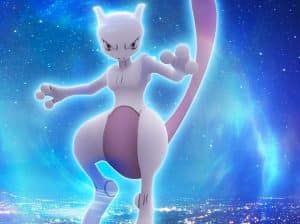 Origins
The card features the menacing Mewtwo, a Pokemon with a special place in every Pokemon fas heart. Mewtwo was one of the first Legendary Pokemon ever and has remained relevant even after decades! The Pokemon still is and is regularly used by players in Pokemon main series games, Pokemon Go, and even the TCG!
Mewtwo is a genetically engineered Pokemon created by the evil team rocket to fulfill their dirty deeds. It is extremely powerful and has been havoc in the Pokemon universe since it was first created by scientists!
Trivia
The Mewtwo VSTAR isn't the only Mewtwo card in the Pokemon Go expansion. The expansion also features the Rainbow Rare and the Golden variant of the same card, and the Mewtwo V Alternate Art, which is more popular than these VSTAR cards!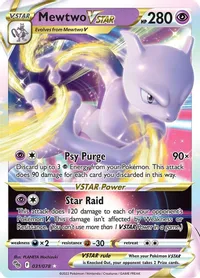 Illustration
In the Mewtwo VSTAR, Mewtwo can be seen creating a ball of energy, getting ready to attack at any moment. The card comes to life because of the pose Mewtwo has been given on the card!
The normal variant looks good, but the gold foil version of the card is something else! The same can be said for the Rainbow foil version!
Value
As of writing this blog post, the Mewtwo VSTAR is sold for around $50 for the rainbow rare variant. The Gold foil is also being sold for almost the same price; the normal variant is not that popular and sold for $15.
The Mewtwo VSTAR is not that great regarding long-term value as many more Mewtwo cards are way better than it. So don't bet on the card doing triple digits in the future!         
Recommended – The art of Pokemon: Secret Rare Mew VMAX Alternate Art Secret from Pokemon Fusion Strike!