Toru Hagakure Provisional Promo is a part of My Hero Academia Universus!
My Hero Academia one of the best shounen anime that is airing right now; it has managed to garner a massive fan base around the globe, thanks to the diverse cast; almost every fan has a different favorite character from this show, so to capitalize on the fame of these characters Jasco games came out with the first-ever My Hero Academia Collectible Card Game, MHA CCG for short!
The card game received a lot of hype ever since its set dropped, titled UniVersus. The set includes some of the best MHA characters with excellent illustrations. As expected, the fans went crazy, and the cards are being sold for ridiculous prices.
On such card is the Toru Hagakure Provisional Promo; as the name suggests, it was given out at a promotional event, so not many players own it, making it rare!
It is being sold for high prices, so we decided to do a blog post on it, explaining its current price predictions for the future, some fun trivia, and more!

Origins
Toru Hagakure is a student at UA High school; she studies in the same class as our protagonist in the show and can also be seen hanging around with other female characters. Toru has the weirdest quirk; she stays invisible; she is invisible even when she is not fighting. As of now, no one has seen her face in the anime.
That said, even though no one has ever seen her, she still has fans. Now you might be wondering how this happens. Well, look no further than the beach episode!
Trivia
Apart from the Toru Hagakure Provisional Promo, the MHA CCG has also released the above-shown promos, which look just awesome!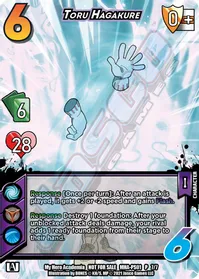 Illustration
Toru Hagakure Provisional Promo has no illustration except for her hands. Still, the card became a valuable asset from the first set. It is probably the only card where you can't see anything, but it still sells for a high price!
I've heard that there's beauty in simplicity, but finding beauty in nothing is a whole new concept that MHA fans have managed to discover.
Value
The Toru Hagakure Provisional Promo is being sold for around $50, and there are not many of these cards out there. Ther is a limited amount, so if you want to get a hold of it, now's the chance.
As it is one of the first promo cards and one of the weirdest ones, it will be a great addition to any collection.
Recommended – Frigid Heatwave (XR) from My Hero Academia: UniVersus!