Frigid Heatwave (XR) is a part of My Hero, Academia: Universus!
My Hero Academia is a massively popular shounen anime right now, it has one of the biggest fan bases, and fans just love to see the characters from the anime on screen. The author has managed to craft really great characters that keep the viewers engaged.
The show's characters are its strongest points. The folks at Jasco understood this and came out with the My Hero Academia collectible card game! The Card Game space is very new for MHA. There were a lot of doubts when the game was announced. Still, surprisingly, the game has received a lot of hype ever since its release, and the cards are being sold for hundreds of dollars on resellers' markets.
One such card from the My Hero Academia Universus set is the Frigid Heatwave (XR), which features the one and only Shoto Todoroki. He is one of the most popular characters in the show; some might even say he's more popular than Deku.
In this article, we'll shed some light on Frigid Heatwave (XR) and analyze why it is priced at such a staggering amount that it is right now.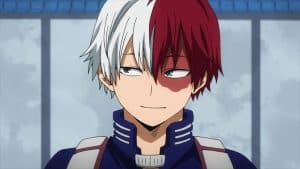 Origins
Shoto Todoroki is a student of class 1-A in UA High School, where the most talented individuals go. Shotto is one of the strongest at his school with his quirk Half Hot Half Cold.
He shows immense potential but initially is not very keen on using his fiery side, which came from his father. His father is the number 2 hero endeavor who abused Shoto's family to create the best Hero possible. Because of this, his relationship with Shoto isn't the best.
Trivia
Apart from the Frigid Heatwave (XR), the set also features two more cards that feature Shoto Todorki, worth checking out. They are being sold for a lot of money and feature some excellent artwork!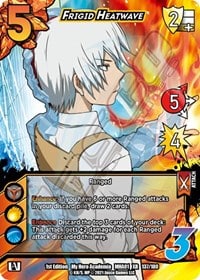 Illustration
The illustration on a card can make or break its demand in the market. Fortunately, the artist has done a great job depicting Todoroki in the Frigid Heatwave (XR). The card shows Todoroki from behind and also adds fire and cold ice in the mixture to make the card more unique.
The illustration on Frigid Heatwave (XR) is one of the best in the entire set, and this is the first-ever MHA set; this card holds a lot of value!
Value
As of writing this blog post, the Frigid Heatwave (XR) is being sold for anywhere between $60-80 on multiple sites. The card's price might also vary depending upon the condition of the card and the supply of the card in the market.
As for the future of this card, MHA is certainly a top-rated show. Todoroki is a beloved character. And this set is the first-ever MHA set, so this card might value a lot in the future.
Recommended – One for all: Full Cowling 5% Strike from My Hero Academia: UniVersus!