One for all: Full Cowling 5% Strike XSR is a part of My Hero Academia: UniVersus!
My Hero Academia is probably the best shounen anime airing right now. It has been getting better and better with every new season, and the fans are always keen on seeing their favorite characters back on the screen. The characters in My Hero Academia are super popular, every single character from class 1-A can get their own show and it'll be successful.
To capitalize on the popularity that My Hero Academia commands, Jasco Games has recently come out with the first-ever My Hero Academia card game. The cards from the set look awesome and many fans of the show who never played cards before have started entering the space.
There are many cards in the set that deserve your attention, but nothing beats the One for all: Full Cowling 5% Strike XSR which features the protagonist of the show, Izuku Midoriya, or Deku!
In this blog post, we'll shed some light on One for all: Full Cowling 5% Strike XSR, what are its origins, some fun trivia, what the illustration means for the card, and its value. all this and more in the blog ahead!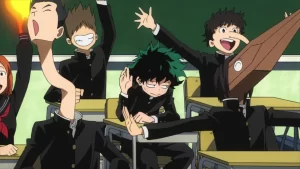 Origins
Izuku Midoriya the boy who was born quirkless in a world where quirks' are everything. He always strived to be a hero, but without any superpowers, it seemed impossible. Until his role model, All Might decided to give some of his hair to Izuku.
The hair wasn't given for some weird reason, the hair actually is used to pass on the powers that all might passed, and by giving his hair to Izuku to eat he was passing down his powers to Deku who now has to train hard to control it!
Deku is one of the most popular shounen characters of all time at this point, and the card which features him is ought to sell at high prices!
Trivia
This set feature two more chase cards that have Deku on them.
According to artists who drew Izuku, they had drawn him in a way so that he looks plain and simple to suit his personality more.
Deku's favorite dish in the show is Katsudon a type of rice dish with broth on it.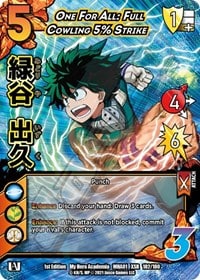 Illustration
One for all: Full Cowling 5% Strike XSR features the one and only Deku on it. Deku can be seen in action in the illustration as he tries to punch his way through some enemy. He is seen using his quirk "One for all" but only at 5% power as seen in the anime.
Any more than that and he can end up breaking his arm in battle by his own power. The card's blue background creates a great contrast with the red lightning that can be seen coming out of Deku's hands. This makes One for all: Full Cowling 5% Strike XSR pop out even more!
Value
As of writing this blog the card is selling for more than $200 no TCGplayer.com. Apparently, the cards were selling for an even higher price point before. As this is the first edition, One for all: Full Cowling 5% Strike XSR is really valuable and will be a gem in your collection!
Recommended – Nitro Explosion Ignition XSR from My Hero Academia: UniVersus!