The Aerodactyl V Alternate Full Art is a part of the Pokemon Lost Origin expansion pack!
The Pokemon Sword and the Shield Era is coming to a close, and soon we will be getting a brand new Pokemon main series game, which also might be the last one of the Nintendo Switch. I don't know if we should be excited about the new generation or sad about the passing of the Sword and Shield gen, which was a great one.
Pokemon surely want to end this era with a bang, so they have added many great cards to the expansion releases. The Lost Origin expansion is one such expansion that features some genuinely remarkable cards.
One such card from the expansion is the Aerodactyl V Alternate Full Art which has quickly become a classic in the community. This blog post will shed some light on this card, its origins, the illustration, and the value it commands and might command in the future!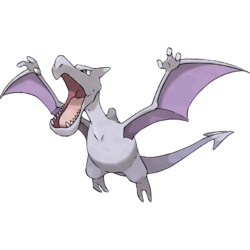 Origins
Aerodactyl is one of the first fossil Pokemon, and it shows in its design. It looks like a dinosaur, but with less detail and pretty purple color. But don't let that pretty color fool you; the Aerodactyl is one ferocious carnivore known to be an excellent hunter.
Its jaws which, as you can see, are massive, have been its main weapon for centuries and continue to be so.
Trivia
The Lost Origin Expansion went crazy with their love for the Aerodactyl. They have a lot of cards featuring this majestic beast, and almost every card is excellent, just like the Aerodactyl V Alternate Full Art.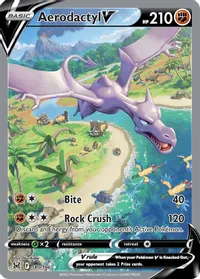 Illustration
As for the illustration, it has been done by the super talented Nurikqabe. They are artists whose cards seem to depict the Pokemon in action, which adds just another layer of awesomeness to the cards. In the Aerodactyl V Alternate Full Art, the artists tried to paint a picture of the world the Aerodactyl inhabited.
The art style is also very reminiscent of the Pokemon anime, but just with much more detail, making it a precious collector's item. Overall, the card has managed to grab the attention of many Pokefans and will continue to do so in the future.
Value
As for the value of the Aerodactyl V Alternate Full Art, it is sold for around $120-150, depending upon the site you visit and the condition of the cards.
The card might very well hold on to this price in texture just because of how well done the illsutarion is. When people think about the Lost Origin expansion, the Aerodactyl V Alternate Full Art is a card that'll come to mind, and that's what any good artist would want—creating a truly timeless classic.
Recommended – The Art of Pokemon: Mewtwo VSTAR from Pokemon GO!