The Rotom V Alternate Full Art is a part of the Pokemon Lost Origin expansion pack!
Pokemon Legends: Arceus was a game changer in the world of Pokemon, and it set a tone for the game that will be released from now on. So when We saw the trailer for the 9th gen games Scarlet and Violet, it was clear that we would be getting something better than Legends!
But this also means that the Sword and Shield era of Pokemon will soon end, so to bid a grand farewell to this beloved generation, the last few expansion packs have been coming out with some fabulous cards! One such card from the Lost Origin expansion pack is the Rotom V Alternate Full Art!
It has been doing great numbers on the internet and probably is the most valuable card from the entire expansion this year! So we decided to shed some light on this fantastic piece of art, see what makes it so popular, and try predicting its future value!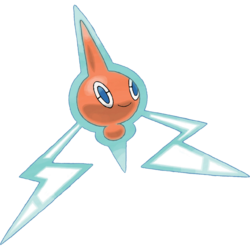 Origins
Rotom is a unique Pokemon; its body is composed of plasma, a substance that allows the Rotom to transform into one of its five different forms. The Rotom doesn't transform; it enters appliances and starts controlling them!
Each form has a different ability and unique way of glitching, making Rotom one of the weirdest Pokemon in the game, second only to ditto.
Trivia
The Lost Origin expansion features more than one Rotom card; these two are popular in the community and command a reasonable price.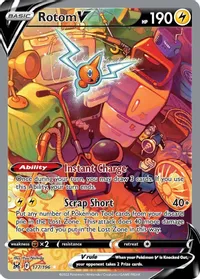 Illustration
The illustration on the Rotom V Alternate Full Art is its most significant selling point; the artists have made sure that the card is as detailed as possible to make a card that'll stand the test of time. The Rotom can be seen in the room, surrounded by appliances, which, as we know, Rotom can possess at will.
Value
The Rotom V Alternate Full Art is sold for around $50 on multiple reseller sites. The price may vary depending upon your region, the condition of the card, and the time you read this blog post.
Judging by the current hype surrounding the card and its illustration, it won't be wrong to say that the Rotom V Alternate Full Art will stay relevant for a long time, for atleast a few years. So it surely will be a great addition to any Pokemon TCG collection. As for the future return value might go up or it might go down; no one can predict that.
So if you love the card, buy it, and don't worry about its future value.
Recommended – The Art of Pokemon: Mewtwo VSTAR from Pokemon GO!