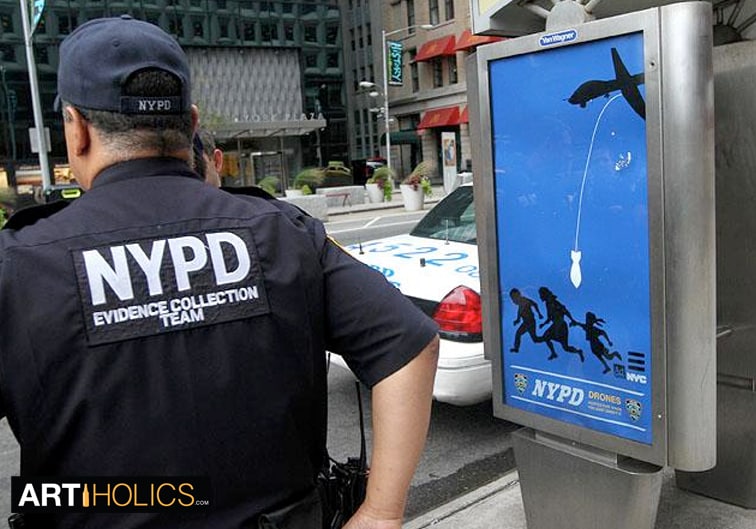 New York, NY – Wednesday, July 24, 2013
Late last year Street Artist Essam was arrested for a highly charged NYPD drone fake ad campaign he hung around the city.  In mid-March I went to a fundraising art event at Mother hosted by Animal NY to help pay his attorney and court fees.
The list of artists that donated work to the silent auction included Clay Patrick McBride, Dan Witz, Peter Max, Tanyth Berkeley, GILF, Mr. EWOKONE, Patrick Waldo, Jaron Berman, QRST,Stash, SERVO, Army of One, Adam Dare, and many more.  There were also musical performances by Ben Morgan, Danny Musengo​, California Kings​, Motherwell Johnson​, and Ludlow Thieves.
I caught up with Essam a few months later to see what had resulted from the auction, and how the case was going after all the dust had settled.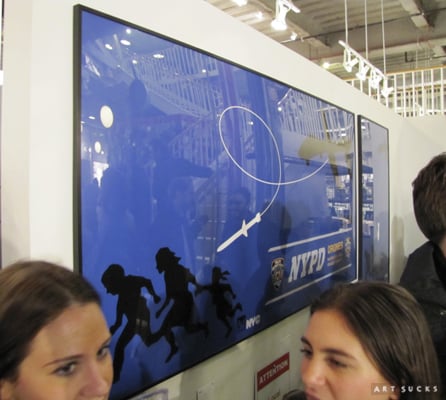 Artiholics: "First off, can you give me a little run down of what exactly happened for any of my readers who might be living outside of NYC who might not have caught the story?"
ESSAM: "On November 28th the NYPD intelligence/counter terrorism unit came knocking on my door and arrested me for allegedly placing mock NYPD public service announcements all over Manhattan.  The ad's said things like 'Always Watching,' with Bloomberg's face, cameras and drones ominously watching overhead, and "NYPD Drones, protection when you least expect it," with a drone firing a hellfire at a fleeing family. Needless to say the NYPD was none to pleased."
Artiholics: "What charges did they slap you with?"
ESSAM: "I'm being charged with Grand larceny, criminal possession of stolen property, 56 counts of criminal possession of a forged instrument, and criminal possession of a firearm for my great grand fathers antique revolver."
Artiholics: "Who proposed the Free Essam silent auction?"
ESSAM: "The silent auction and concert were actually first proposed by my close friend Danny Musengo, the lead singer of Ludlow Thieves who headlined the performance that evening. I spent a week thinking, 'I either let this ruin my life, or I try to use the momentum in the press to make something of this'. In hind sight it seems like a no brainer."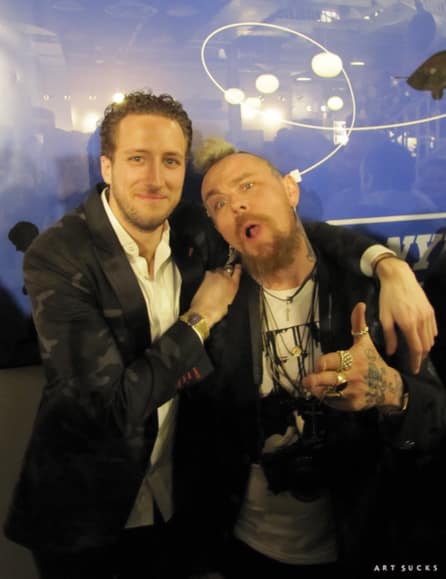 Essam (Left) with Clay Patrick McBride.
Artiholics: "How did you get such an eclectic mix of artists to donate work?"
ESSAM: "Well, I received a formal arts education at SVA, and having been older than most other students due to my previous military service, I formed some very lasting relationships with the faculty, a few of which were instrumental in making the benefit happen. Mainly Clay Patrick McBride who was the MC for the evening, is a very well known and respected photographer in the music and sports industries and really went to bat for me. Through him I was able to meet many of the artists who donated, including one of the performers."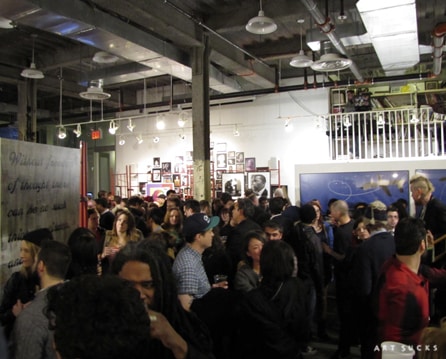 Artiholics: "Anyone show up at the party you didn't expect to?"
ESSAM: "I met a lot of people that I was honored to have in attendance to include one of the heads of Ron Paul's presidential campaign, the wall street journal, a representative from Adam Harvey's studio, but I was most surprised to see photographer Kareem Black, who's presence usually signifies 'this' is the cool thing to be doing, and collector W. H. Hunt who is one of the bigger collectors and curators of photography in New York. There was also an Assistant District Attorney in attendance which made me a little nervous."
Artiholics: "Did the party raise a lot of funds?  Anyone offer up a get out of jail free card?"
ESSAM: "I managed to raise about $13,000 front the event itself and another $10,000 through the sale of work online with 1xRun, which in total nearly covered the cost of my attorney, so i'm happy, though a get out of jail free card would have been nice. I did make a piece for Libertarian Billionaire Peter Thiel and sent it along with a letter to his place of business in San Francisco in hopes of at least having an ally in the fight but I never received a response."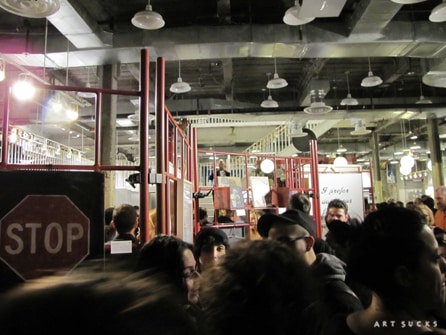 Artiholics: "Have you had to return to court since the party?"
ESSAM: "I have, I went back on May 1st, the case was adjured until August 5th.  To date there has been no progress in the case, My attorney is in communication with the district attorney to negotiate a plea bargain. The only real progress is soon I may finally be receiving my computers and hard drives that were taken in the raid."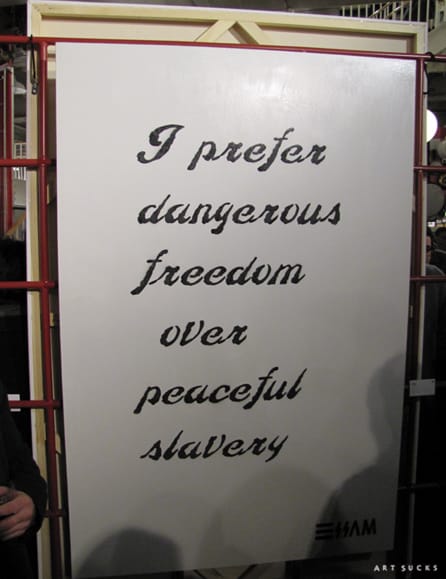 Artiholics: "What's next on the horizon for you artistically?  And where can we keep tabs on your openings and events?"
ESSAM: "Right now I'm working with 1xRun on another edition of screen prints and I'm putting together work for a couple shows. No dates are set but you can keep updated with both my photography and my street art at www.eadamattia.com and www.freeessam.com, Free_ESSAM is on all social media as well."
To support the FREE ESSAM campaign, you can buy a poster, the first two posters have sold out.  The third edition of posters are now available to purchase on 1xrun.com  (here)

You can also sign the petition to drop the charges against Essam, on ForceChange.com
Interview and Photos by Cojo "Art Juggernaut"
(header image by The Daily News)