The Himiko Toga XR is a part of the My Hero Academia Crimson Rampage expansion pack.
My Hero Academia Collectible Card game is one of the best card games released in recent times. Ever since the initial release, it has managed to garner a lot of support from the MHA fans and also from the casual TCG players. The game features incredible artwork of the already very popular characters from the anime.
The characters from the show are some of its biggest strengths; they have managed to create a cast so diverse and unique that MHA is one such show in which the side characters are more popular than the main protagonists. This just gets to show how well detailed the characters are.
The brand new expansion, Crimson Rampage, features a lot of unique cards; one such card is the Himiko Toga XR, which obviously features Himiko Toga. The card is trendy at the moment, so we decided to create a blog post dedicated to this card's glory; so let's dive into it!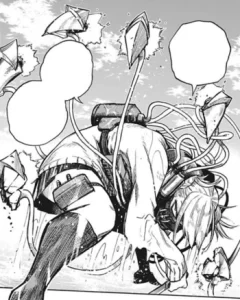 Origins
Himiko Toga is one of the deadliest members so the league of villains; her quirk is so dangerous that without even using it, she can kill people. Her Quirk allows her to take the form of any person she wishes to, but to do so, she has to ingest their blood first. So she literally carries needles around with her to suck the blood out of people; the loss of blood kills many people!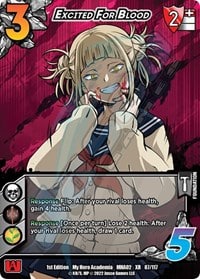 Trivia
Himiko Toga is a popular character. She has multiple cards in the expansion; one such card is shown above.
Himiko Toga is also popular for her sexuality. She was one of the first bisexual characters to be introduced in the anime!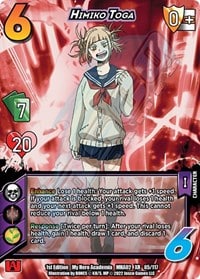 Illustration
The Himiko Toga XR features the villain in her daily attire; yes, she dresses like this even in battles; as her quirk transforms her into other characters, she doesn't really need a costume. She only needs syringes to suck up the enemy's blood!
The pose she stands in is also very reminiscent of her crazy personality.
Value
As of writing this blog post, the Himiko Toga XR is going for around 50 dollars o multiple websites. The card value will also depend upon the time you are reading this blog post and the condition. Still, a near-mint a mint condition card will be sold for $50+.
The card features one of the best characters from the show and is one of the first cards to show her in the Card Game this makes it a card that you need to have in your collection!
Recommended – Joint Effort XR from My Hero Academia Crimson Rampage