The Joint Effort XR is a part of the My Hero Academia Crimson Rampage set!
The My Hero Academia Collectible Card game has managed to garner a lot of attention from the fans of TCG and the show. The card game quickly rose to prominence and right now is one of the best-selling card games around the globe, thanks to the lovable characters that My Hero Academia boasts.
The first edition set was received with praise, and it didn't take the creators much time to come up with the next expansion pack, which is My Hero Academia Crimson Rampage! The expansion features some of the best cards that we've seen in this TCG, especially cards that feature fan favorites!
One such card from the expansion is the Joint Effort XR which probably will become the most valuable in the expansion. The card features two of the most popular characters in MHA and probably all of the shonen right now, Deku and Bakugo.
Let's dissect this card, and see what makes it so popular and its value!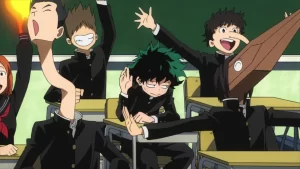 Origins
Deku and Bakugo are pursuing the Pro Hero course in the prestigious UA High School for heroes. They both are passionate about what they want to do and push each other to do better, especially Deku. He started off as a kid with no quirk, and Bakugo has all the power in the world.
His quirk was one of the best ones you can get; that dude could literally blow up anything he wanted. But Deku soon acquired a quirk as powerful as Bakugo's this obviously made him angry at Deku. Since then, they have developed a dynamic similar to Goku and Vegeta!
This dynamic looks really cool on Joint Effort XR!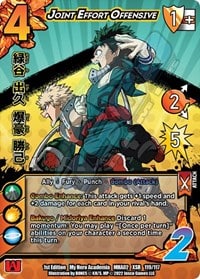 Illustration
The card features both Deku and Bakugo charging at someone with all the force they can muster. The duo is probably in a battle and is charging at the enemy; this makes for a great pose, especially on a card. Both are in their Hero Attire which is loved by the franchise's fans! The card's background doesn't have a lot going on, which helps us focus on the duo!
The background features the colors of Deku and Bakugo in conjunction, symbolizing the team spirit that they share in Joint Effort XR.
Value
As of writing this blog post, the card has been valued at $150. This might change depending upon the card's condition, but judging by this bas price, it is fair to say that the card is in high demand right now. As mentioned before, Joint Effort XR has the most popular characters on the card; this makes it a valuable asset in any collection, especially when you consider that this comes from one of the first expansions for the MHA TCG!
Recommended – Summon Dark Shadow (XR) from My Hero Academia: UniVersus!