Rikido Sato is a part of My Hero Academia: Universus!
My Hero Academia is one of the best shounen anime on air right now and has a massive fan following. It is a one-of-a-kind show in which we've seen side characters getting as much hype as the main character. So to capitalize on this ever-increasing fandom, Jasco came out with the first-ever My Hero Academia Collectible Card Game!
The massive cast that My Hero Academia boasts gives Jasco a ton of space to work with; they can create amazing cards for almost every hero in the anime and their special moves. This results in a first edition set with some fantastic cards, and as this is the first edition, fans are going crazy trying to get their hand on some of the chase cards in the set.
One such card from the set is Rikido Sato which features Rikido Sato, aka The sugar hero, Sugar man! As mentioned earlier, MHA has a lot of heroes who fans love apart from the protagonist, Rikido Sato is one such hero, and his card is doing decent numbers on the reseller markets. Let's see why it is getting so much attention so that you can make a calculated judgment before buying it!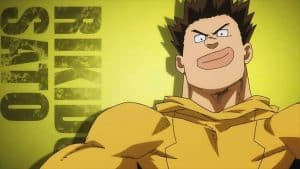 Origins
Rikido Sato is a student of Class 1-A in UA High School, the best hero training school in all of Japan. His hero name is Sugarman which correlates with his quirk. Sugarman's abilities allow him to consume sugar and become more powerful, enabling him to get superhuman strength.
His special move is called Sugar Rush. He consumes sugar and throws a flurry of devastating punches at his enemies. I'd keep pastries away from this guy if I ever got into an argument with him!
Trivia
The name Sugarman is also seen in Marvel comics as a villain who is not widely known.
Sugarman ranked twelfth in the Quirk Apprehension test, so he is mid when it comes to power levels in his class. His favorite food is cake (who would've guessed that)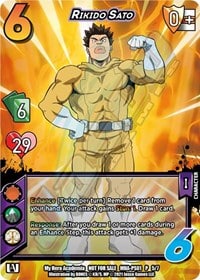 Illustration
The Rikido Sato card features himself standing in a pose that the fans are familiar with. He is a strong kid, and when he eats sugar, he gets more robust, so it is important to have an illustration that depicts his strength to the fans, and this card does a great job at doing that. The background of the cards is in classic MHA art style!
Value
Rikido Sato, at the moment, is selling for around $80 on multiple resellers' websites. This price may fluctuate depending upon the card's condition and also location. The card is the first edition and has a popular character on it might hold its value in the long run. But no one can tell if it will appreciate in value or not, as the MHA card game is still pretty new!
Recommended – One for all: Full Cowling 5% Strike from My Hero Academia: UniVersus!