Summon Dark Shadow (XR) is a part of My Hero Academia: Universus!
My Hero Academia has emerged as one of the best shounen anime of all time in recent times;. However, it takes a lot of inspiration from its predecessors; it does many things better than them. The characters in MHA, for example, are some of the best that we've seen in a while; in fact, the characters are so loved by the community that multiple characters in the show are more popular than the protagonist himself!
So to capitalize on this newfound fame for the franchise, Jasco came out with the first-ever My Hero Academia Collectible Card Game, and it features some amazing cards! And as the set is the first edition of the game, the fans have received it very well, especially popular character cards!
One such card from the bunch is the Summon Dark Shadow (XR), which has been one of the highly-rated cards in the past few weeks and demands a high price from anyone who wants to get a hold of it; let's shed some light on this card and what makes it so popular!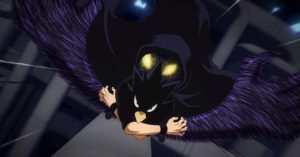 Origins
As many of you know, Summon Dark Shadow (XR) features the hero called Jet-Black. His real name is Tokoyami Fumikage. He is a part of the Class 1-A at UA high school and is a friend of Deku, the protagonist of the show!
Fumikage's quirk allows him to host a dark monster in his body, which can retract and contract on will. Still, too much brightness makes it weak, so it goes back inside Fumikage's body!
So this means that when there's no brightness out there, the dark shadow monster is the most powerful, hence Tokoyami's hero name, Jet-Black!
Trivia
The My Hero Academia Universus First Edition set features not one. Still, two Tokoyami cards look amazing, to say the least!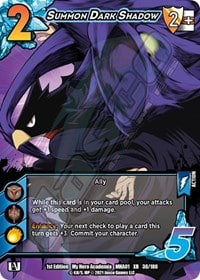 Illustration
Summon Dark Shadow (XR) features Tokoyami in action and his trusted ally, dark shadow, which can be seen out on a hunt for his next enemy. The card has made sure to put Tokoyami in his natural fighting position; this makes the card even better to look at, as a normal standing pose would've been boring!
Value
As of writing this blog post for the Summon Dark Shadow (XR), the card has been being sold for over $30. No, this goes without saying, but just as an extra measure, I'd like to include that this $30+ price is reserved for cards in perfect mint conditions. There are also cards out there that are not in every good condition and are being sold for a lot less.
As for the future value of the card, no one can predict it accurately, but like this is the first edition of the MHA card game, there's a good chance that the chase cards from this set become valuable in the future!
Recommended – Frigid Heatwave (XR) from My Hero Academia: UniVersus!