Kurogiri is a part of My Hero Academia: Universus!
My Hero Academia is one of the most highly rated shounen anime. It has been steadily increasing its cult-like fan base over the years, and in 2022 it is by far the most popular shounen anime out there. The fans love the show and the characters it has; this is for the first since Naruto when fans have loved side characters as much as the main character!
To capitalize on this enormous fan following these characters have, Jasco games came out with the first-ever set of My Hero Academia Collectible Card Game which features some fantastic cards.
One card from the set with a great illustration is Kurogiri, featuring, Kurogiri! The card has been really popular ever since the set dropped, so let's take a look at some essential features and facts to understand why it's so hyped up.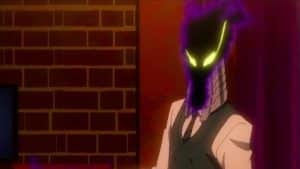 Origins
Kurogiri was one of the first villains to be shown in the anime. He has a peculiar face; it's a purple smoke with two yellow eyes piercing the smoke. His powers are powerful, allowing him to create portals that can be used for instant travel. This power has saved him many times!
Kurogiri is nomu who was created by doctor Kyudai Garaki to protect Tomura Shigaraki!
Trivia
Kurogiri is the first nomu to appear in both the manga and the anime!
His name contains Kanji for the color black!
He wears a protective neck armor piece that protects him, as this is the only place where he can't generate the protective fog!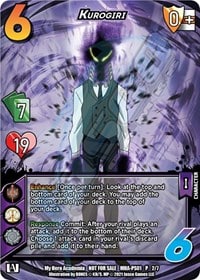 Illustration
The illustration of the cards is the first thing many card collectors look at, so if an illustration is great, the card will also sell for a higher amount. Kurogiri's card features him standing in his signature pose with a great background that looks like a portal is about to form.
The card is also perfect when playing the game. Hence it has such a high price even though Kurogiri isn't one of the popular characters from the show.
Value
As for writing this article, the value of the Kurogiri card is set around $60, which is just crazy as Kurogiri isn't one of the most popular villains out there, but as I mentioned earlier, the card is also perfect in the actual game. Hence it has a higher value.
The card's value will only increase in the future as it is from the first MHA card game set. If history's anything to go by, first edition cards tend to appreciate in value.
Recommended – Frigid Heatwave (XR) from My Hero Academia: UniVersus!