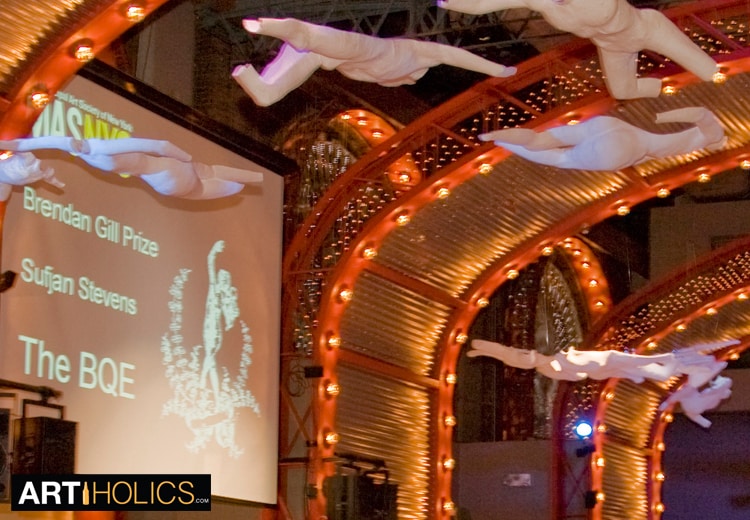 New York City – Friday, December 6, 2013
Do you know of (or did you create) any great new New York City works of art completed in 2013?  The Municipal Art Society of New York (MAS)  is now accepting nominations for their annual Brendan Gill Prize.
For more than 25 years, MAS has celebrated the creation of uniquely New York works of art—in all forms.  Each year MAS honors the creator(s) of a work of art made during the previous year that captures the energy and spirit of New York City with an endowed cash prize.  Eligible works can be a book, poem, play, art installation in any medium, architectural or landscape design, musical composition, or choreographed performance, or other art form. Whether the nominated individual or group is well known or just emerging, the goal of the Gill Prize is to draw attention to the varieties of artistic experience that enrich our contemporary life.
The prize is named for longtime New Yorker theater and architecture critic, champion preservationist and former MAS chairman, Brendan Gill.  A man of extraordinary intelligence and wit, Brendan shared his remarkable talents with New York City and with MAS until his death in 1998.  The prize was established in 1987 in honor of Brendan Gill by friend and fellow MAS board member Jacqueline Kennedy Onassis along with board members Helen Tucker and Margot Wellington.
The winner will be selected by the Brendan Gill jury, an esteemed group all intimately involved in the arts and culture of the city.  Among the many varied and accomplished past winners of the Brendan Gill Prize are; Christo and Jeanne-Claude, Louis Kahn (posthumously), Sarah Jones, Phillip Lopate, John Morse, Allison Prete, Sufjan Stevens, Michael Van Valkenburgh, and Mike and Doug Starn.  For more information about past year's winners and for the 2013 nomination form, click here.  MAS will celebrate and award the winner during their annual meeting in March 2014.
All submissions must have been completed and produced between January 1, and December 31, 2013. Nominations will be accepted through January 6, 2014.


For any questions, contact Phyllis Cohen at pcohen@mas.org or 212-935-3960 x1224.
Posted by Cojo "Art Juggernaut"