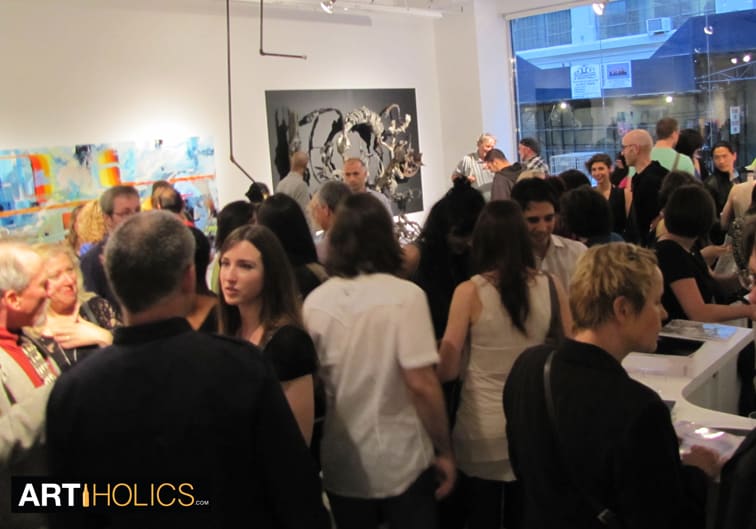 NEW YORK CITY – Monday, December 9 – Sunday, December 15th, 2013
Artiholics.com Presents: NYC Gallery Going Art Opening Picks For This Week.
While a lot of galleries were recovering from their trips to Miami Beach for Art Basel last week, others still in NY were hanging their new exhibits.  Here are some openings coming up this week that should put people back into the NY state of mind.
6:30 pm – 8:30pm $ Holiday & Chip Kidd | Type Directors Club – 347 W 36th St., NYC
7:00 pm  Draw-mania! | Fish Bar – 237 E. 5th St, NYC
8:00 pm  Bridging Bushwick Discussion | The Living Gallery BK – 1094 Bdway, BKLYN
7:30  The Line Blurs :  Filmmaking | DCTV – 87 Lafayette St., NYC
7:00 pm – 9pm Typhoon Haiyan Benefit | The Lodge Gallery – 131 Chrystie St., NYC


Wednesday, December 11th, 2013

7:00 pm  Gary Stephan Lecture | SVA – 136 W. 21st St. 418F, NYC
6:00 pm – 9pm Rafal Olbinski | Studio Vendome – 330 Spring St., NYC
5:00 pm – 8pm STIK The Liberty Project | Dorian Grey Gallery – 437 E. 9th St. NYC
6:00 pm – 9pm Black & White Group Exhibition | Dacia Gallery – 53 Stanton St., NYC
6:00 pm – 8pm Danielle Durchslag | Denny Gallery – 261 Broome St., NYC
6:00 pm – 8pm Touch The Moon | Louis B. James – 143b Orchard St., NYC
6:00 pm – 8pm Domonique Echeveria | Strange Loop Gallery – 27 Orchard St., NYC
6:00 pm – 8pm Drunk-Tank Pink | Field Projects 526 W.26th #807, NYC
Friday, December 13th, 2013
7:00 pm – 9pm Mapping Heaven | Front Room Gallery – 147 Roebling St., Bklyn, NYC
6:00 pm  Ways and Means : JMR | Mighty Tanaka – 111 Front St, Dumbo NYC
6:00 pm – 9pm Tetes | Storefront Ten Eyck – 324 Ten Eyck, Bushwick,NYC
6:00 pm – 8pm Let's smell it together | CUE Art Foundation – 137 W. 25th St., NYC
Saturday, December 14th, 2013
3:00 pm Mandy Patinkin & Taylor Mac | Abrons Arts Center – 466 Grand St., NYC
11:00 am – 5pm Ridgewood Artisan Market | Gottscheer Hall – 657 Fairview Ave, QNS
 Written by Cojo "Art Juggernaut"