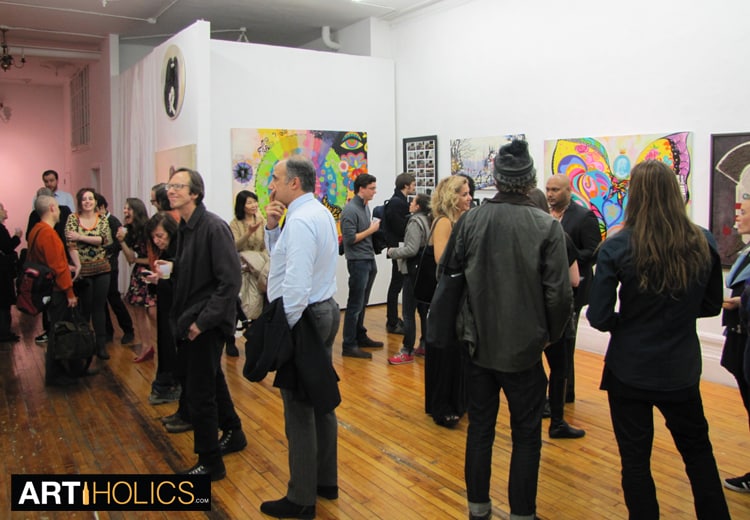 Lower East Side, NYC – Tuesday, December 10, 2013
In case you haven't been paying attention, galleries have been sprouting up in the Lower East Side left and right. With hundreds of galleries in the LES , it's hard to keep up with all the openings. Artiholics has your back when it comes to know which galleries to check out, and what upcoming and established artists are making their presence known.
Last Thursday, the Broadway Gallery displayed the work of ninteen artists in the opening for their newest show Artists at Home and Abroad: December Edition. The theme was simply International and local emerging artists showing together in New York. This is a special gallery that seeks new talent with very little gallery experience, and helps upcoming artists network with internationally renown artists. This article is a recap of that show. I encourage you to check it out.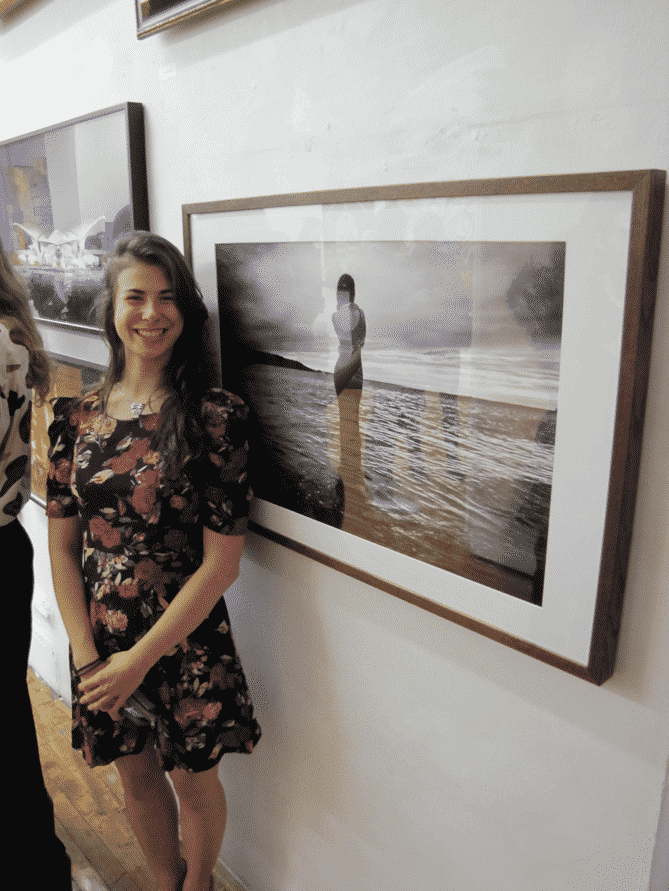 An artist that particularly caught my attention was Loreal Prystaj. Her work on display was a dramatic black and white photograph with a gorgeous composition. This piece showed the back of a woman, gazing out into the horizon of a vast body of water.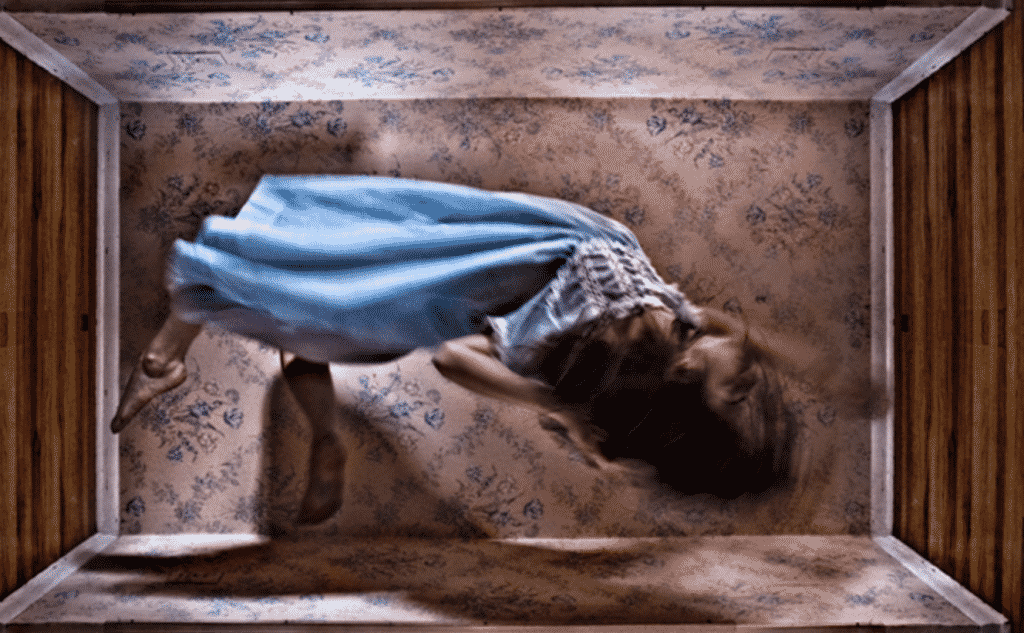 This piece intrigued me, and I later discovered more of Loreal's work, which turned out to be stunning. Way to go Loreal. Hopefully she'll have a solo show soon. She certainly deserves it, and will surely captivate a large overcrowded gallery at that opening.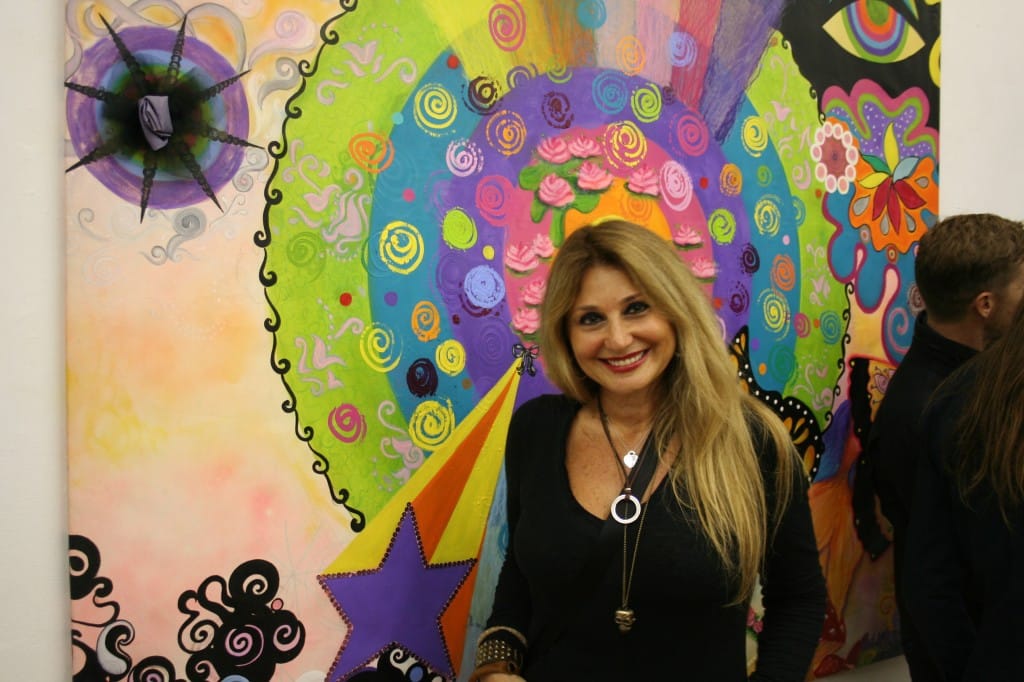 Another artist, Paola Frisoli, had two large vibrant paintings on display. Frisoli takes you into her colorful world, and you quickly realize that she wants to bring simply happiness to the viewer in a playful and childlike manner. She has come all the way from Sao Paulo, Brazil.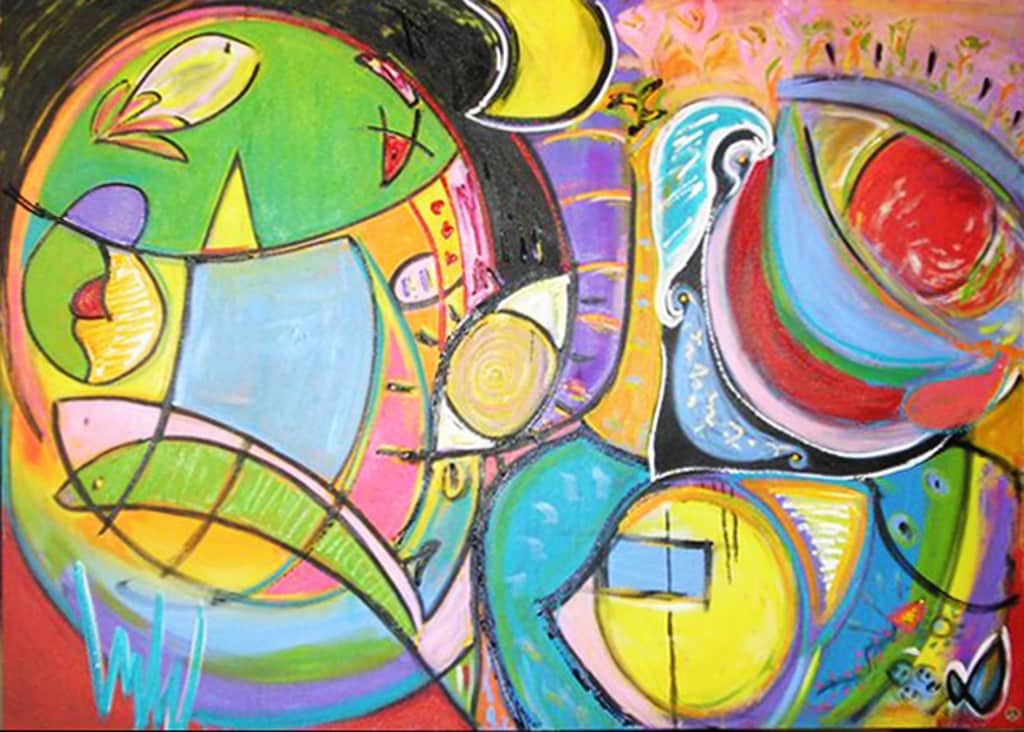 Her artwork, she describes, favors the colors, with their volumes and symbols, where there is harmony between the point and understanding." She doesn't speak English fluently, but she radiated a peaceful and benevolent vibration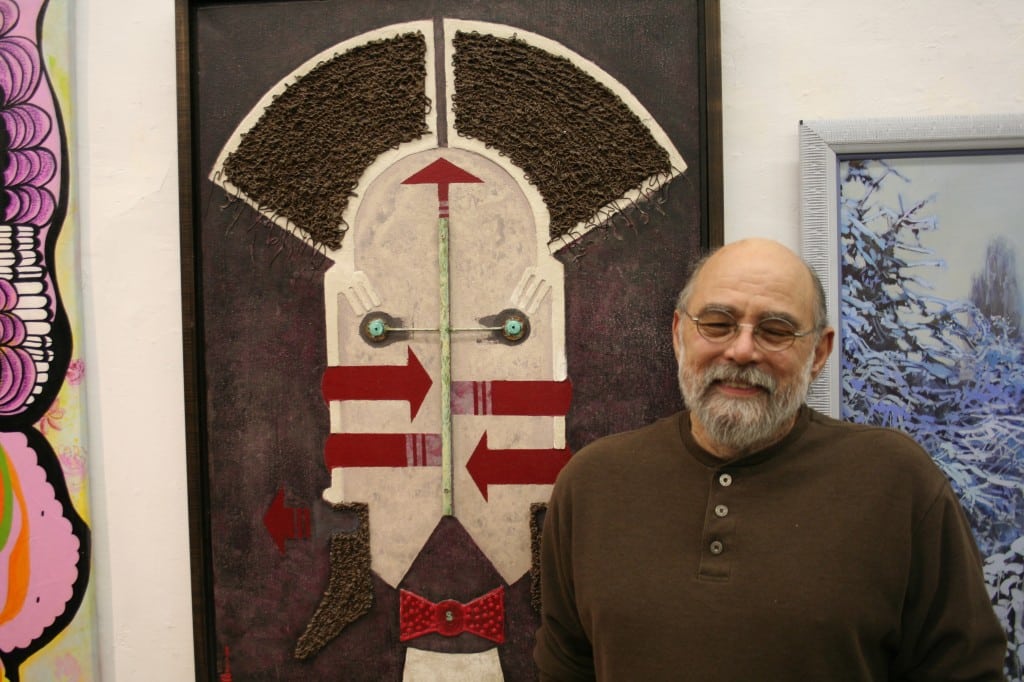 Next was artist Duane e. Hilburn, who was excited to tell me his story. This man survived cancer, was shot in the neck, and worked his way from nothing, to eventually being in this gallery. He had a gripping story of survival, and he feels he has just a little bit more time to live. His artwork was made from construction materials such as sheetrock, cement, and other materials used to construct buildings. In his life, he was an architect, and his history of constructing has led him to build his immense, and heavy sculptures/paintings/reliefs.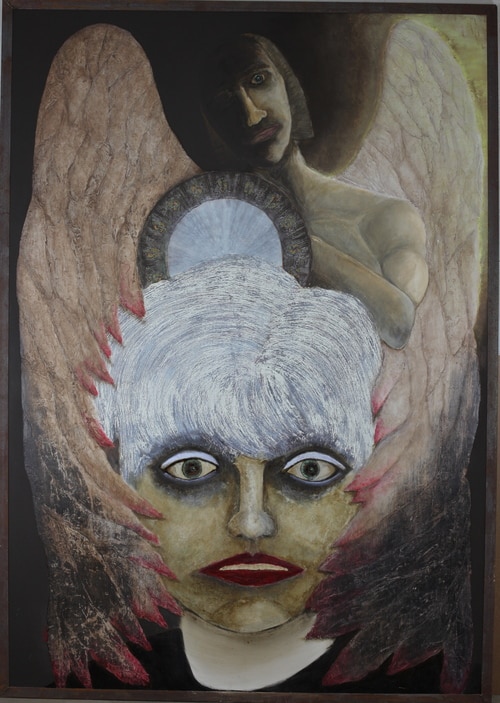 His work reflects his near death experiences, and reveals the mind of an extremely hard worker, with the faith that he is here for a greater purpose. Good luck Duane!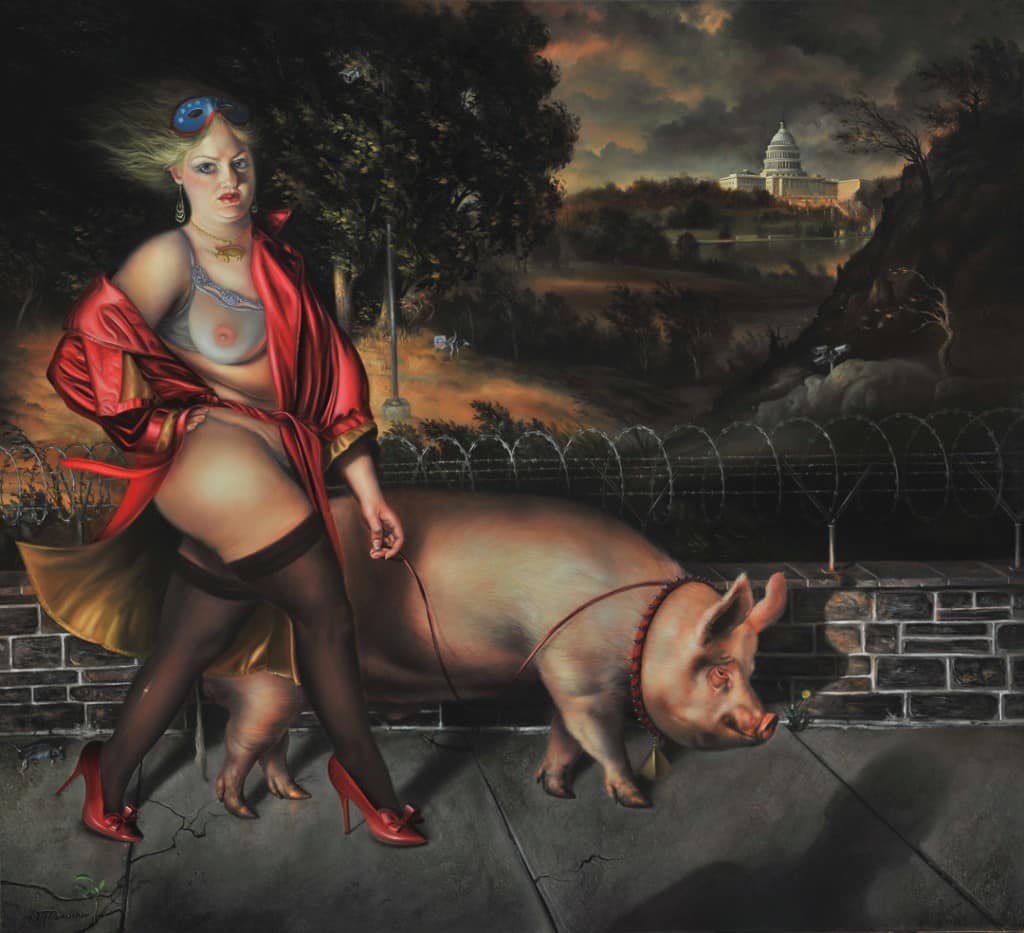 There was also David M. Bowers, whose work was reminiscent of the early Renaissance painters, with qualities of realism, and a skill of conveying the illusion of real flesh and subject matters. His work was humorous, seductive, and incredibly skillful. He had two paintings on display, and they will awe you in their ability to convey realistic imagery, with a touch of fantasy.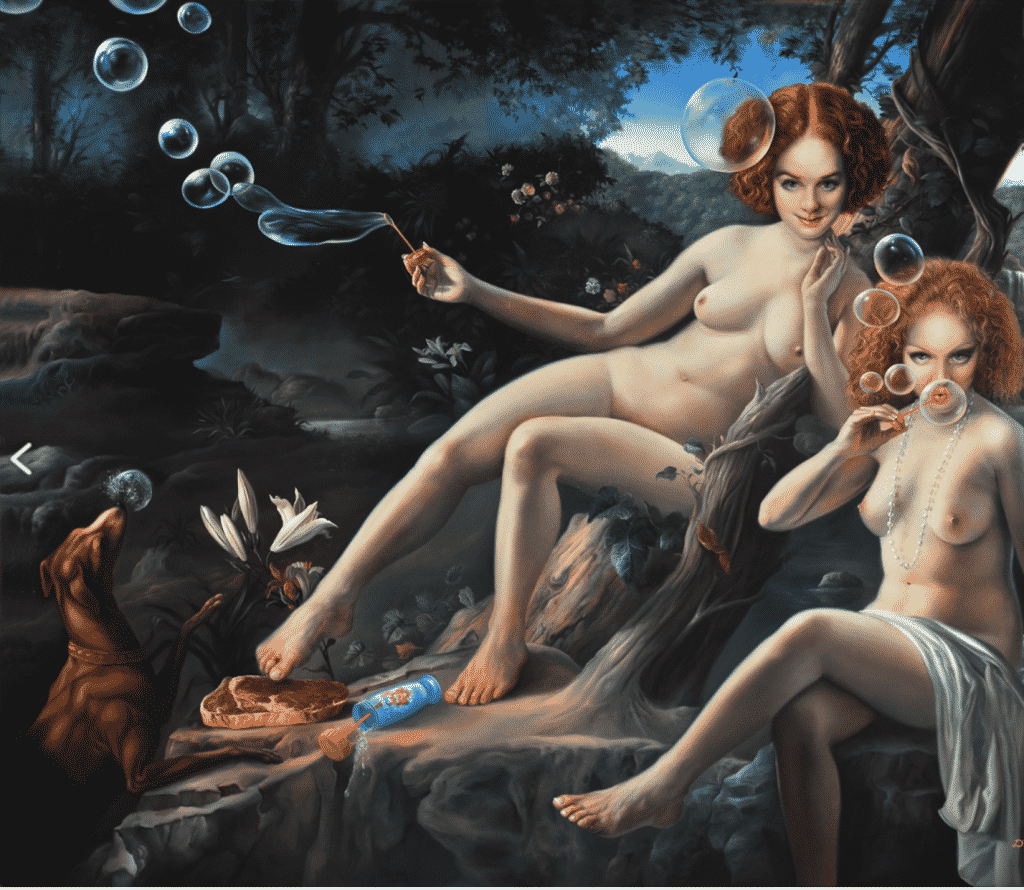 So much wall space was covered that the artwork barely had any room to breathe, but this gallery's motive behind their shows is to showcase upcoming talent, and compliment them with their selection of International talent.
Since the show was a group show, none of the artist's work was extensively explored, but rather each piece displayed was a tease, inviting you to take a further step, and check out the artist's oeuvre within their website.
December Artists Include:
Paola Frisoli
,
Annell Livingston
,
Josephine Turalba
,
David Michael Bowers
,
Viviana Graziani
,
Abzhanova Anara
,
Duane Hilburn
,
Nicolás Morrison
,
Robert Roy
,
Charles M Williams
,
Angela Barra
,
Loreal Prystaj
,
Erin Lynn Welsh,
Christian Kozowyk
,
Olivia Boa
,
Jonathan Meter
,
Luciana Pampalone
,
Yayoi Sawada
,
Akihiro Sakai
.
Make sure to check out the gallery's supportive NY Arts magazine for more information.
Broadway Gallery
473 Broadway, Floor 7 |  New York, NY
Gallery Hours:  Monday – Friday,  10 AM – 6 PM
Written and photographed by Andrew Kaminski
Slideshow photographed by Cojo