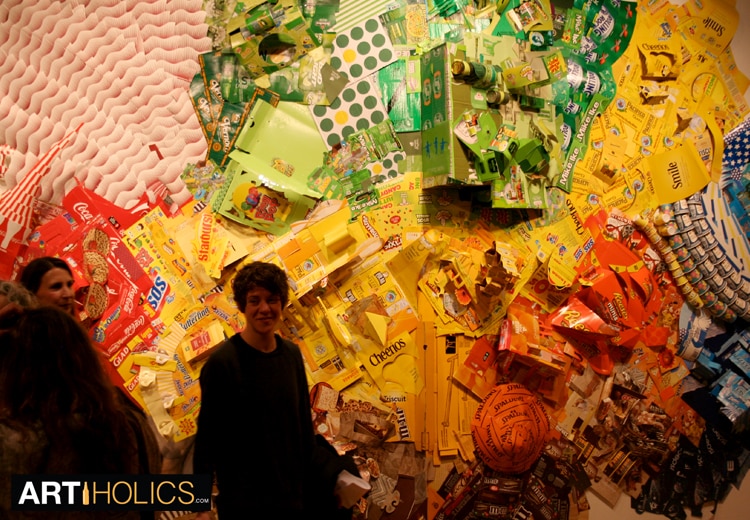 New York City – Friday, November 22, 2013
When attending  0 to 60, please PLEASE don't rush through. These works each deserve at least 60 seconds of your precious time, but once you see a piece for 60 seconds, do not move quickly on to the next piece, like the majority of art viewers do all over the world. For this show, we break the impatient habit that most viewers have, and we take our time with this art.
0 to 60 is up until January 25th, 2014 at the Pratt Manhattan Gallery, (144 West 14th Street, 2nd Floor). This show allows for a beautiful meditation on time, and this review will help you appreciate some of the works more, so when you go there, you won't waste your time.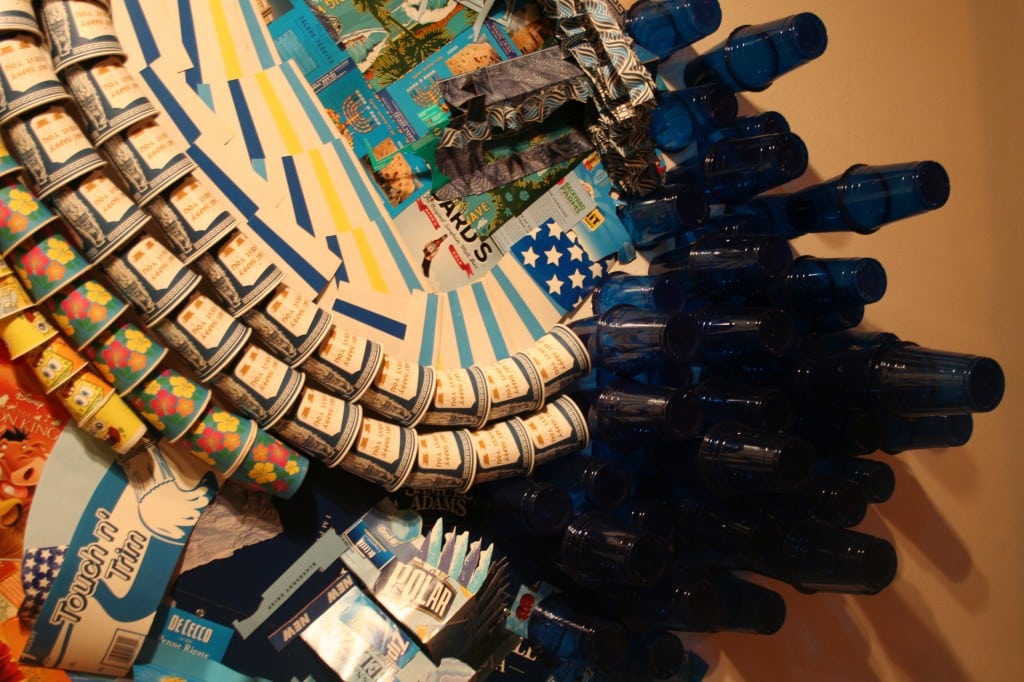 Right when you walk into the gallery, there's a site-specific installation that catches your eyes with all of its vibrant colors. The gallery has the privilege of hosting the assemblage work of artist, Lisa Hoke, whose collection of commonly discarded cardboard packages and plastic containers are utilized in unique 3-dimensional compositions right on the gallery wall. The accumulation of recycled materials marks another marker of time- the objects so frequently thrown away- without a second thought as to where they are going, or how much of them are passing through our lives. She essentially honors the sophistication of Robert Raushenberg's assemblages, by integrating a fluid psychedelic spin of her own.Hoke's work is immersive, and I wouldn't underestimate it to literally swallow the viewer as I overheard someone talking to Lisa, conversing about its fragile state, and how it's vulnerable to collapse. She revitalizes the aesthetic value of logos, covering packaging that most consumers spot when they make a purchase, with the sole intention of using the product, and throwing away the extraneous material as garbage right after their consumption.
Hoke has a gift of breathing life into mundane cardboard and plastic wrapping to become something of a contrasting value- something that will make us marvel. I met Lisa at the gallery opening, and we both took a second to admire the logos found within the materials in her installation. Rarely, do I look at the "Coca-Cola" logo, and say, "that's a gorgeous design;" but Lisa Hoke's work evokes that reaction. She recontextualizes everyday consumer imagery into a transient and ephemeral form; the piece at this gallery will be deconstructed once the show is over. The carefully and intuitively placed assemblage is unique to this show- it utilizes the gallery space in a way that only her work can and ever will.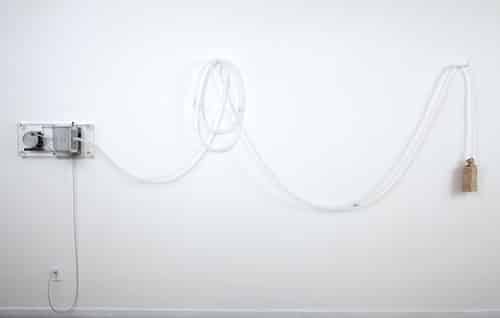 The second work I'm going to mention is Last Breath, by Rafael Lozano-Hemmer. This piece intrigued me instantly, with its robotic structure, and moving extremities. The work entails plastic tubing that connects to a brown paper bag that curiously inflates and deflates, at the rate much like our lungs breathe. Apparently, the work is "activated 10,000 times a day, the typical respiratory frequency for an adult at rest." There is even a digital red counter, marking which breath the bag is at. One way we can measure time is through the amount of breaths we take each day. Have you begun counting? Take three breaths, right now. Do it, and count. Does time always have to be measured in seconds, hours, or days? Rafael Lozano-Hemmer does the extraordinary feat of reminding us that we only have a certain amount of breaths left in our life. Simply remembering his work brings a new appreciation to every breath we take. I just counted- my three breaths took 15 seconds.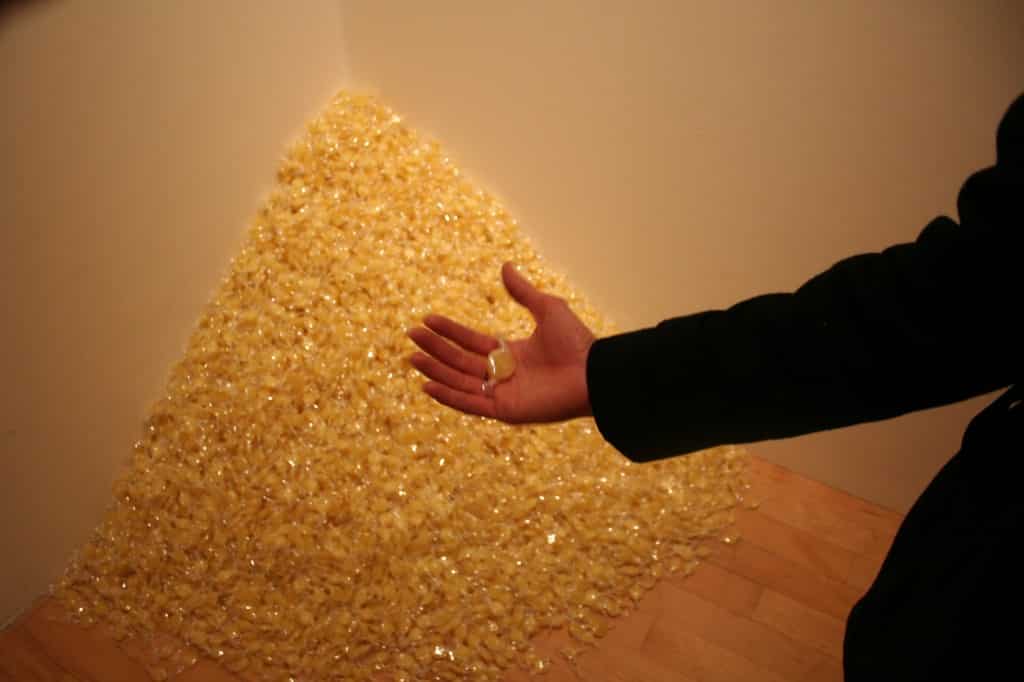 In another corner of the gallery, you will find a sweet aspect of the show- that of Felix Gonzalez-Torres, within his legendary installation of white candies individually wrapped in cellophane, weighing approximately 175 pounds in total. If you have not seen his work before, or rather, if you have not tasted his work before, this is your opportunity to do so. The piece is apparently frequently replenished, so viewers are welcome to take one candy per show. I know of people who have stuffed their pockets with the candy. The sweets represent the weight of a human being, and each time someone grabs and eats one, the symbolic weight of that human deteriorates by the weight of one more candy. This reminds me that the cells in our body are constantly dying and regenerating, and that although someone may be 50 years old, most cells in their body are only around 7 to 10 years young. When enough viewers see this show, the entire installation of Torres may pass through a collection of bodies, and help regenerate the cells in hundreds of viewers.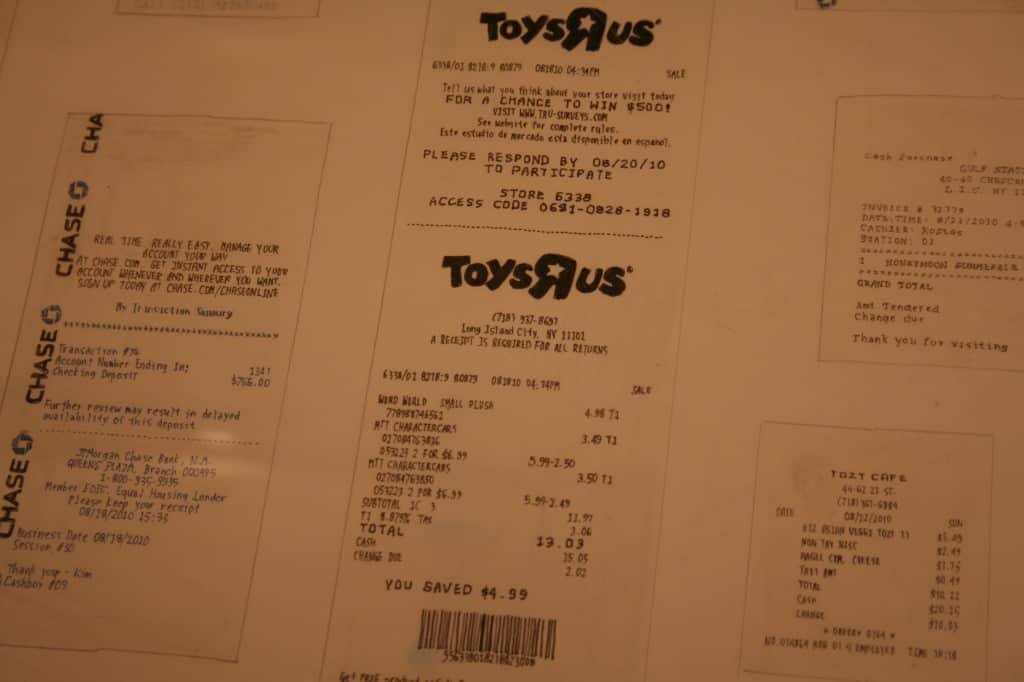 Artist David Shapiro exhibited a piece in the show, in which receipts were displayed within a glass case. These were not ordinary receipts, as Shapiro meticulously and painstakingly reproduced a plethora of receipts from his daily life with pen, color pencil, ink, gouache, and paper. We leave a paper trail behind us, as we buy a coffee here, and pay a parking ticking there. The passage of our time can be marked through these paper receipts, and Shapiro, through these works, glorifies this evidence of our existence. The human touch is seen as not all the marks are pristine, and there are the slightest of errors and curved lines.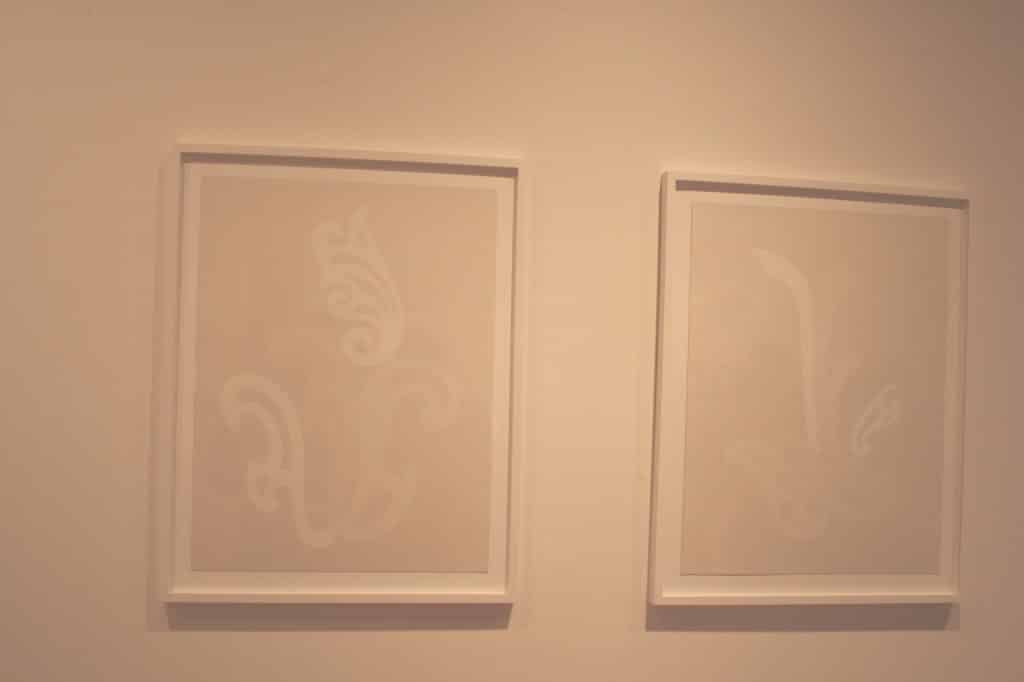 Caetano de Almeida's pollution drawings have a quiet presence, as they have slight differentiations in tone on the paper behind their glass frame. Almeida's work reveals the dust and pollution that collects over time with the use of stencils on paper outside the artist's balcony in Sao Paolo. The pollution paintings are evidence of  how, as time passes, small particles leave traces, and you can observe that the lightest areas of the piece were out on the balcony the shortest amount of time, as they had the least amount of dust and pollution collected on them. I am horrified by what the pollution is doing on the lungs of people that breathe in this air everyday.
We constantly keep track of time, and our lives, especially in NYC, are ruled by time- we have to be on time, we want to spend time with the right people, make time for memories that matter. This exhibit enlightens us to consider how everything in our lives accumulates or deteriorates, subjected to the grand ruler of time. There are more artists, and I recommend purchasing the book that accompanies the show, so you can get a more insightful look at all the artists.
Written and photographed by Andrew Kaminski
Error: Contact form not found.