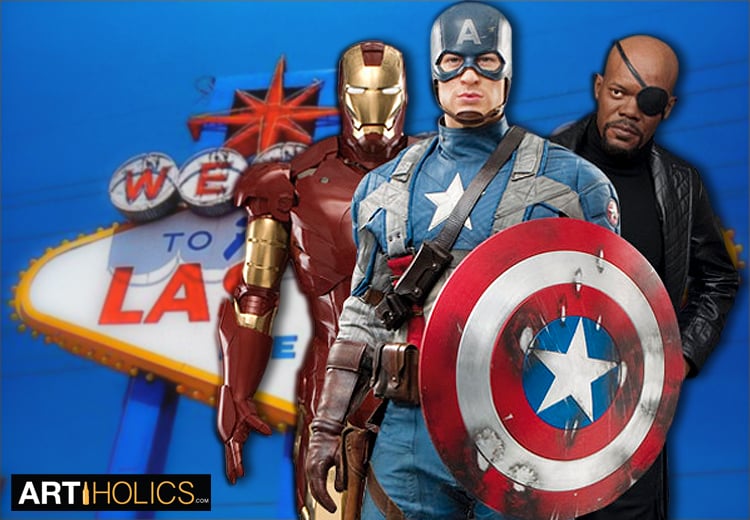 Las Vegas – Wednesday, November 20, 2013
Today Marvel Comics legendary writer and creator Stan Lee will officially cut the rope to unveil Madame Tussauds Las Vegas' multi-million-dollar renovation including its first fully immersive Marvel 4D (yes, the press release says 4-D)  theater, featuring the largest line-up of Marvel (Avengers) figures – such as Iron Man, Nick Fury, Thor and Captain America – to be seen in one room. (Vehicles and alternate costumes sold separately, batteries not included).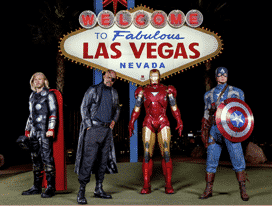 The Marvel 4D theater features a brand-new 10 minute movie where the superheroes save Las Vegas from destruction. Marvel Fanboys, time to plan your trip to Vegas.  A ten-whole-minute exclusive film that you haven't seen exists somewhere in the world.  How can you call yourself a fan if you haven't seen and experienced this in 4D, and just feet from the wax mannequins?!
During the short film, guests will feel their seats shake, splashes of water and much more (by much more I am guessing there might be some water vapor and or mist involved).
In reality, I've made fun of Tussauds before, but these look pretty good (unlike these hideous freaks).  And if you get creative you can stand next to Samuel L Jackson on the un-eyepatched side and reenact the mutha-fuckin' snakes on the mutha-fuckin' plane scene- thus scoring you a two for one deal out of the sculpt.  You can also set the Captain America sculpt on fire and have your photo taken with a screen accurate version of The Human Torch* (as both Marvel characters were played by the same actor).
Written by Cojo "Art Juggernaut"
The exhibit officially opens today – Wednesday, November 20, 2013 with the ribbon cutting by Stan Lee at 11:30 AM Pacific.
Madame Tussauds at The Venetian
3377 Las Vegas Blvd. S., Suite 2001
Las Vegas, NV 89109
*Do not light sculptures on fire.