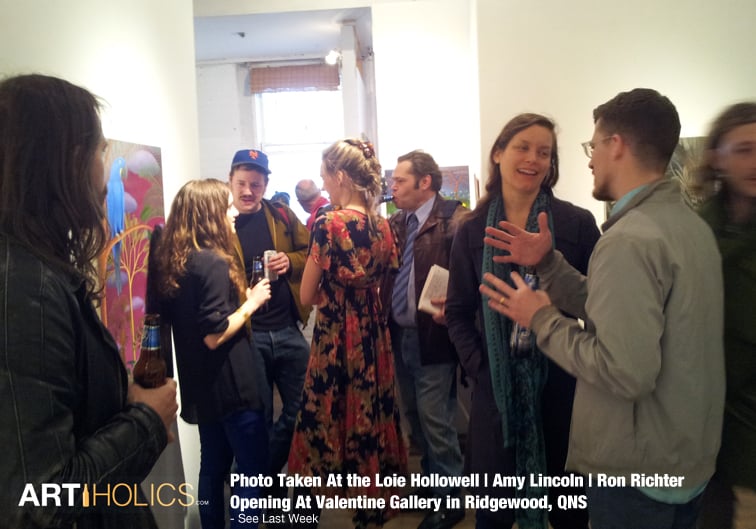 New York, NY – Monday, April 29th – Sunday, May 5th, 2013
A lot of openings and art events are happening this week as per usual in the art mecca of the world.  I'm gonna try to make it out to a few, hopefully you can too.
Monday, April 29th
7:00 pm An Evening with Carolee Schneemann| MoMA– NYC

Tuesday, April 30th
6:00 pm NYU STEINHARDT 2013 MFA THESIS EXHIBITIONS | 80 WSE Galleries – NYC
6:00 pm FREE LECTURE: DANIEL LIBESKIND ON THE ART OF MEMORY | Cooper Union- NYC
6:30 pm ALEX HUBBARD Screening + Artist Talk| Electronic Arts Intermix – Chelsea, NYC
7:00 pm A Conversation With Erykah Badu |Brooklyn Museum – Brooklyn
10:00 pm G1RLZ NItE Dance + Party + Video Art | SDR & ANIMAL New York- The DL – L.E.S., NYC


Wednesday, May 1st
5:00 pm Book Signing: Tracey Emin | Lehmann Maupin – L.E.S., NYC
6:30 pm HAVANA TO NEW YORK – POP-UP ART EVENT | Aicon Gallery– 35 Great Jones St., NYC
7:00 pm THE FANTASTIC NOBODIES: The Evolving Door| White Box– L.E.S., NYC
7:00 pm John Newsom BESTIARY Opening Reception | Marc Straus -299 Grand St, NYC
8:00 pm Whitney Museum of American Art's "Art Party" | Skylight at Moynihan Station– NYC

Thursday, May 2nd
5:30 pm 2013 ADC Paper Expo | Art Director's Club – 106 W. 29th St, NYC
6:00 pm Jannis Kounellis Opening Reception | Cheim & Read- Chelsea, NYC
6:00 pm Tracey Emin: I Followed You To The Sun | Lehmann Maupin- Chelsea, NYC
6:00 pm Don Gummer Recent Works Opening Reception| Allegra LaViola Gallery– 179 E. Broadway, NYC
6:00 pm SCREENS Opening Reception | Murray Guy– Chelsea, NYC

Friday, May 3rd
7:00 pm DTRT x TOYOIL Opening Reception | P339 – Brooklyn

Saturday, May 4th

11:00 am PASSPORT TO THE ARTS Art Walk | Chelsea, NYC
12:00 pm – 4:00 pm New Museum Untapped  FEATURING MICHAEL ALAN| Sara D. Roosevelt Park,  – NYC
6:00 pm Passport to the Arts – Wrap Party | Hudson Studios – NYC
6:00 pm Resurrection by James Prez Opening Reception | The Active Space – Bushwick, Bklyn, NYC
7:00 pm Ridgewood Bar Crawl | Caskeys – Ridgewood, QNS

Sunday, May 5th

1:00 pm LUNCHA LIBRE: The Thrillist Taco Takedown | Villian – Brooklyn, NY
8:00 pm Maybe The Welders live Music | Arlene's Grocery– L.E.S., NYC
This page may and will be updated throughout the week as new events come in.
Have an art event or tip?  Like Artiholics on Facebook and Message Us There Directly.  Image / Artist(s) Involved / Title Of Show / Type of Event / Name of Venue / Borough of NY (Basically in The Format You See Above).