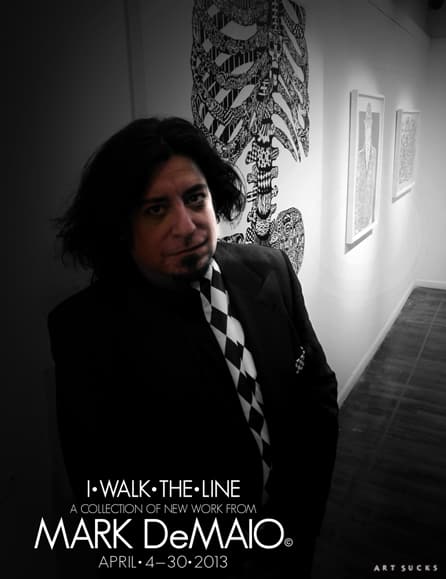 New York, NY – Monday, April 29, 2013
If you have yet to make the subway ride to Soho on the border of Chinatown for the new Mark DeMaio show at Sacred Gallery, I suggest you do so ASAP, as it's closing this Sunday, May 5th (it got extended from closing April 30).
Molly and I were fortunate to have attended the blowout opening, complete with stilt walkers, attendees getting free tattoos of Mark's drawings permanently inked onto their bodies, and Mark in semi-harlequin garb.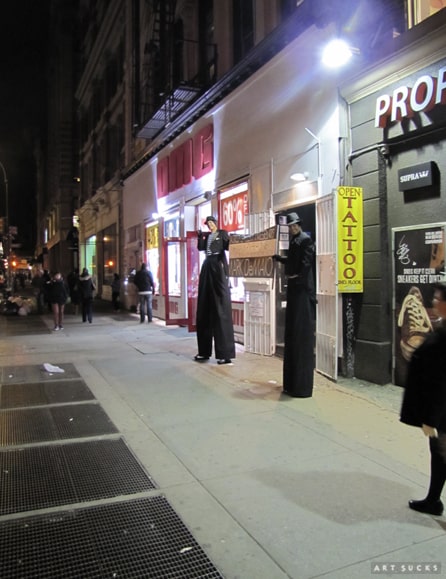 Is this the right building?  Yes, unless every gallery has two stilt walkers standing in front of it.
If you are a regular Artiholics reader, you will recall I recently visited Mark in his studio, where he fed me pasta and wine while showing me a preview of works from this show.  And if you are a longtime reader of ArtSucks, you will remember when I got a private tour of Mark's last show Pop Goes The Bible back in 2011.  This work has zero to do with that work, other than Mark has taken the line art he learned in that show, and mastered it.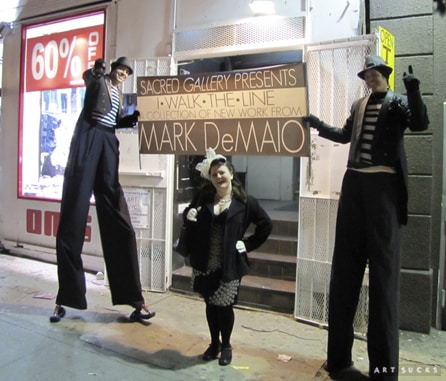 Of course Molly wanted to ham it up in between the stilt walkers.  Balancing for hours on stilts must be tough, while holding a sign, tougher.  I feel bad for the guy holding it with his less dominatnt hand.
He has an underlying style, but every one of his shows is completely different, so you never know what exactly you are going to see when you go to them, but whatever it is, his hand will be evident in each piece.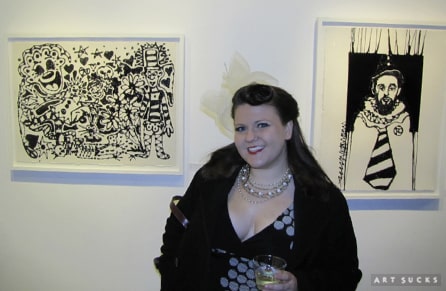 Inside we hit the wine, Molly struck a pose in front of one of Mark's black glitter line art pieces.
Considering the theme of the work is stark black and white line art, the suggestion was to wear black and white to the opening.  I have a fashion sense for shit, but of course Molly rocked it.  Here is a tour of some of the work in the show.  Being that it was oil on canvas, the line work was so clean and slick it made me jealous (as I work in acrylic).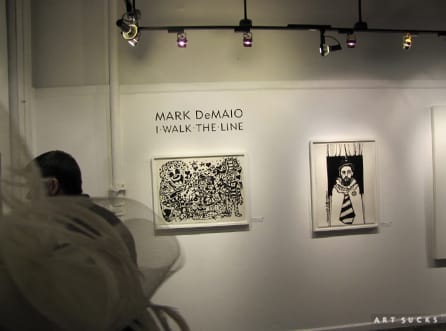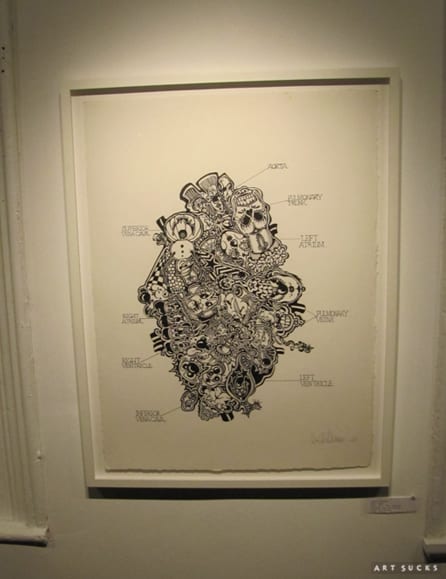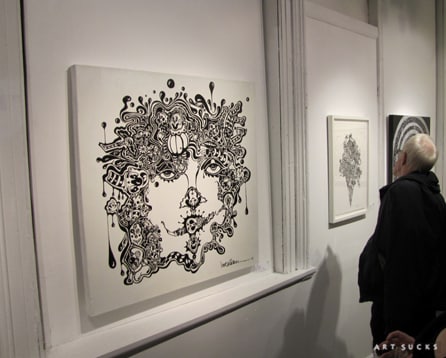 This piece was the highlight of the show, and was sold before we even got there?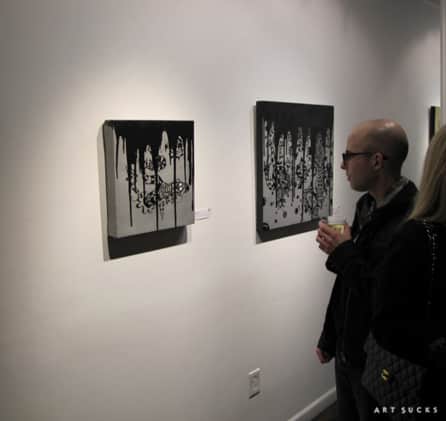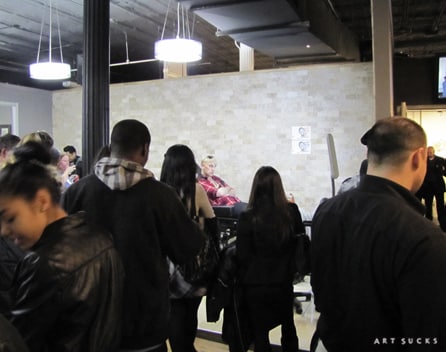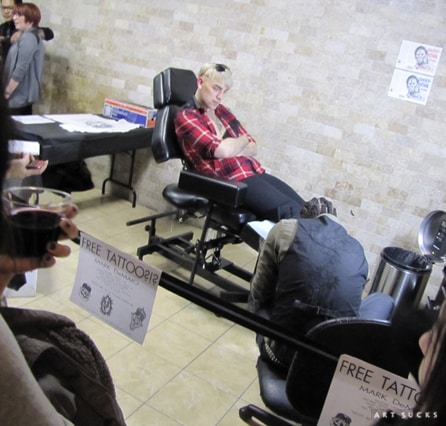 The first willing participant to go under the needle for a free Mark DeMaio tat.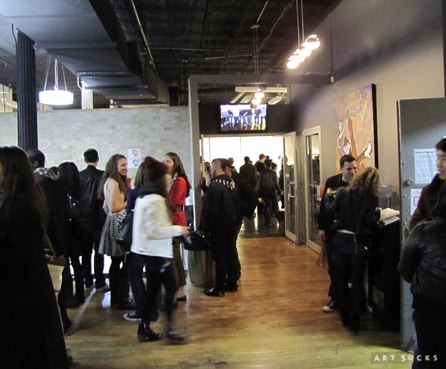 A view from inside the tattoo parlor half of the space.  It's a really amazing gallery in that the front is a fully REALITY TV SET style tattoo shop, while the back is a professional white box gallery.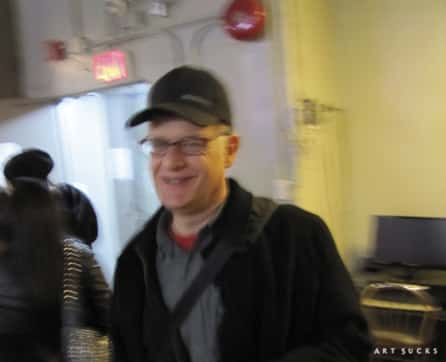 Art monk Michael Kronenberg.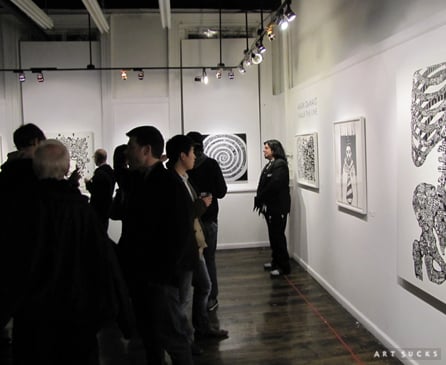 It being Mark's show, there was a great turnout, and a pile of press waiting to  have him pose.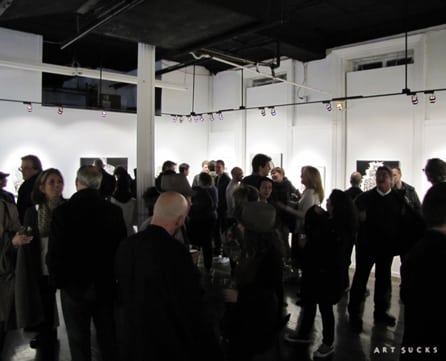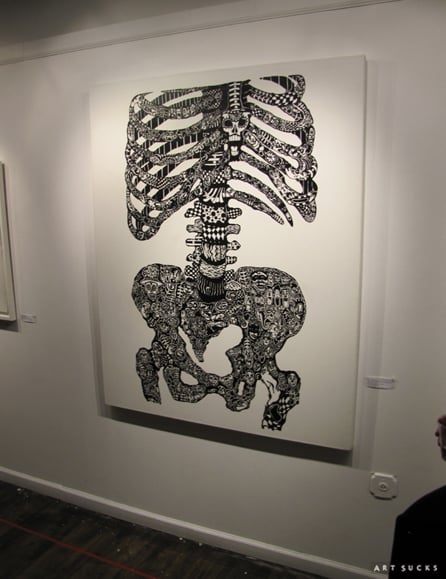 I loved how this piece turned out.  So clean,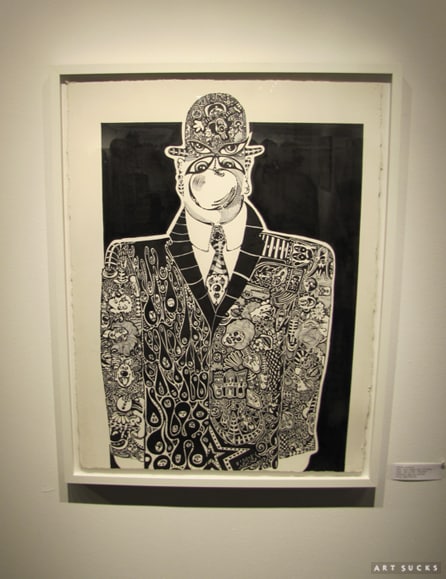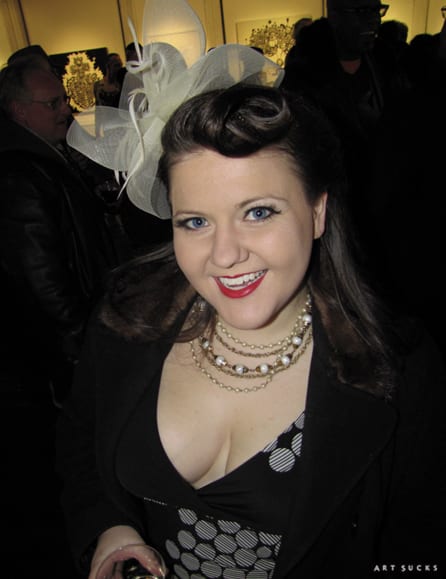 Molly looking 50s pin-up style in her black and white.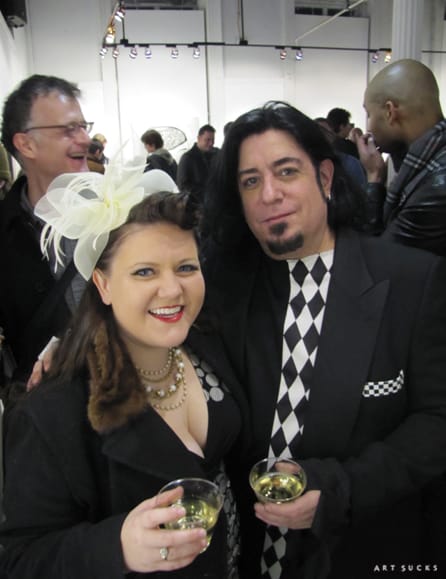 Molly and Mark having white wine.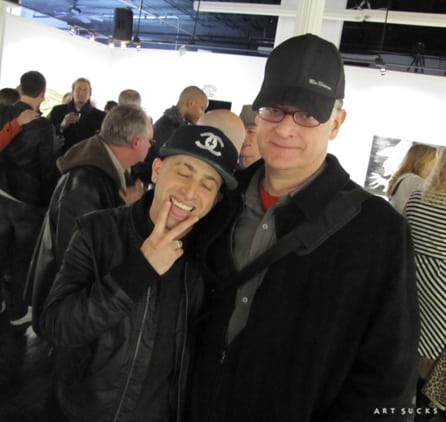 Photographer Worm Carnevale and Kronenberg.  You may remember Worm from the
NOT A FU#%ING POLAROID show at Fuchs Projects.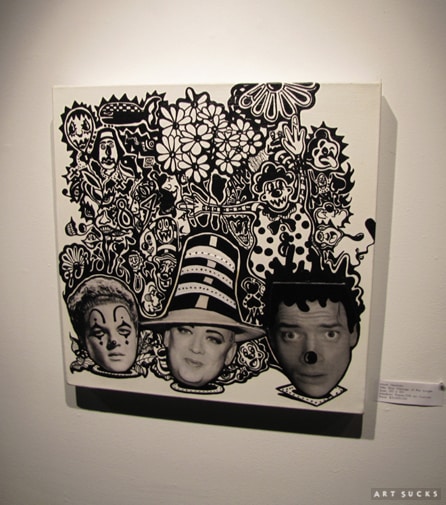 These were interesting in that they had photo collages incorporated into the line work.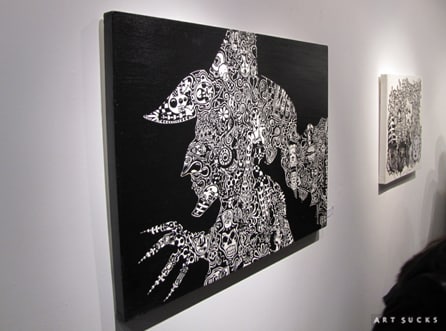 The silhouette of the wicked witch is unmistakable.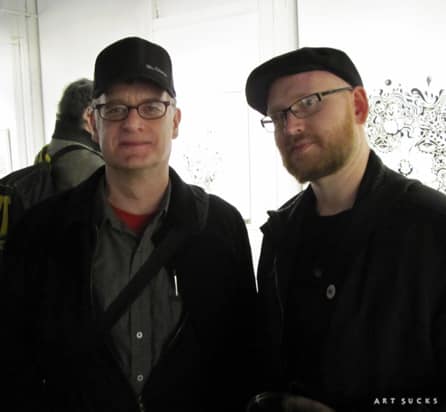 Molly took a shot of Kronenberg and I.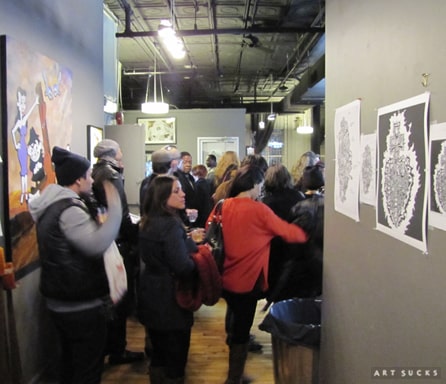 In the hall are some prints of a few of the pieces in the show.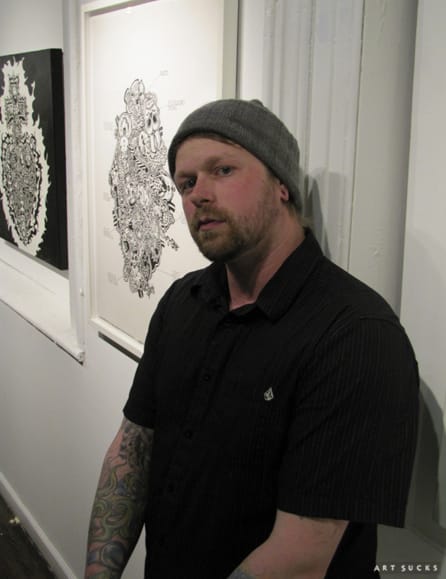 Director of The Sacred Gallery Kevin Wilson.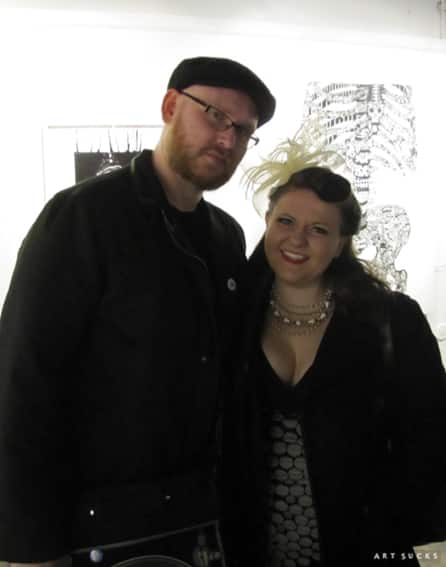 Myself and Molly pose for a picture, photo by Michael Kronenberg.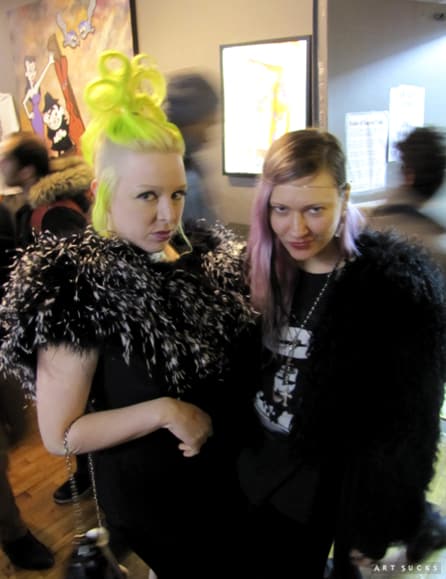 Artist Antoinette Johnson and one of her models Lena Marquis.  You may remember Antoinette most recently from the photos she let me publish, which she took at the HBO Game Of Thrones Exhibit, or from her solo show at Le Salon d' Art titled Manhattan Rampage.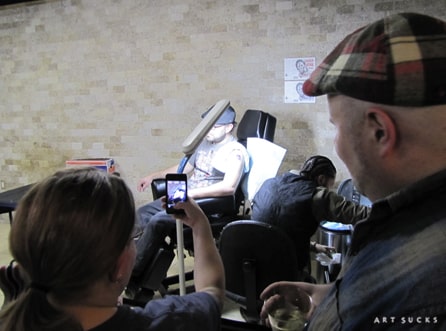 The second victim  volunteer takes a seat in the chair. This guy has completely untouched arms.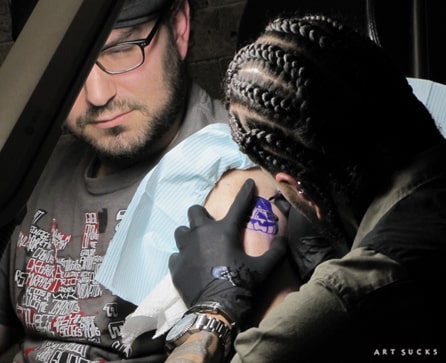 And he's opting for the pumpkin with a top hat on his left arm.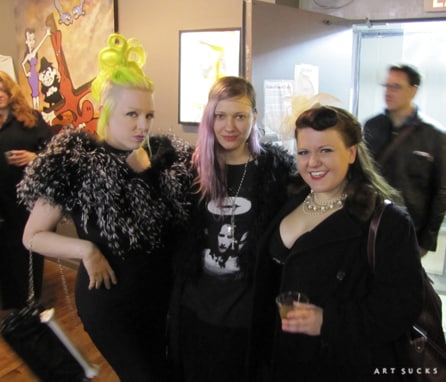 Molly poses with the other girls.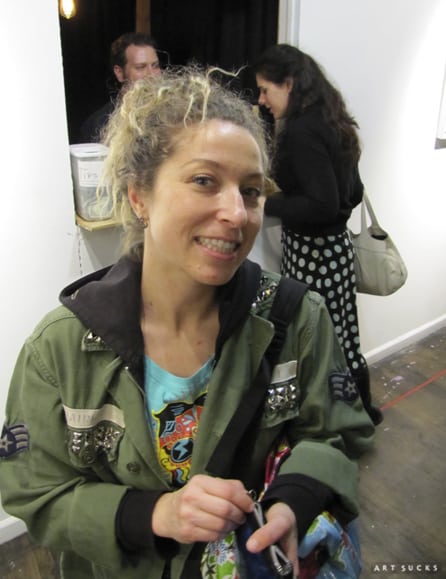 Photographer and fellow SVA alumni Kathleen Hayes.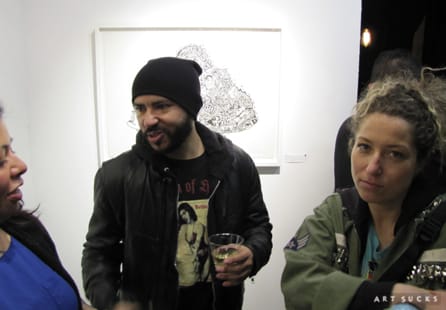 Phantom curator Frankie Velez, and Kathleen.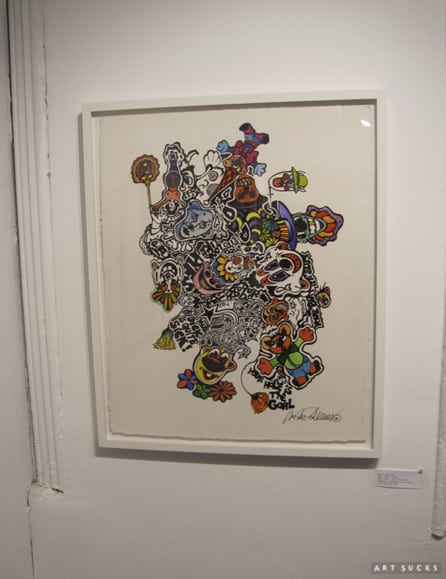 The one partially colored piece in the entire show.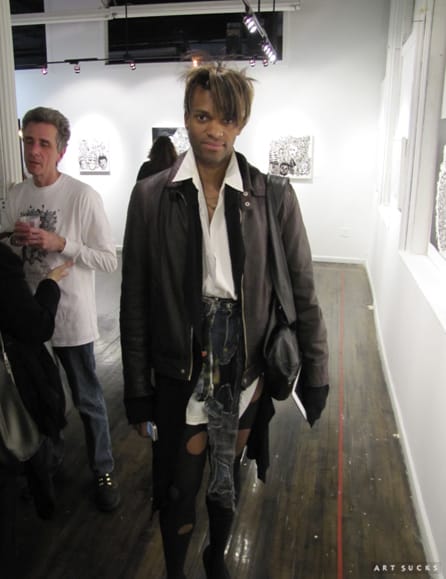 Artist Sterling Infinity.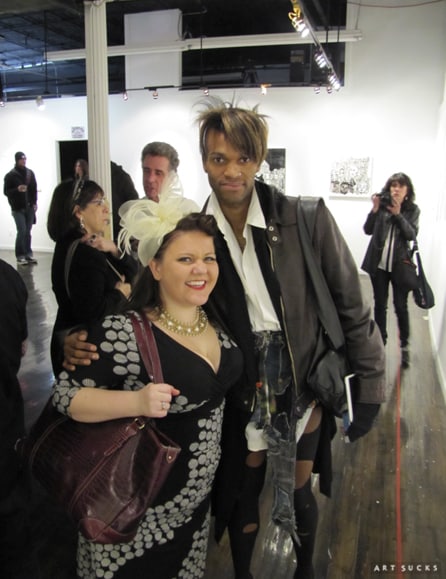 Molly is short enough already, put her next to a guy wearing pumps, forget it.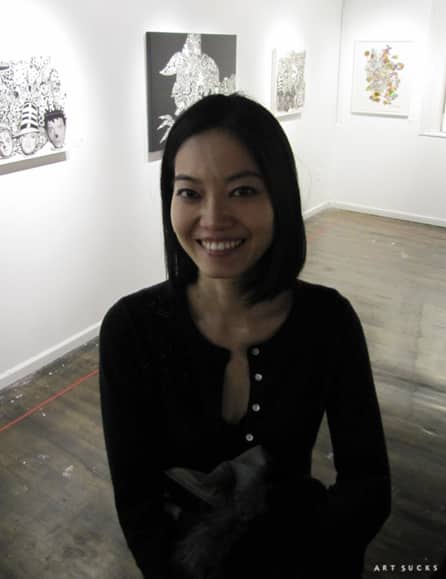 Vegan chef and Manhattan restauranteur Junie Ishimori.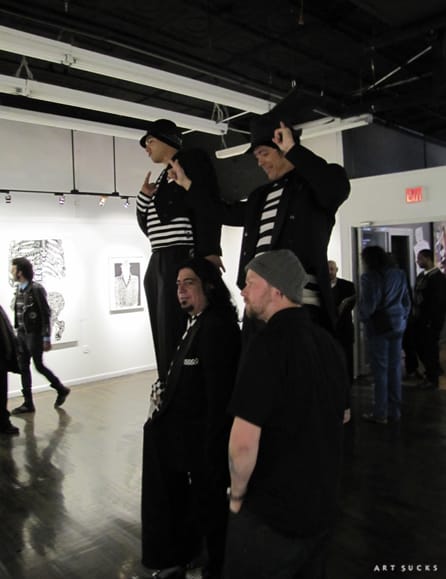 The stilt walkers come in to take some pictures with the man of the hour.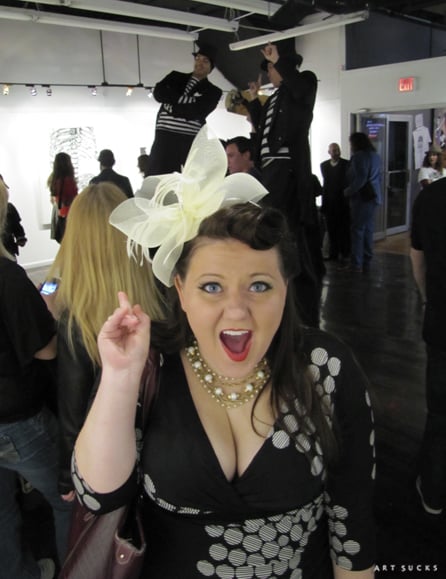 Molly is impressed.
Another volunteer, this time a girl and it's a skull on her shin.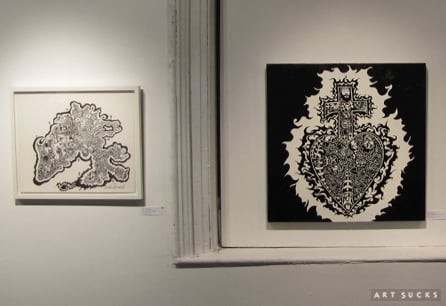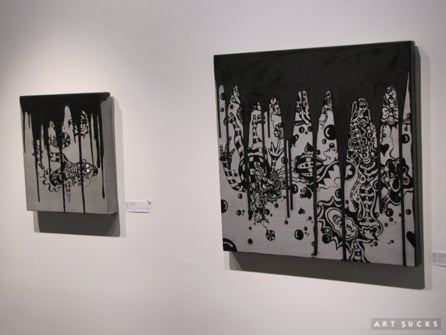 Some of these are black on silver.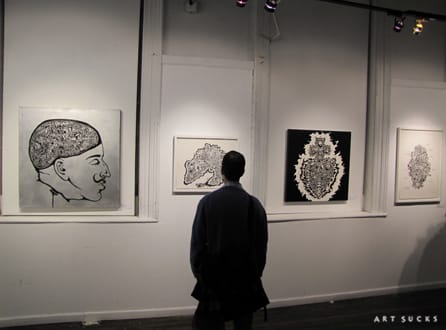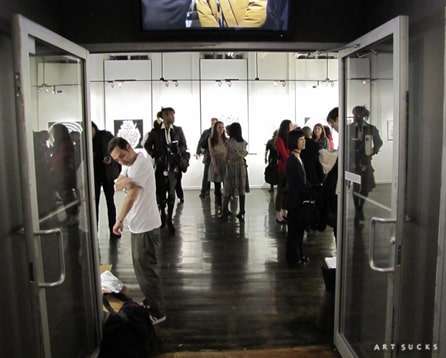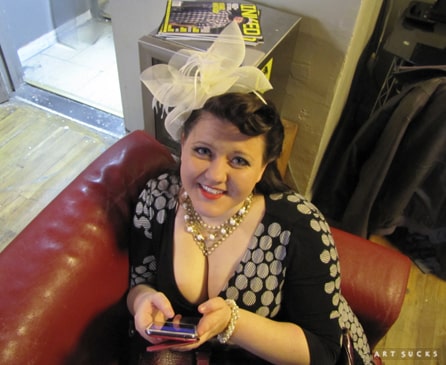 The show was winding down, so we hopped in a cab for the west village.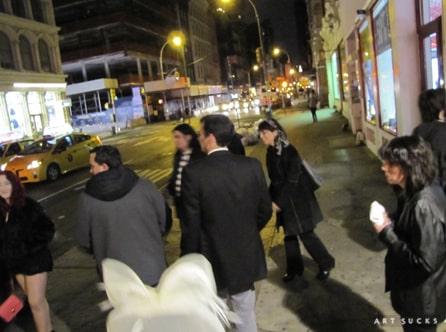 An after party Mark threw at Yerba Buena had open bar on the spiciest Jalapeño cocktails, and
delicious french fried fruit.  I guess if you can french fry potatoes you can also french fry avocado, watermelon, papaya.  Molly and I hung out at a table with celebrity hair stylist Kristin Jackson, artist Moni La Femme, and photographer Worm.
Mark your calender to fit in a trip down there before next Monday to check out the work.  If you are a fan of black and white, drawn assemblages, and line art in general, this is a show not to be missed:
Mark DeMaio "I Walk The Line"
April 4 – May 5, 2013
Sacred Gallery NYC
424 Broadway 2nd Floor (Between Canal and Howard) SoHo
New York, NY 10013
212-226-4286
Hours – Monday – Friday 12pm – 8pm Saturday & Sunday by Appointment only.
https://www.sacredgallerynyc.com