Tokyo Japan, Tuesday February 19, 2013
After this video of Japanese drinking establishment Bar High Five master mixologist Hidetsugo Ueno hand sculpting a small block of ice into a crystal clear diamond shape that perfectly fits into a glass went viral this week, I got to thinking about the art behind large scale ice sculpting, being reduced from castle sized to the volume of a drinking glass.  Comparable would be the large scale mural painter, and the miniature painter.  Both come from similar skill sets, and use similar materials, but are worlds apart.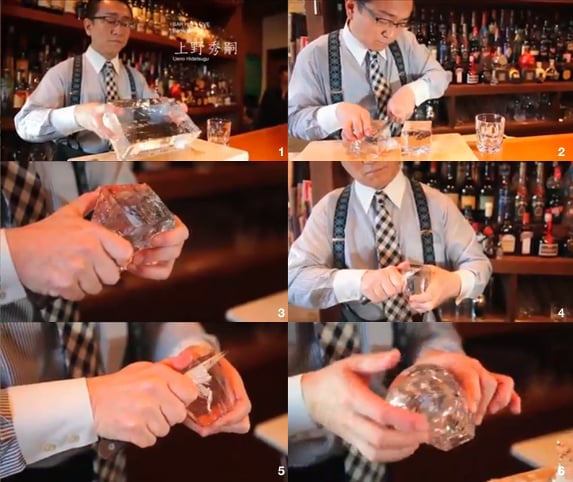 Would you like that drink on the rocks? Would you like the rocks gesticulated beyond measure with bare hands and then placed into a glass? If you answered yes to all of the above, you need to take a trip to Bar High Five next time you are in Tokyo. I think if Howie Mandel had a cocktail at this place he would have to chase it with a straight shot of Purell.
Sculpting a diamond out of ice is no easy feat, and requires a super sharp knife, as seen in the video.  Hidetsugo pulls the knife into his hand over and over so quickly, one little slip and that would have become a blood diamond.
I posted a link to this on facebook and filmmaker Aaron Weber in Los Angeles commented:
"I had hand carved cubes from a few places in Tokyo. It actually makes a huge difference in the drink enjoyment.. It does not make you drunk faster. It does make the drink colder quicker due to more abrasive surface." Aaron Weber – Wander Films
So to answer a series of dumb questions. . .
Question: Does the diamond shaped ice get your drunk?
Answer: No, it's made of water.
Question: Does it take a lot of time to cut into that shape?
Answer: Yes, time which I could have already been drinking.
Question: Does this giant cube take up a lot of physical volume in the glass, thus limiting the amount of potable booze it might otherwise hold?
Answer: Yes drastically.
Question: Does it cost more because the skill and time involved in cutting such a cube into a diamond rendering more surface area of the ice to touch the liquid, cooling it faster, as well as making it much more aesthetically pleasing to look at?
Answer: Yes, of course dummy, this is an art, you pay for art.  If you wanted pail scooped ice out of a trough you can always go to Applebees.
Written by Cojo "Art Juggernaut"