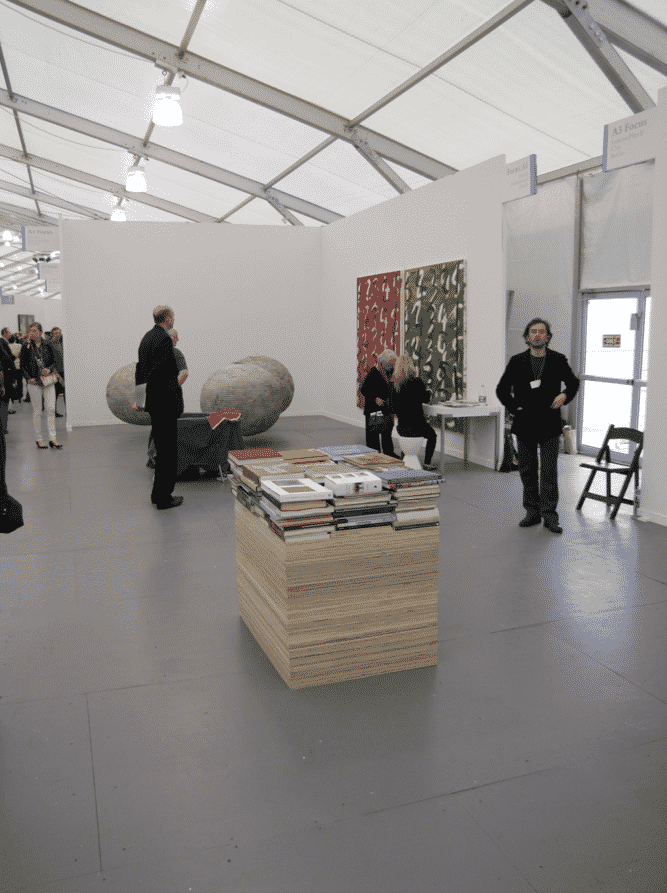 Randall's Island – New York City, NY – Monday, May 13, 2013
One of the weird, and strange realities about conceptual art is that sometimes it needs to somewhat be explained to the viewer, in order to fully convey what's going on in the piece.
At Frieze Art Fair New York I was passing by the booth of Galeria Plan B, based out of Cluj, Transylvania, Romania as well as Berlin, Germany in the Focus section of the fair.  Galleries in the Focus section are galleries less than ten years old who are debuting works previously unseen in an art-fair context.  I noticed what appeared to be a wooden box with a stack of art books on it.
At first it reminded me of a sculpture by Derick Melander which I had seen and photographed at the Flux Factory Gala in the Winter of 2011 (read here – ArtSucks.com).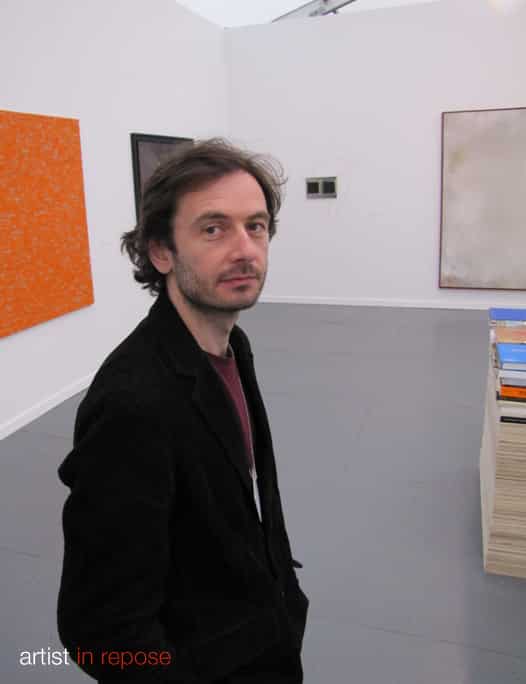 Curator and Galeria Plan B co-founder Mihai Pop came over when he noticed I was curious about the piece.  I asked him,"What exactly I'm looking at here?"  He pulled out his smart phone and started scrolling through photos and explaining to me that the Romanian artist Ciprian Muresan has created a series of prints which you normally would press flat in between boards with weight stacked on top of them.  This is a series of dozens of prints in between boards, stacked in a perfect 90 degree stack, with the books stacked above for ballast.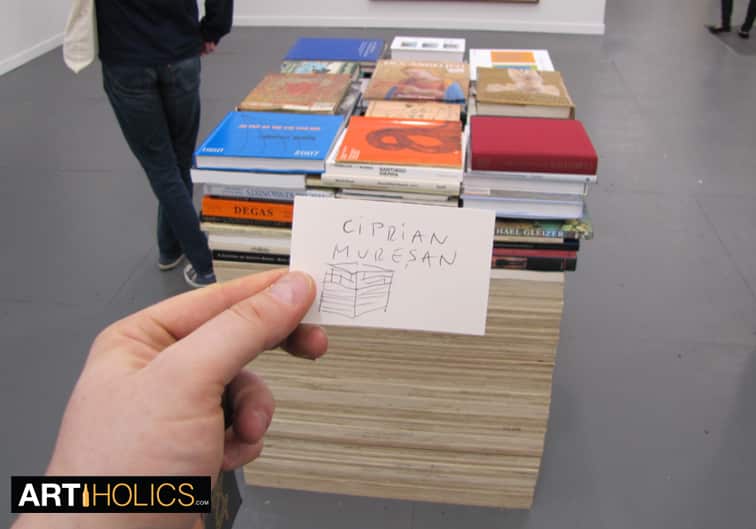 Normally the books would be removed, the boards lifted apart and the artwork taken out and framed, but in this case the artist has chosen to leave all of the prints entombed.  You can see what they are through the pictures of the process of making them, but they are not for display.
None of the work was credited so when I asked Mihai the artist's name he wrote it on the back of his business card and even drew this great line-art pictogram.
I love high concept art,  but it's a good thing some pieces are just beautiful paintings that could be summarized as a "pretty picture." If every piece in every booth in an art fair showing the works of 180 galleries had a larger concept behind it which needed explaining, it would take a month to get through one row.
Frieze runs May 10 -13 rain or shine.
Written and Photographed by Cojo "Art Juggernaut"