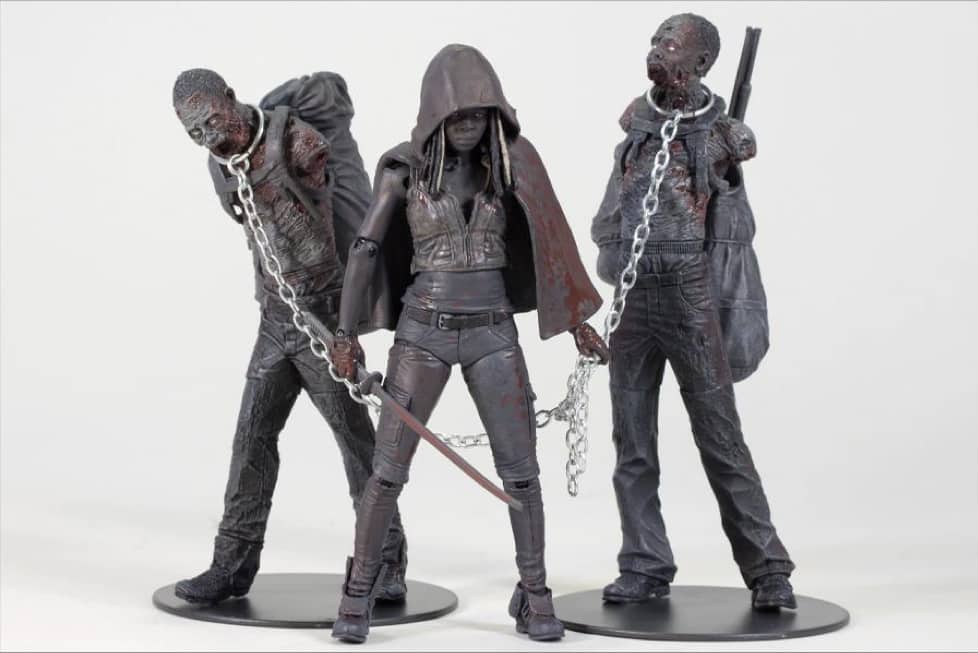 New York, New York – Friday March 15, 2013
Artist, Comic book legend, and Spawn creator Todd McFarlane started his own toy company several years ago, and ever since has been one of the top of the toy game, creating amazingly lifelike sculpts of comic book characters, athletes, movie villains & heroes, as well as characters from your favorite cult films and TV series'.
Luckily for us, McFarlane got the lock on AMC's The Walking Dead.  Creating various characters from the series, such as the badass sculpt of  Michonne (seen above), Michonne's Zombie Pets 1 and 2 (as seen above – sold separately or in a 3-pack) as well as Merle Dixon, and Autopsy Zombie.
It is only time before we get the Little Ass Kicker toy.
Curious about these toys, or McFarlane's career?  He will be appearing live on The Walking Dead's post show wrap-up show Talking Dead this week, and if you want to ask him any questions you can either call in when the show airs live on Sunday at 10pm EST, or you can post questions now on The Walking Dead's Facebook Page, for a chance at host Chris Hardwick reading them to Todd live on the show on Sunday.
Written by Cojo "Art Juggernaut"