The statue of Canada's first prime minister was vandalized on what would have been John A. Macdonald's 198th birthday.
Last Friday, an anonymous group announced their responsibility for spray-painting a monument of Sir John A. Macdonald, Canada's First Prime Minister, in downtown Montreal's Place du Canada.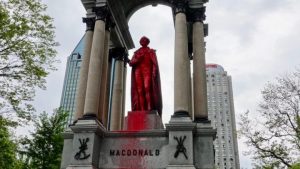 The organization claiming responsibility for the action refers to itself as a group of "unnamed anti-colonial vandals."
Despite the vandalism, Kingston Mayor Mark Gerretsen said the city would go ahead with an event later in the day to honour Canada's first prime minister, who settled in Kingston after emigrating from Scotland in 1820.
"There is a bit of irony in this situation," Gerretsen said. "It is because of someone like Sir John A. that people have the right to express themselves in the way that this individual or individuals or group chose to do so."