Museum at the Port. Italian tourist falls into Descent into Limbo, a dark hole like an abyss in the centre of the floor inside a large concrete cube with a single door. Its edges covered with black paint that creates the illusion of infinite depth.
The work is part of an exhibition of  Sir Anish Kapoor's sculptures and installations at the Serralves museum in Oporto, Portugal.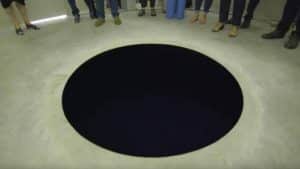 The story behind this work is well-documented and visitors were aware of the risk inherent in a large hole in the middle of a small room as they had to sign a "term of responsibility" before entering, and be accompanied by an assistant.The man was admitted to hospital with back injuries but has been discharged.