Luke Jerram is "probably the most famous artist you've never heard of" (Bloomberg Television).
Yet, you're highly likely to have seen his work. Jerram exhibits extensively both at home in the UK and around the world, and his art has also become a go-to for news outlets communicating complex scientific ideas. Perhaps you've seen one of his frighteningly fragile glass microbes in the news, or encountered an enormous inflatable moon at a festival.
Pianos, hot air balloons, treasure hunts, sound installations: this multi-faceted approach makes Jerram's work a little hard to define, and his name tricky to place. At its heart is an ongoing interest in perception and space. Some works, such as the installation piece 'Retinal Memory Volume', are explicit in this interest. Others, like the giant slip and slide 'Park and Ride', take a more sideways view on the topic.
Yet all of Jerram's works elegantly combine his artistic research with nuanced scientific and technical understanding – but in a way that shows a real, deep connection to his audiences. You can't fail to be moved by this work (sometimes literally – in the case of the slip and slide).
And this is why the world needs Luke Jerram right now.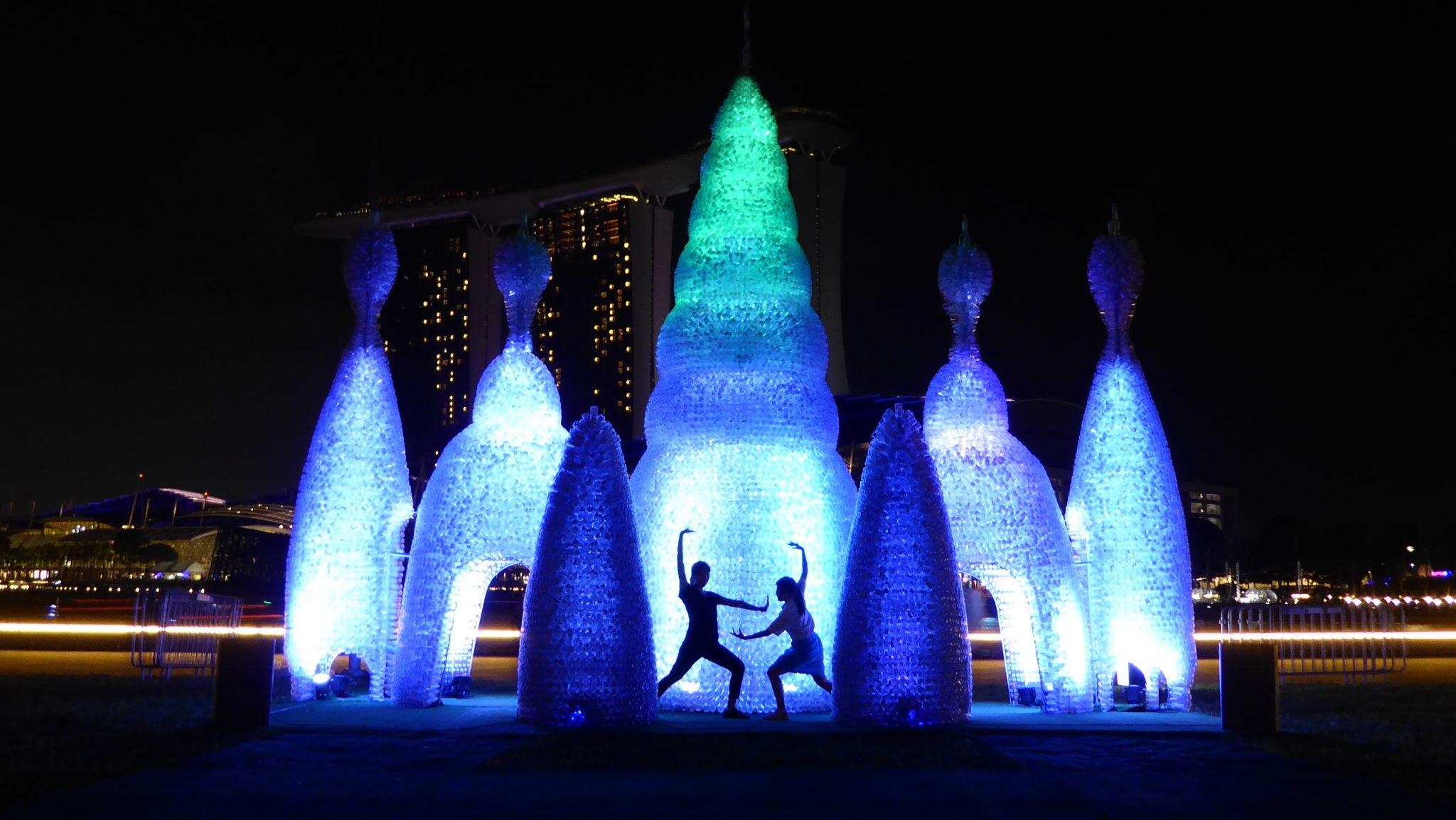 The Art of Science
In February 2021, 10 million doses of the Coronavirus vaccine had been administered in the UK. To mark the occasion, Jerram created a new work in his series of glass microbes – a sculpture of the Oxford Astra Zeneca vaccine.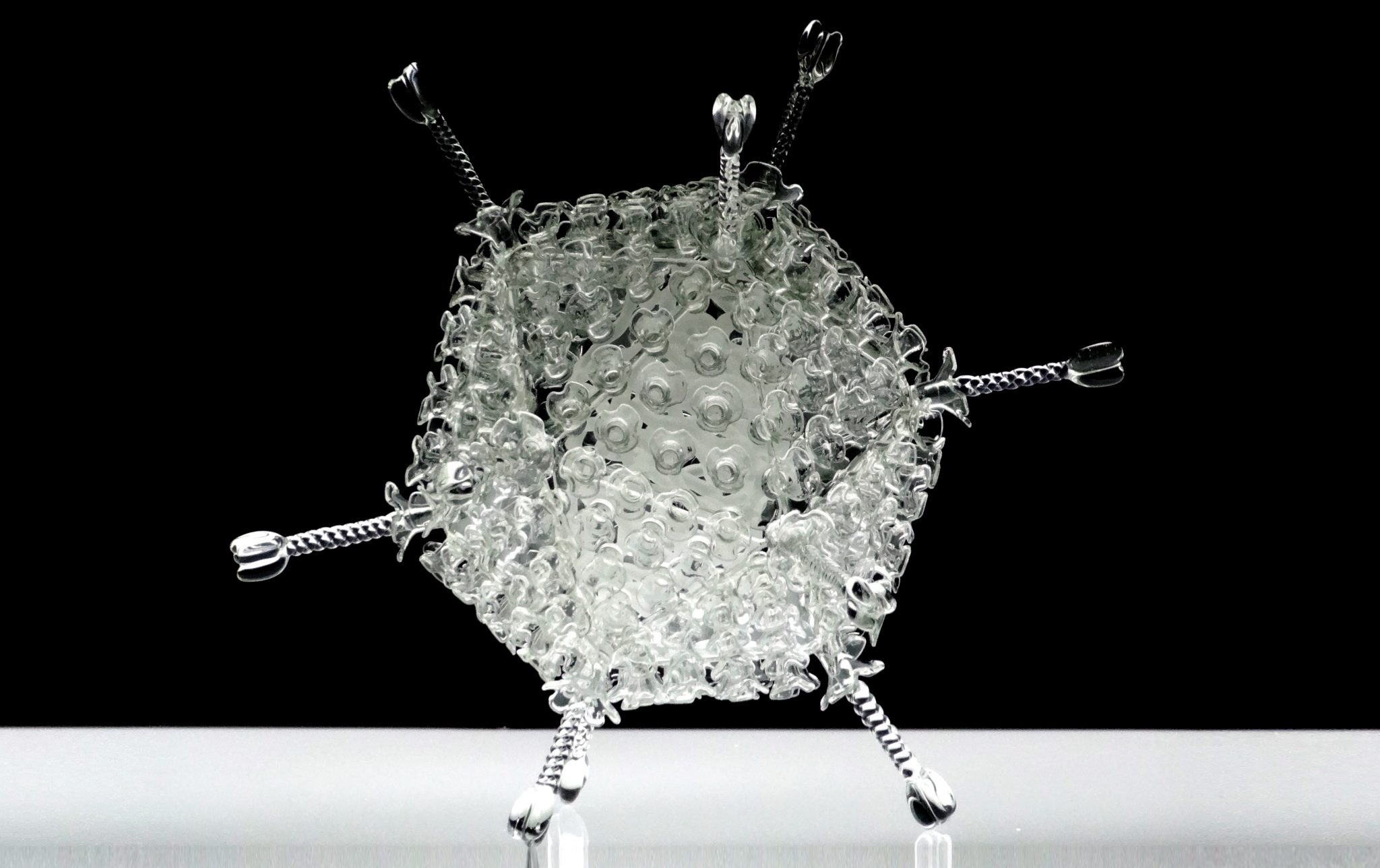 Eight weeks before the start of the pandemic, Jerram had worked with his team of scientific glassblowers to create another sculpture, of a then little-known virus called COVID-19.
As the pandemic hit, this highly detailed and realistic work was used by media outlets around the world to help their audiences understand Coronavirus.
Jerram has been creating his Glass Microbiology series of sculptures since 2004. These works blow viruses and microbes up to one million times their size, a feat which can be achieved by using the same highly specialist glassblowing techniques used to make scientific equipment.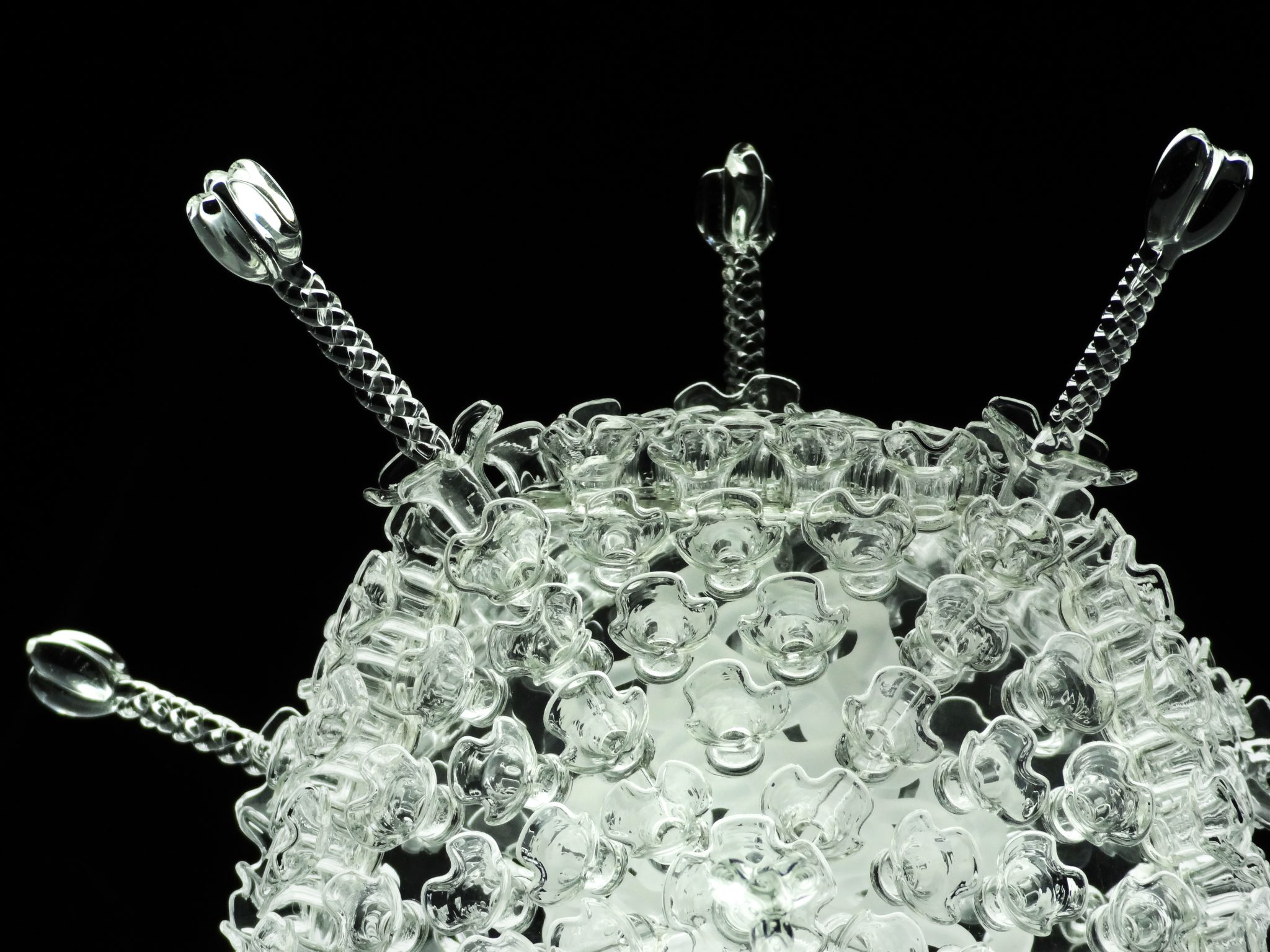 "Scientific glassblowing is done with borosilicate glass, starting off with cold glass which is melted over a flame. It's called lamp work." Jerram explains, "The glass team are able to make things incredibly accurately, to the millimetre. It's a very defined skill set. There are only about 90 professional lamp workers in the country left. It's very much a dying art. We've really pushed the boundaries of this type of glass – some of the artworks are even too fragile to stand up to gravity. The glassblowers have received OBEs for their work in the arts and their signature is on each artwork as well as mine."
The sculptures make the microbes alarmingly real to their viewers. More real than many popular scientific images, in fact, which were the prompt for Jerram to start the project:
"I was reading a story about HIV in a newspaper and the illustration used was a brightly coloured diagram. I did some research and found out that viruses don't really have a colour because they're smaller than the wavelength of light. So back in 2004 I found a glassblower I'd worked with before and we made a small HIV sculpture as an alternative representation of the virus."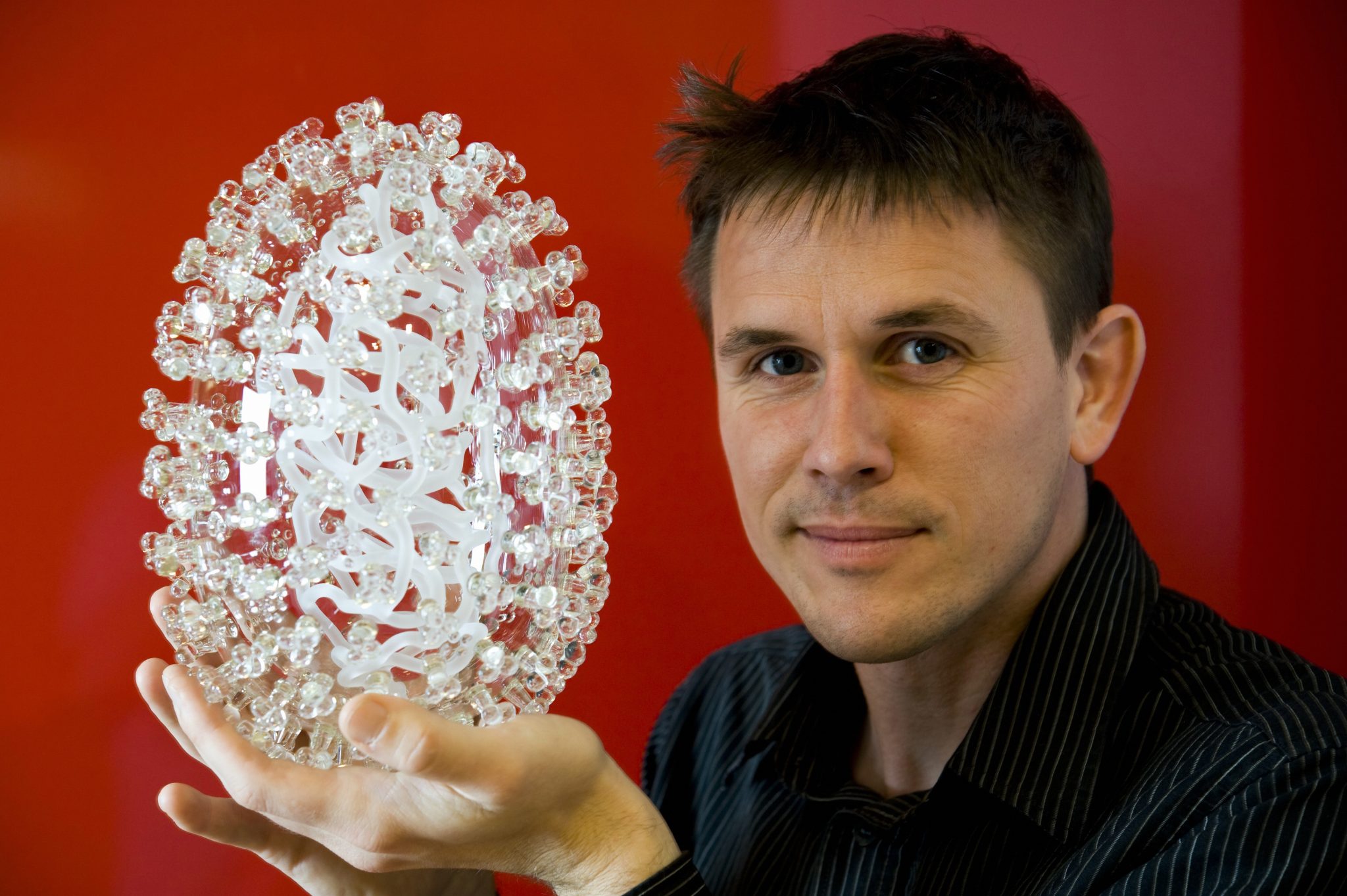 The Science of Culture
Jerram is known as a scientific communicator. But his work does much more than simply explain – it engages with ease and authenticity.
What is so compelling about his projects is their universality – elegant ideas that quickly become part of our general culture. It's hard to imagine a city without street pianos, for example, an idea pioneered by Jerram with his 2008 installation 'Play Me, I'm Yours'.
These works offer a moment of meaning and connection. They make space for you and welcome you in.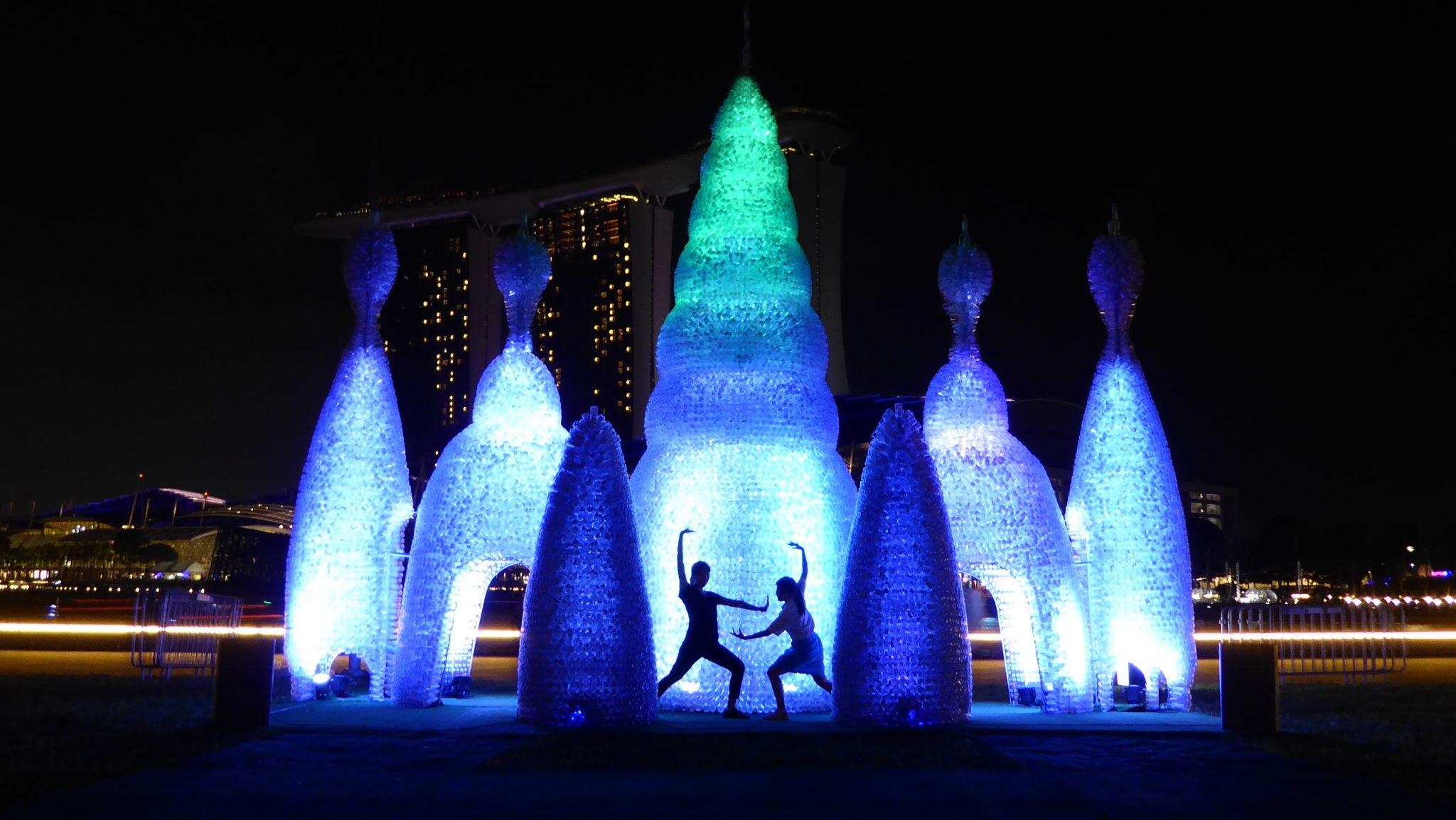 Jerram's moving new installation is titled 'In Memorium'. This work is an open-air artwork designed to offer a space of solace in a time of social distancing. Flags made from NHS bedsheets are arranged in the shape of a medical logo. The fluttering memorial can be explored by visitors who need a place to grieve, to think, and to be thankful for those that have risked their lives during the pandemic.
What's that name again?
So whether or not Luke Jerram is a name you've heard of, his work is a vital voice in the world right now.
His work goes beyond simply grabbing our attention and helping us to understand complex scientific ideas. This art offers an opportunity to feel part of a society and a culture that we have been distanced from for so long.
It's thoughtful and compassionate, and just the tonic we need as we step blearily towards a post-pandemic world.
For opportunities to see Luke Jerram's work worldwide see www.lukejerram.com.
Venues include:
Glass Microbiology
'Infected', Rijksmuseum Boerhaave, Netherlands, ongoing
History of Science Museum, Oxford
Barry Art Museum, Norfolk Virginia – COVID19 sculpture
Clear as Crystal: Colorless Glass at the Chrysler Museum, USA, until 3 July
In Memoriam
Harrogate, UK, 28 May  – 7 June
Edinburgh, UK, 26 June – 9 July
Museum of the Moon
Canadian Museum of Nature, Ontario, from 5 September 2020,
Longleat, UK, 19 June – 12 September,
Milton Keynes International Festival, UK, 22 – 25 July
WOMAD Festival, UK, 22 – 25 July