WASHINGTON D.C. – SONY Launches US campaign commissions over 20 films shot on Action Cams by directors all over the world.
With the recent release of Sony's all-new Action Cam, they are launching a new initiative called "Never Before Seen" to display the camera's abilities through stunning visuals of some very talented artists and curators from around the world.  The first three videos, "Picture Machine", "Paperports" and "Creature" have been released already and are making quite an impact online!  This is an amazing way to not only launch their new product, but to involve and integrate fellow creative nerds and 'artiholics' in actually using the product and showing us through visuals how to be more creative.
Background of Action Cam:
The campaign was launched on March 23rd with the debut of three films: "Picture Machine", "Paperports" and "Creature". Directed by Studio Nos, Charles Young and Ryan Dzierzek respectively, the variation between the three films is a good indicator of the campaign's overall breadth. "Picture Machine" documents the construction of a reverse zoetrope, "Paperports" lets us peek into the work and process of Young's intricate miniature paper architecture practice, and "Creature" tells the tale of a mutant reptile on the loose.
I know for sure that I will definitely be purchasing the new action cam and am excited to utilize all of the new functionality, specifically for the high quality and 4k high quality footage.
Action Cam Features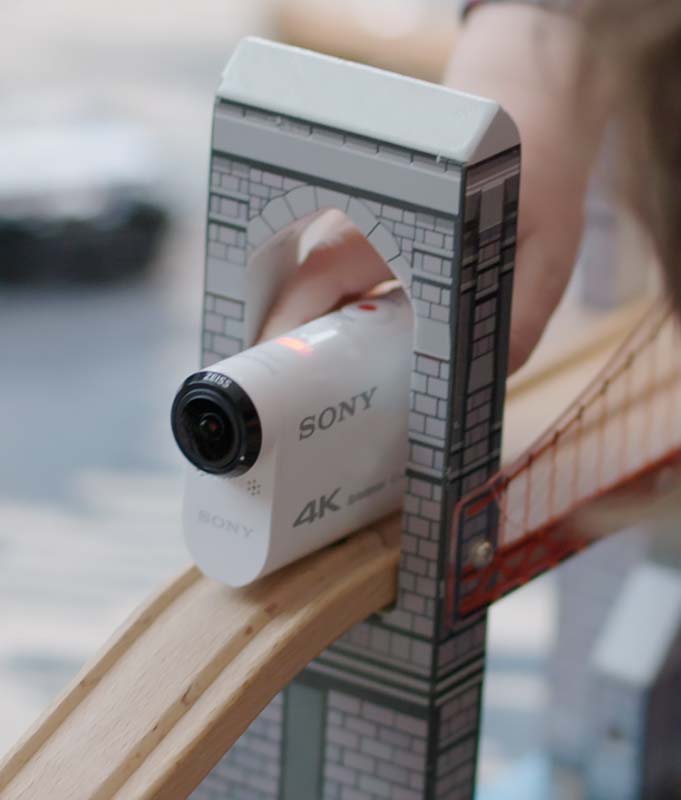 Let's make everything Never Before Seen. With Action Cam, high quality film meets technology in a small body which means the possibilities are as endless as your creations.
Technical Specs:
4K high quality footage at 100mbps means smoother, more beautiful footage.
Steady Shot Image Stabilization compresses various blur during high vibration shooting, from remote control race cars to action sports to everything in between.
170° Ultra-wide angle allows you to see and capture more than ever before.
Audio has never sounded better with Action Cam's Stereo Mic and Wind Noise reduction features.
Live-View Remote lets you fully operate Action Cam through a wrist-mounted accessory. Perfect for controlling your shoot when the camera can't be within reach.
GPS Data Overlay adds route and speedometer data directly onto the video so you can track every step of your journey.
Splash-proof means Action Cam can handle the elements without a case. Bring it outside or experiment with some new 'splashy' film techniques.
VISIT THE SITE
Be sure to check out the videos below to see the new Sony Action Cam, for lack of a better term, IN ACTION!  Fee lfree to leave your comments and thoughts below in the comments section.
Information about Paperports:
CREDITS:
MAKER: CHARLES YOUNG

EDITORS: CHARLES YOUNG, JOSH RATHMELL

SOUND DESIGN: CLAIRE BELL

CAMERA USED:  HDR-AS200VR
 

CAMERA FEATURES:
Photo Mode to capture single images at 8.8MP Stills

Live-View Remote with full command and monitor

Interval Photo Recording Mode for time-lapse

Zeiss lens for precision optics
Information about "Creature"
CREDITS:
DIRECTOR: RYAN DZIERZEK

COMPOSER: LUKE DZIERZEK

SOUND: INCA AUDIO

TALENT: OLOF STORM, SAM ELLIE, RHIANON TAYLOR

CAMERA USED:  FDR-X1000VR
CAMERA FEATURES:
Full HD:  120p/100Mbps 60p/100Mbps

Advanced SteadyShot for image stabilization

170° Ultra-wide angle when SteadyShot is turned off

Zeiss lens for precision optics

Manual control settings for white balance and AE shift

Tough and splash proof body

Accessories:  Universal Head Mount Kit / Monopod /  Chest Mount Harness
Information about "The Picture Machine"
CREDITS:
DIRECTORS: MATHEW AMONSON, JEREMY BRONSON

PRODUCER: DAVID BRONSON

DIR. OF PHOTOGRAPHY: BILL THOMPSON

ANIMATORS: LIZZIE AKANA (LEAD), Dennis Moran, Marika Cowan, Andy Kennedy

CREW: ANDY KENNEDY (TECHNICAL), ZACK WILLIAMS (ART & SET)

CAMERA USED:  FDR-X1000VR
CAMERA FEATURES:
Full HD:  120p/100Mbps 60p/100Mbps

Advanced SteadyShot for image stabilization

Live-View Remote with full command and monitor

Interval Photo Recording Mode for time-lapse

Build-in stereo microphone for quality sound with wind noise reduction

Zeiss lens for precision optics

Manual control settings for white balance