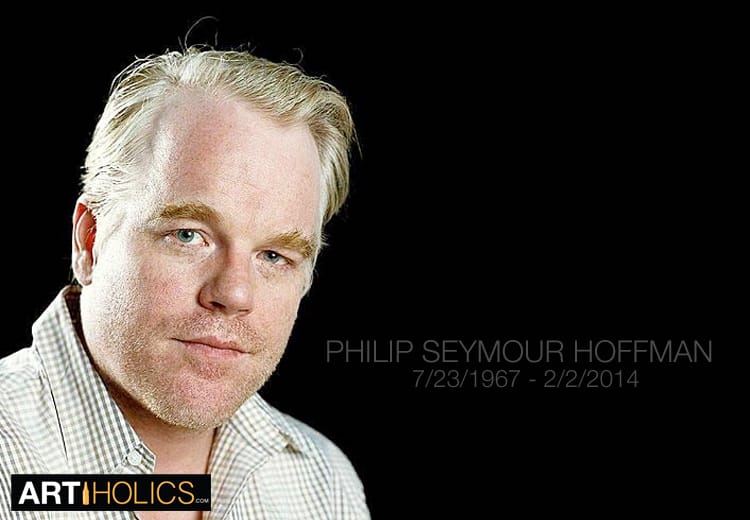 New York – Sunday, February 2, 2014
It's a sad day in the acting community as they mourn the untimely death of Oscar winning actor Philip Seymour Hoffman, who passed away this morning from an apparent drug overdose in his West Village apartment.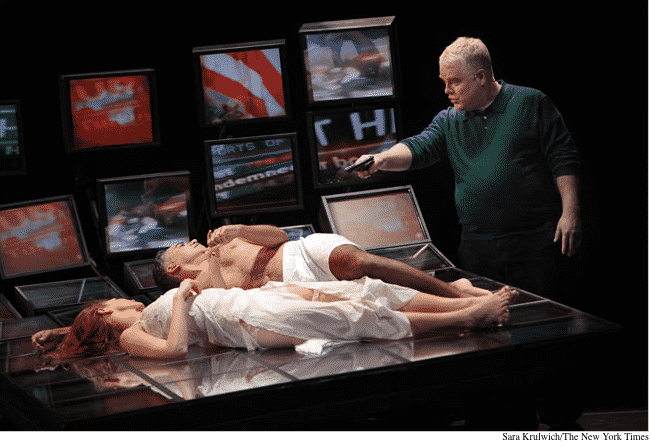 I was fortunate to have seen him perform on stage as Iago in an avant-garde version of Othello at The Skirball Center for the Performing arts a few years ago.  My girlfriend Molly was working there during the run of the show.  I remember at the time that she said it was funny that he would ride his bike to the theatre every day – while smoking.
Hoffman has played some great roles, here are just a few memorable scenes that come to mind which have cross overs into the fine art world.
How many artists and writers watched Hoffman playing Lester Bangs in Almost Famous and didn't wish they had a mentor like this.  One who recognized your talent early on, had seen it all, and was there to guide you on your artistic path?
And later having to console William, by explaining that most real artists are "uncool," which is one of the key catalysts for making great art.
How about his role in Synechodche, New York, a film of Being John Malkovich weirdness where he plays husband to a painter of miniatures, whom after she leaves him receives a theatre grant with an ever expanding budget, creating a life-size replica of his life (and New York City) in a massive warehouse, for a show which is in a constant state of being written.
Or that scene in Along Came Polly where his character takes Ben Stiller's character to an art opening, which ends abruptly when this happens.
I have long been a fan of Hoffman, and it's because of him I coined a term "Oxtra"(a word I made up which didn't get any legs) based on his career. The tongue-in-cheek term comes from the combining of the words Oscar and Extra, and is defined by an actor who wins an Oscar, who was previously a character actor who was essentially an extra for a huge part of their career before breaking away to being a leading man.
OXTRA ORIGINS:
Hoffman was one of the very few character actors who beyond all odds (and by way of his amazing acting ability) propelled himself from being an extra, to being an Oscar winner.  Thus making all of his past film work bumped up from extra to oxtra performances, and as thus they should be re-watched with a new eye.
Few may remember back in the early days of high speed internet there was a humorous website called Fametracker, which lasted from 1999 – 2007.  I enjoyed the site, and one of their more popular sections was titled "Hey! It's That Guy!" This was an alphabetical list of character actors, and what you would know them from, and why they will never be anything but a character actor.
They had funny metrics as to why their theories held (actor goes by three names, etc.) and I remembered back in 1999 Philip Seymour Hoffman was one of the Hey! It's That Guy! listings. It stuck out in my mind because I agreed with most of their list, but I thought that he would probably be bigger than just a character actor. Thanks to the Wayback machine, here is the page: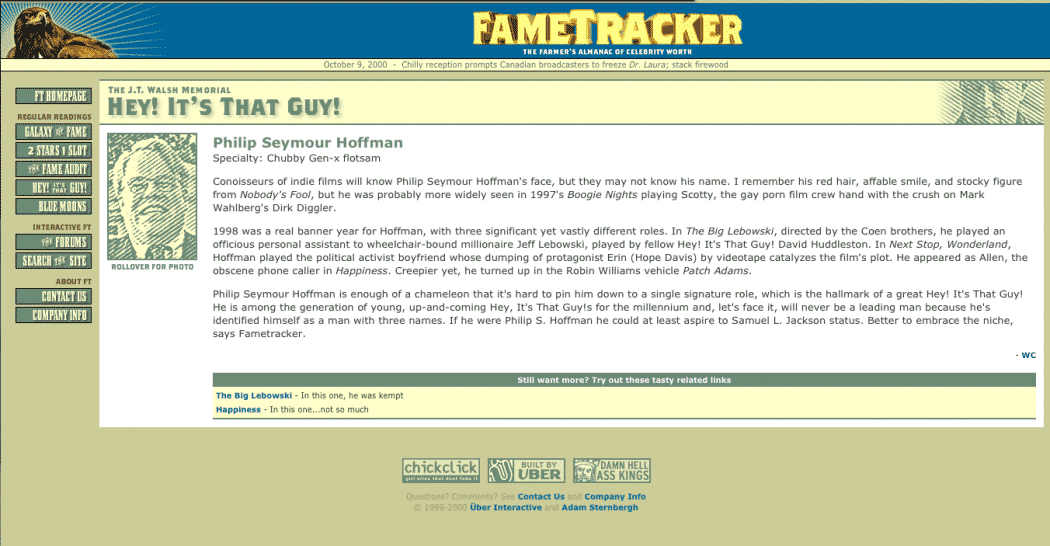 I remember the day Hoffman was nominated for an Oscar in 2005 for Capote I checked Fametracker to see how they would react, if they would eat crow and apologize, and take his name off the list.  Nope, they ignored it.  When he took home the Oscar, they ignored it as well.  They just kept the 1999 summary up.  No wonder their site failed.
Rest in Peace Chubby Gen X flotsam.  You will be missed.
Written by Cojo "Art Juggernaut"
[via NY POST]