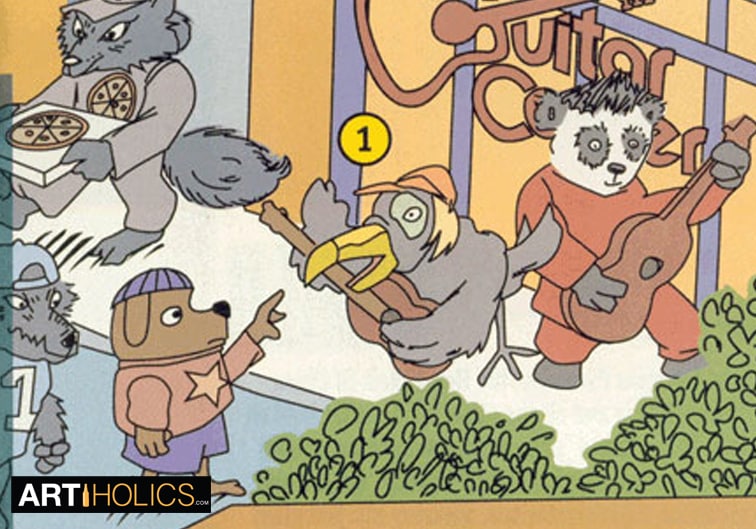 New York, NY – Friday, May 31, 2013
Back in 2007 I got a weird illustration assignment in.  I had done work for the music magazine Alternative Press five years earlier, creating a bunch of art for the Warped Tour 02 Magazine but this was to be completely different.  It's always strange when a client asks an artist to try to "ape" another artist's style, and some artists just won't or can't do it.  The art director floated out the "homage" concept in a mass email to the freelancers to see who could draw in the style of the deceased children's book illustrator Richard Scarry.
I normally focus on my line weights, and color, but Scarry was all about uniform simple line art, creating a world of anthropomorphic animals that live in an alternate universe where there are no humans.
The concept was that a bunch of musicians were going to write a paragraph about their first job, and I would draw these various scenarios all in one city scene.  Everything outside of those stories was up to me, I could populate the town as I wished.  Being that the magazine is pretty bad ass with a focus on indy, punk, and heavy metal, I took Richard Scarry to places little kids reading the books wouldn't think he'd venture…observe: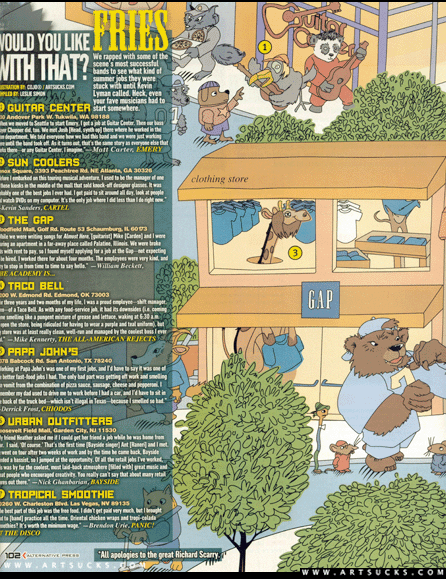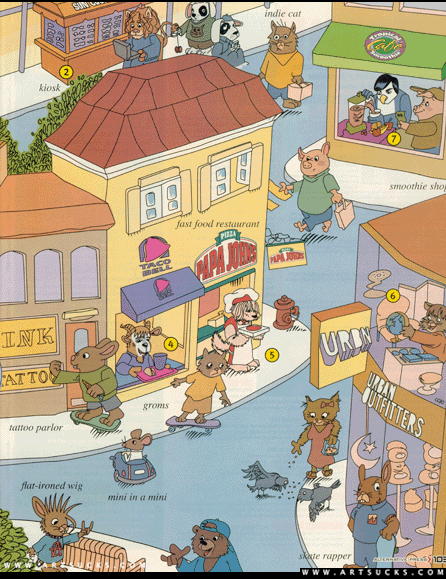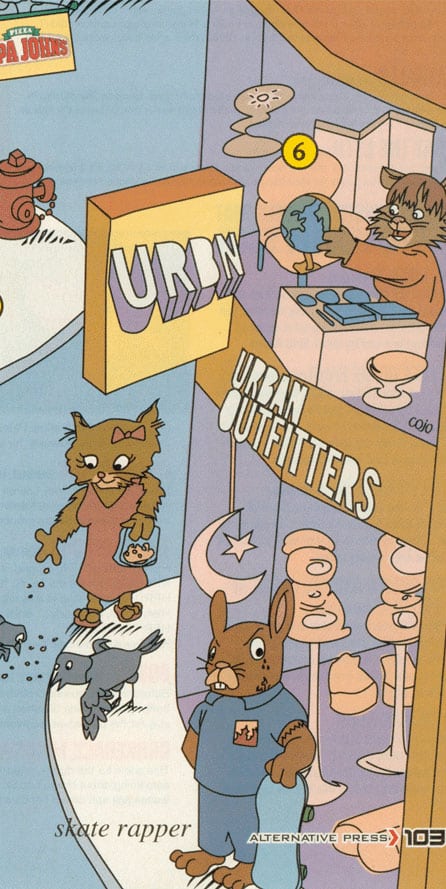 He has three tear tats, that means he was raped three times in prison.  No wonder he's pissed.  Notice the globe, I wanted to make sure people knew that this was earth, even though a cat is feeding birds instead of killing and eating them.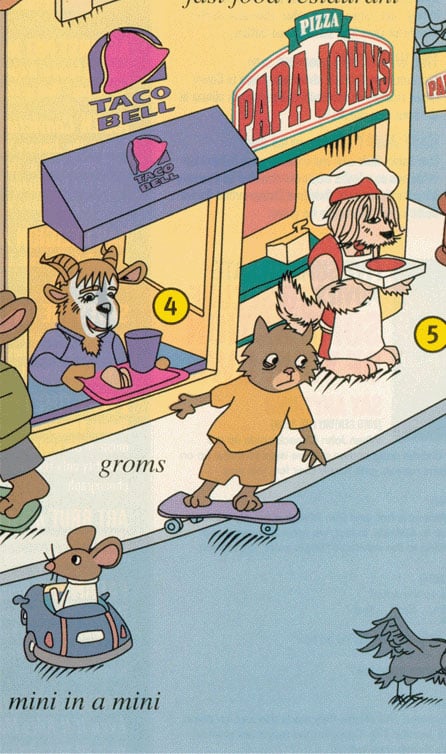 The cat on the skateboard needs sleep, he is cracked out.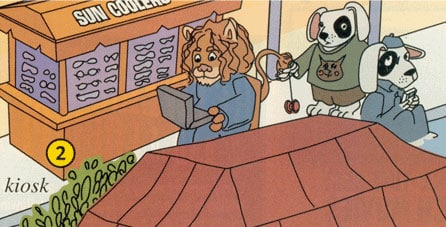 Sunglasses selling lion don't give a shit, he's got shit to do, online shit.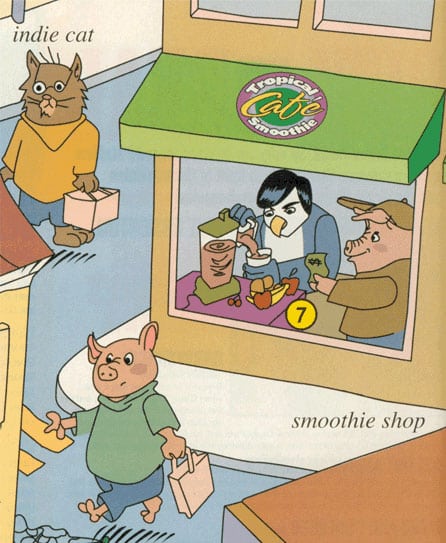 That pig is paying for a smoothie with a dollar, that's how you know this isn't earth.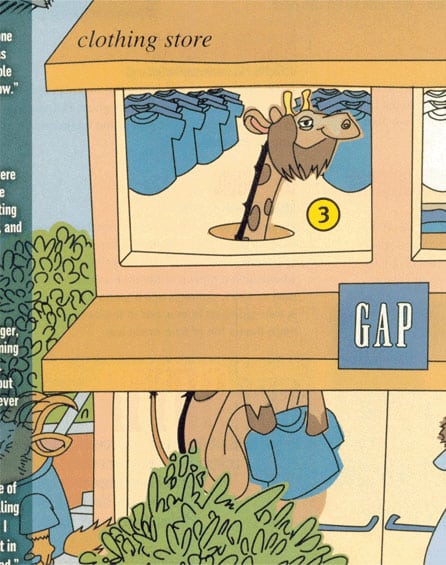 Upstairs is for hipster giraffes only.
Some of what I wanted to draw did have to get censored…as in, they made me change the image last minute.  This bear was squeezing a panicking mouse's head (which is why the beatnik mouse and the worm guy look pissed and concerned. I ended up just having to get rid of the mouse in his hands.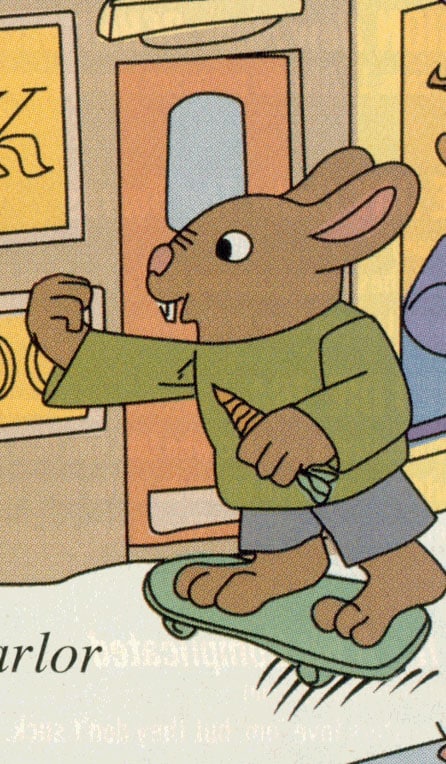 This rabbit was flipping the bird…DELETE THE MIDDLE FINGER please.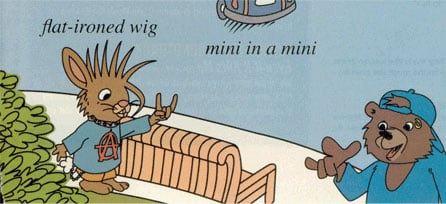 This bunny is into some dark shit, and so is the bear.  Rock on.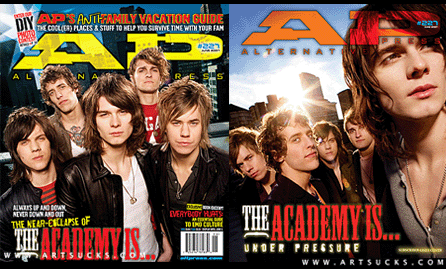 Here is the issue it ran in.  Good times.
Written & Drawn by Cojo "Art Juggernaut"