The reclining figure is one of the most popular poses in the history of art, particularly in the Eastern iconography. In Buddhist art, the theme of a reclining Buddha is a major one, representing "parinirvana" – the state of nirvana after death. The portrayed Buddha is typically lying on his right side, his head resting on a cushion or relying on his right elbow, supporting his head with his hand.
Now imagine taking a stroll in a park – let's say the Morningside Park in Upper Manhattan – and seeing a large sculpture of a reclining figure. Instead of Buddha, however, reclining on the grass is Liberty herself.
Part of NYC Parks' Art in the Parks program, "Reclining Liberty" is a piece by Harlem-based artist Zaq Landsberg. It is a plaster resin sculpture of the quintessential American figurative symbol, resting with her eyes closed. The materials she was made of are sturdy enough to support anyone who would climb, sit atop, or lean up against her. If you ever wanted to see and interact with Liberty, now is your chance; especially since the copper paint and an oxidizing acid really make it look like the actual Statue.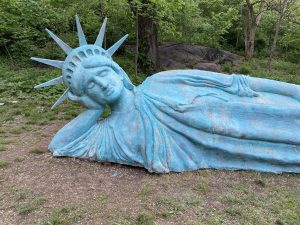 Morningside Park's Reclining Liberty
The symbolisms behind the artwork are many: Landsberg intentionally combines the traditional Buddhist iconography with that of New York and the United States at large, questioning the ideals that the Statue of Liberty represents. The artist also considers the meaning and significance of monuments, America's relationship with its own history, and the way certain aspects of it have been celebrated to the exclusion, and even detriment, of a large part of its own people. "Reclining Liberty" could also be perceived as a symbol of a country succumbing to a grueling pandemic, in which even the tallest of statues can be worn down.
Is Liberty simply tired from all the challenges of the contemporary moment? Aren't we all?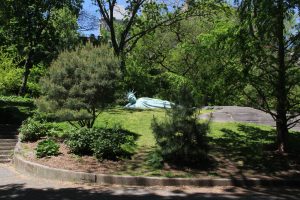 About Zaq Landsberg
Zaq Landsberg specializes in large scale, site-specific sculpture that is often installed outdoors. Much of his work, by his own admission, involves "things that look like other things" – for instance, his "Peshmerga Fighting Vehicle" from 2017 is a replica of a real-life truck used by the military forces in Kurdistan, while the 2014 installation "SkyWatch" is an eerie, spider-like NYPD watch tower. He is also the creator of the "Republic of Zaqistan", a two-acre piece of land in the American West.
Landsberg's interest in the concept of monuments extends beyond "Reclining Liberty," through artworks dealing with visual representations of historical figures such as Robert E. Lee and Christopher Columbus. This is also the second time the artist used the Statue of Liberty in his art: it follows the 2012 project titled "Face of Liberty", in which half of her head was emerging from the Governors Island.
You can visit Zaq Landsberg's "Reclining Liberty" in Morningside Park, near the West 120th Street and Morningside Avenue entrance to the park, until April 2022.