What do a giant inflatable ram, Gulliver's Travels, and rhubarb have in common? They are all found in the heart-warming and eye-boggling work by UK digital artist Jason Wilsher-Mills.
Artiholics caught up with the artist.
You've been in the international news during the pandemic. Can you tell us about it? 
When lockdown started my work was due to go to the Tate for an art festival. The pandemic prevented this. Whilst at home in isolation I decided to fight back, so I began putting on impromptu exhibitions in my back garden.
Because of my disability, my teenage kids would help me install and inflate the sculptures. My neighbours started hanging out of their windows to see this exhibition appear over the garden wall, and even the local 'bin men' shouted over the fence that they loved the work. One of my neighbour's young daughters, Florence, would draw me in my garden with the sculptures, which she would then post through the letterbox. This had such a huge impact on me. A little bit of magic in the bleakest time.
I then started to get interviews requests from newspapers in Germany and then TV companies arrived at my door. In lockdown, this attention had a regenerative effect on me and lifted me to create new art, in new ways. I never stopped working, as you can't put breaks on the creative process. The attention I received seemed to boost this exponentially.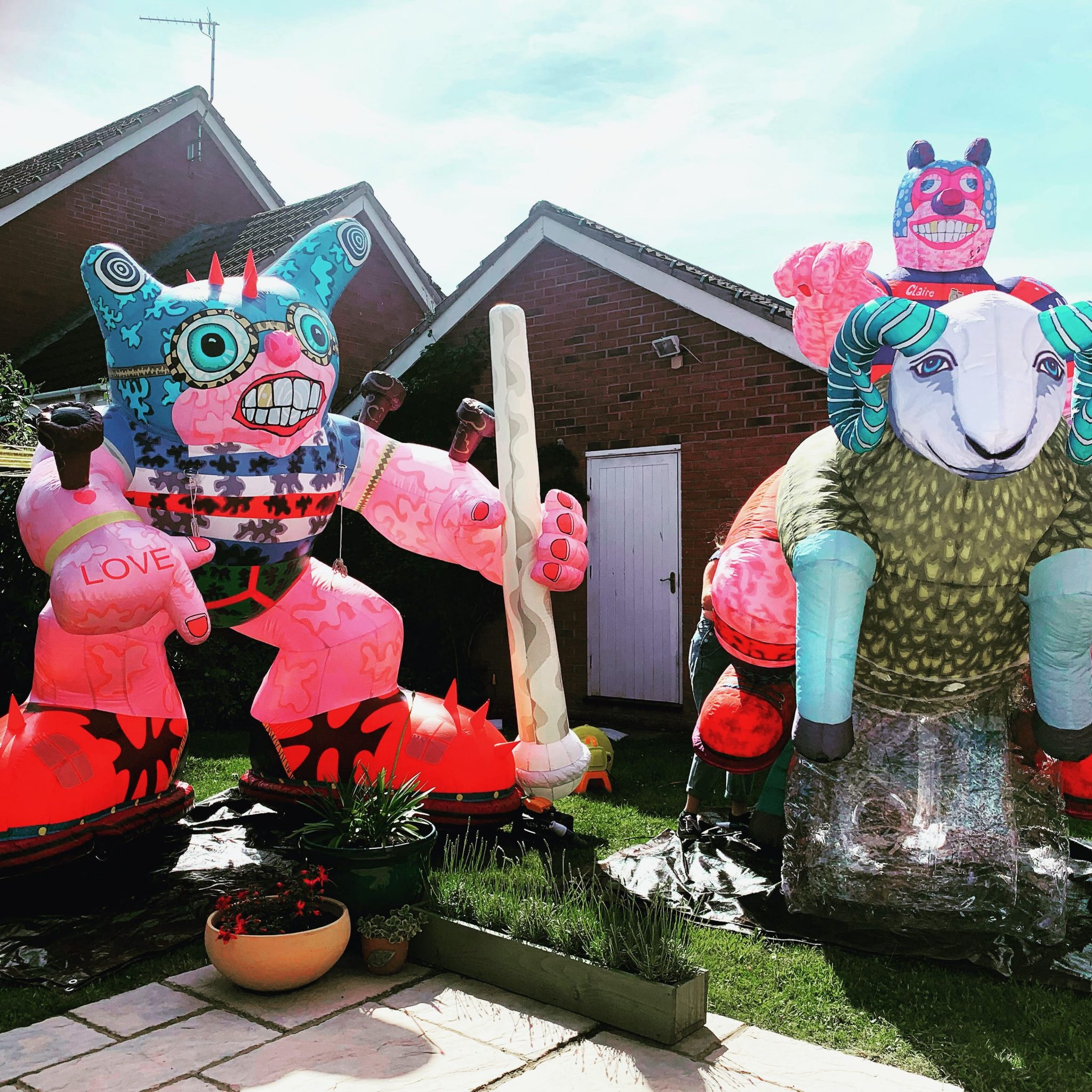 The 10ft tall, colour changing and illuminated 'Jason and the Argonauts' inflatable is a stunning example of your work – what's its story? 
In 1963 the Ray Harryhausen film was released 'Jason and the Argonauts' and when I came along in 1969, my parents named me after this illustrious and dynamic hero. I was always intrigued by my name and where it came from. When I found out more about the story of the 'other' Jason and his voyage, where he set out to find the finest heroes in ancient Greece to set sail with him and reclaim the magical Golden Fleece, it fitted in well with what I was attempting to do with my art practice.
I had stopped making art just about myself and started to focus on making art about others in the disabled community, and making a conscious decision to make art with and about them.
I was attracted to the idea of replicating a great heroic voyage of discovery where I was collecting stories, which I would then reflect on and make art about.
I am very much a reluctant disability activist, although I choose to use humour and psychedelic colours to get my points across. The works I created are influenced by my working-class childhood, in Yorkshire, in the 1970s.
The surface of this sculpture is covered with the iconography of my own life and the stories which have been shared with me. It is also richly adorned by the names of all who have taken part in my work and my travels around the UK, working with deprived disabled communities.
I am not a spokesperson for these communities, I am just an artist who chooses to make these statements, to make art about those I feel some connection with.
I love the fact that this sculpture is linked so closely with my biography and with those I choose to work with also.
When people ask what my work is about I simply answer that it lies somewhere between the British children's comic book 'The Beano' and the social commentary film 'I, Daniel Blake'. Don't be fooled by the bright colours, as the work is a trojan horse (or even a trojan sheep) in that the viewer is pulled in and then I can discuss the complex hidden stories.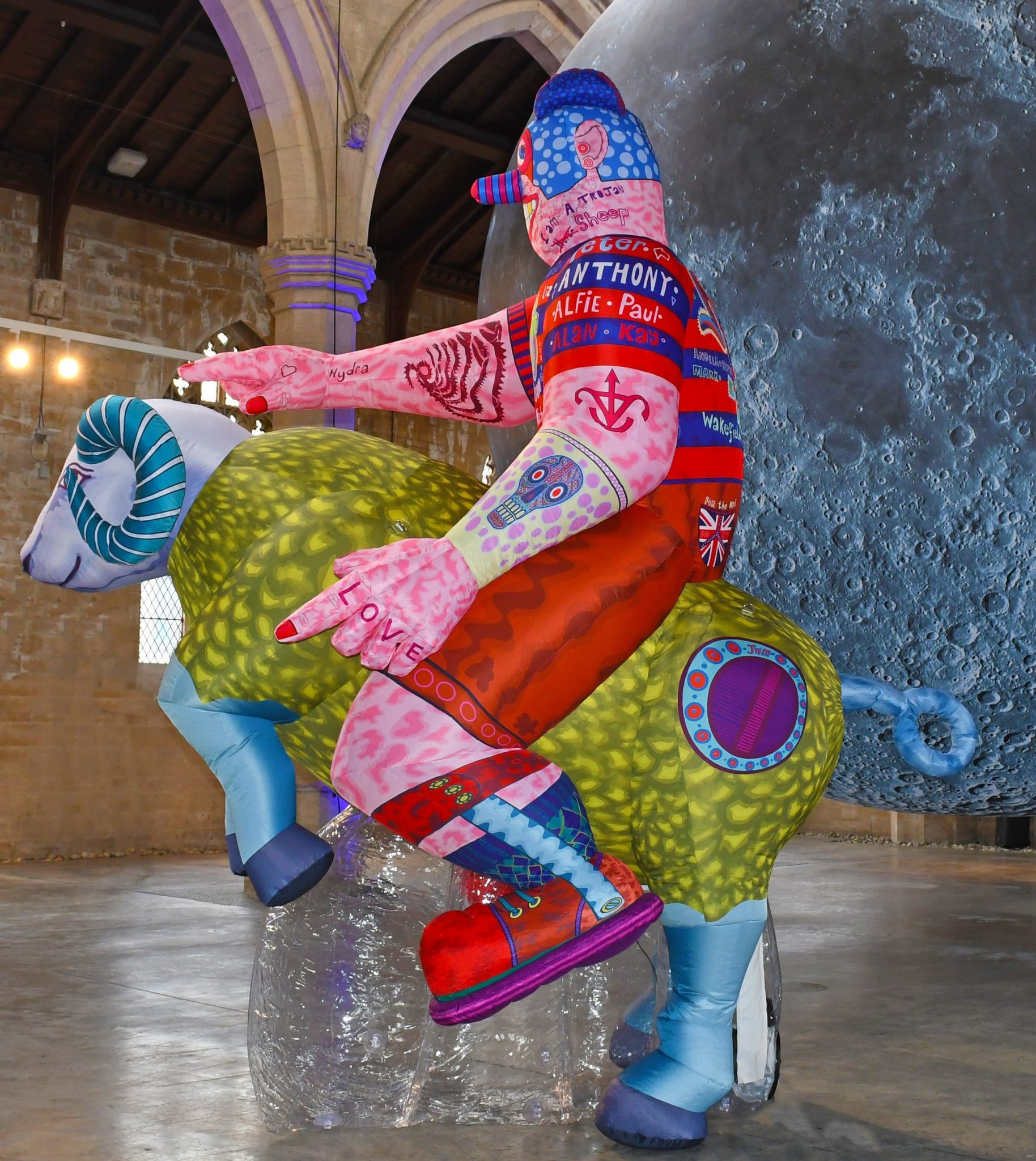 And there's an even bigger inflatable on the way?
Yes, there is a huge inflatable sculpture on the way, which will be unveiled at my solo show at 20-21 Visual Arts Centre in October. The sculpture is so big that it will allow the viewer to walk in and around it.
It shows a prone figure who is brightly coloured and highly decorated with tattoos, each with a significant meaning. I have designed it so that you will continue to find different things, regardless of how many times you view the work.
The figure represents a disabled person who is being changed on the floor, as they cannot access proper toilet facilities.
I wanted to create an accessible piece of work that told this story whilst being careful not to preach. Being angry does not work for me when making art, and I think the best approach is to get people on side by making them smile or even laugh first. It is meant to be absurd and provocative.
You use AR a lot in your work and have an iOS app, 'Jason Residential'. Can you describe this work for us?
Most of my sculptures link to an augmented reality app, so I can animate and move the work and unlock further content, which adds to the sculptural work and is a piece of art in its own right.
Technology has democratised my art and allowed people to download my sculptures into their own living rooms or gardens. I get photos from people who have downloaded my virtual sculptures and it fills my heart with joy, especially when I was so isolated in lockdown. The technology set me free.
The 'Residential' app allows you not only to download my work but virtually walk around my head and see the creative process. Think of the film 'Being John Malkovich' but in digital form, as the app fully immerses the viewer.
Through the AR I can extend my practice by integrating my love of 1970s animation and popular culture, using the most up to date and cutting edge technology.
In lockdown, I loved the idea of the 70s movie 'The Phantom Tollbooth' as I wanted to escape the four walls I was trapped in because of the pandemic. I wanted to create magical portals, just like the tollbooth, through which you could see movies and animated characters who acted as strange and magical gatekeepers to this wonderful new work.
This unique approach was adopted by SHAPE Arts and developed by Hot Knife Digital Media to create the app Unfolding Shrines, giving a creative space to other disabled artists around the world. It effectively became a virtual artist AirBnB.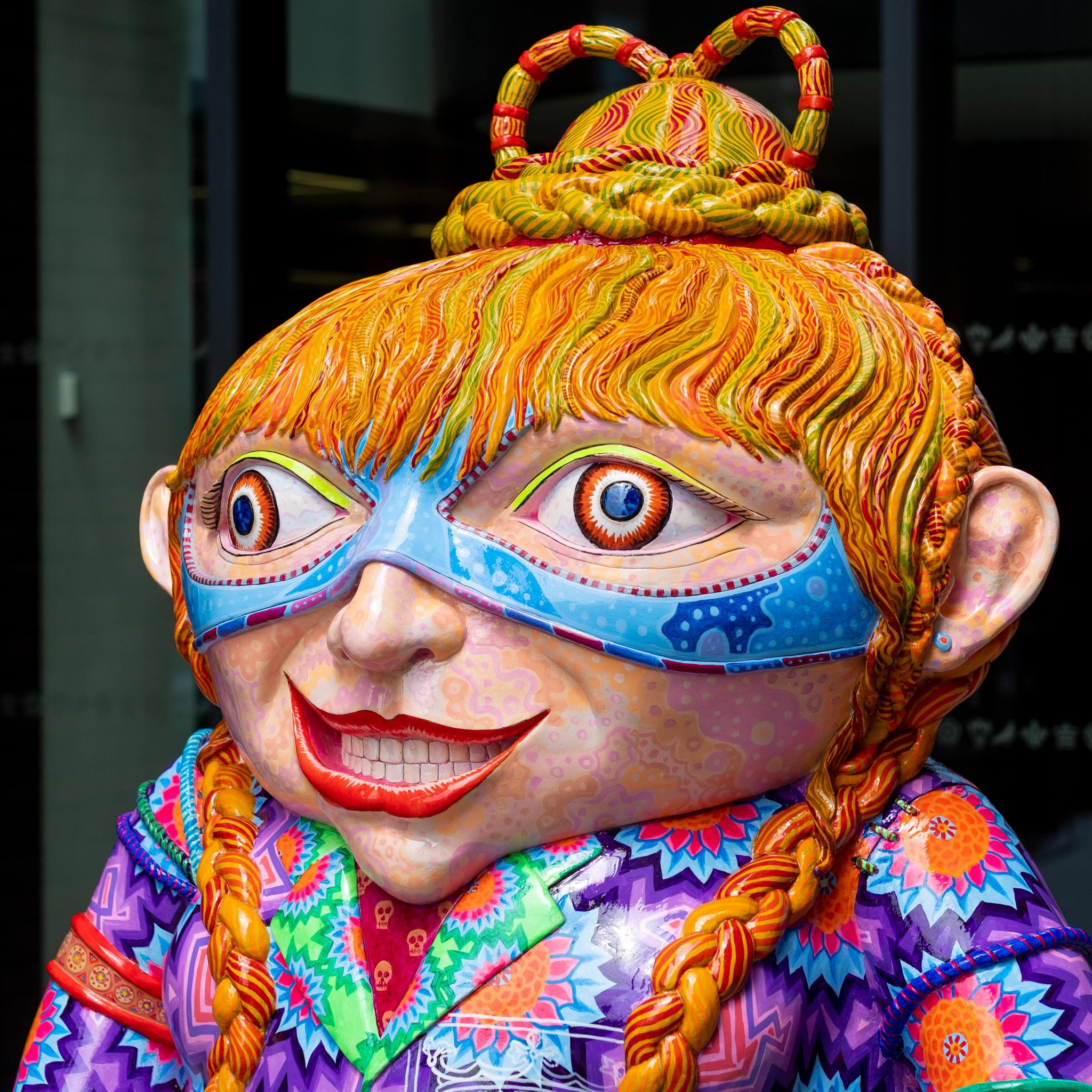 What's coming up?
I have a new sculpture being unveiled as part of the prestigious Folkestone Triennial in July and in August I am releasing my first virtual reality video game, which is going to be housed at Shire Hall Courthouse Museum in Dorset.
In September I will be taking part in a SKY Arts tv programme, but I can't say too much about that yet, and I am unveiling two new inflatable sculptures. In October my work is going to be shown at 20-21 Visual Arts Centre in Scunthorpe. This will be so exciting as I get to unveil my largest ever sculpture.
Is there anything else you'd like to share? 
'The Argonauts on Tour' is showing across the UK in 2022 and is available to tour to venues internationally. If you are interested in showing the work, then please contact me at Jason@jwmartist.co.uk.
You can also see more of my work at my website www.jwmartist.co.uk and on my Instagram account wilshermills.
Summary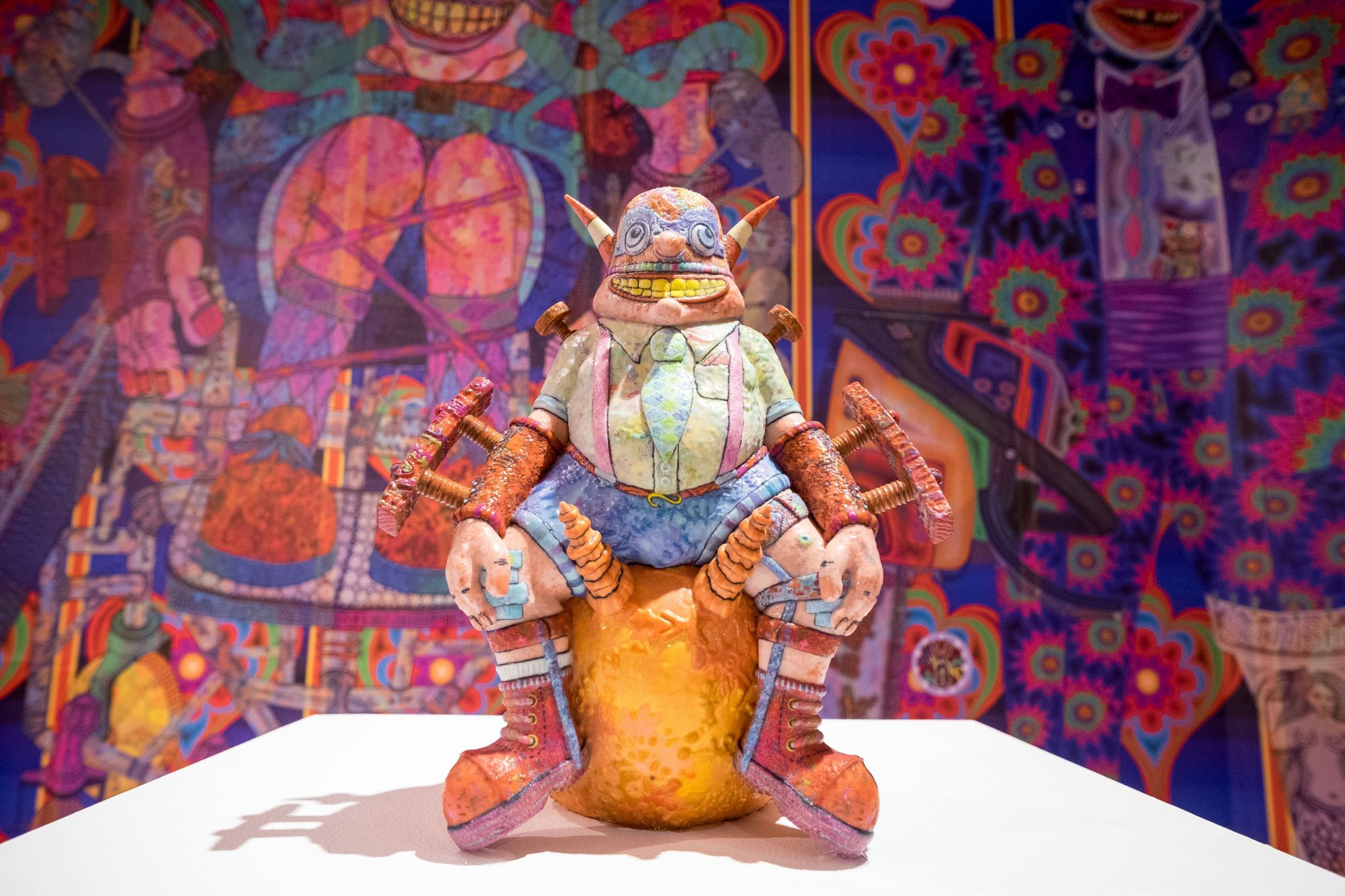 Article Name
How digital artist Jason Wilsher-Mills is inflating accessible art
Description
What do a giant inflatable ram, Gulliver's Travels, and rhubarb have in common? They are all found in the heart-warming and eye-boggling work by UK digital artist Jason Wilsher-Mills. Artiholics caught up with the artist.
Author
Publisher Name
Publisher Logo