Please introduce yourself to our readers. What's your background? Where are you from?
Aloha!
My academic background was as a double major in philosophy and law & social thought at the university of Toledo, Ohio. I took 5 months off before law school to decompress and was working as a free-lance writer. A project brought me to Hawaii, and after my book was finished, I took my check and walked in the Wyland Gallery in Waikiki. My father, a general surgeon based in Las Vegas, had instilled a love of art in me at an early age. He and my mother collected art and he once told me "A man is not measured by what he can buy in this world, but rather what he appreciates."  Those words stuck with me through the years, so I decided to spend my writing commission on a piece of fine art at the Wyland gallery; a memory to reflect on during the upcoming 3 years of law school. By chance, the director of this gallery had convinced me to stay around for an extra week and help her out as an art consultant since one of her employees had taken some time off. That week has turned into what is now almost a 10 career in the fine art industry.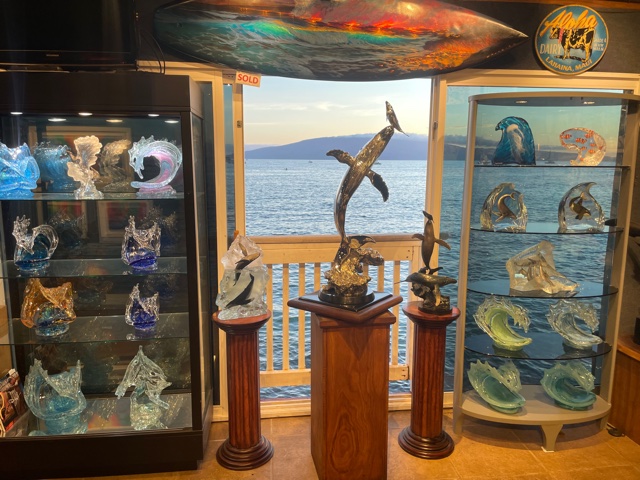 Please share with us about your artistic journey as the director at Wyland gallery.
My journey to becoming the director of the gallery was driven by an observation I made in my first year as an art consultant. I noticed so many customers made comments like "well, we love it, but we got kids headed to college in a few years so we shouldn't be irresponsible." There are many different versions of that statement I've heard over the years but what it said to me was "I shouldn't treat myself." We all have essentials in life like car payments, rent, mortgages, student loans, etc., so this is a very common response when walking in a fine art gallery. I would feel genuinely sad for couples when they would look at a piece of artwork that spoke to them, moved them, or even brought them to tears and watch that voice in their head grow louder until they found a reason to thank me for my time and walk out the door. I felt my journey to becoming a director would be paved by my desire to quiet that voice we all hear. Artwork is as essential as anything else we can spend our money on; it is a reflection of the times of our lives, an emotion you felt or still feel which you can look at and recall when you might need it.
What's the story of the gallery? What artworks are exhibited at the gallery? How do you select the artworks displayed at the gallery?
The Wyland gallery here at 711 front street is one of the oldest art galleries on Maui.  Founded in 1988 it has been a Lahaina town destination for collectors over the years and we are located in the heart of the arts district with a beautiful ocean backdrop.  The artwork you will find here is a collection of original works by Wyland and a handful of selected guest artists along with limited editions ranging from Oil, acrylics on canvas, oil on live edge Hawaiian Koa wood, giclee prints, glass sculptures, Bronze and stainless-steel sculptures to name a few. The artists we display are handpicked and we ship their artwork all over the world.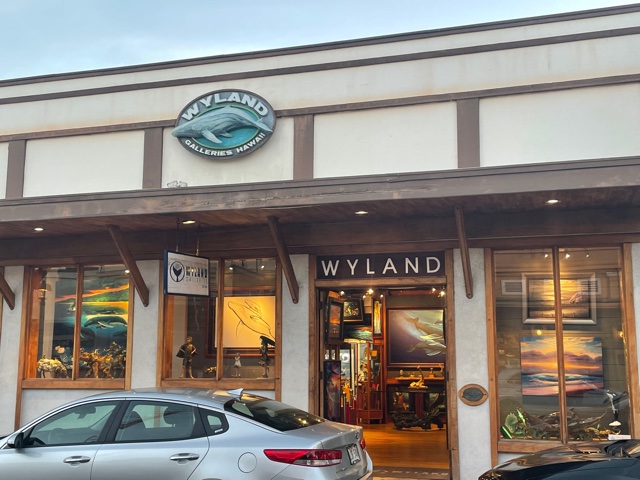 Please describe the art scene in Hawaii? How did Covid-19 impact the art world and the gallery?
Lahaina is one of the biggest destinations for fine art in the country. Front street boasts many galleries displaying some of the biggest names you will find in fine art along with local talent and up and coming names to discover. Covid-19 hit Lahaina hard, as a 2-week mandatory quarantine was required just to visit the island of Maui, so businesses were closed, and many boarded up. We here at the Wyland gallery offered a few live interactive Zoom hosted art shows with clients directly linking them with the studio as an attempt to keep collectors smiling during uncertain times. We here at Wyland were not as affected as some galleries without a client base going back 33 years, and it was difficult to see some galleries close their doors forever due to the pandemic. Wyland has since offered a few different programs including teaming up with VANS shoes to provide artwork for shoes that will directly benefit those small businesses affected by the pandemic. Wyland has always attached his artwork to a higher purpose, changing the world through art. 43 years later, he is still achieving that mission through many different projects such as the "100 whaling walls", where he spent almost 30 years going around the world painting whales on buildings to help create ocean awareness. He now plans to top that project, which is considered the biggest art project in history, by completing 100 life size bronze installations of whales all over the world.
What do you see in the near future for the gallery and for the art scene in Hawai'i? 
The art scene here in Lahaina has bounced back almost as soon as the galleries were able to re-open in December 2020. I think we will continue to thrive in the foreseeable future not just in spite of the pandemic but almost directly because of it. I can talk to you for hours about why you should treat yourself to something that evokes emotions of joy or love but being locked down in your own living room and staring at the same blank wall for 8 months is a much stronger argument than I can make. Life is short. Take the trip. Buy the art.