Brigitte Watkinson, also known as Make Slugs Beautiful, is a German fine artist who lives and works in Cheshire, UK.
Her vibrant and multi-dimensional work ranges from sculpture to animation, which she uses to craft her own 'surreal, myth-like alternative habitats' which both celebrate and transcend language.
You root your work in language and translation. Can you tell us a little bit about your background, and how this theme came to influence your art?
I grew up in a rather conservative middle-class family in Bavaria, Germany, in a house full of 19th-century art. My own desire to study art, however, was not an acceptable career choice so I ended up studying English and French. As a result, I had a colorful working life; I did some translation work, worked in administration and taught German and French to children who weren't too keen.  Though language has always fascinated me, etymology, semantics, social and geographical contexts of words and phrases, the desire to create art was always inside me. When I finally made the leap it seemed to be logical to examine and to look at language in a visual way as well.
Can you describe your work for us?
With the realm of language being so multifaceted and inspiration coming from many different angles, it is difficult to describe my work in a short paragraph. I draw a lot on day to day conversations, literal translations, (anti) feminist language and I like to poke fun at political rhetoric and propaganda. I see language as multi-dimensional, therefore a lot of my work is sculptural and multi-disciplinary. Still, I don't like to be restricted in my practice or pigeonholed in any way, and although language and translation are probably the main strands in my practice I like to stray occasionally to wherever inspiration lies…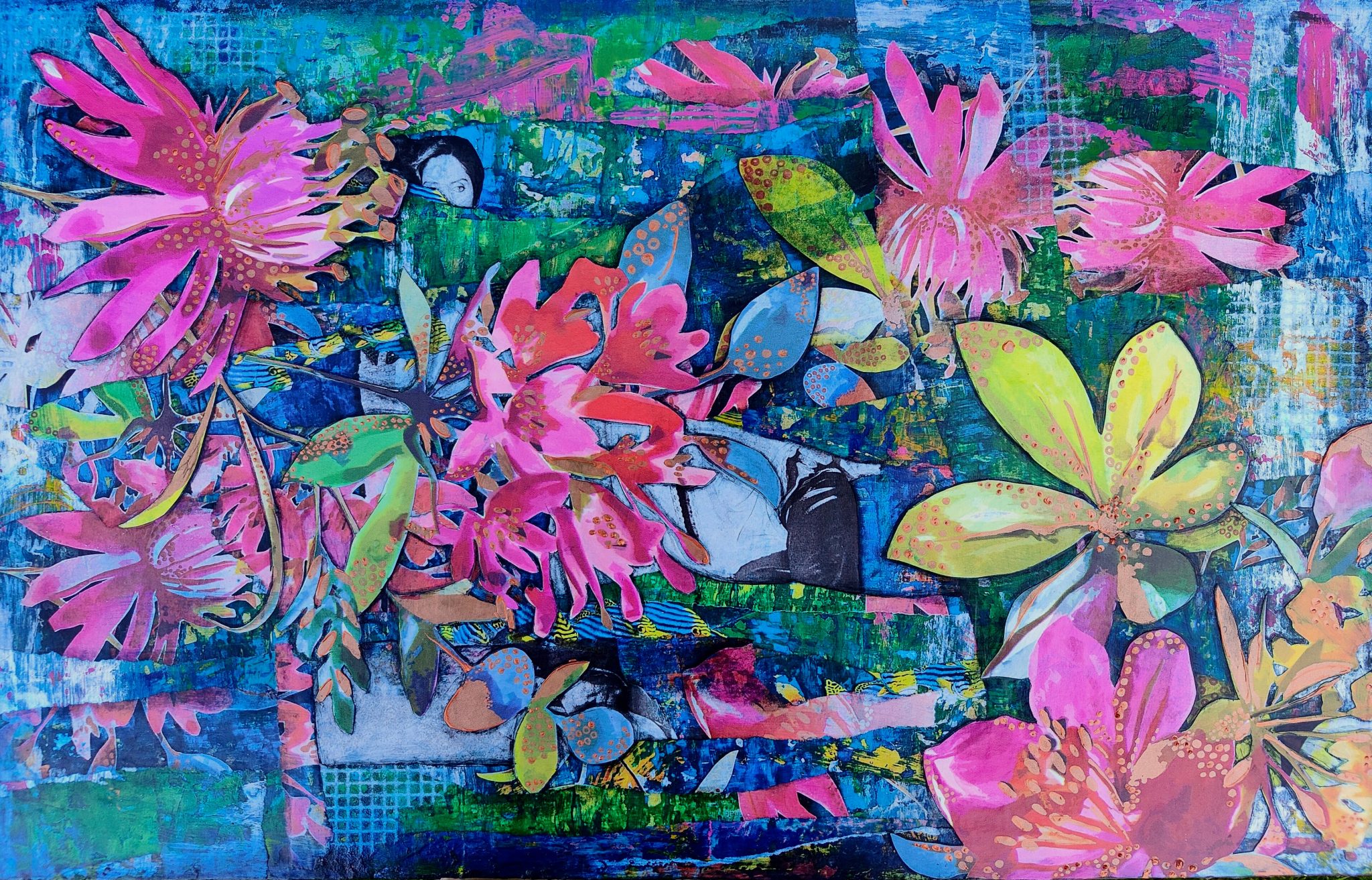 How did the pandemic influence your art?
Working from my garden studio and studying remotely for a Master's degree, the pandemic initially had little impact on me, despite having had several exhibitions cancelled at the last minute. As weeks turned to months, the pandemic started to hit me more emotionally as my isolation was suddenly no longer self-imposed, but something forced onto me.
With this sense of losing control, I began to work on a new body of work 'I'm still alive' (which then transmuted into 'Albeit Hanging by a Thread'), in which I explored these sudden, unfamiliar emotions that resulted in such very conflicting sentiments of despair, hope, endurance and optimism in collages that became more and more surreal. There were days when I thought I was developing bi-polar tendencies; my mood was up and down like a yoyo. 'Through the Pink Gate to Far Horizons' is one of these works. Dreaming of a brighter future, it also incorporates some of my photography (the pink gate), symbolizing positive expectations.
Several lockdowns also resulted in new creative ways of looking for and finding materials. I began to work more with recycled materials, particularly packaging paper and items found around the house and on my dog walks.
What materials do you enjoy working with the most?
I used to call myself a painter and started my career with watercolors but my focus shifted a lot during my studies and I began to incorporate multiple disciplines and materials. A favorite material is newspaper but paper packaging, random objects, children toys, clay and paint, all have their uses. It's very much determined by what I'm working on, the concept dictates its own materials.
I collect a lot of old magazines for the collages for example, that have become an art material in their own right. Cuttings from magazines, once taken out of context, develop an agency that in return affects the other images in quite a powerful way. It is quite fascinating watching the narrative develop, which often takes weeks; and although I tend to start with a rough idea or concept it frequently takes a different path, as the images take control and turn me into a mere facilitator!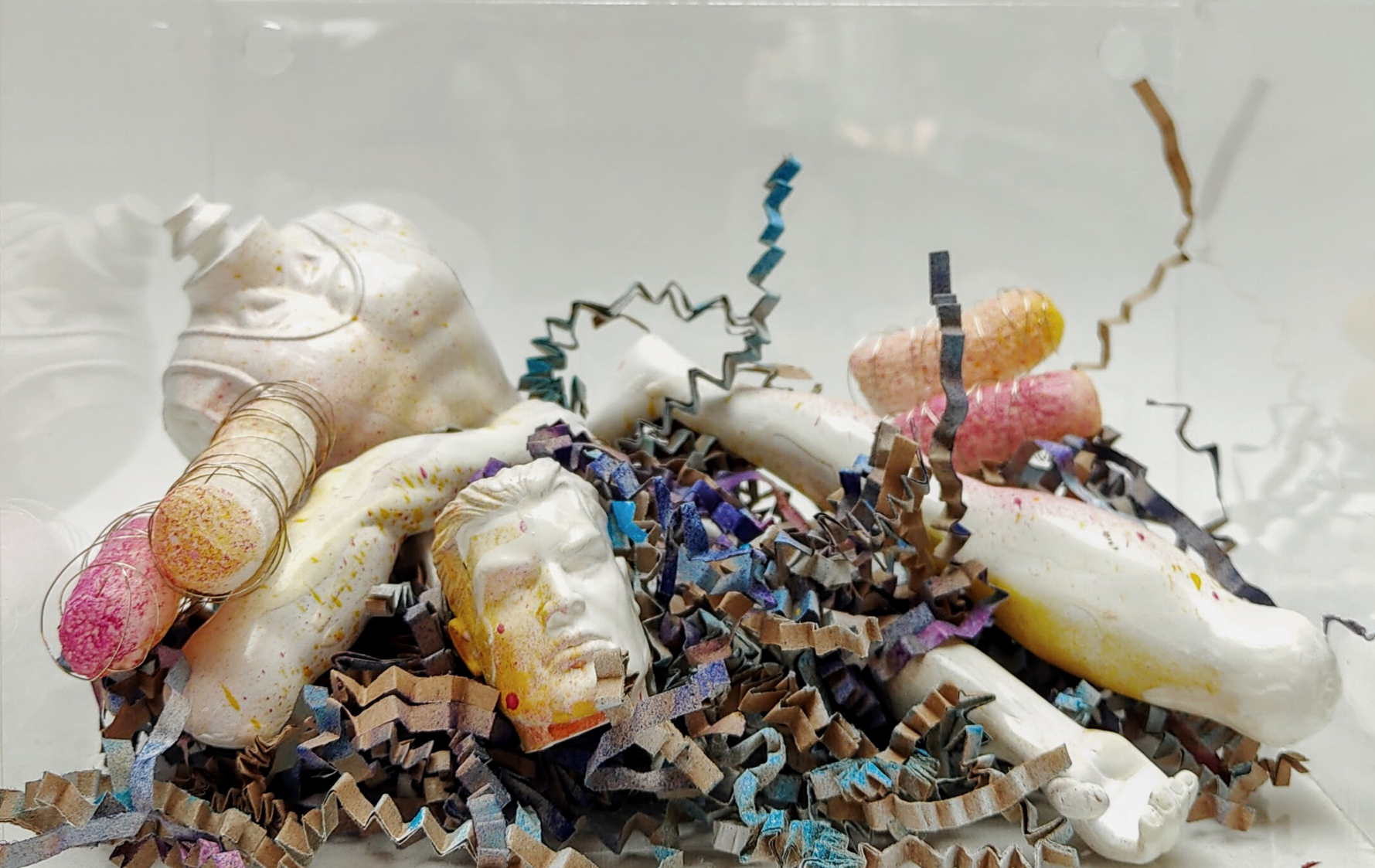 What are you working on now?
At the moment I am focusing on my upcoming solo exhibition 'Nomansland' in Chester [UK] in September, which is based on a feminist language inspired utopia. Parallel to this, I'm currently working with hybrid photography, as a way of incorporating more photography in my work that seems to be gaining a lot of significance for me as I'm wrestling with some recent personal trauma.
And if you're wondering why 'Make Slugs Beautiful' – this refers to the litter of slugs on Brigitte's countryside running route, and the nagging thought that if they were beautiful like sea slugs, they wouldn't be so bad.