There are two entrances to the Lynette Yiadom-Boakye exhibition at Moderna Museet in Stockholm. Or rather: they might be an entrance and an exit, but they're not clearly marked, so you could choose either to start your journey. I chose the left, and the very first painting I encountered left me breathless.
Against a dark, monochromatic background, a figure appears. Wearing a distinctly red robe and not much else, their gaze is penetrative, their hand on their chest evokes an equally surprising look back at the viewer in return. The red halo around the person, as if a reflection from the clothes, adds mystery to the work, yet it gives nothing away. But while all these representational elements certainly inform the painting and add to the public's possible interpretation of it, what struck me is the exquisite brushwork. The character's face, the single stroke that comes to define their lip and thus the whole facial expression, the poignant white around the pupils. The way all these movements come together in perfect harmony to create poetry that is this painting.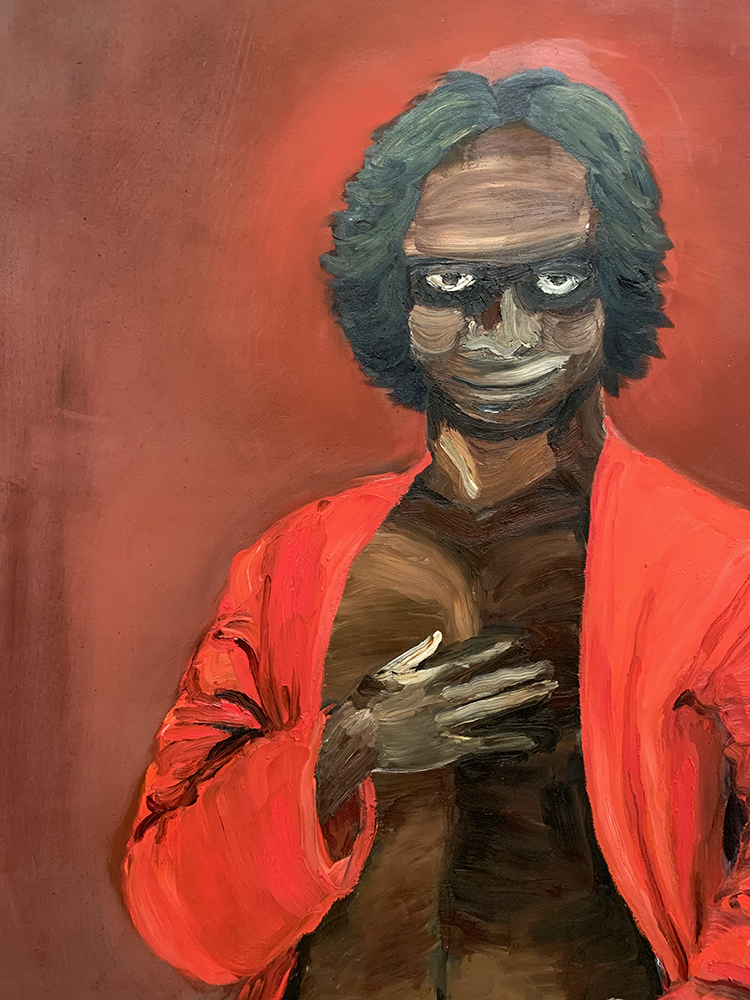 Fly In League With The Night
It's hard to believe none of the people in some 80 paintings in this exhibition are real. Lynette Yiadom-Boakye (born 1977 in London) combines drawings, found images and imagination to give life to ambiguous characters based on these visual notes. Stemming from the artist's scrapbook, they appear in everyday scenes, in intimate and timeless moments, becoming somebody and nobody at the same time. It is precisely because these people could be any people that we can relate to them so deeply. This is also why this artist is finally in the spotlight she deserves, amid the rise of figurative painting on the international art scene.
Indeed, that very first portrait I saw in this show is a great example of Yiadom-Boakye's practice as a whole, which we can describe it as a threefold one.
There is the figure depicted, based on a color, a movement, or a gesture. These characters are usually depicted resting, observing, or dancing, in an intimate conversation. Sometimes there is nothing or very little accompanying them on canvas (or linen). The backdrop is usually dark, almost the same hue as the characters' skin. Sometimes there is an animal, or an endless landscape – all designed to ignite our imagination and have us write out their stories ourselves.
I mention "writing" here on purpose, because aside from being visual narratives, Yiadom-Boakye's artworks are also poetry, prose. According to the artist, fiction and narration are both profoundly present. "I write about the things I can't paint and paint the things I can't write about," she says. The exhibition title itself, "Fly In League With The Night," is taken from a poem by the artist, written especially for this presentation. The titles of the paintings can be seen as extensions of the prose, she says, as additional brushstrokes on the picture plane. And so, we have painting titles such as "Repurposed for Songs," or "No Such Luxury," or "A Passion Like No Other," again providing very little actual context to the work and asking us to do it instead.
Finally, there is the act of painting itself. Yiadom-Boakye explores the potential of color, composition, light and tone, improvising in a conversation between paint, brush, and canvas. The paintings are generally dark in color palette, with palpable, thick strokes that examine the way the human eye perceives color. Because of that, and the way the artworks were lit inside Moderna Museet, I explored different points of view of each work, each angle giving me something I hadn't seen before. Additionally, Lynette Yiadom-Boakye never uses a ready-made black, but instead mixes blues and browns to capture all the nuances and hues – something which can be seen in many of the paintings on display, if you pay enough attention.
Almost always, as well, there is a single or couple of elements that stand out in the paintings. Sometimes it's a brightly painted piece of clothing, other times it's the whiteness of a cigarette, or the subject's teeth, or the redness of a parrot.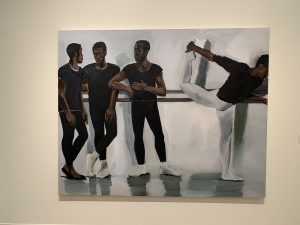 Lynette Yiadom-Boakye at Moderna Museet Stockholm
A contemporary artist, Lynette Yiadom-Boakye obtained her MA degree at the Royal Academy Schools in 2003. In 2010, the late curator Okwui Enwezor gave her an exhibition at Studio Museum in Harlem. In 2013, she was shortlisted for the Turner Prize. The exhibition "Fly In League With The Night," which was previously shown at Tate Modern in London (December 2020-May 2021), is the most extensive survey of the artist's career to date.
Lynette Yiadom-Boakye's Wikipedia page states that "her work has contributed to the renaissance in painting the Black figure." While "painting the Black figure" certainly isn't a new phenomenon, I would argue that it is one pushed by the mechanisms behind today's contemporary art market. The white Western contemporary art canon has been showing an interest in Black figurative painters that center Black people in their work. It is a phenomenon that perhaps did start before the Black Lives Matter movement's 2020 protests, but was definitely pushed by it into the mainstream.
As usual, the two sides of the mainstream coin will show again here: the Black painters will finally benefit from it by getting the spot within it that they deserve, but are also in risk of being forever referred to as "painters of Black figuration" instead of just "painters of figuration."
Lynette Yiadom-Boakye is not new to this business. In my opinion, her work is in no need of contributing to anything. Perhaps the artist's own quote is best explains this view:
"Blackness has never been other to me. Therefore, I've never felt the need to explain its presence in the work anymore than I've felt the need to explain my presence in the world, however often I'm asked. I've never liked being told who I am, how I should speak, what to think and how to think it. I've never needed telling."
"Lynette Yiadom-Boakye, Fly In League With The Night" is on view at Moderna Museet in Stockholm, Sweden until September 19, 2021.