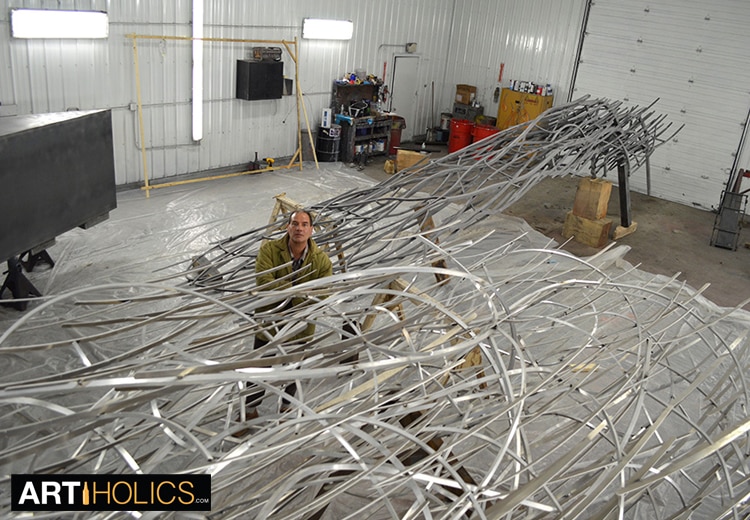 New York – Wednesday, February 26, 2014
Today in Queens a sculptural art installation is being unveiled which if you want to see in person you will need to have your junk x-rayed and a plane ticket.  A sculpture only to be viewed by jet-setters (literally).  This is due to the fact that Outside Time the new installation by artist Dimitar Lukanov in the Departure area of the JFK's terminal 4  is on the other side of the TSA check in.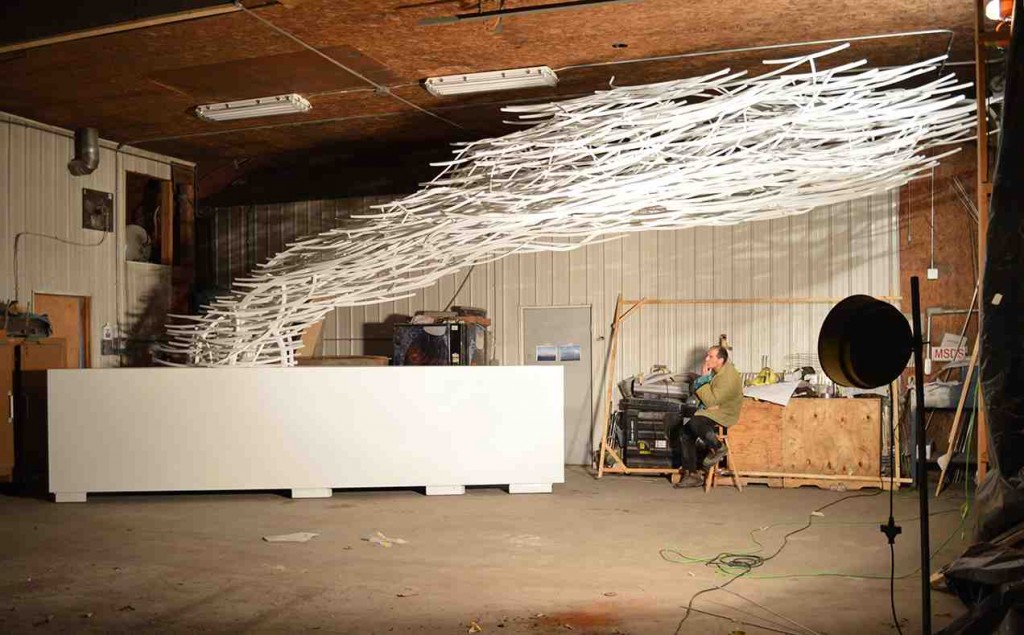 Outside Time is a steel and aluminum 90% airborne sculpture which is 30 feet long, 15 feet high, and 12 feet wide.  It includes 1000 feet of tubing, and 600 elements.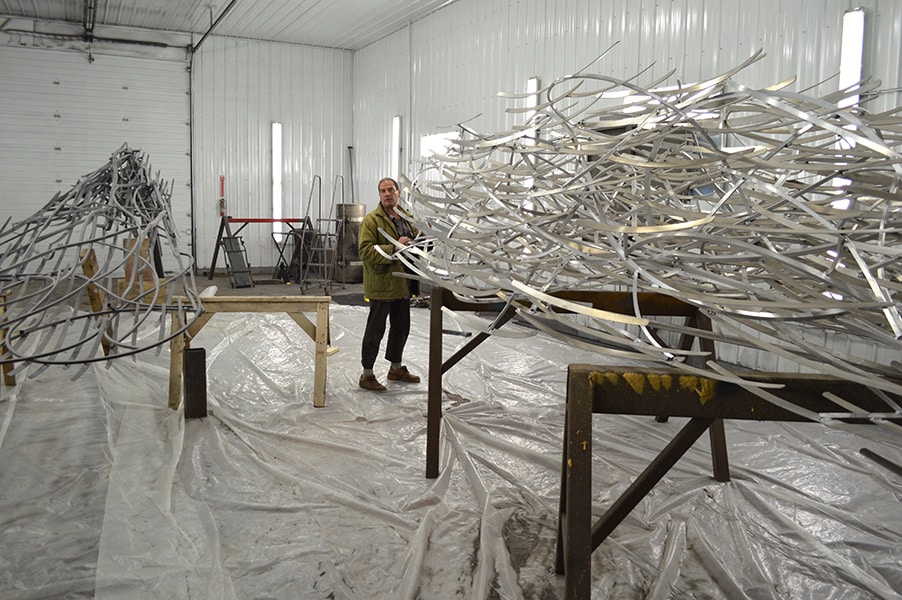 The only way you will be able to see it will be on your way out of town skyward bound. Great commission for Dimitar, but kind of hard to show it off to your friends.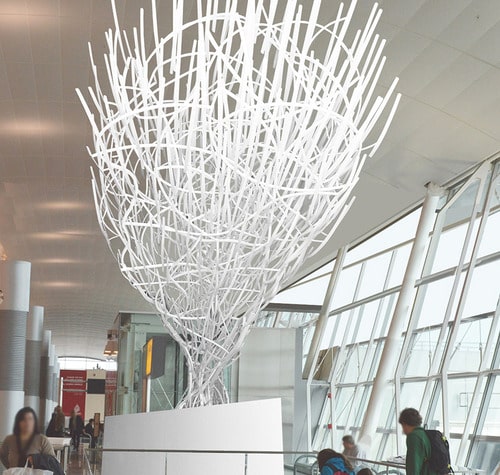 "Outside Time," a new, monumental sculpture by artist Dimitar Lukanov, will be formally unveiled on February 26, 2014 in the Departure Hall at New York's JFK Airport Terminal 4. The sculpture is the signature piece of a three-work sculpture project commissioned to Dimitar Lukanov by JFKIAT LLC in 2012 as part of the major redevelopment that Terminal 4 is undergoing to accommodate 15 million passengers. The massive sculpture – a structural wonder of weight distribution – is an elated, optimistic "Goodbye" to the millions of departing New York air travelers.  
 
"Outside Time" is a veritable drawing in space, a breathless, effortless, instantaneous gesture in the air. The piece aspires to halt, even momentarily, the relentlessness of time, to indeed be 'Outside Time." says Dimitar Lukanov. "I do transparent sculptures that converse with nature. The bronze and iron used in my work long for permanence, but the forms and illusions are ephemeral. The end result of my sculpture is an abbreviated script of matter dissolved within the air".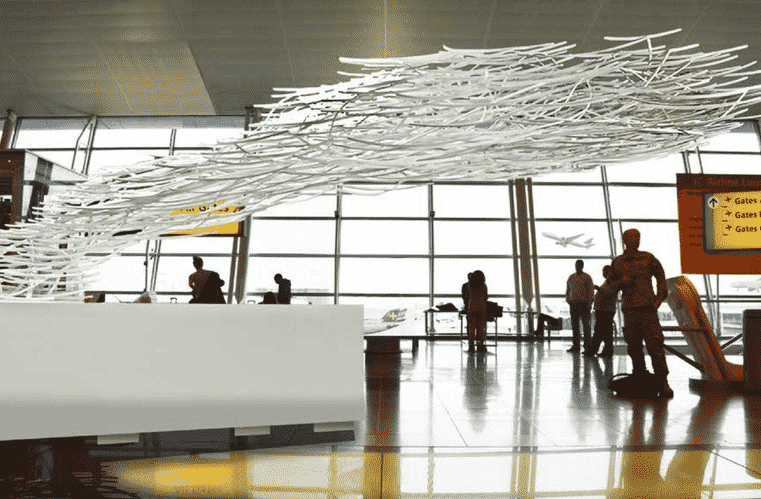 With a 30 ft. long span, the 4600-pound structure (15 ft. tall and 11 ft. wide) is comprised by 1,000 feet of steel and aluminum tubing and 600 steel and aluminum elements. With 90% of the piece being airborne, the sculpture is a structural and design feat. No computer programs were used to map out the design development of "Outside Time" as Dimitar Lukanov built the piece to scale-by-eye over an eight-month period. The sculpture originates from a hollow triangular base to counterbalance its weight and asserts itself in the air by expanding space. For Lukanov, this was an epic endeavor pushing the limit of possible/impossible in the realm of both creative and logistical expertise.
 
Dimitar Lukanov's 'Outside Time' will provide a tremendous visual experience for the millions of air travelers who will walk through Terminal 4," said Alain Maca, President of JFKIAT, LLC, the management company for Terminal 4. "The impressive sculpture distinguishes Terminal 4 and will serve as a stunning centerpiece of our new departure area."
 
The complexity and essence of "Outside Time" are defined by its dualities: it is neither horizontal nor vertical nor fully diagonal; seemingly fleeting, the piece is an ascendance of mass, yet each and every element with its weight and exact placements were extrapolated with utmost precision; the sculpture firmly sits on its base but is never grounded; it is heavy, yet light (70% aluminum); it is massive and material but it has more air in it than matter; it has no beginning and no end, an open-end bridge, a flow; it is rigid yet meandering and curved; it's fluid and fleeting in its movement yet tangible and traditional in its welded construction.
 
ABOUT DIMITAR LUKANOV
Dimitar Lukanov was born on February 23, 1969 in Plovdiv, Bulgaria.  An American citizen since 2003, he studied art on full scholarship in Paris and New York receiving his MFA from Columbia University in 1997. He is the recipient of numerous grants including: Pollack Krasner, David-Weill funding, Soros Open Society, Skowhegan Fellowship, ArtCultureStudio, Geneva, Switzerland, Medal for Sculpture, First International Sculpture Symposium, Mexico and Invited Artist International Art Fair, Shanghai and Moscow, ExpressArte, Mexico. He is member of Chile Association of Painters and Sculptors. Lukanov has been in numerous solo and group exhibitions in New York City, Paris, Moscow, Miami, Mexico City, Milan, Monaco, Chicago, Shanghai, Santo Domingo, Casa de Campo, Washington DC, Beacon NY, Plovdiv, Sarasota, etc.
In 2006, Lukanov was commissioned by JFKIAT LLC to create the much-acclaimed "Light To Sky" sculpture for the Arrivals Hall of Terminal 4. The iconic piece was executed in the 5000 year-old lost-wax method.
Fluent in five languages, Dimitar Lukanov lives in Brooklyn and works in his studio in Schoharie County, New York, where he executed this project. The second and third sculptures of his JFKIAT commission will be installed in Spring 2014.
Written by Cojo "Art Juggernaut"