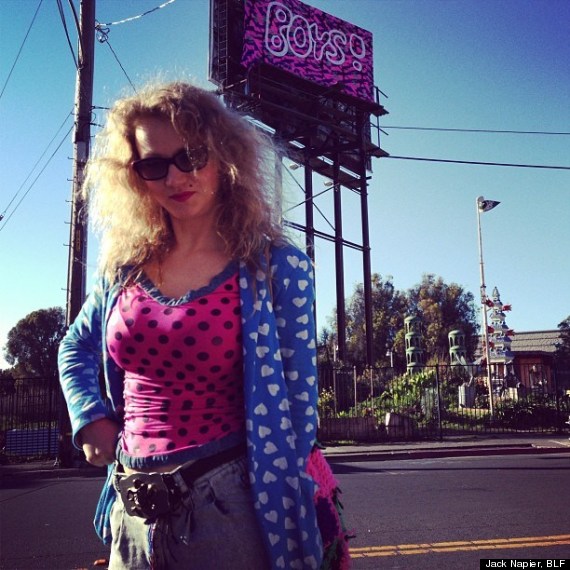 Oakland, California- March 13, 2013
This is not your Grandmama's toilet paper cozy, it's an art world first *(according to Huffpo).  NY's own Crochet Artist, Olek retooled the skyline of Oakland, California one stitch at a time by completely covering an entire billboard in crochet signage.
Pic from Olek's Twitter.
Back in NYC, Olek has a tendency to cover strange objects you wouldn't normally imagine would be covered, for example, The Wall Street Bull.
Which was listed as one of  Cracked Magazine's 9 Most Badass Acts of Vandalism ever photographed.
A lot of the time she will cover models head to toe in her signature camouflage crochet patterns and have them stand around at various art festivals and openings.  I have  personally photographed a few over the years in my travels on ArtSucks.com.
I took this shot of one of Olek's models interacting with children at the Dumbo Arts Fest in 2010.
I took this in front of Crest Hardware at the Crest Art Fest in 2011 in Williamsburg, Brooklyn.
Olek currently has a solo exhibition in Manhattan titled The End is Far at Jonathan Levine Gallery on West 23rd Street.  The show is on till March 23, 2013.
Written by Cojo "Art Juggernaut"