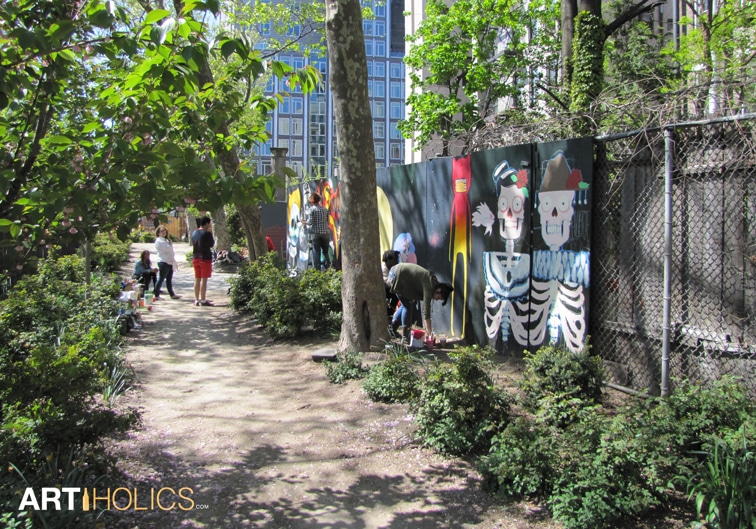 New York, NY – Saturday, May 4, 2013
Woke up late and having a lazy Saturday?  Want to get out of the apartment, get some fresh air, and do something fun to do that involves music, visual, and performance art?  Well, you are in luck.  Right now till 6 pm The New Museum's IDEAS CITY is happening ALL AROUND NEW YORK CITY.
With so many things happening in so many places around the city you can plan your itinerary right on that website.  As you do, one thing you will not want to miss is the NEW MUSEUM UNTAPPED Music In The Park.
One of several events as part of IDEAS CITY happening today at Sara D. Roosevelt Park on Houston, between Chrystie and Forsyth.  Michael Alan and crew will be performing The Living Installation right now until 4pm.
If you do make a trip down to the Lower East Side to check out the performances, you can do like I did yesterday (the day before IDEAS CITY came to the park) and check out the local art scene of the L.E.S.
I walked around the park casually stopping in at all the art galleries in the neighborhood (which there are plenty) to see which of them would be open today during IDEAS CITY.  You can follow my trail and check out a bunch of great art not on the radar of the New IDEAS CITY itinerary, and have a little adventure for yourself. It's a beautiful day for a walk, and parking around the park is restricted today, so if you have to drive, be sure to park far away and walk over.
Here is are some photos (in walking order) of the other art happening and galleries around the park or within a block or two's walk away from the park that I stumbled on while just walking around (and you can too!).  A bunch of galleries were installing shows that were opening today, so enjoy!
The clock is ticking, go out and get some rays, and experience some art!
Written by Cojo "Art Juggernaut"