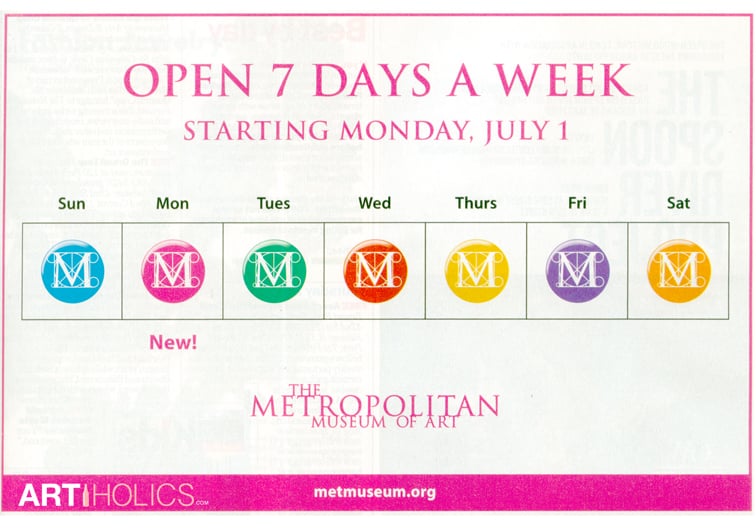 New York, NY – Friday, June 28, 2013
If The Metropolitan Museum of Art is doing away with their metal admission badges on Monday in conjunction with their new "Open Seven Days A Week" viewing hours, as this New York Times Article claims, they forgot to tell their marketing department.  The iconic architectural M tin badges are the crux of their ad campaigns in this week's NYC's Coolest Museums Revealed issue of Time Out NY.
I know art lovers and collectors who on a day off of work will run their own personal art gauntlet, collecting buttons, and stickers on their vest like merit badges. They try to take in as much culture as possible, almost like a scavenger hunt: Guggenheim, MoMA, Whitney, PS1, etc…  You see these people at the end of the night at a random art opening, exhausted, but proud.  You can trace their patterns by the various affixed baubles, and the metal Met circle has always been a must.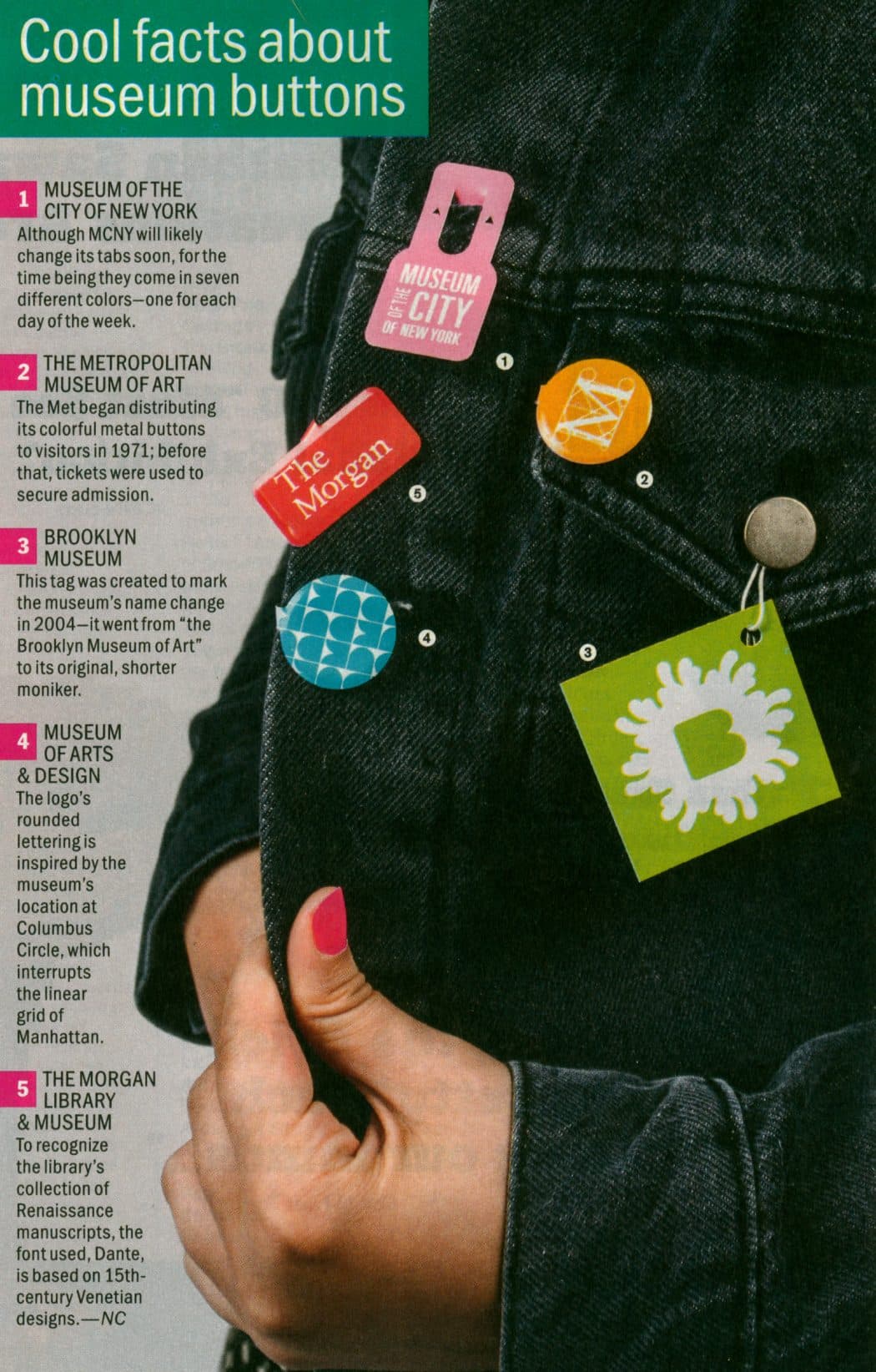 Time Out NY Spotlights the various museum badges.  Uncool fact…they are becoming extinct, forcing TONY to a post a bummer blog update.
The metal badge costs maybe 5 cents max for them to have made overseas, but people (tourists who don't know better) are giving the museum a "suggested donation" of $25. So $24.95 isn't enough of a profit I guess? A badge people will continue to wear throughout the day, pretty much like a badge of honor, showing the world that they indeed "support the arts" and are "worldly."
A badge they will have taken home to their podunk town as a memento of their trip to the big city, where their podunk friends will see it, be jealous, and they themselves will dream of one day affording the luxury of taking their own big trip, to the big city..  A dream experience to be added to the bucket list, the feeling of they themselves being able to feel "worldly"  and well traveled.  A member of the "frivolous day trip to some of New York's larger art and cultural institutions" club, of which The Met is the largest, and like all good cub scouts, returning home with a badge upon their sash.
But like the Times article said, the price of tin went up, so FUCK YOU hillbilly, enjoy your twenty five dollar sticker.
Written by Cojo "Art Juggernaut"
[via NY TIMES via Time Out NY]