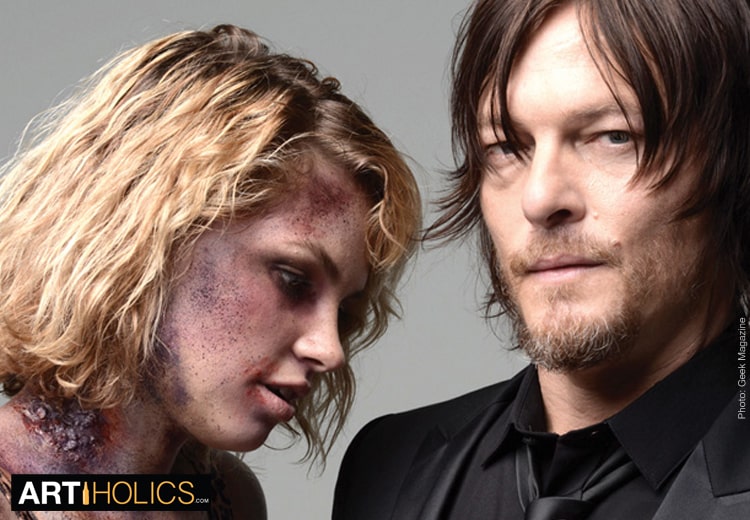 New York – Friday, February 7, 2014
The Walking Dead is my favorite drama on basic cable, and in honor of it's return this Sunday night I asked special effects makeup artist  Stella Barber to break down the steps involved in transforming a perfectly good human, into a perfectly rotted ambulatory corpse (with a hunger for human flesh). You know, a  Zom … a Walker.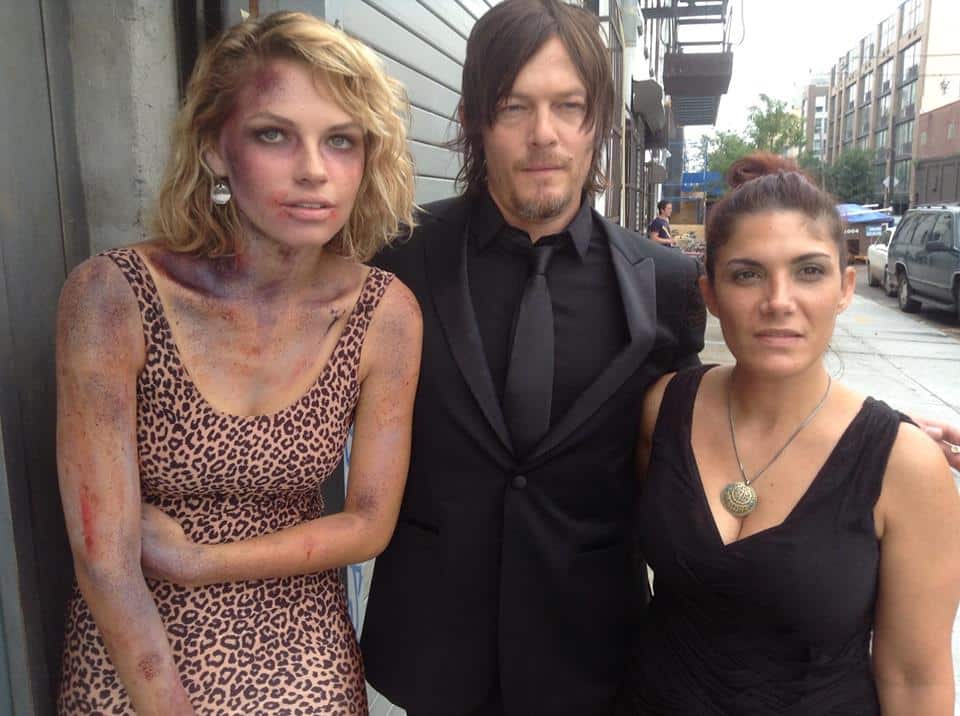 Britany Nola, Norman Reedus, and SFX Makeup artist Stella Barber.
Last October Stella posted a few pictures online of herself, a walker and AMC's The Walking Dead star Norman Reedus. After meeting Norman at Helena Christensen's photo opening last week (pictures) I remembered these photos and got in touch with Stella to ask her about it.
The "Walker" makeup was for a cover article for Geek Magazine.  Stella was hired to transform model / singer Britany Nola into a walker to interact with Reedus.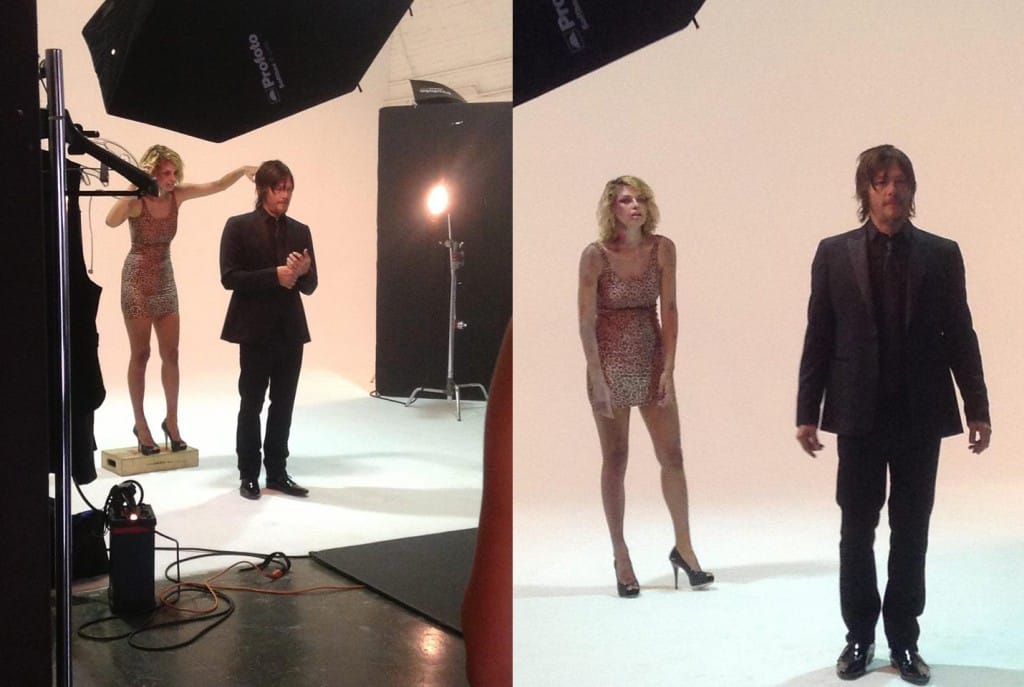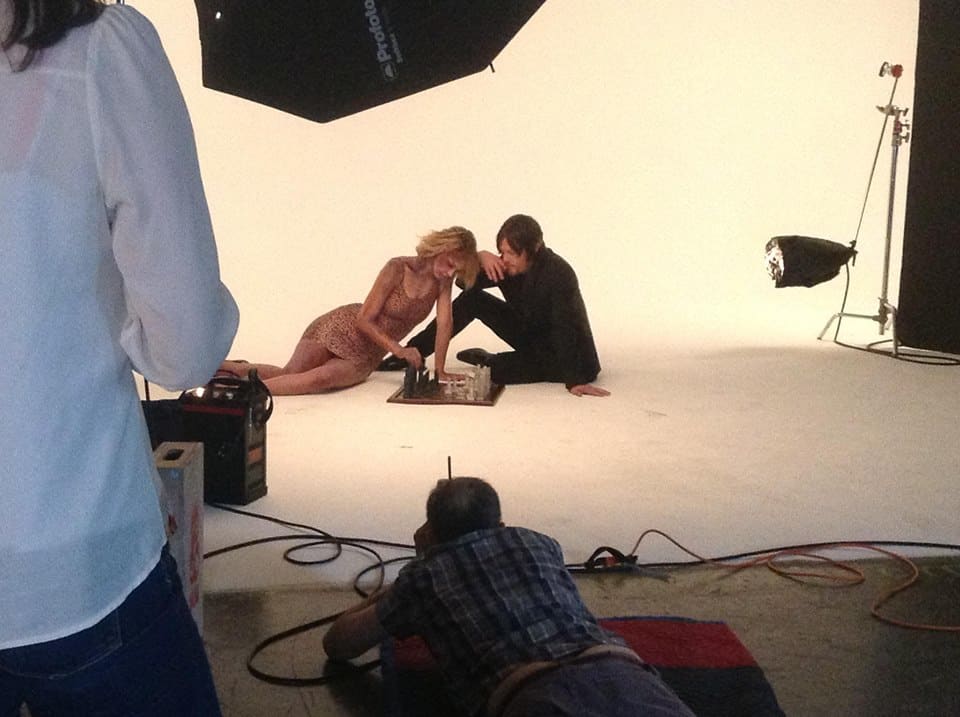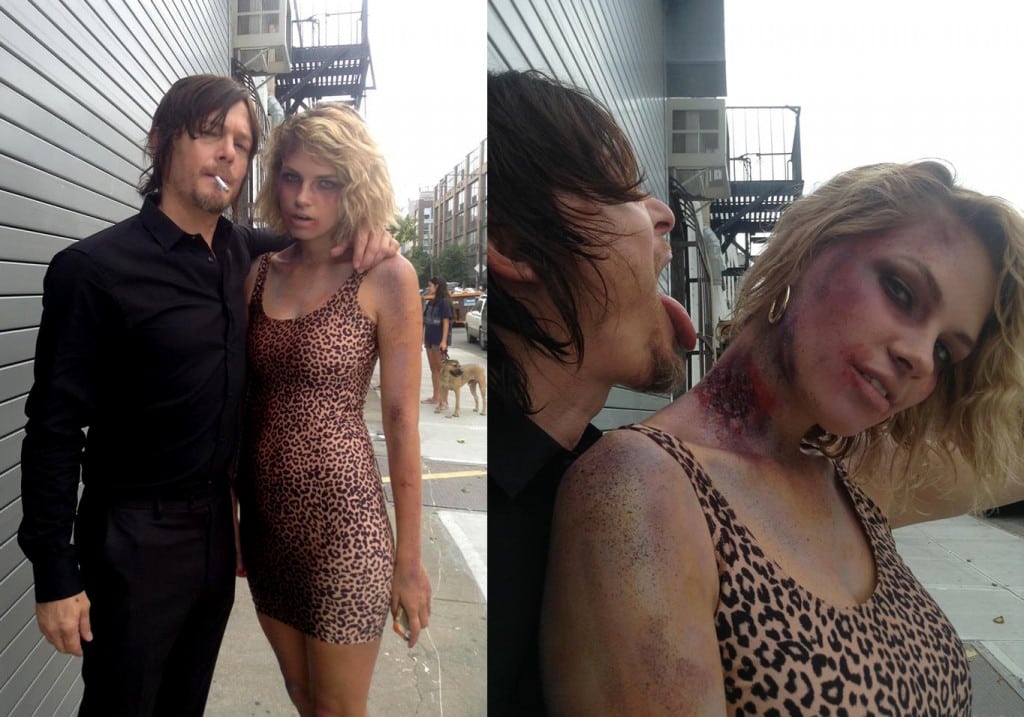 Behind The Scenes Photos Courtesy of Stella Barber.
Stella does all kinds of monster makeup for the movies.  As you can see, the zombie makeup game is hot right now.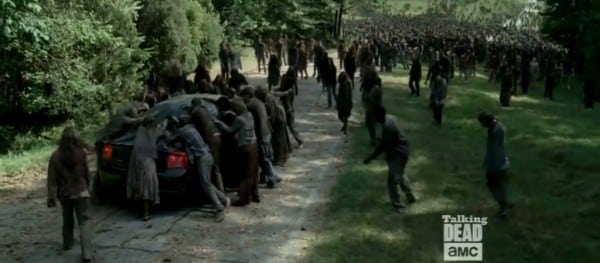 Especially because of the recent zombie craze, and the large amount of zombies usually needed in one shot, there is a lot of demand for makeup artists who can pull off the dead look. As in this scene depicting a "Walker horde" from The Walking Dead.  Many of the background mass are CG, but the principal walkers are hand painted.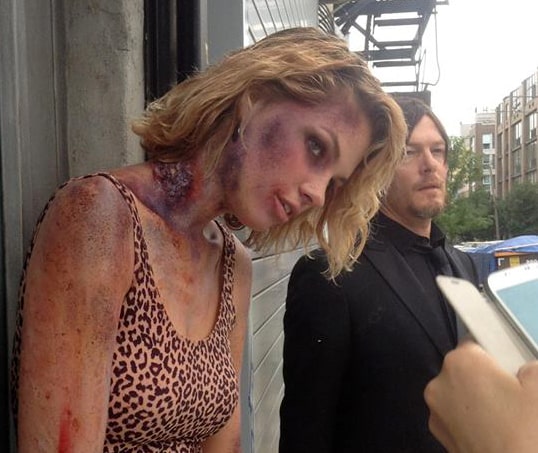 Making a good dead-face-ripped-tissue-gore-covered walker should be part of any special effects makeup artists' repertoire.
I'll let Stella explain the techniques she used on two different models, and how you can apply these techniques to yourself or your friends.
As the Walker for the Geek Magazine photoshoot had to still look "somewhat" attractive, Stella will show how to go a step further with her makeup on singer Christina Rubino.  Here is how you can Dead Yourself in real life.
"Depending on how detailed you want to make a zombie, really depends on skill set and how creative you want to get. It is easy to just throw some fake blood on you, but if you want the real effect of scaring people, these simple steps will help you scare even the family dog." – Stella Barber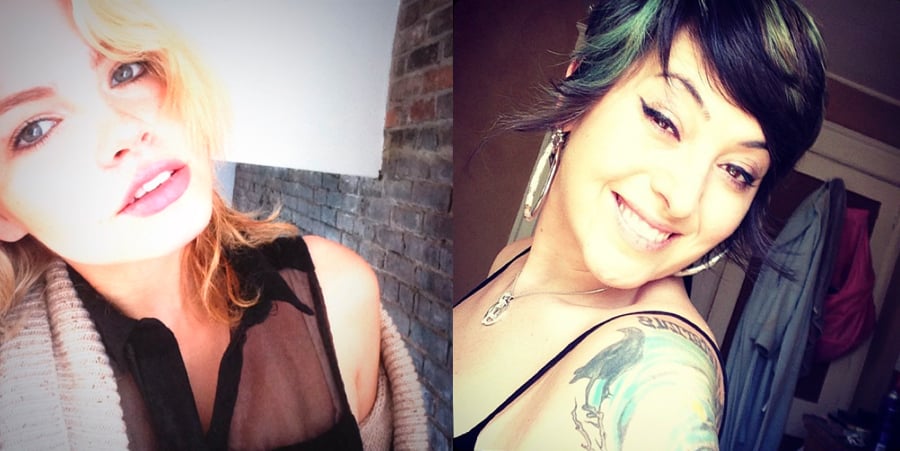 Supplies:

Step 1:
Start with a fresh face, do not use any moisturizer as the ingredients will not stick to your face

Step 2:
Apply the liquid latex to your face in the areas you want to create a torn skin look, add about 4  layers in each of those areas. Once dried, either use a pair of tweezers or dried fingers and start pulling at the latex and that will create a tear.

Step 3:
Add tissue paper, anywhere you want to create decaying fake skin, use the spirit gum to attach the tissue paper. Once dried, add a layer or liquid latex over it to secure it. (Another, alternative is gelatin, which can be found in any supermarket, that can also be used to make decayed skin…).  Add coffee grounds in before switching over to final makeup touches. The grounds are an added effect for texture. Makes the skin look more eroded

Step 4: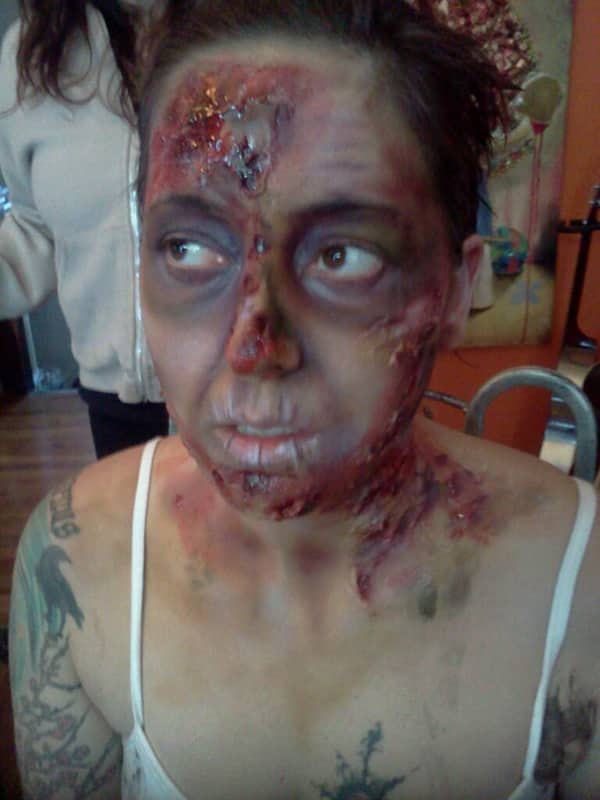 Makeup: most people add white to their face, but that is really not what decaying skin looks like, add hues, of yellow, green, and for more of a bruising purple and blue, for under eyes, use a purplish tone mixed with some dark brown, over the torn skin add some yellow and green. Use dark red and purple for the fake blood effect, all these colors will be on the color wheel.
Step 5:
Add some fake blood around the mouth and torn skin areas and you are done!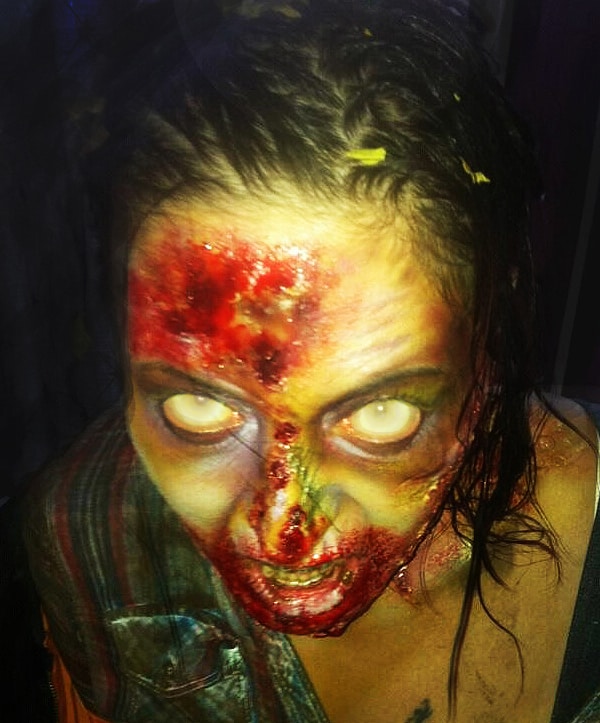 Finished Walker including advanced airbrush and alcohol based palettes for details as well as Cataract contacts.

Advanced: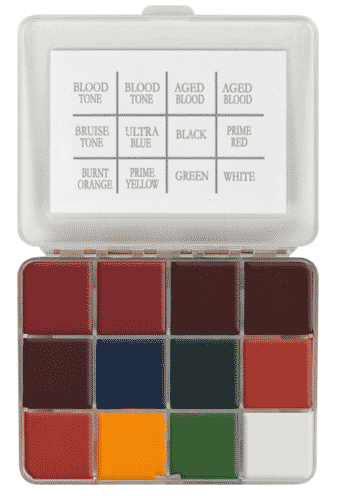 Alcohol Based Paint:
When using 99% alcohol they activate to create details.  These can only be found in professional stores! I order them online as I get a discount or get them from temptu also but I use this palette. These can be expensive for a non artist about $75 a palette but they last you forever.
But this will not come off only using alcohol to remove it.  99% alcohol you can find at makeup shops like alcone.
Mini sizes are available at a discounted price.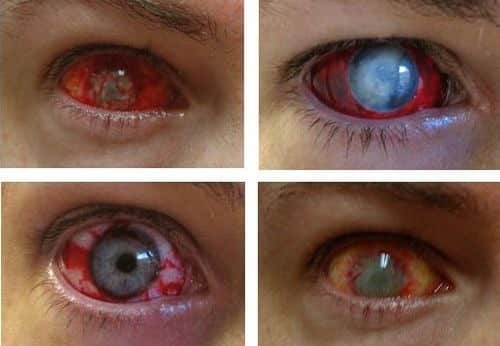 Eye Trauma Contact Lenses:
For added effect you can put on in theatrical eye trauma contact lenses before you add the under eye makeup. Most people don't need contacts, but for that extra level of professionalism they are available online in all different styles. With contacts it's really safer to have your own custom made but they can be very expensive for a pair.
Makeup Airbrush Systems:
Getting an airbrush system can be expensive and not recommended unless you are planning a career change.  I used temptu pro with frost palettes for this makeup.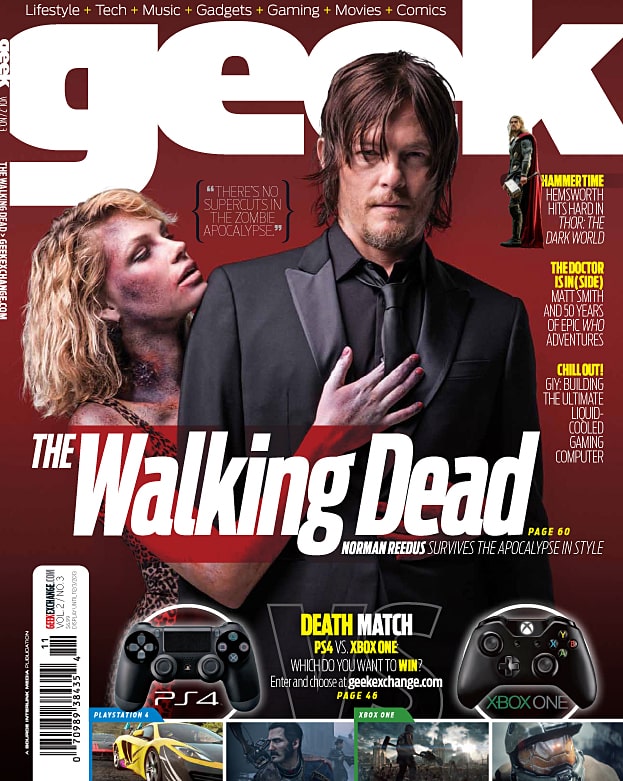 The finished cover.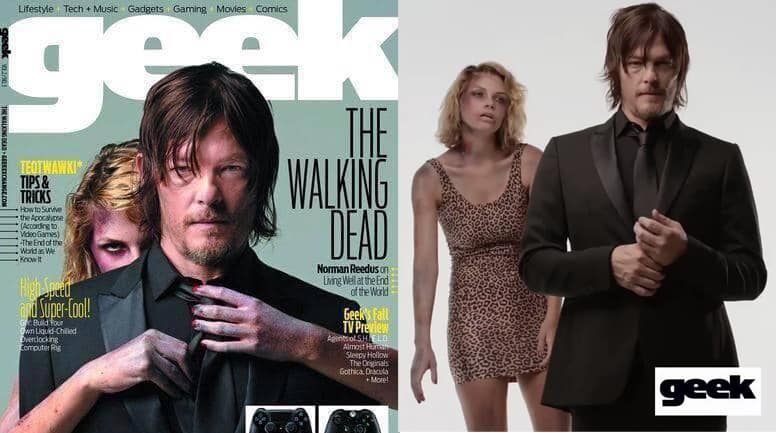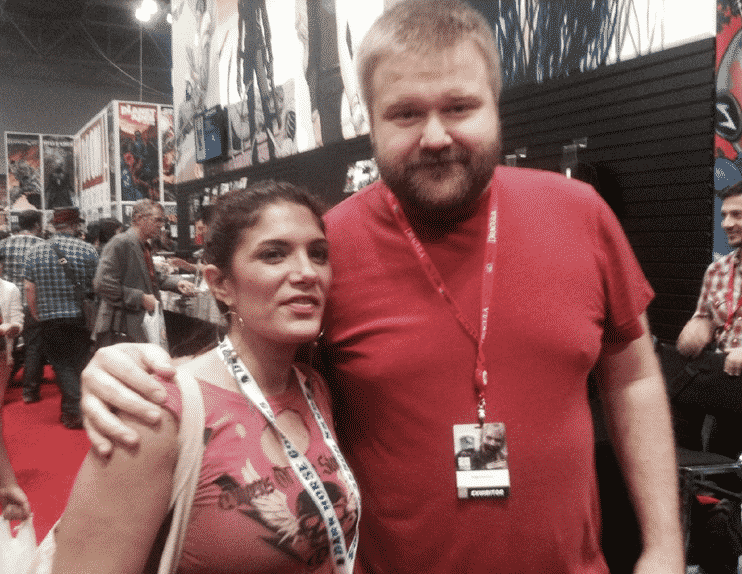 Stella Barber spent many years working behind the scenes in different facets of the entertainment industry.  A few years back she was asked to work on a music video as a stylist, from there she began her new career path, freelancing on photoshoots, music videos, indie films, etc.  Eventually, Stella decided to branch out on her own and make her passion of makeup + special effects into a reality.  View her work or contact her via her website: www.StellaBMakeup.com
Written by Cojo "Art Juggernaut & Stella Barber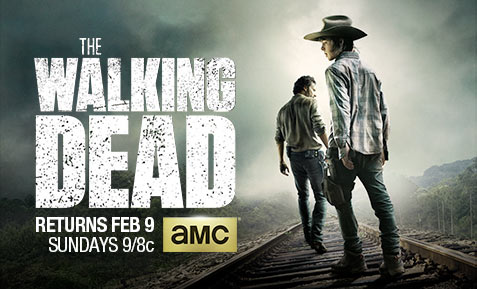 [Photos via Stella Barber, Geek Magazine, Christina Rubino, Britney Nola & The Walking Dead]