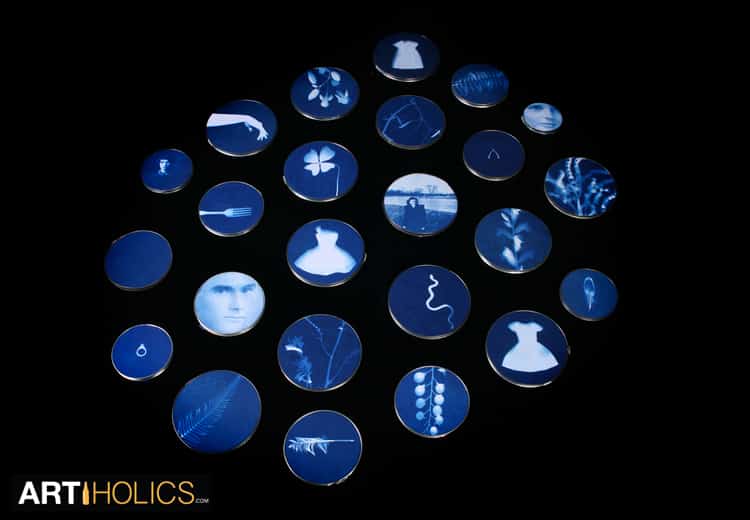 San Francisco, California – Thursday, February 6, 2014
Heidi Kirkpatrick's work is chilling in an alluring way. In this new art exhibit titled LOST & FOUND currently on display at the RayKo Photo Center in San Francisco, she pitches photos with objects to create new monsters almost like an elaborate game of exquisite corpse.  A group of such works called the Cyanohoops are made from cyanotype photography. The artist printed her images on fabric and stretched her pictures onto embroidery hoops.  She does all her own work, she shoots on film, prints on film, and develops in her own darkroom.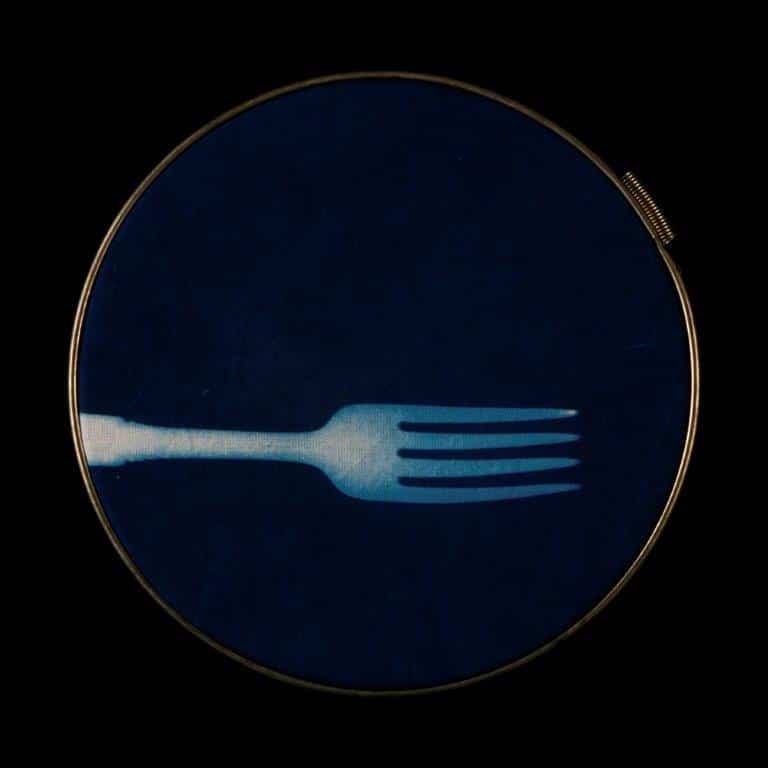 Some of her images include the bluish white silhouette of a fork, a simple dress, a frail feather, and then a dainty hand.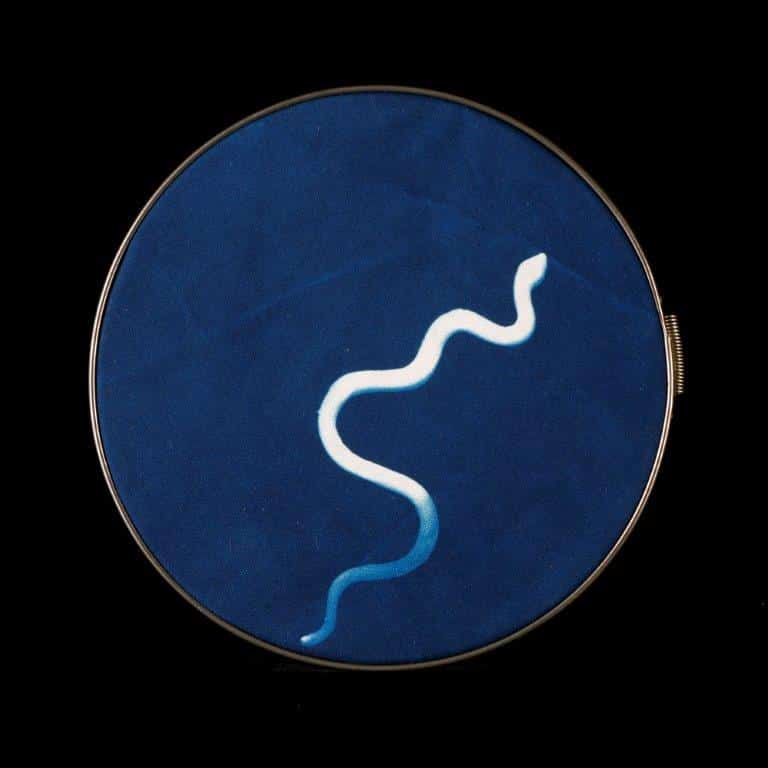 There is also a windy outline of a snake, other plants, and other dresses too.  A few portraits of ladies and one man hang among the objects.  These round frames and blue prints place the images all on the same visual level, connecting them and leading us to wonder, in a Surrealist fashion, why a fork might be linked to a dress; or a clover to a man; or a ring to a feather. The hoops all act like different parts of a delicate poem, one that harkens back to an old craft and an old method of printing.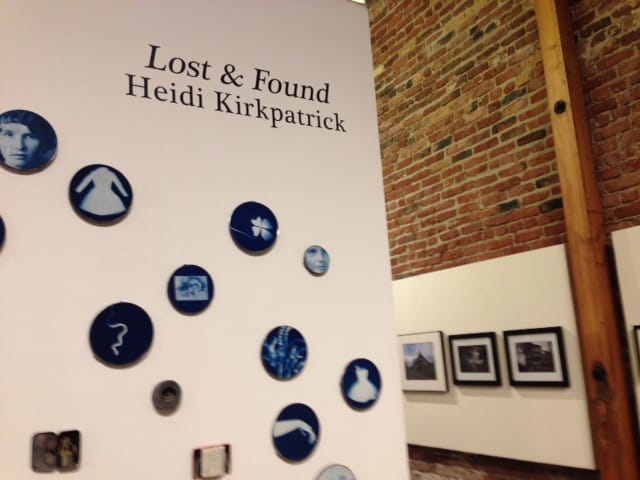 Kirkpatrick's hoops are scattered in an unspecific, eye-pleasing arrangement across one of the larger walls in the space.  I've decided that pictures displayed without edges feel less routine, but natural. Isn't that how we look at the world, through roundish eye sockets and not boxes? Perhaps our penchant for straight edges and boxes is really some need to bring order to life. The round hoops conjure more of a  dream-like mood, and could be reminiscent of thought bubbles.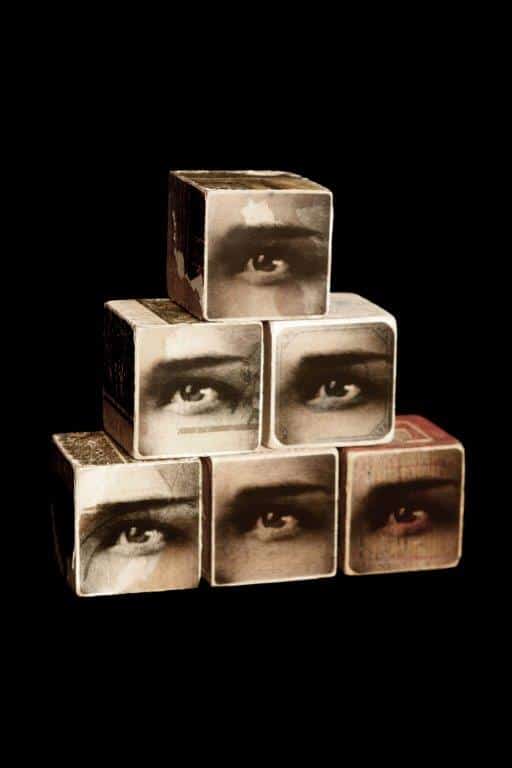 Speaking of eyes, the sculptural piece called Watch Tower caught me. It is made up of six wooden baby blocks, each carrying a lovely female eye, underneath a smart brow.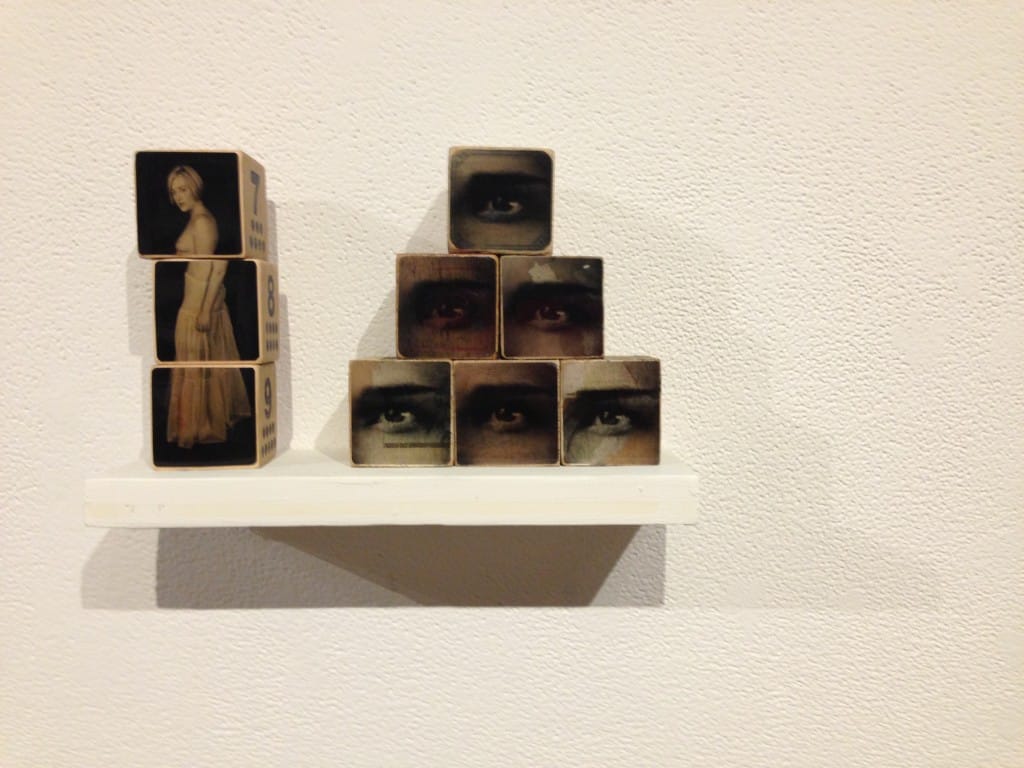 Human and non-human eyes can be so alluring and frightening at the same time. Because so many animals fear eyes, biologists use the term cyclophobism to talk about that specific fear.  In this small piece, the eyes in this triangular tower don't feel threatening. They appear alert in a spirited way.
Kirkpatrick began exploring alternative film processes in the Nineties, and at that time felt a strong attraction to film positives. Today, many of her works (not including the Cyanohoops) are made with film positives. Kirkpatrick admires the pioneering work of Anna Atkins, the English Botanist who published the first book of photographs, and is credited as the first female photographer. In terms of the actual images, Kirkpatrick employs old family photos that carry narratives and emotions held deeply important to the artist. Of the one picture involving a man, she notes that this is her great grandfather, now passed away. The mention of him prompted the artist to recall a few storylines about his life:
"We called him big grandpa,
he had a filling station in Waterloo,
he let the kids steal penny candy from his store,
he grew tobacco and taught me how to fish,
he lived into his nineties."
Her image-objects are an outcome of familial loss and preservation of memory. Though a sense of warmth emerges from those story-lines, Kirkpatrick's images haunt her as well. She continues using some of the same photos over and over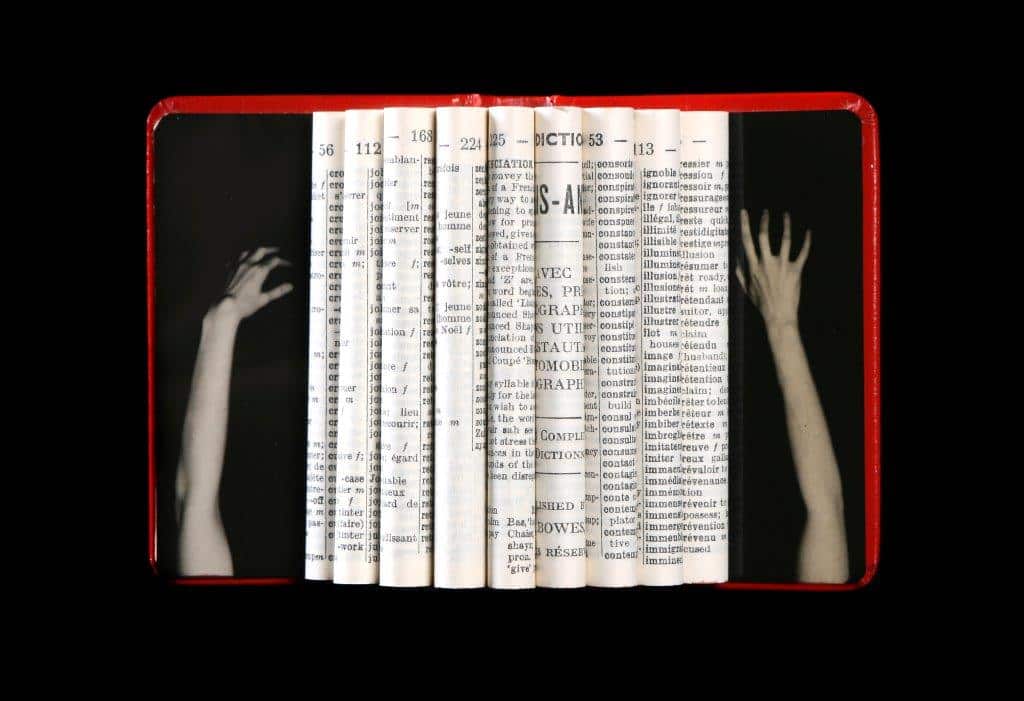 Also included in the show is a piece called She's An Open Book, which displays two images of thin arms and clawing hands reaching upward. Whatever body these appendages are connected to seems to lay upside down. In between the hands and arms are the pages of a book curled and folded together. The body here, is a book, and from the look of the desperate arms, this book does not want to be unfurled.
Kirkpatrick also continues to explore different ways of photographing the female body.  While doing so, her object-photos recall some of the dream-like image pairings in Joseph Cornell's boxes, or the imagery that captivated Surrealists painters. All throughout, the show delivers a sense of her unique minimal touch.
"I spend a lot of time by myself building the work.  I am happiest at my work table working on my puzzle, although I do enjoy the thrill of the chase finding the objects.  I like working with pieces that have had a previous life. I like old things. I like the smell of history." – Heidi Kirkpatrick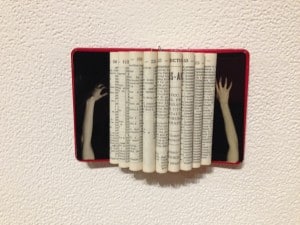 Lost and Found is actually the name of a larger body of work containing more image-objects. In the past, Kirkpatrick has also combined photos with objects like dishes, well-worn tin boxes, serving trays, and cedar Mah Jongg game pieces. On view at the Ray Ko Photo Center are Kirkpatrick's Cyanohoops, She's an Open Book, and the two sculptures Watch Tower, and You and Me, both involving wood blocks (Over 60 pieces total).
Heidi Kirkpatrick's LOST & FOUND is on view from 1/1/714 to 2/23/2014. RayKo Photo Center is located at 428 Third Street, San Francisco, CA 94107 and  is open Tuesday to Thursday from 10 AM to 10 PM, and from Friday to Sunday 10 AM to 8 PM. The artist is based in Portland, Oregon where she works as an educator and as an artist. On Saturday, February 8, 2014 at 1 PM, the RayKo Photo Center will host an artist talk with Heidi Kirkpatrick.
 Written by Audrey Tran