EPISODE 031: "Chautauqua Art School": Charlie Hewitt invites Jim to visit the Chautauqua School of Art in the amazing cultural community of Chautauqua to take a few art courses. Jim gets roped into taking a nude model drawing class in hopes of drawing an attractive blonde, but ends up with a front row seat to the sausage show. Printmaking, pottery, sculpture; Jim tries it all, and receives the crit of a lifetime. If you fail while trying, and it's funny, then it's still sort of winning right?
Jim also accidentally punishes a bunch of old flip phones, before punishing he student body with his work and a boring lecture about selling art in the big city. I don't know what other overly fascinating stuff they are teaching at Chautauqua that would cause the student body of wannabe artists to abandon a lecture by a visiting speaker who also happens to be one of NYC's top art dealers, but Jesus! Priorities people! The drum circle on the quad will still be there after Jim has left, a little fucking respect.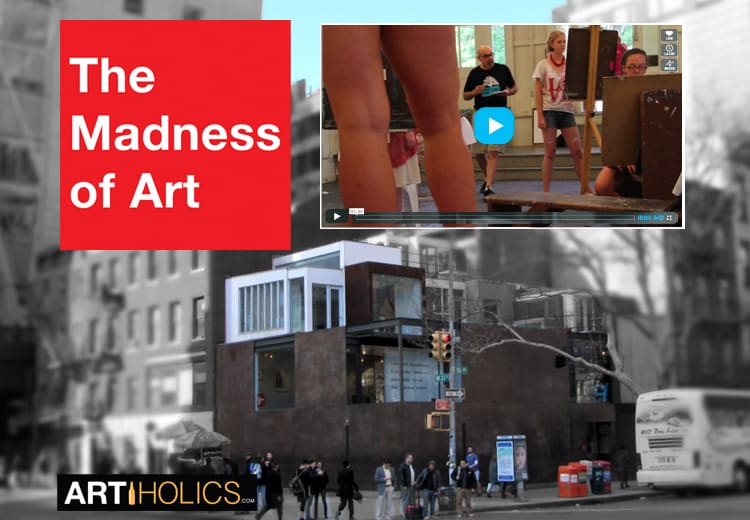 Artiholics is proud to present The Madness of Art. An online show, which the Huff Post calls "hilarious," follows the chaotic life of a New York City gallery owner who can never seem to catch a break. With its slogan, "What's so funny about the art world?"
You have just watched an episode of The Madness of Art as Chelsea art dealer Jim Kempner and his gallery staff interact with New York's eccentric art world. New episodes will post every Tuesday at 3pm on Artiholics.
Posted October 7, 2014 by Cojo "Art Juggernaut"