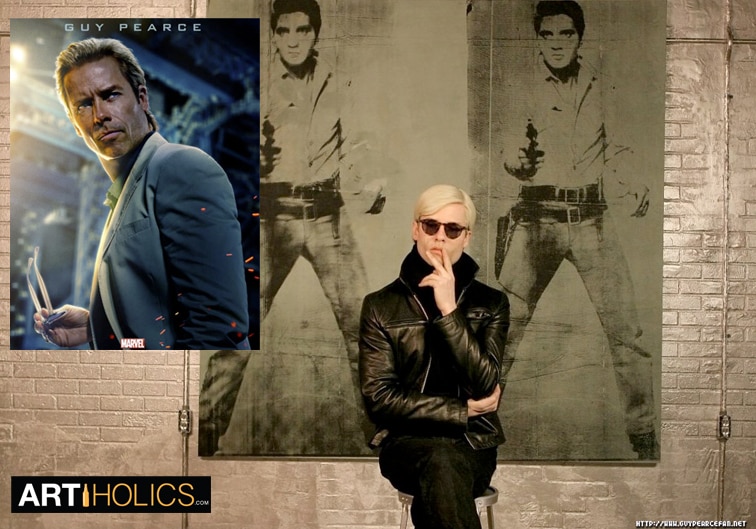 New York, NY – Wednesday, May 15, 2013
Just because you saw him kicking Iron Man's ass in Iron Man 3 doesn't mean he didn't once enjoy kicking back with some Campbell's Tomato Soup, and filming an ass (R.I.P.Taylor Mead). Guy Pearce donned the gray wig in the longest on-screen acting portrayal of Andy Warhol to date, for George Hickenlooper's 2009 Edie Sedgwick biopic Factory Girl.
Oh, and don't believe that trailer, there was no love triangle between Warhol, Edie, and Bob Dylan. Andy didn't swing that way.
It's a good historical narrative of the factory girl / Warhol superstar Edie Sedgwick (Sienna Miller), and how Warhol warped her already warped life. A good, not great film, but one worth the ADD TO YOUR QUE.
This is a great scene just before Andy meets Edie we get to see Mary-Kate Olsen interacting with Andy Warhol (Guy) at one of his art openings . "You got it dude!"
Andy and Edie shopping at a flea market.
What was it like to be Warhol? Guy Pearce's Video Diary with help from Jimmy Fallon, Sienna Miller & others. An interesting watch, as it gives a good 20 minute behind-the-scenes look into getting the make-up, wig, and getting into the character.
Guy and Sienna would actually call each other on the phone in character and have conversations in the voices of Andy and Edie. These voices must have been a bitch to master. In real life Guy has a thick Australian accent, and Sienna is British.
Here is what the real Edie and Andy looked like interacting together on The Merv Griffin Show shot in 1965.
Intro music? Pop Goes The Weasel. Because of pop art, clever…I guess. A production assistant should have knocked the gum out of Andy's mouth before sending him out there.  This is what it looks like when you are chomping gum on camera (spit it out).
Here is another great scene from Factory Girl, where Andy can't care less that he's fucked up Edie's life.
How does Factory Girl stack up to her real troubled life?
Factory Girl – The Real Edie
How does Factory Girl stack up to her real troubled life? Here is a 28 minute documentary featuring her family and friends talking about her real life and times with the factory and the superstars.
Written by Cojo "Art Juggernaut"