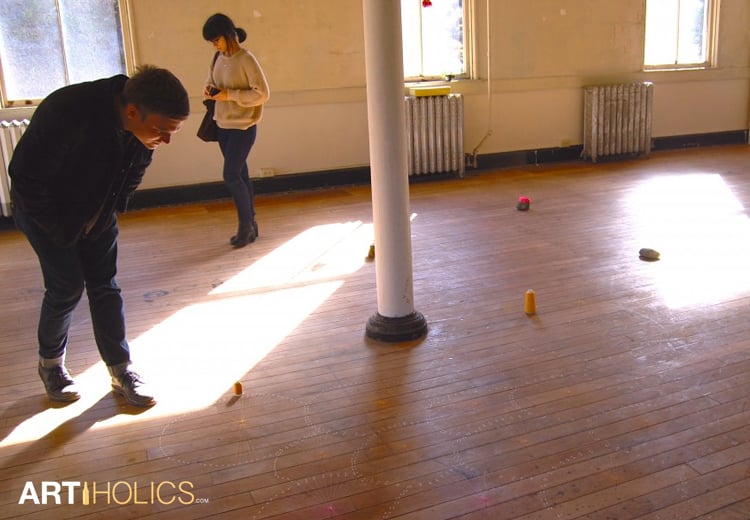 San Francisco, Tuesday – November 4, 2014
Two weekends ago, Artiholics visited the Headlands Center for the Arts, an establishment  carrying international renown for contemporary artists dating back nearly 3 decades (Read: Part 1). In 1982, this former military property transferred to the National Park Service and fell under the direction of a board primarily made up of local artists.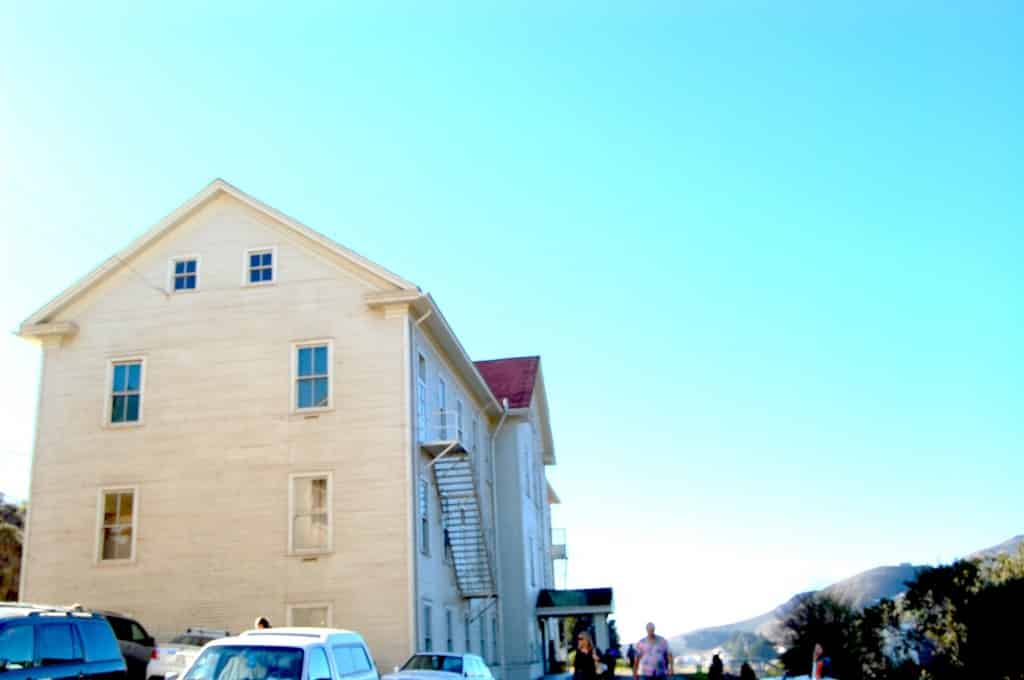 Today, the arena operates much like a campus for resident artists coming from several programs:
Graduates of the major MFA programs in the region (Graduate Fellows) such as SFAI, Stanford, UC Berkeley, and San Francisco State University among others.
Other national and foreign national artists participating in the Artists in Residence Program (AIR). This includes both art professionals and writers.
The Affiliate Artists (https://www.headlands.org/program/affiliate/), a program specific to the local Bay Area art professionals.
The Center is comparable to the unique rooms in my favorite NY art museum, PS1. I've always felt that exhibition rooms that are not like white cubes, can  add possibilities for new elements or ideas to work in to projects or concepts.  The Center also maintains a constant relationship with the public. Not only does the Headlands Center for the Arts exhibit during the Fall open studios season, the Center participates in year-round talks, screenings, shows, readings, and performances. See their page for upcoming events. Here are a few views of the Center.
Below, I've left a trail of pictures and information about a few of the things that were open to the public at the Headlands Center two weekends ago.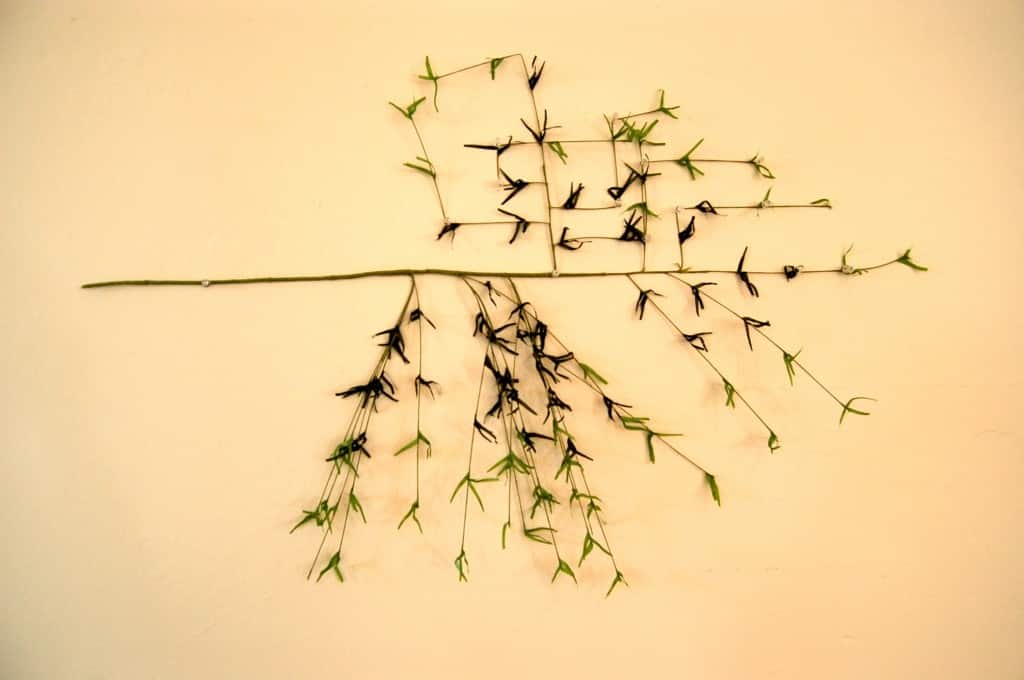 Work by Janelle Iglesias
Here, we see a tree branch attached to the wall, but notice how the artist has edited the twigs and leaves stemming from the top half of the main bough. Janelle Iglesias is working with and against nature. She seems to be forming shapes based on those natural structures. Within this image, I see the air view of a city map described. How that arena contrasts with the hanging, clumped stems below. So many ways to wonder about a tree rod, using little more than its natural materials and structures.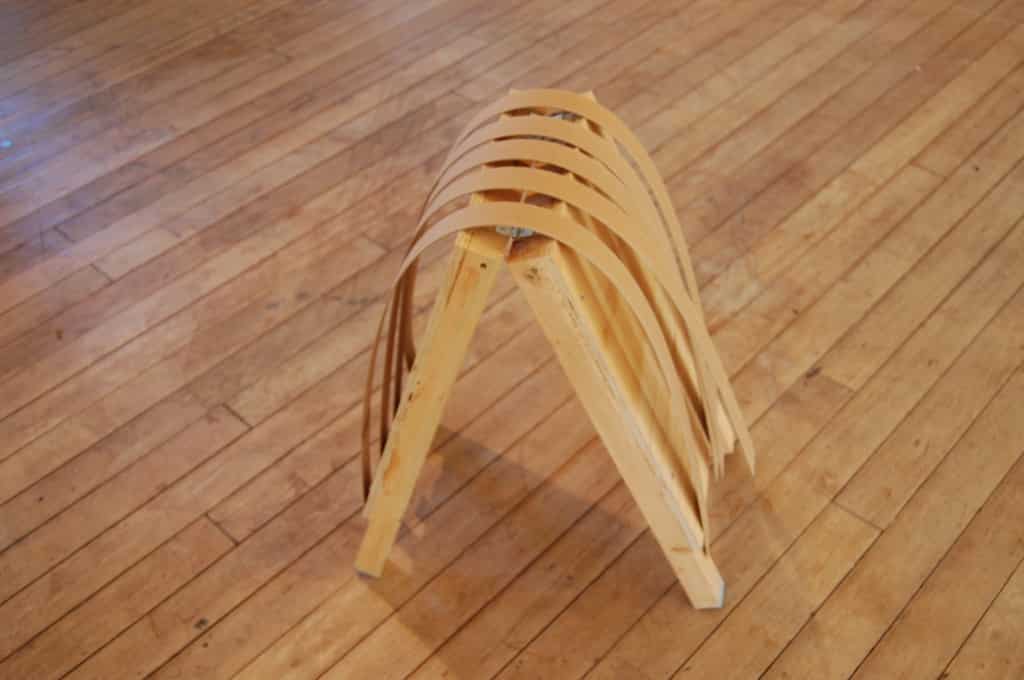 A sculpture from Janelle Iglesias' studio.
Combined with the wall piece (this room felt very large), visitors also glimpsed some of Iglesias' wood and mixed media sculptures.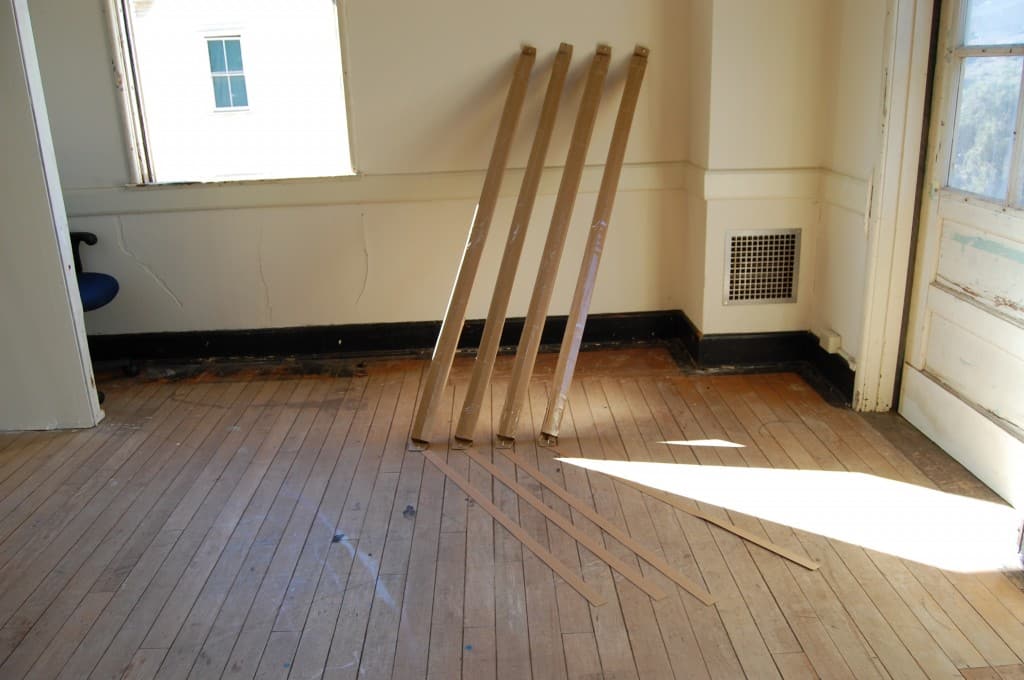 Below, are two partial views of Iglesias' conceptual piece called, The Space Between Earth & Sky.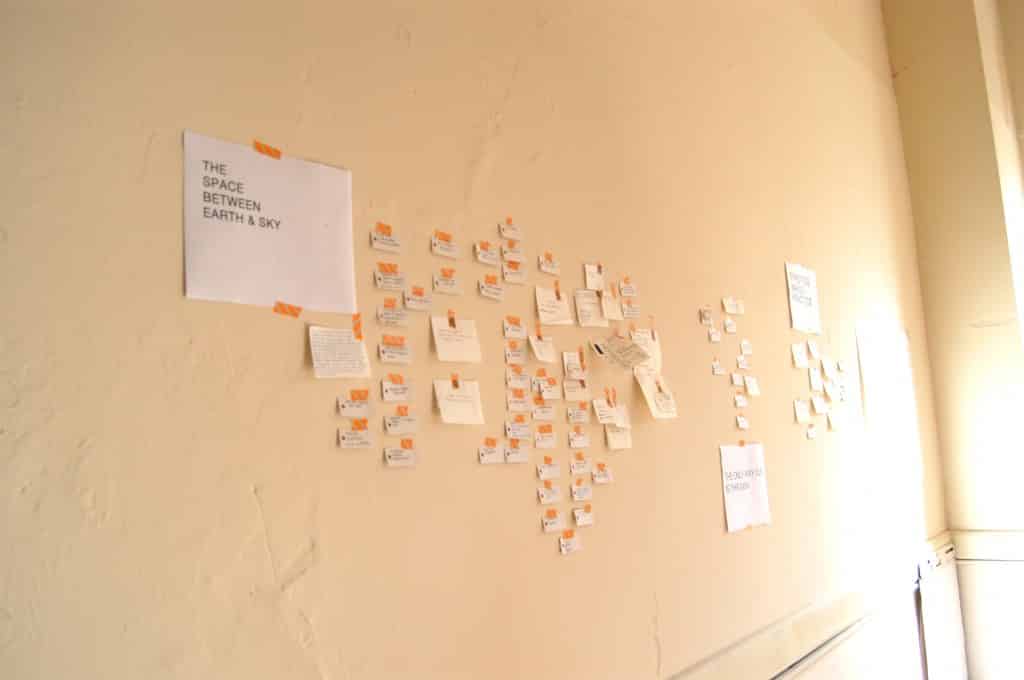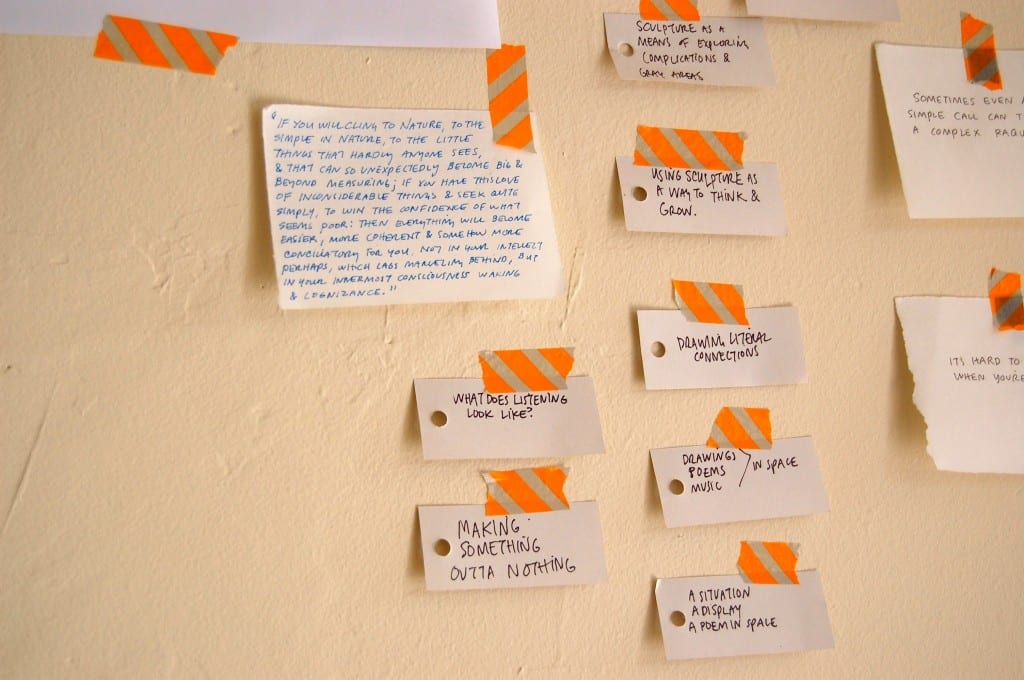 Janelle Iglesias' The Space Between Earth & Sky. 
When you try to grab as many angles and visual references as possible for a blog article, you might like me, forget to actually look at the work—instead of taking pictures of it. Regretfully, I cannot tell you exactly how it felt to come across The Space Between Earth & Sky, for I fell into that auto-photo snapping zone when I approached it. The tidbits of the piece from my references make me wish I had stayed with it longer.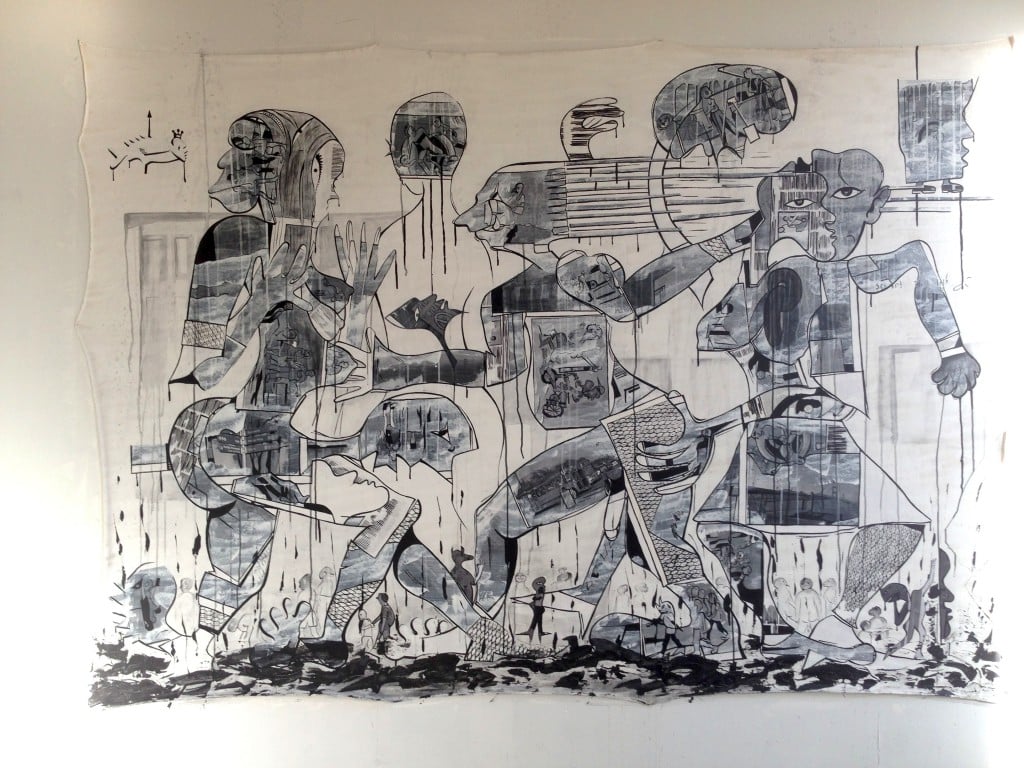 A piece from Blessing Ngobeni's studio
While reading his images, I sense complicated emotions being described. Tangled figures embrace or reach out to one another. In other moments, their gestures appear hostile. Everyone in the bunch drips some sort of fluid, which also serves as a visual connection that moves your eye around the composition. In all of his works, Ngobeni shows an innate ability to interweave his disparate shapes, colors, and regions of the paper/canvas. Parts of the figures hold images of smaller figures, similar to a comic strip embedded in a larger one. These different characteristics create many-layered narratives that do not have to be read in any specific order.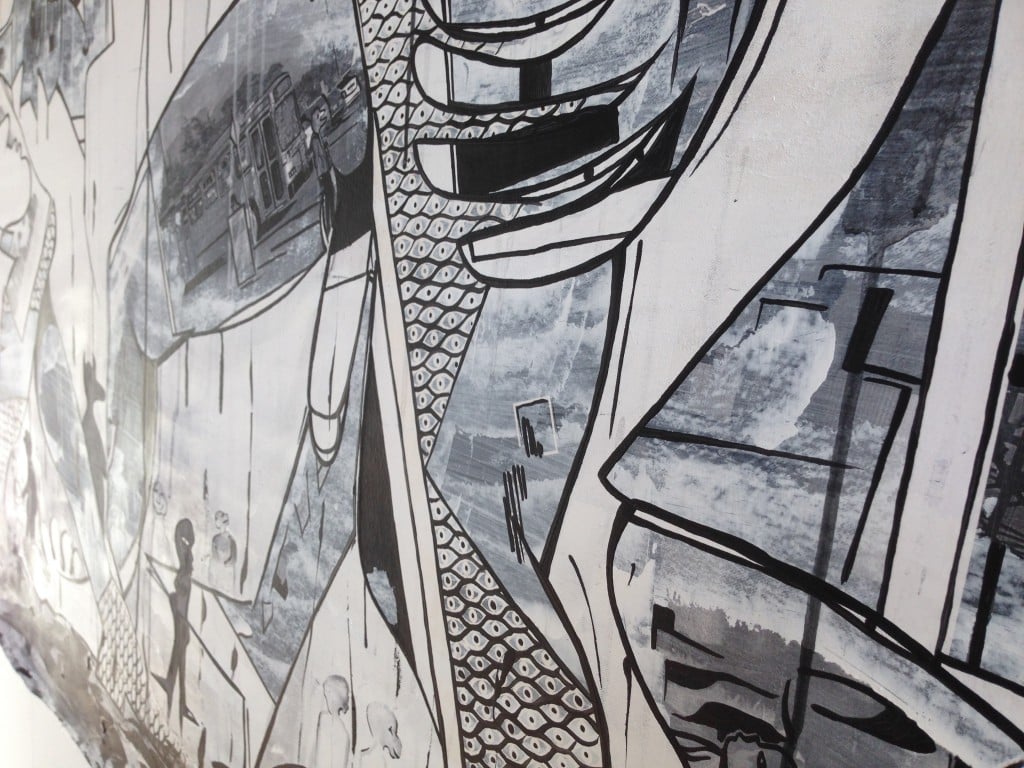 Close-up view of Ngobeni's artwork, depicted above.
Past writers have focused on how Ngobeni's biographical history in South Africa influences his work.  At the Headkands, Ngobeni's studies include "observing human behaviour, by examining the non-verbal communication, gestures and cues made by the people."   See the gallery below for additional images of this artist's work.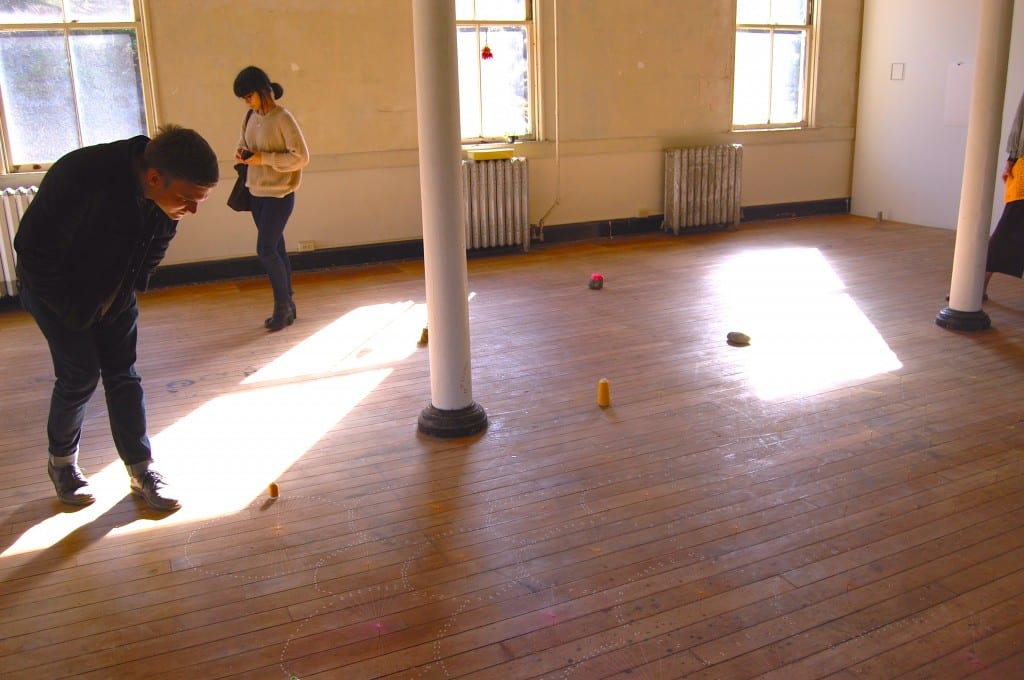 View of Ying Zhu's exhibition space
Ying Zhu created an exhibition space that urges her audience to look closely. The large room I entered (likely comfortable for over 25+ people to walk through at one time) might be 98% bare, but if you look down, you'll find her flourishing artwork, threads that are in full bloom.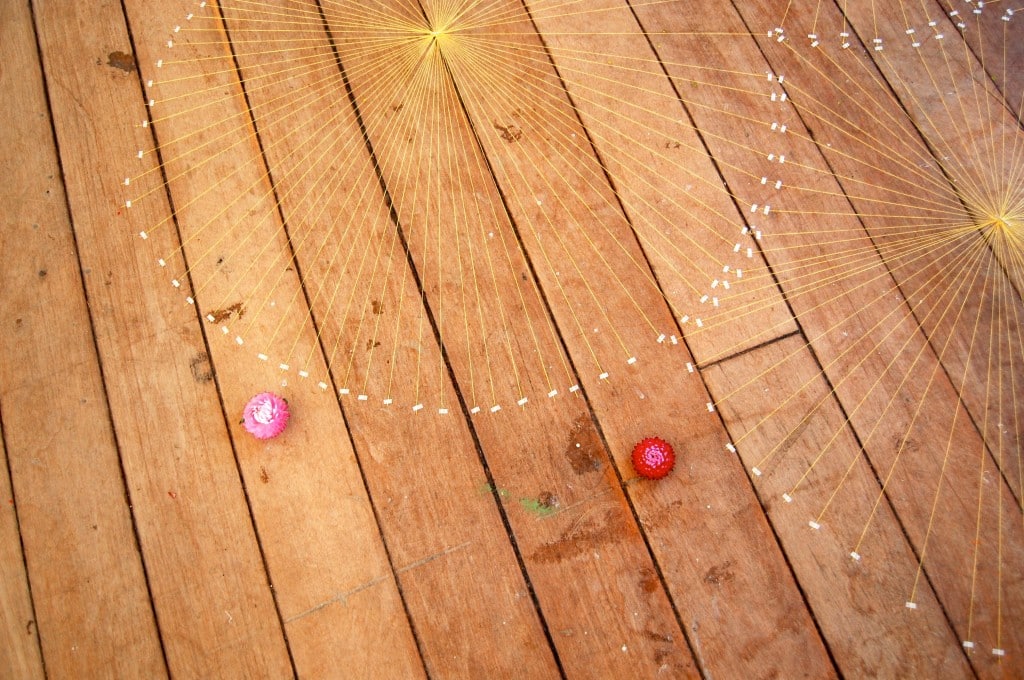 I thought of a very minimal coral reef. Using man made materials, Zhu mimics nature. Her pieces come from reflecting on the surrounding landscape of Marin County (just north of San Francisco). Zhu is based in Nebraska. Having someone from a different part of the country pondering the Bay Area seems like a worthwhile interaction for those of us who are so used to the area. Sometimes, a viewer from afar can see more in the things that lay so near to us.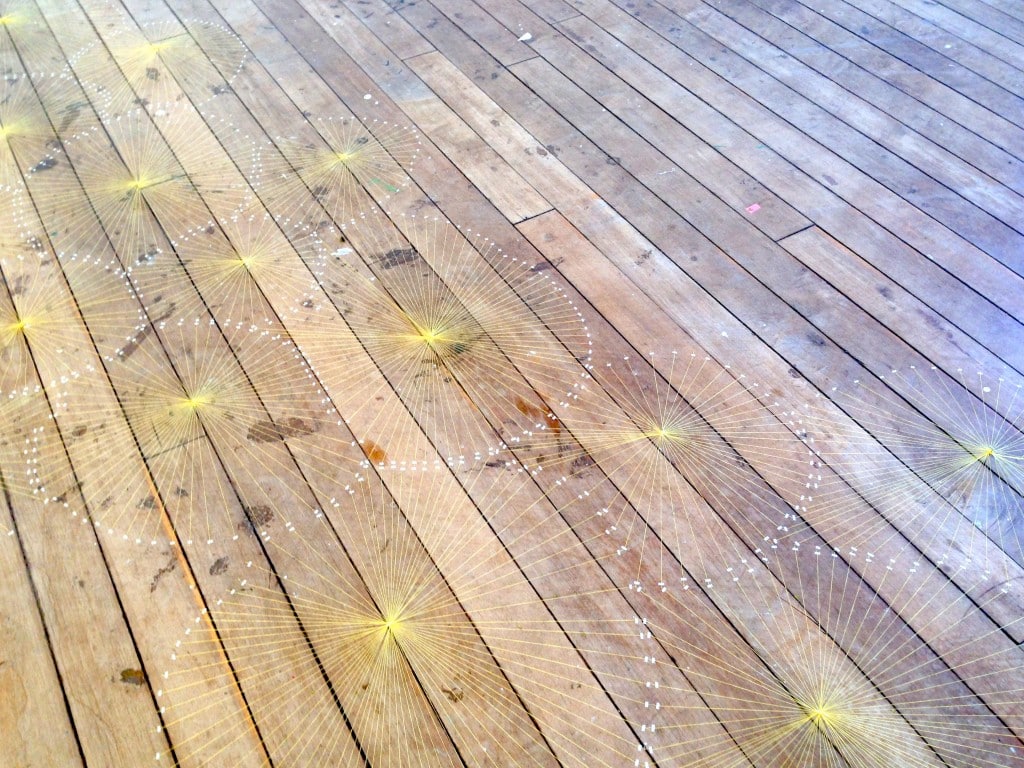 View of Ying Zhu's installation work at the Headlands Center for the Arts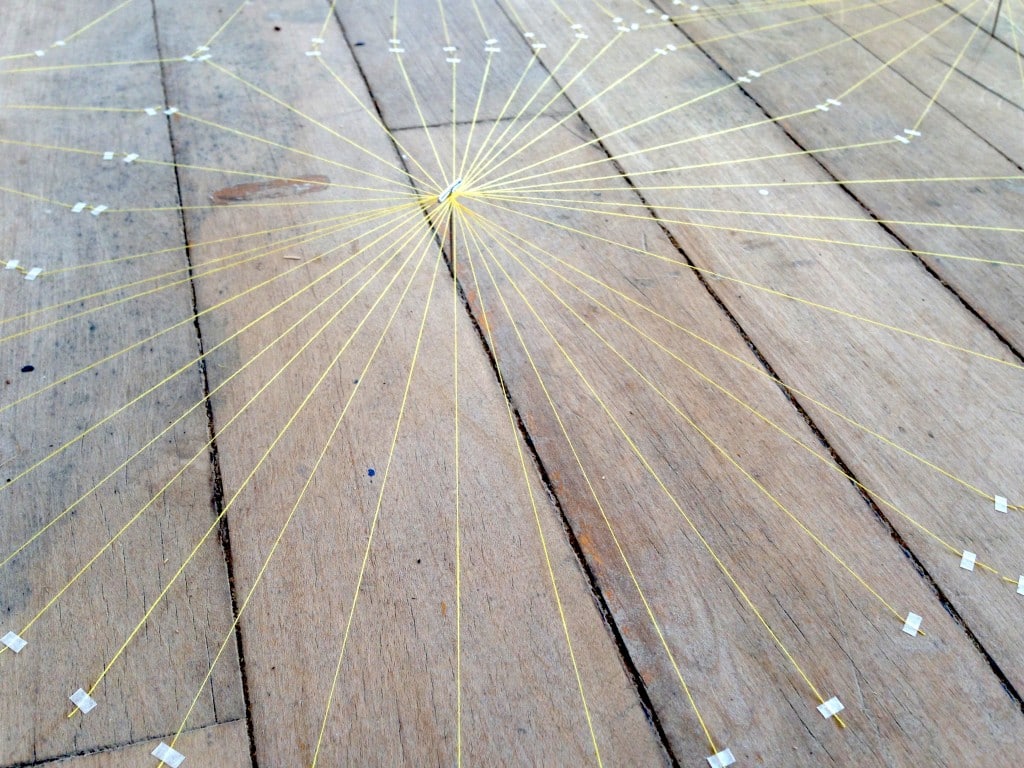 In the picture below, the square hung on a wall in the same space. It clues us into some of Zhu's thoughts and explorations. I read it as a sketch, constructed from grey threads, similar to the larger installation on the floor. Those frail structures draw me in, especially when they counterintuitively create strong borders like the walls of this square.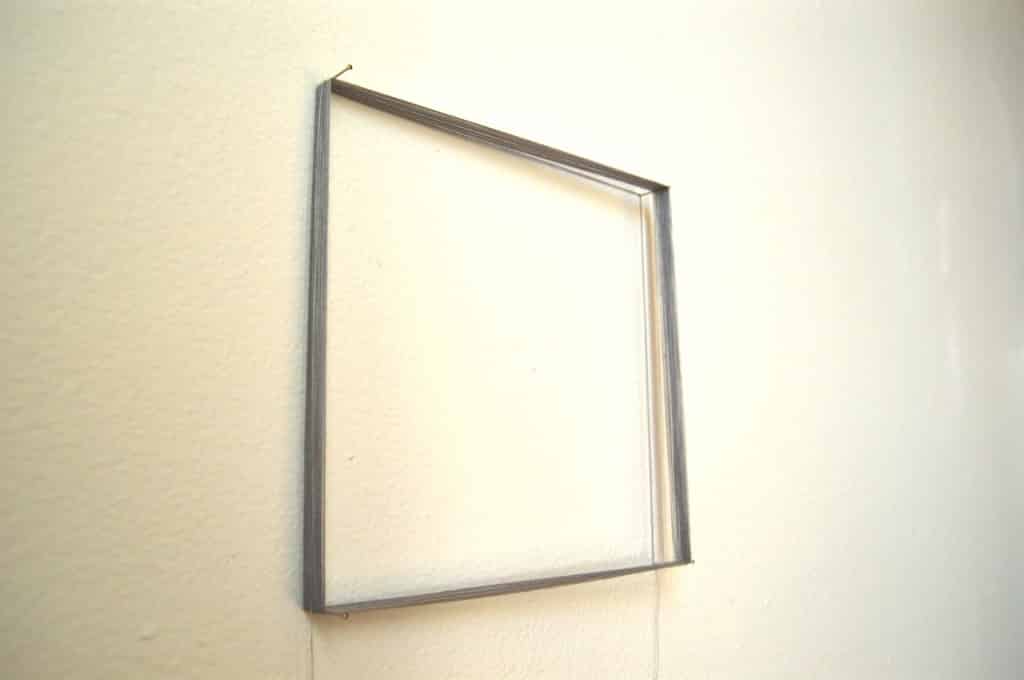 Item in Ying Zhu's Project Space
Even though I love sculpture (that was my concentration during college), paintings in the flesh have become a favorite recently. I experience over 7 hours of work in front of a computer most days. Perhaps that is why painted surfaces have become such a treat. The bumps, layers, smears, and all the indefinite facets that come with paint on canvas are now my eye candy. I feel that way about the surface of actual book pages too. Some of this came to mind while visiting Allison Miller's painting studio.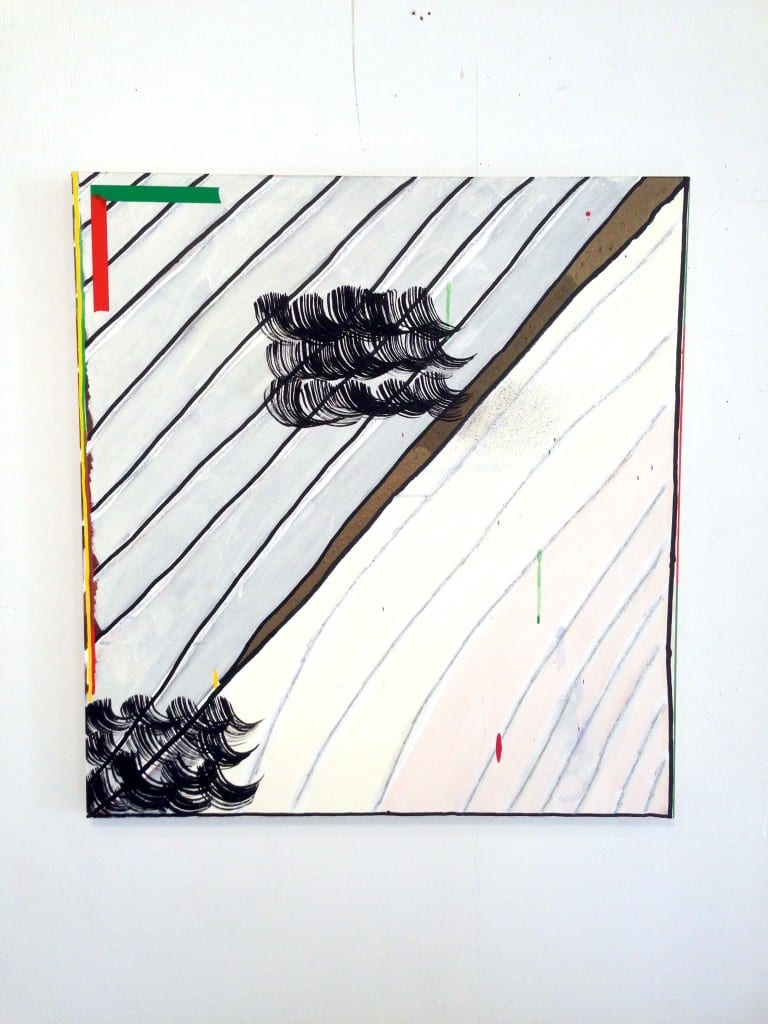 The artist treats her paintings as arenas for action. In her work, we see spaces that can be changed many times and the end result does not entirely represent the full ark of Miller's work. For the body of works on display at the Headlands, it is very important to think about how the artist constantly edits. While viewers see only one static state of Miller's paintings, the artist gets to experience all the changes—the twists on all the endless possibilities and constraints of paint.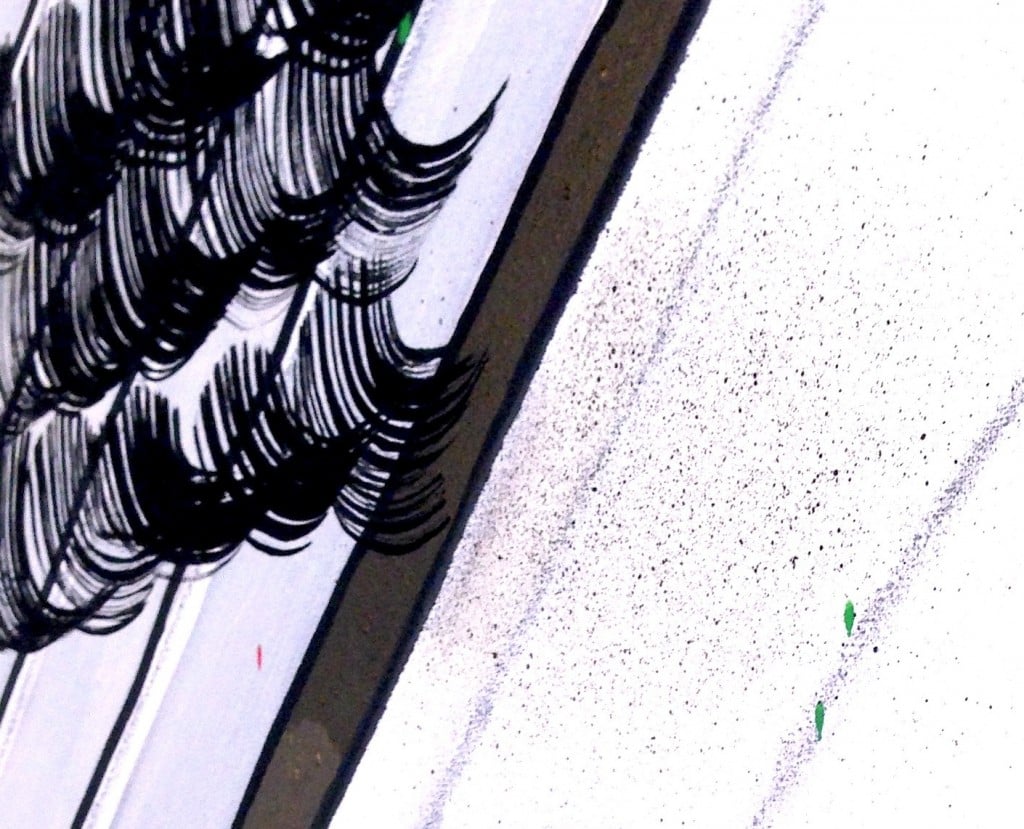 A close view of a painting in Miller's studio.
This review carries a particularly delicious description of Miller's painting technique.  Other's have written of the artist's work like sculpture, an apt connection. See the gallery at the end of this post for more pictures from Allison Miller at the Headlands.
Terrance Nance's work offered a respite from hanging out with the very physical paintings, drawings, and sculptures in the floors below his studio. The space did not require much light as the artist screened different works on a large studio wall for passing visitors.   The video below shows Frenel in its entirety, accessible through Vimeo.  The piece feels like a documentary that sweetly includes a distinct dreamscape created by two dancers–you'll never take your eyes off them.   Their imaginative dance changes with the mood flowing from the reflective dialogue of the main subject, Frenel Morris.  He is a milliner.
Frenel from Terence Nance • Terence Etc. on Vimeo.
Past pieces of writing on Nance's work include descriptions of elegance, intuition, and the ever-flattering way to compliment visual art—the comparison to poetry. After seeing just a handful of his works at the Headlands, I can imagine why others have felt this. Just thinking about Nance's use of words, I'm taken by the title of his feature film, An Oversimplification of Her Beauty.
Other collaborators include filmmaker Hank Willis Thomas, Chanelle Pearson, and musician Melissa Laveaux Postman.
We did not get to capture every artist, project, or event happening during the Open House. What we saw was enough of a hook.  Artiholics will definitely return to the Headlands for future events.
Written by: Audrey Tran