New York, NY – Tuesday, April 9, 2013
Sometimes you are the star of the photo, sometimes you are oblivious the photo is being taken and end up in a magazine anyway.  The latter has happened to me twice (and possibly more) in the past month.  When you go to a lot of art events where there are a lot of cameras, this shit is just bound to happen. I must mention that friends sent me these links, so thanks to artists Swancoat and Joseph Meloy for spotting me in the crowd.
Above Photo: Here I am in Inked Magazine, in the article about Mark DeMaio's opening of I Walk The Line which I previewed here on artiholics.  You will see me if you look past the people in focus, just to the left of the Raider's logo.  Yup, there I am (photo by Jessica Tong for Inked Mag).  The guy in the foreground with the hat over his eyes is photographer Worm Carnevale btw.
The next one is another interesting find, from Paper Magazine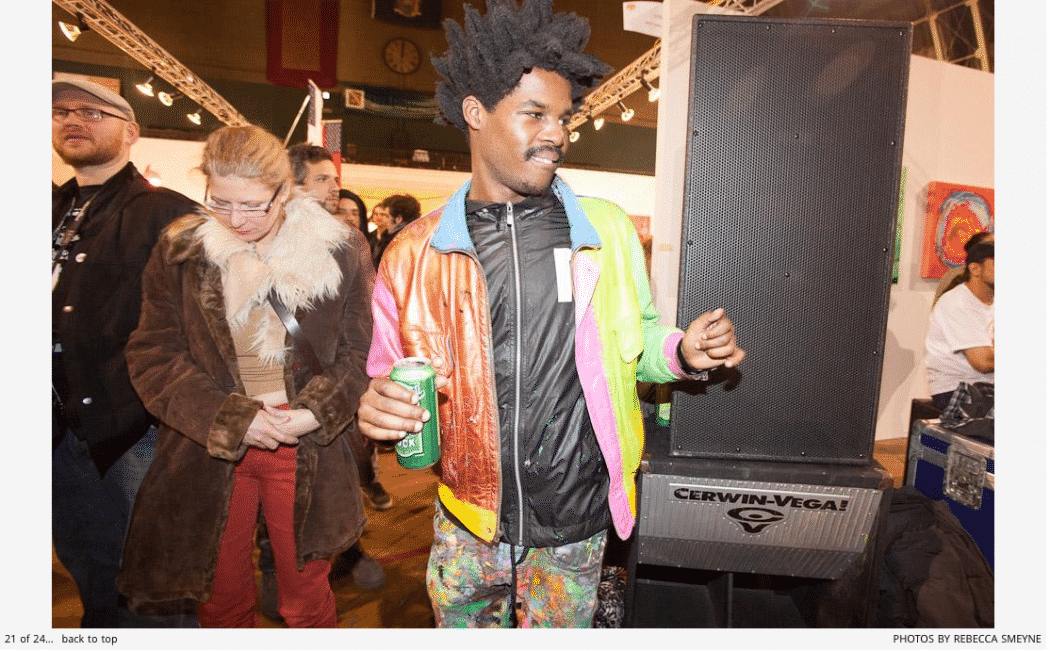 Ok, look to the far left of the black dude with the hypercolor jacket, jeans, and Anime hair.  Past the blonde woman with red paints, there I am at the opening night for Fountain Art Fair -PaperMag (photo by Rebecca Smeyne for Paper). The same night I also unintentionally photobombed photographer Tobias Batz when he was taking a picture of actress Cassandra Espitia (see below).
But I did get some good press (I actually posed for), in the Artefuse article about Fountain, thanks Artefuse.
Written by Cojo "Art Juggernaut"
IF YOU SEE COJO THE BACKGROUND OF ANY PHOTOS FROM YOUR ART OPENING OR EVENT, PLEASE CONTACT US SO WE CAN SPOTLIGHT THESE UNINTENTIONAL PHOTOBOMBINGS.  COJO CAN BE AND IS EVERYWHERE, AND ANYWHERE.