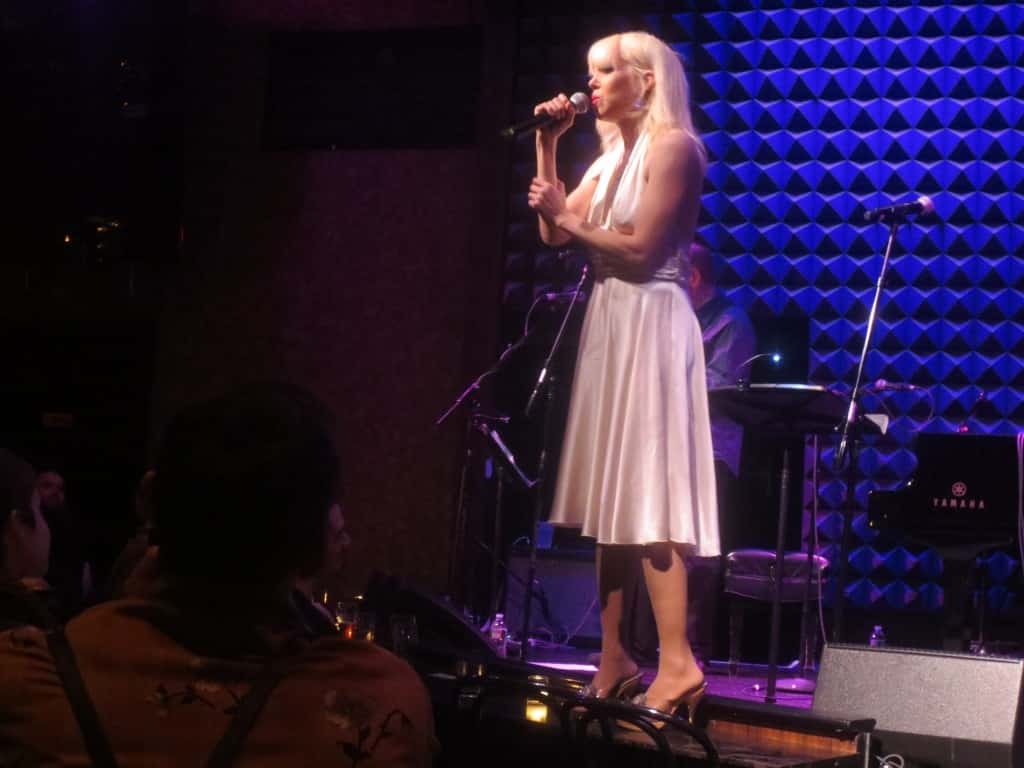 New York – Tuesday, April 8, 2014
On Monday, March 24th, Joe's Pub held a benefit for New York Voices Commissioning Program and the Ali Forney Center. TRANS Formative, Songs that Propelled Us, a cabaret show celebrating voice teacher and producer, Barbara Maier Gustern featured the brightest stars of the underground New York music and performance art scene.
Maier, small in stature, is a hugely influential presence. Her clients make up a great community of entertainers in the LGBT community. She praises Joes' Pub as "a significant presence in the development of a diverse group of talent. Certainly, they have been a force in the careers of many of my students." These centers "support and encourage people to be the best at who they are and to care for and nurture themselves. Youth who are struggling with identity need role models who've stepped out to claim their true selves. I thought it was the right time to throw a great party to say thank you to these organizations that foster those values."
The night was emceed by performance artist Eric L. Schmalenberger and musician/comedian Tammy Faye Starlight. Closing the set was star attraction Justin Vivian Bond, aka Kiki DuRayne of cabaret duo Kiki and Herb. Bond, always in charge, made sure the audience had a great view of her, clearing the mic stands out of the way "A diva always redecorates", she remarked as she blew a kiss, then gave the crowd a moving serenade while performing the piano. Bond is also known as the emcee Queen of the underground New York avant-garde art scene in John Cameron Mitchell's film, Shortbus. Mitchell, who is also known for his recurring character on HBO's Girls, has been a very busy artist. Mitchell's show, turned cult favorite film, Hedwig and the Angry Inch, is a tribute to the enduring nature of the talented trans performance art scene. It is back as a musical, and is now on Broadway with Neil Patrick Harris playing the starring role as trans washed up rock diva, Hedwig.
The extravaganza featured numerous celebrities of the downtown art scene such as multi-talented sparkling diamante Miguel Gutierrez, singers Michael Cavadias, Angela DiCarlo, Earl Dax, Eisa Davis, Mai Fujisawa, Nicholas Gorham, Soozie Hwang and the Realastics, Our Lady J, Carol Lipnik, Heather Litteer, Amber Martin, Nancy Magarill, Carlos Ponton, Chris Rael, Lady Rizo, Viva Ruiz, Sofia Tosello, Sonda Weigl, Pinky Weitzman, Geo Wyeth, Roseanna Vitro, and musicians Not Waving but Drowning.
The Ali Forney Center is the largest and most comprehensive program in the nation dedicated to meeting the needs of homeless lesbian, gay, bisexual, transgender, questioning youth. The center serves over a thousand homeless LGBTQ youth each year, serving meals, providing physical and mental health services, career and educational counseling, and offering a mentoring program. The Transitional Housing Program has a 99% success rate of employment in the youth center, and over three quarters of these youth go on to higher education. Joe's Pub Director Shanta Thake is one of the founding members of the collective. It is a place that seeks to support artists by commissioning new works that connect them to their audience, and to their contemporaries in the art world.
There will be another benefit at Joe's Pub on April 28th, 9:30pm. Tickets are $30 and can be reserved online https://joespub.publictheater.org/en/tickets/calendar/playdetailscollection/joes-pub/TRANS-Formative .
April 28th's show will be hosted By Tammy Faye Starlight and Eric Schmalenberger, and features Penny Arcade, Seth Bedford, Louisa Bradshaw, Machine Dazzle, Heather Greene, Kathleen Hanna and the Julie Ruin, Benjamin Ickies, John Kelly, Julie Atlas Muz, Miss Guy, Taylor Mac, Sofia Rei, Rob Roth, David F. Slone Esq., Vlada Tomova, and Natti Vogel.
Written & Photographed by Betty T. Kao