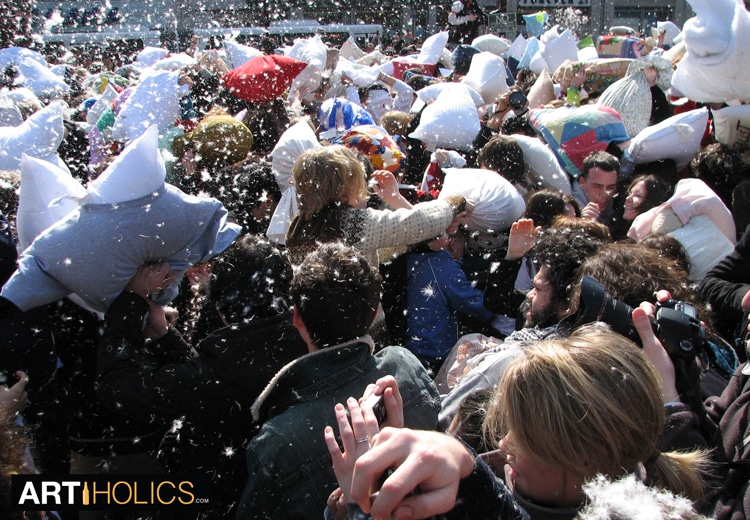 New York – Saturday, April 5, 2014
This afternoon in cities around the globe, people are gathering in town squares to beat the shit out of each other.  Luckily they are using weapons purchased at Bed Bath and Beyond.  That's because it's International Pillow Fight Day! If you want to join in on this fun interactive flash mob, check out the list of cities and see where one is happening near you.  Then just show up, and bring a pillow.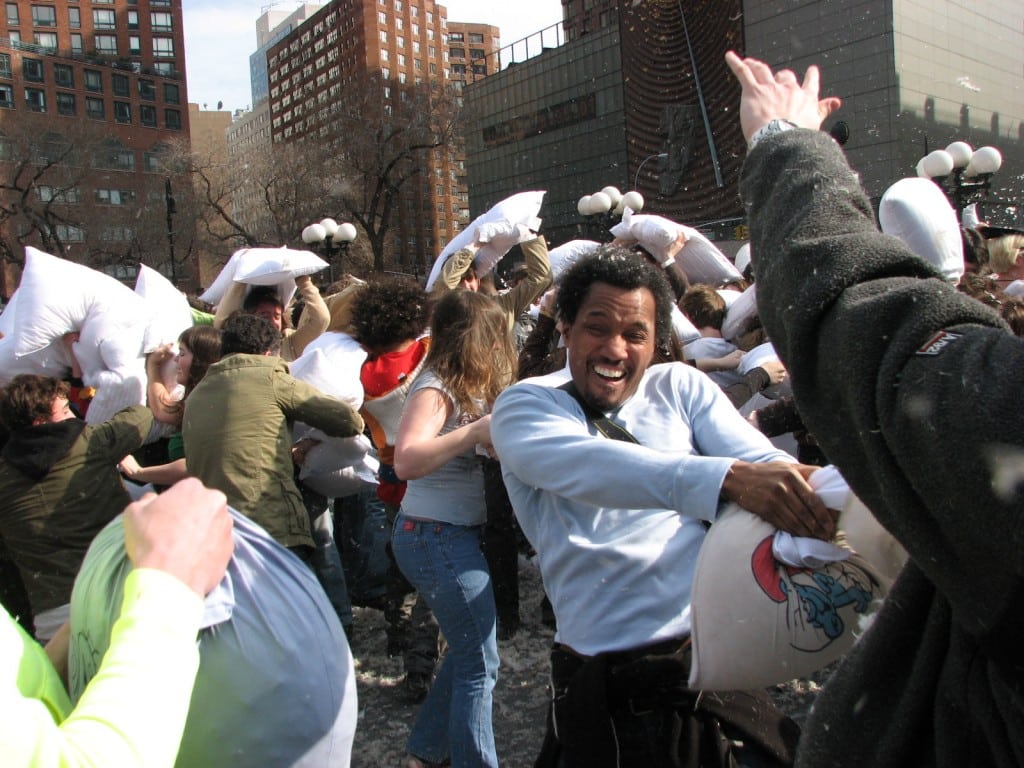 If you want to take the fun to the next level, and you have a decent Halloween costume still laying around, the theme for this year's fight is Superheroes vs. Villians.  If you are in NYC, the pillow fight takes place at Washington Square Park at 3:00pm.
Rules: Please follow these guidelines to ensure a safe and fun pillow fight for everybody!
+ Soft, feather-free pillows only!
+ Swing lightly, many people will be swinging at once.
+ Do not swing at people without pillows or with cameras.
+ Remove glasses beforehand!
+ Deposit pillows in donation boxes or take them with you.
+ Pajamas welcome.
If you don't want to join in the fray, you can come with a camera and take pictures.  It's not often you get to see 5000 New Yorkers whomping on each other with pieces of fluffy furniture.  For every five pillow people there is one person who just shows up to take pictures, so you also never see this many cameras in one place.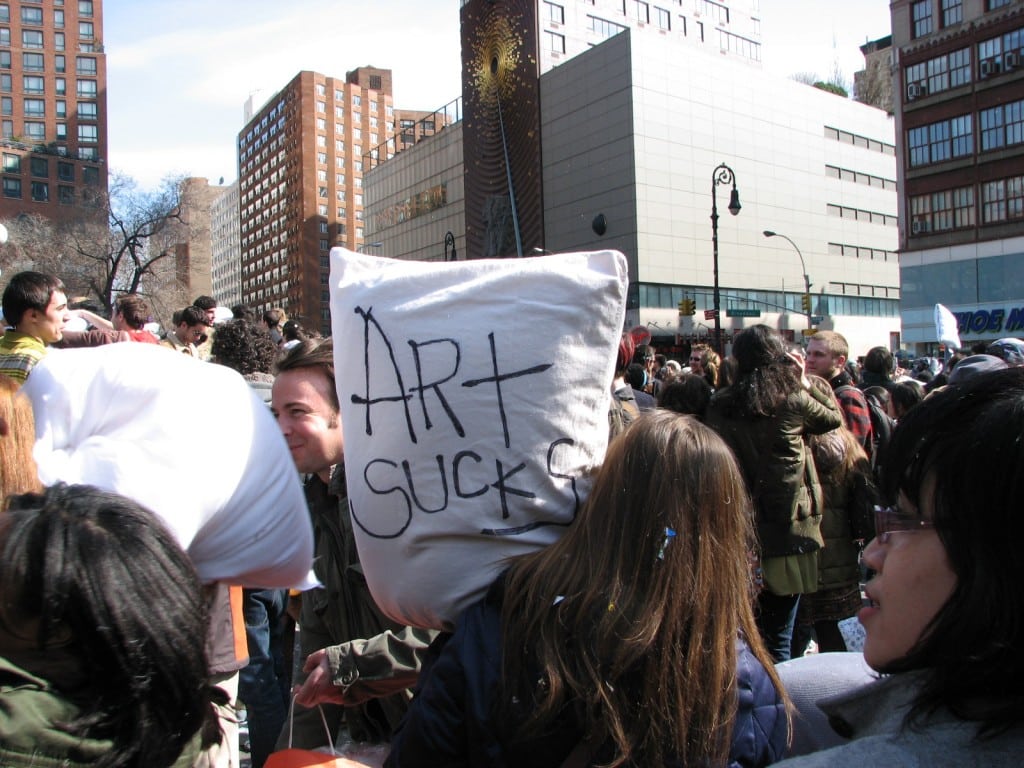 A great venue for marketing your artblog for example.  If you have a funny, or important  message you want out there to the world, write it on your pillow.  It will be photographed hundreds of times, it will be posted to facebook hundreds of times, and it will be posted on flickr, used in magazines, and shared by social media, 100s  or 1000s of times.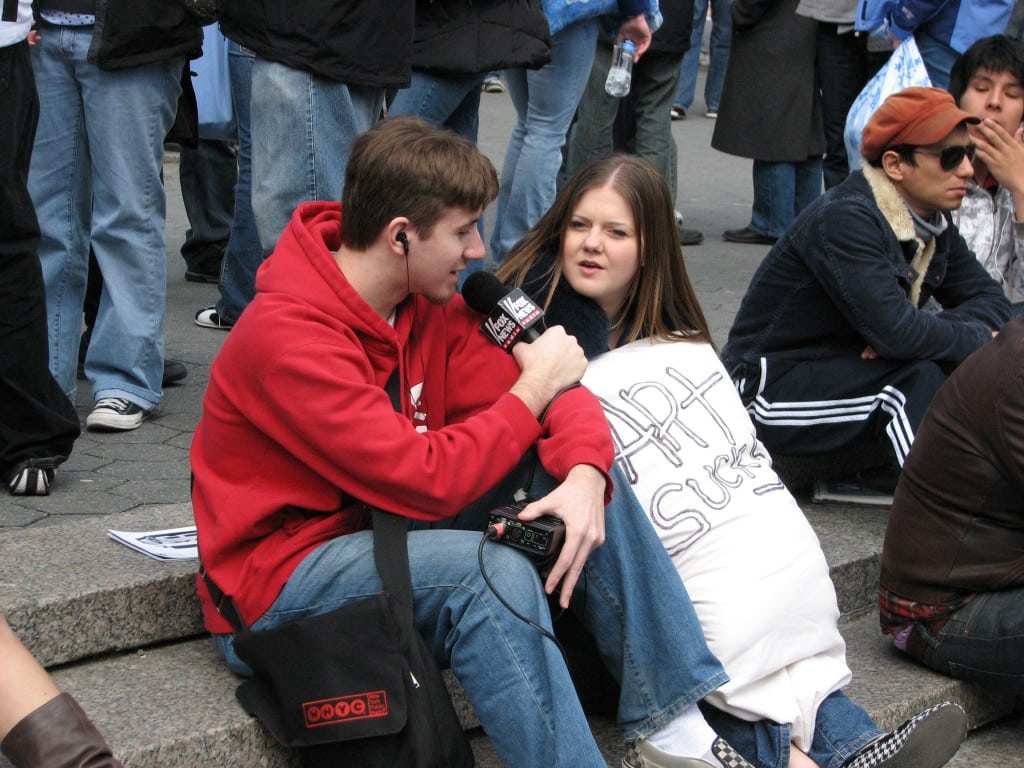 And you have a good shot in getting interviewed.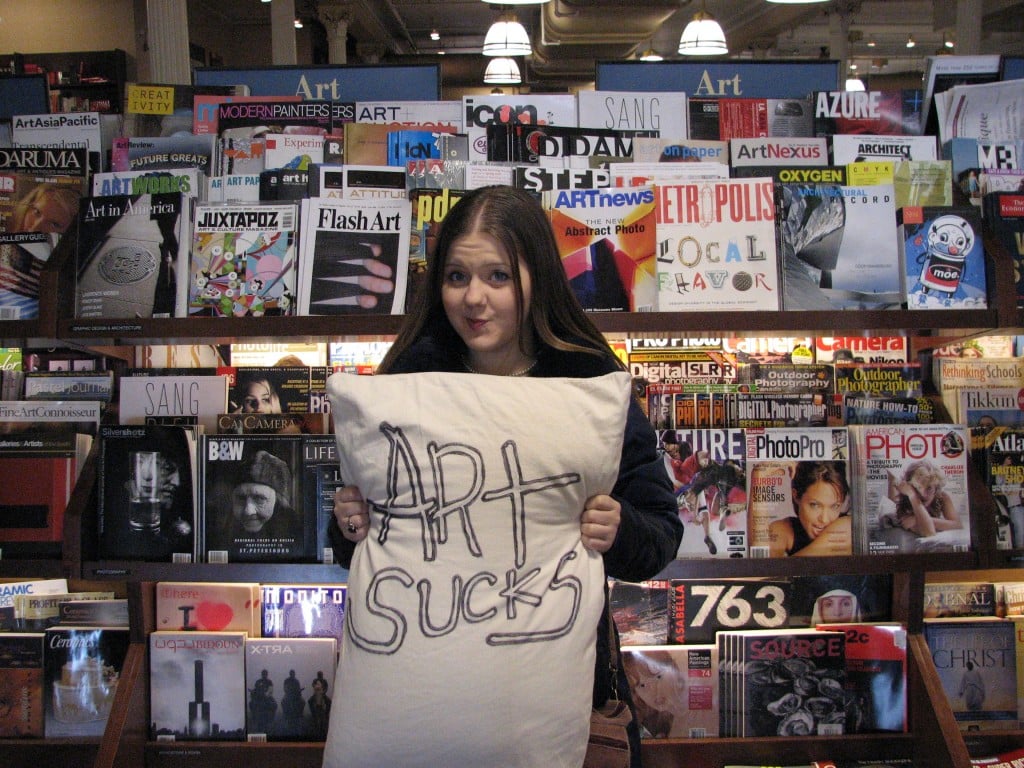 I attended and photographed the second annual International Pillow Fight Day in NYC back in 2007.  I drew the ArtSucks logo on both sides of a pillowcase and sent my girlfriend Molly in to do battle.  She is only 5'2″ but packs a wallop.  That pillow fight day took place at Union Square Park, but I assume they have outgrown that park and have since moved to their current location, Washington Square Park (the one with the arch and the fountain in the Village).  Here are some never before published photos of the insanity: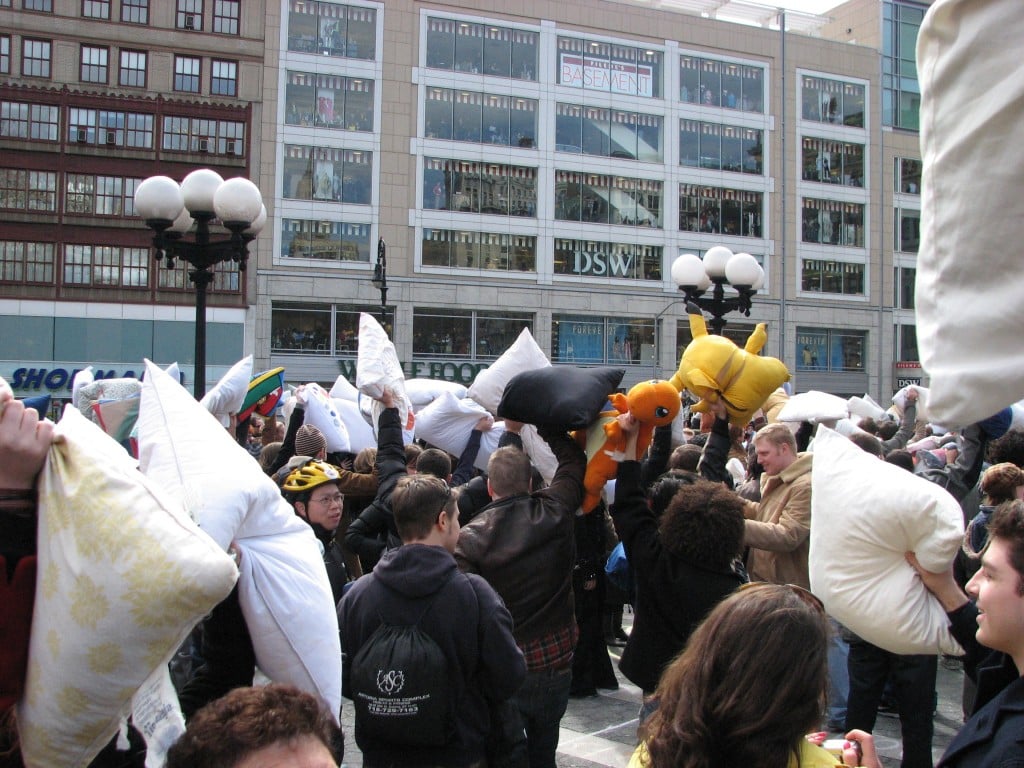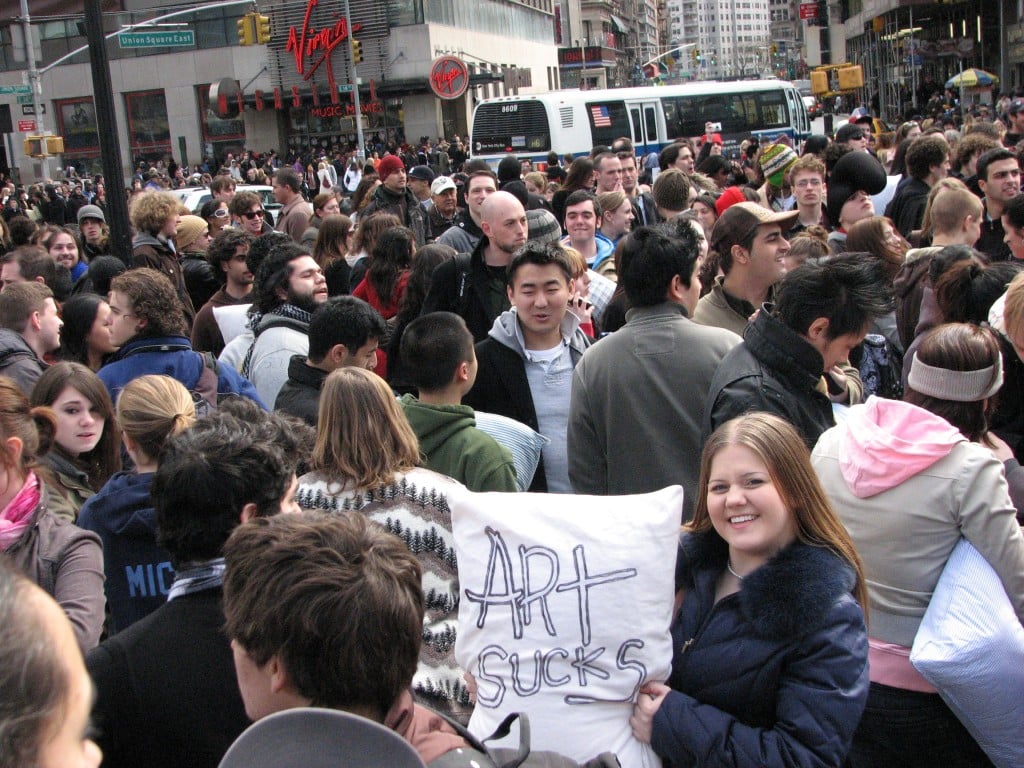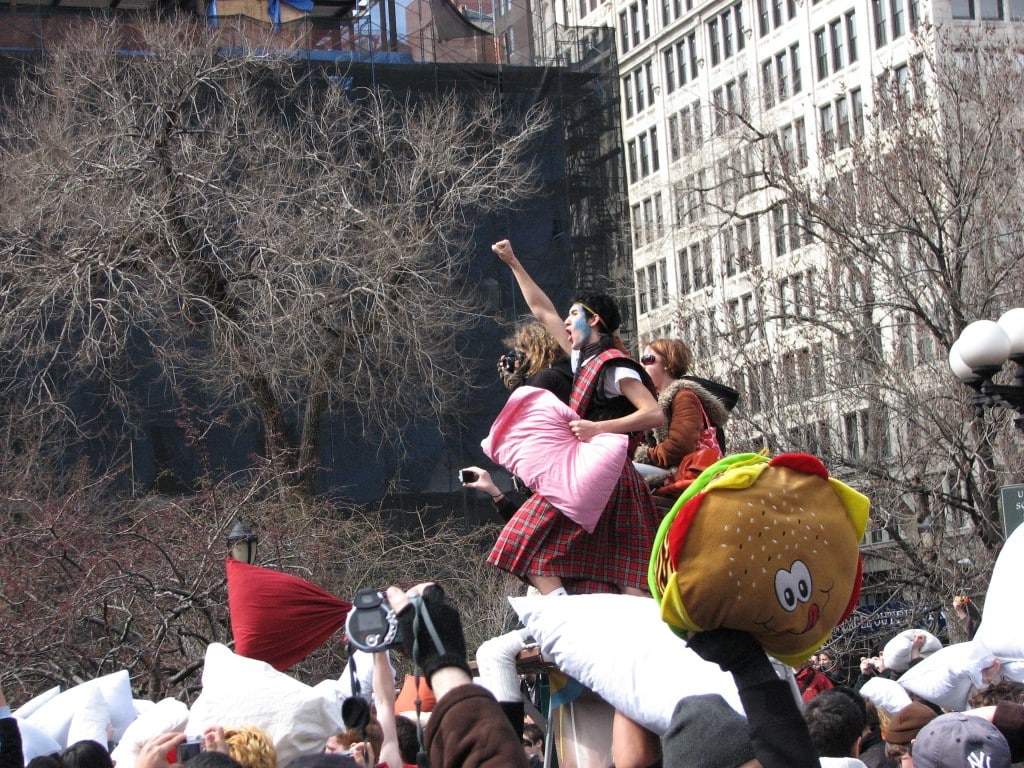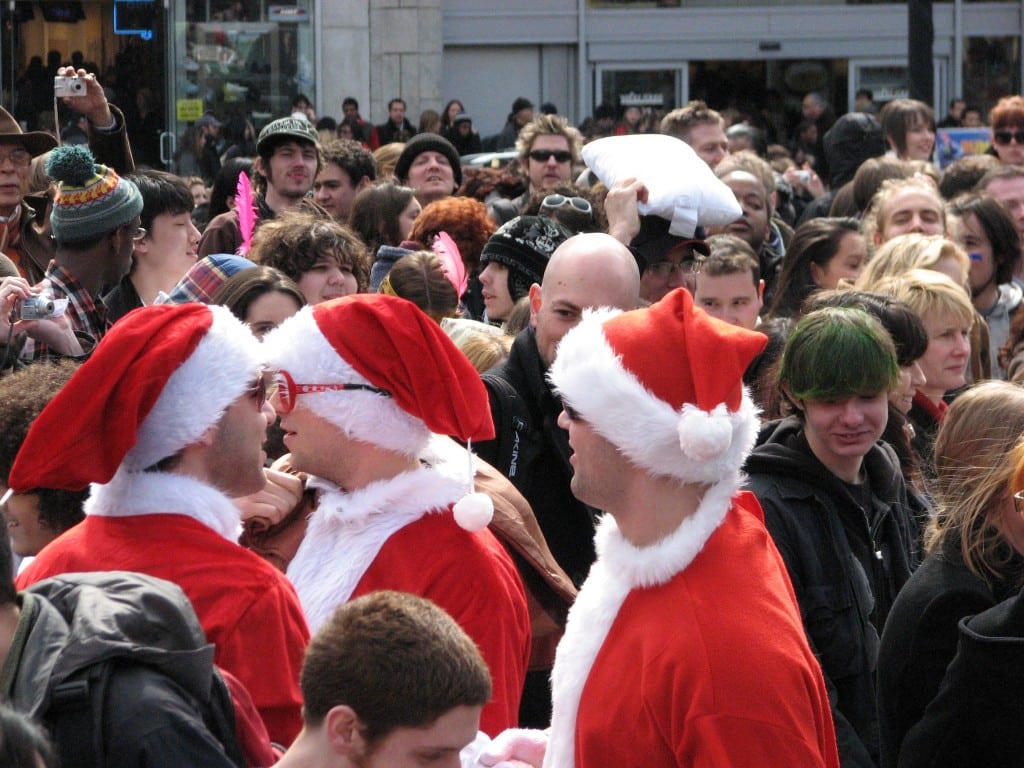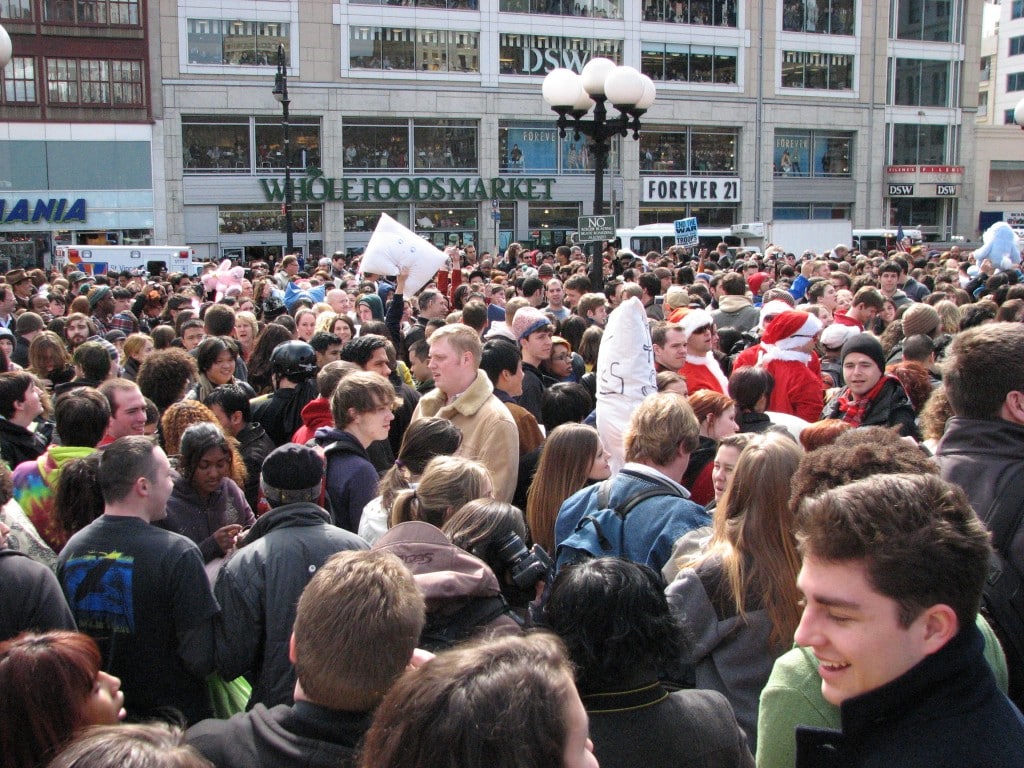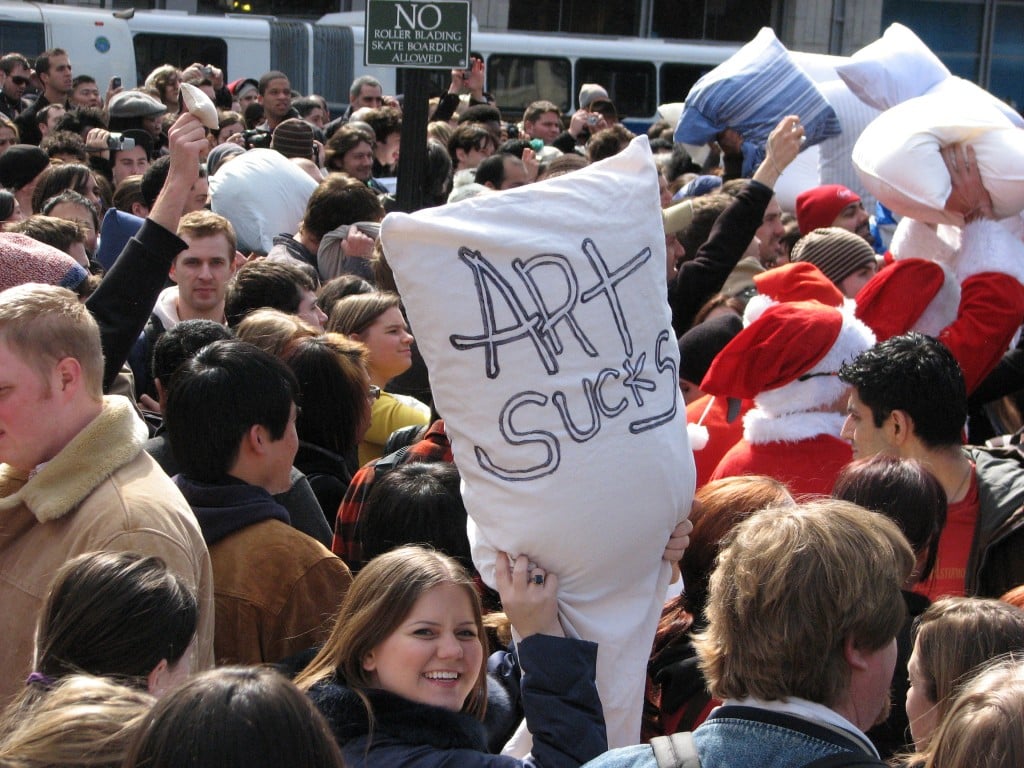 Thanks to the writing on the pillow it was easy to keep tabs on her in the crowd, well, before all hell broke loose and the fight started and feathers started flying, then not so much.
It's not a party till some pillows start to get damaged, then it starts to look like a truck transporting chickens exploded.
The match that lights the flame.
This is seriously fun, you will see more people smiling and laughing than you have in a while, and you will be smiling too, even when you are getting clubbed in the head.  It is pure childish fun, and something you don't get to experience as an adult very often.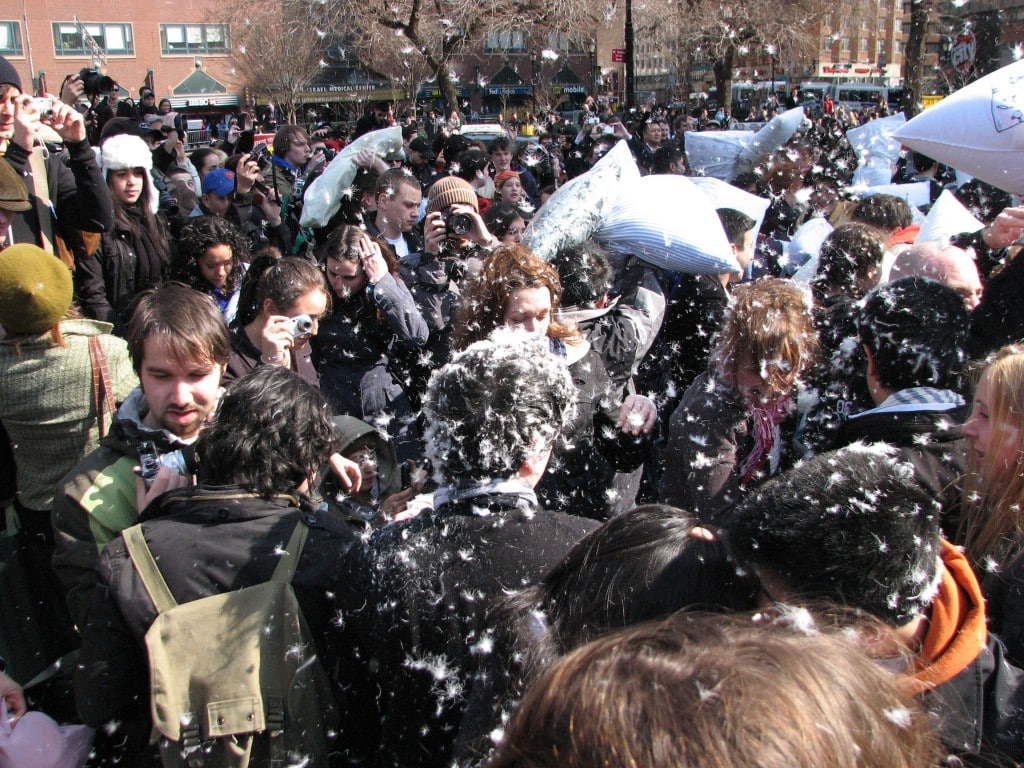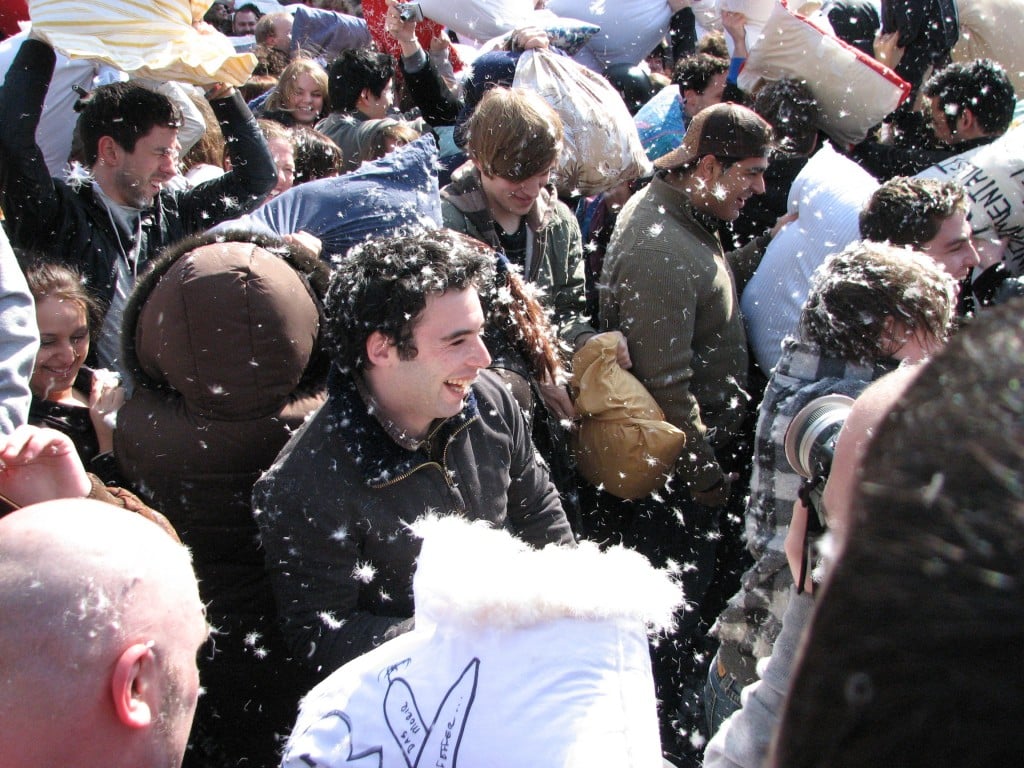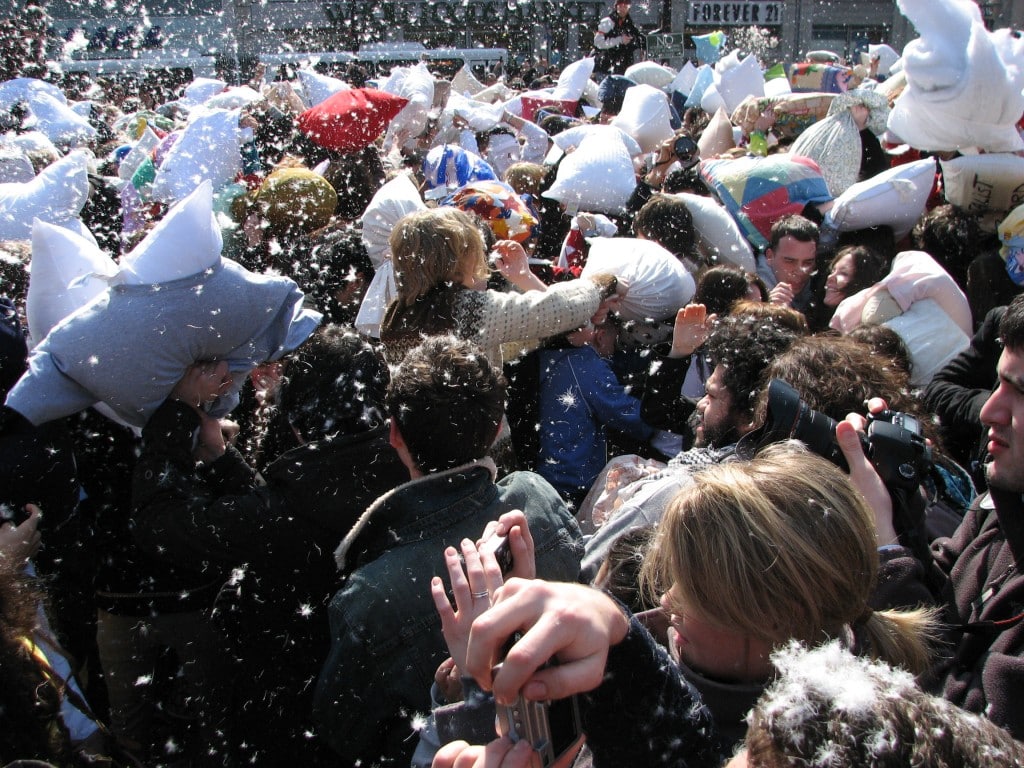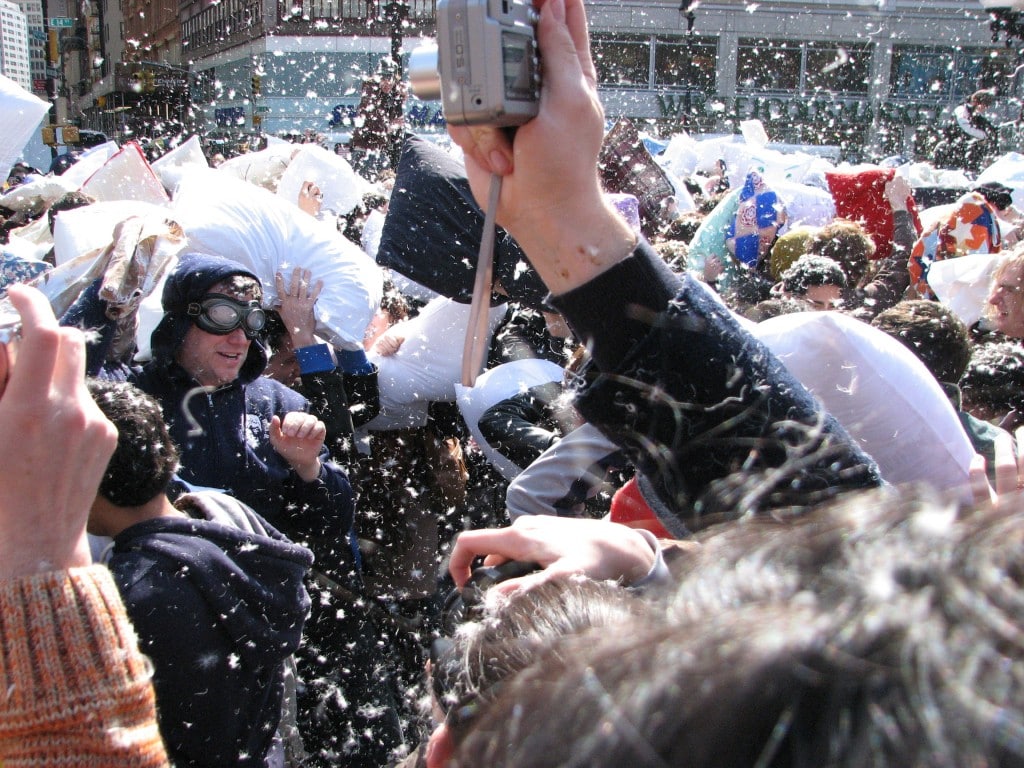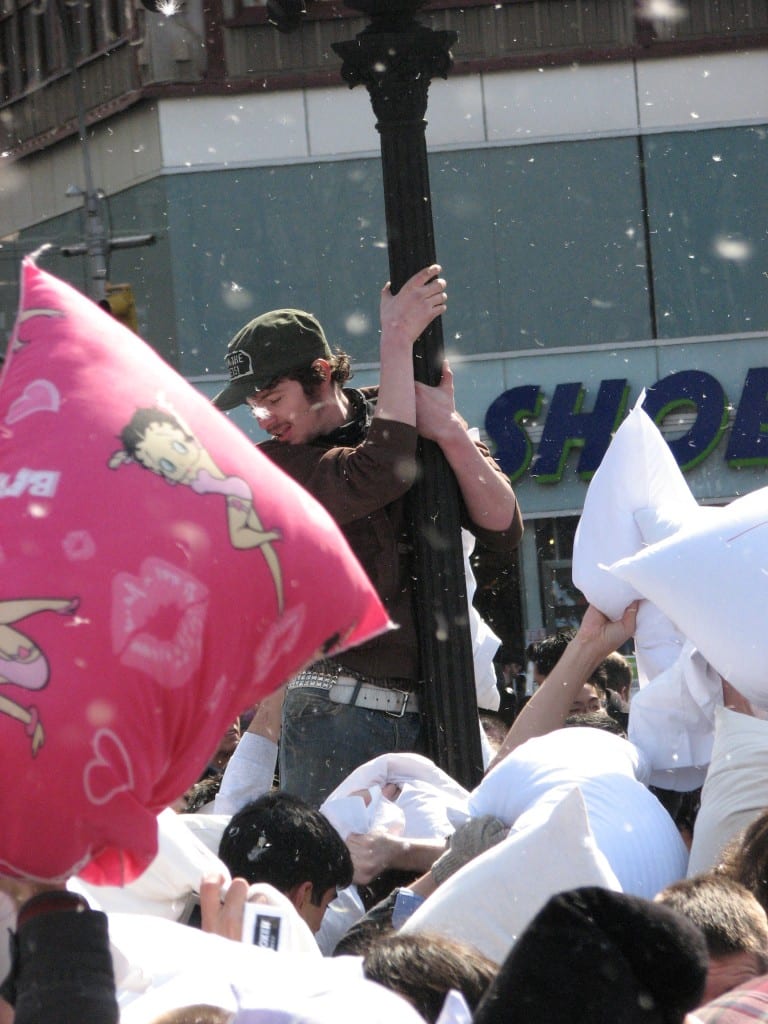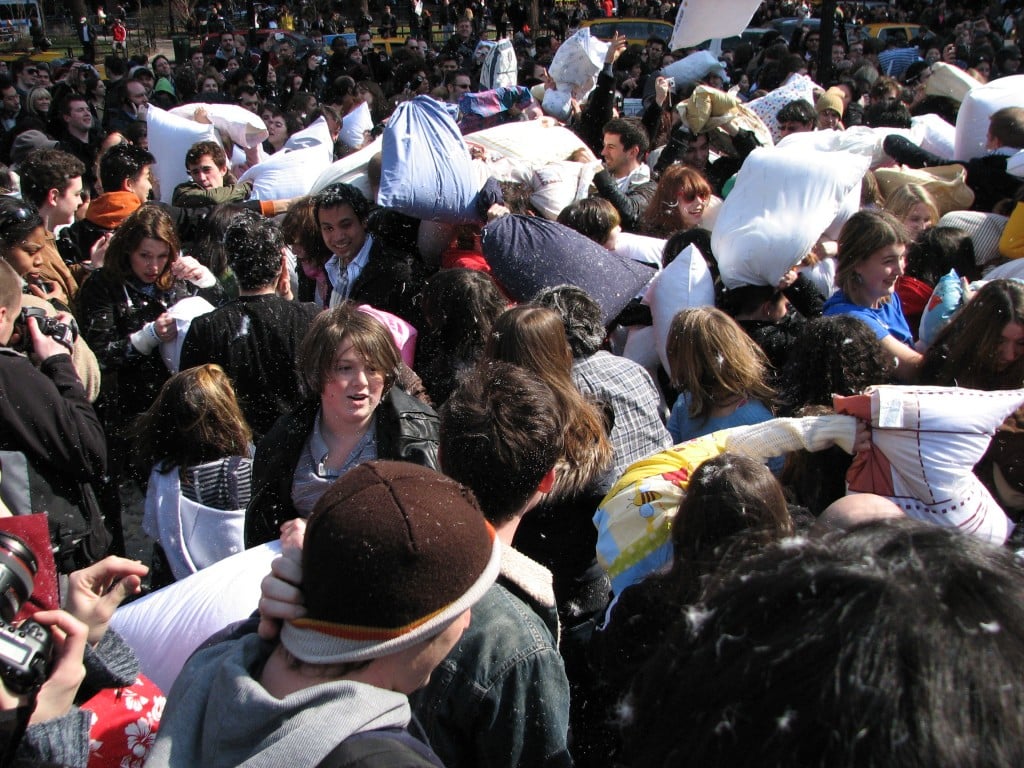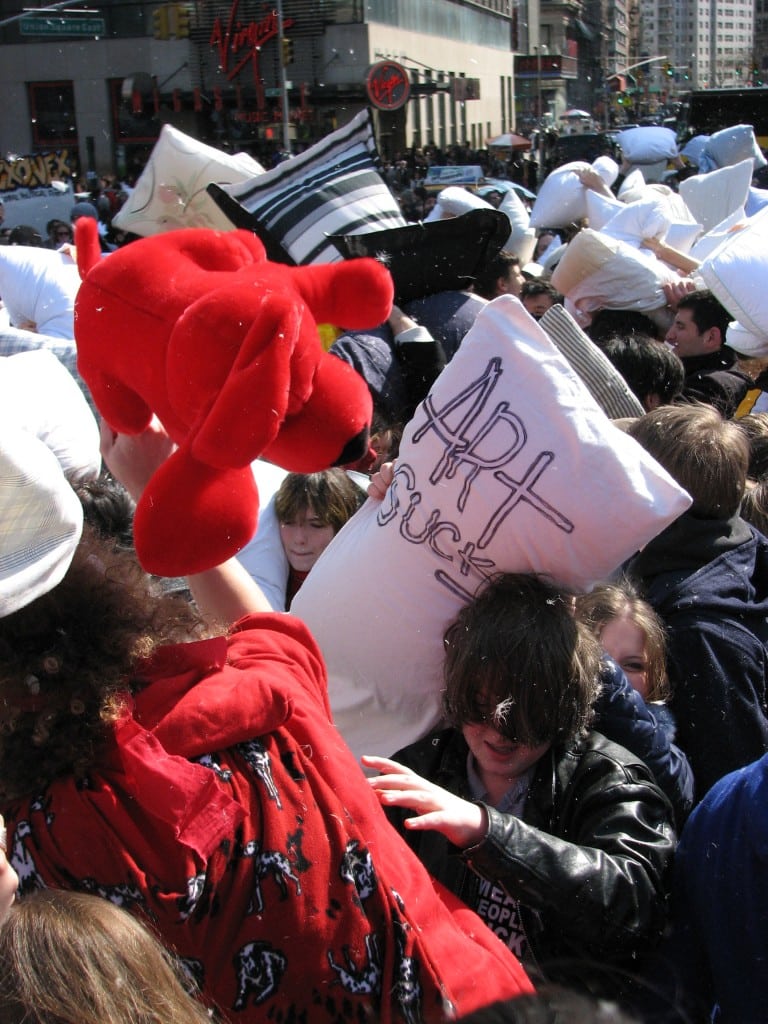 The guy wearing a shirt that reads "MEAN PEOPLE SUCK" getting clobbered by a pillow that says Art Sucks.
A pillow fight selfie 🙂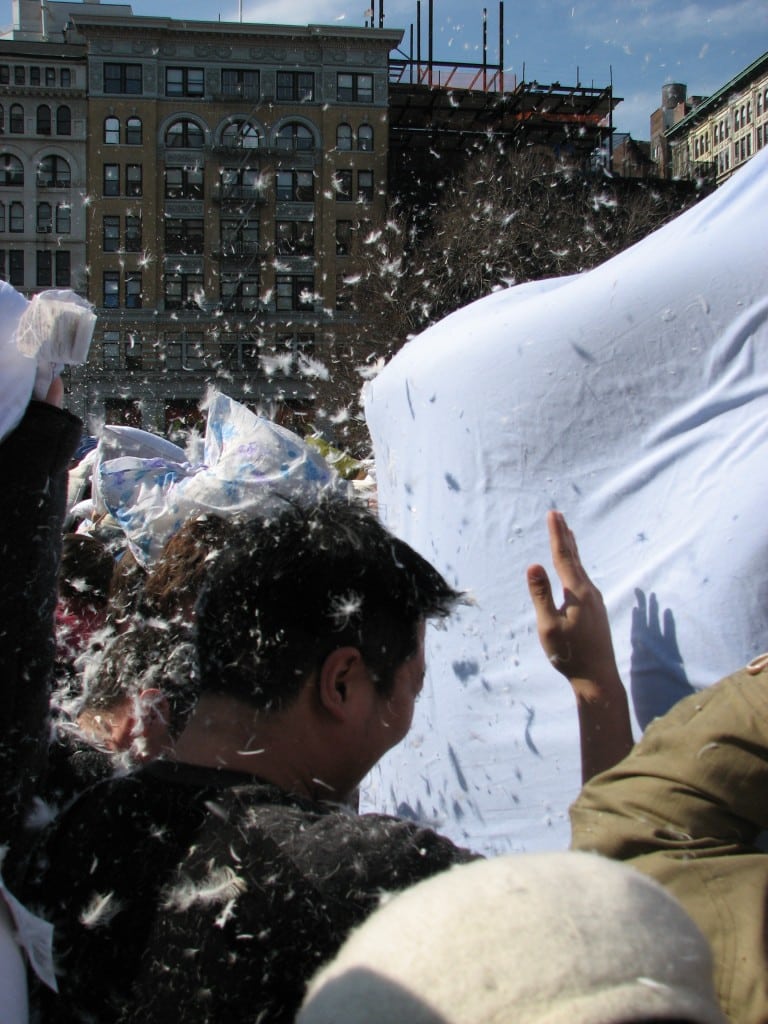 Someone brought a futon mattress to a pillow fight.
I hope you didn't need to use those lungs.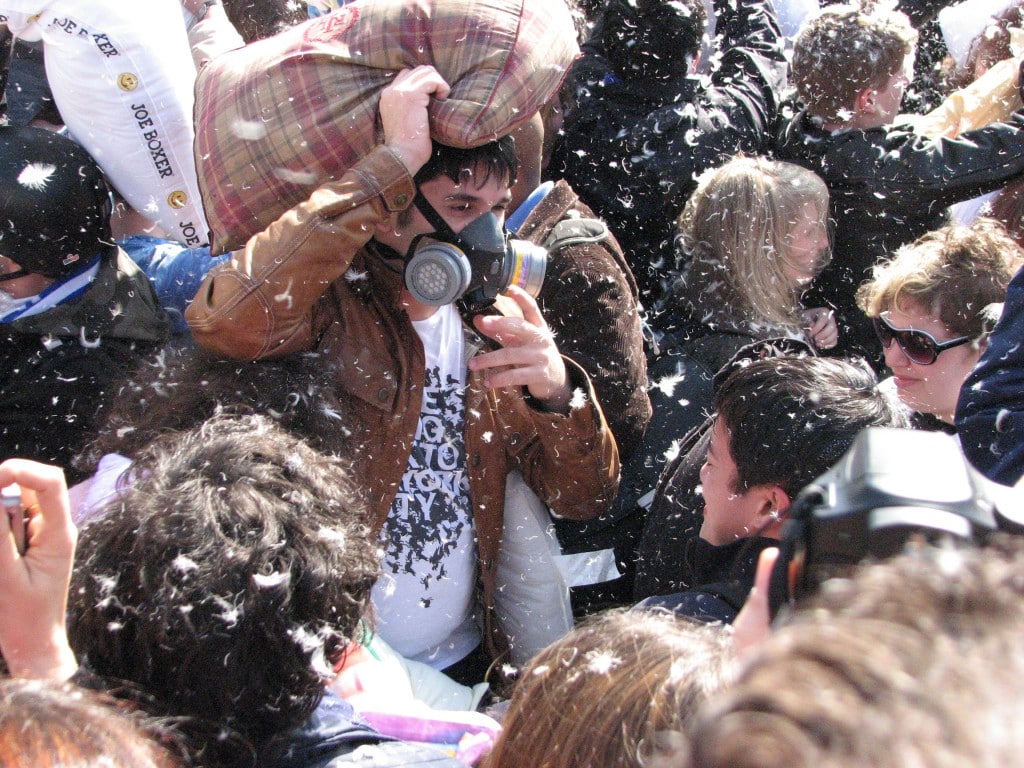 This guy thought ahead.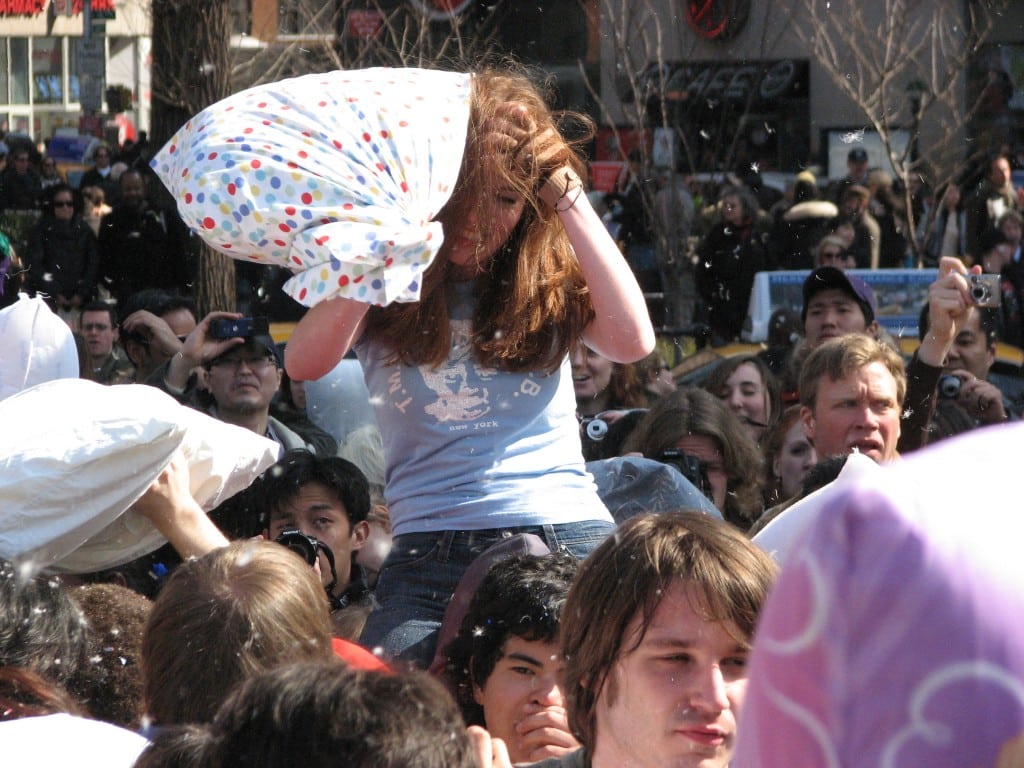 This ginger haired girl had a chicken fighting technique of pillow fighting.
Having the height advantage is good, but also makes you a good target.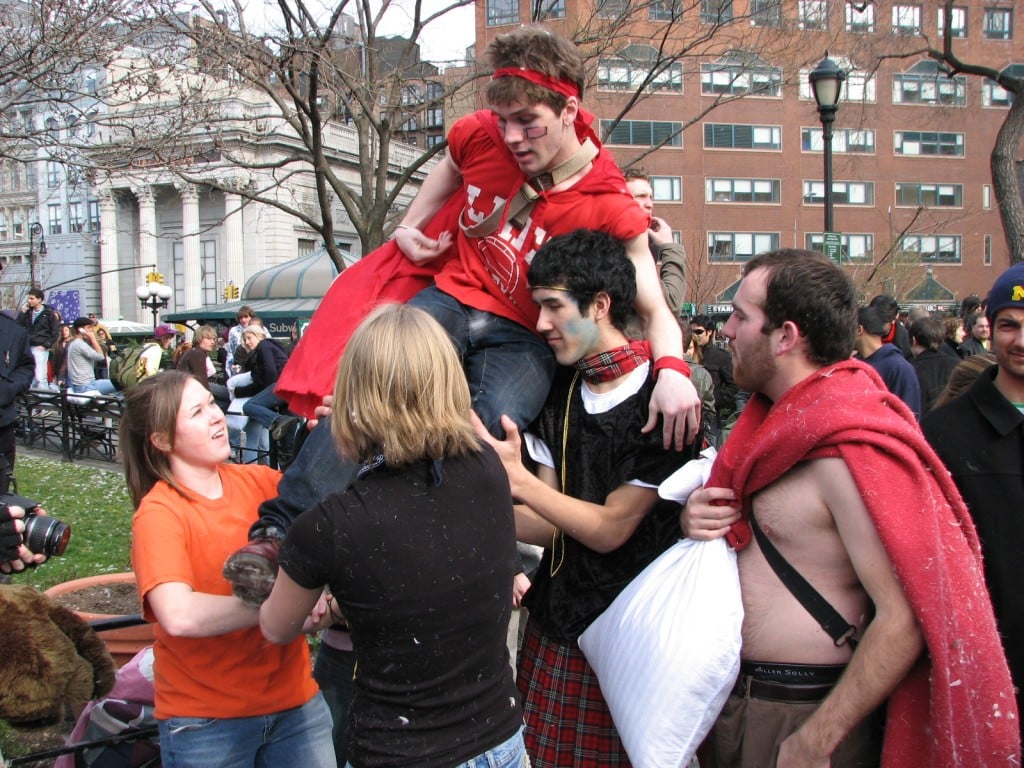 Guys can ride on shoulders as well, it just takes a little team to get them up there.
He soon becomes just another pillow in the crowd.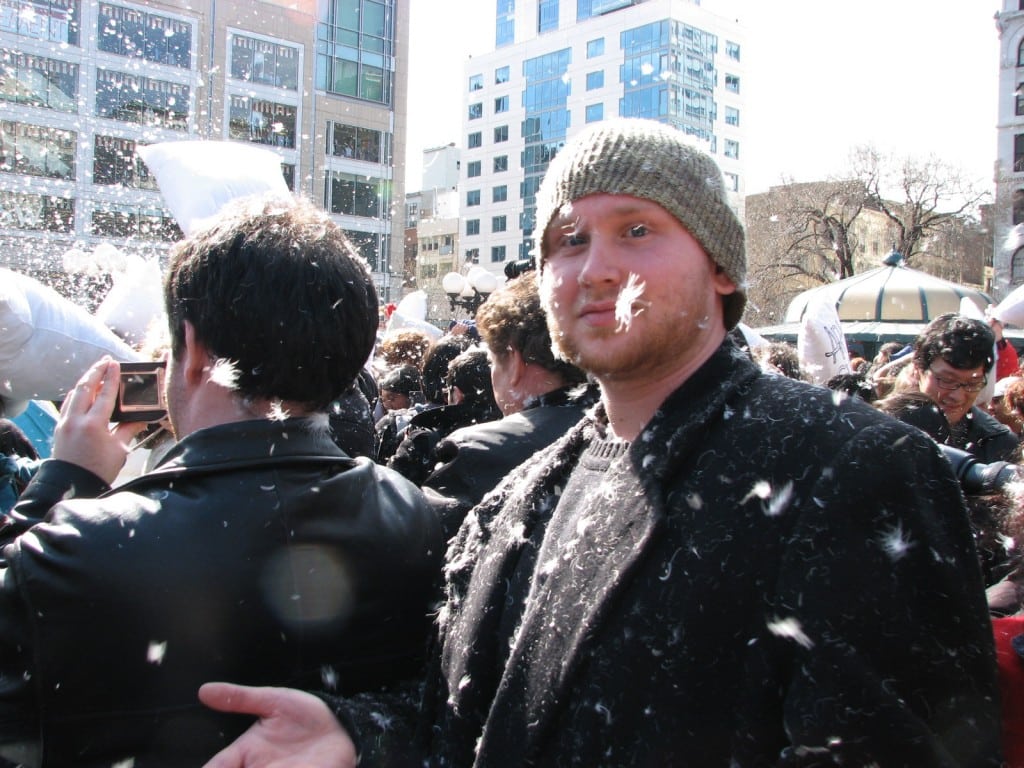 Best bet is to wear leather or at least something not wool or a material that feathers like to embed themselves into.  A lesson I learned that day.
As the fight winds down the park looks like a snow globe that has been freshly shaken, and the particles are starting to settle.  People are winded, and their arm muscles (muscles many of them aren't used to using) are completely spent.
Written and photographed by Cojo "Art Juggernaut"
Many thanks to Molly Roberson for taking a pillow beating to get these shots. International Pillow Fight Day was created as a flash mob art project by Newmindspace.