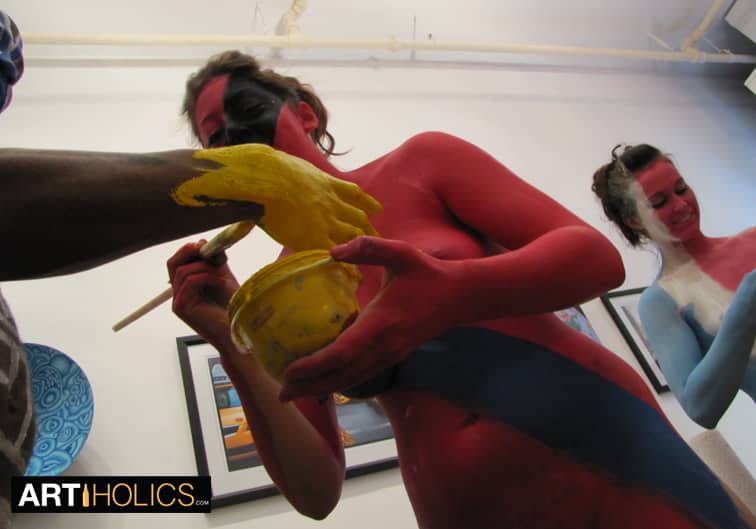 NEW YORK CITY, NY – Wednesday, July 31, 2013
Artist Andy Golub, whom I teamed up with for my Art Sucks 10th Anniversary Party, is breaking boundaries, and pushing the floodgates open once again as far as the legality of performance art and public nudity in New York City.  Today is the two year anniversary of his arrest in Times Square for painting fully nude models (for  public lewdness).
Soon after he was cleared of charges he struck a deal with the judge that he could paint topless models in public during daylight hours, but they couldn't take off their bottoms until it was dark out.
After a long battle it's gotten even bettter, earlier this month he and the city have reached an unprecedented understanding that will allow him to work with fully nude models during daylight hours.
Good thing for Andy (as well as all other performance artists), there are a few unique little known exemptions when it comes to art and public theater in NYC.  Although smoking is illegal almost everywhere, there is an exemption for actors allowing them smoke on a stage if it's part of a performance… turns out full nudity is legal in New York if it's for a "a performance, exhibition, or show"
To attend, just show up.  It's a public spectacle.  Bring a camera and take pictures of fully nude models on the streets of NYC becoming works of art straight from Andy's imagination. According to Andy in an interview in DNA Info as sited in The Village Voice:
"I'm not just painting the body," Golub explained, "I'm also relating to the person and feeling their energy and vibe and feeding off of that. The art in many ways becomes interactive and collaborative, and doing it in public means we don't just share that process, but include the public."
What:        12 Models, Nude Bodypainting
When:        Wednesday, July 31, 4:00-7:00PM
Where:        53rd Street & Broadway, NYC
Contact:        For interview and photo opportunities, please contact Andy Golub at andygolubart@gmail.com or 845-480-3330
Written and Photographed by Cojo "Art Juggernaut"