NEW YORK CITY, NY – Monday, September 9, 2013
You might recognize Rick Genest better known as Zombie Boy (or Rico the Zombie) from the Lady Gaga Born This Way video.  Or maybe you've seen his fashion modeling work (he's the face of Jay Z's clothing line Rocawear in Europe- and the face of Dermablend Professional).
He also DJ's, is the front man for a punk band, a side show freak, and acts in music videos as well as alongside Keanu Reeves  as "Savage" in 47Ronin due out in December 2013.

Any way you slice it, if you've seen him, you can't forget him (at least your subconscious can't).  In a world of short attention spans, and first impressions, there is no mistaking this tattooed artist in a crowd.  He is in NYC for fashion week, modeling tonight with Eyewear Designer Stevie Boi for the fashion-show  "Leather" to be held at The Out Hotel 510 W 42nd Street at 7pm.

Followed by an After Party hosted by Dermablend Professional (the tattoo cover-up seen above), that you surely won't want to miss. Especially, since the underground fashion & music scene is already a buzz. Zombie Boy will be performing LIVE for the FIRST time ever & debuting his material from his upcoming EP due out November 2013 –  'Zombie Boy Vs The World' – at Webster Hall's Marlin Room – Doors 10pm – Stage time Midnight. RSVP is required for both events. zombieboyguestlist@gmail.com
One day before his band's big NYC debut I got a chance to ask him the requisite 10 questions to try to find out why corpse is the new black.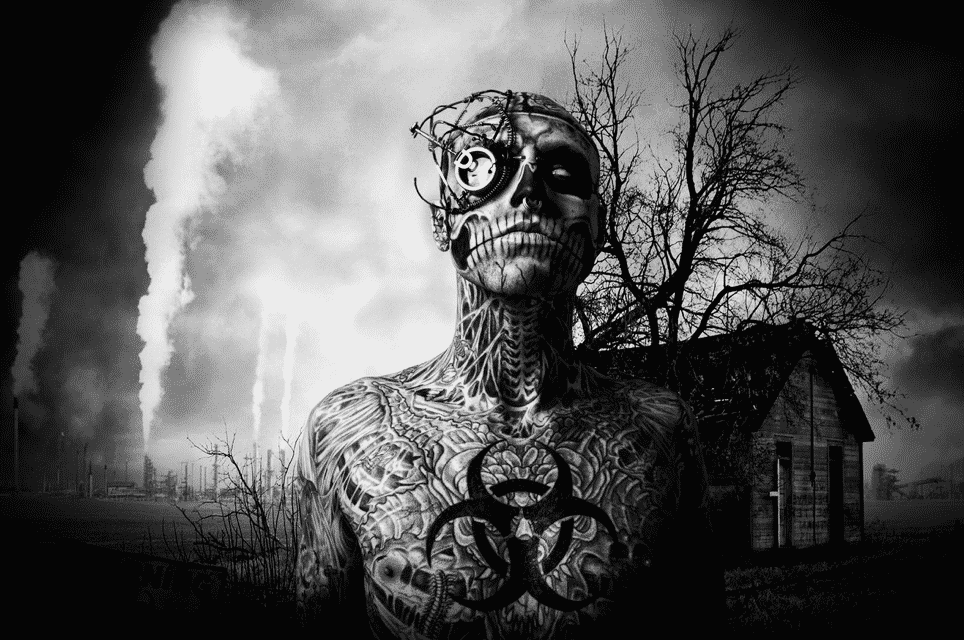 Artiholics: "What was your first tattoo?"
ZOMBIE BOY: "The Jolly Roger on my shoulder. The Jolly Roger is an old school symbol that represented anarchy. "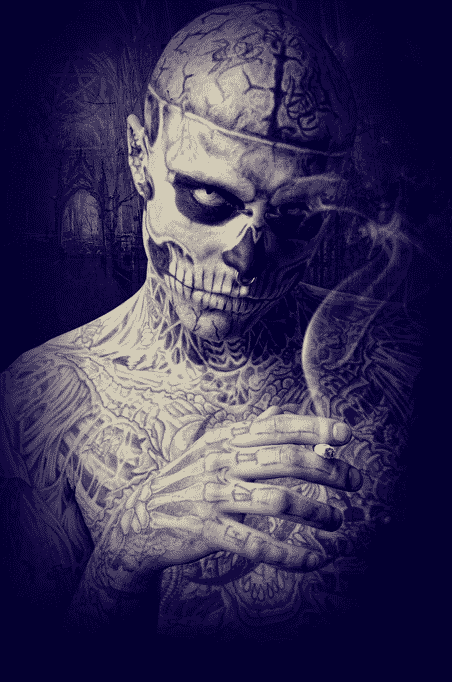 Artiholics: "Have you ever just bought flash off the wall?"
ZOMBIE BOY: "Yes, a cupcake on my ass."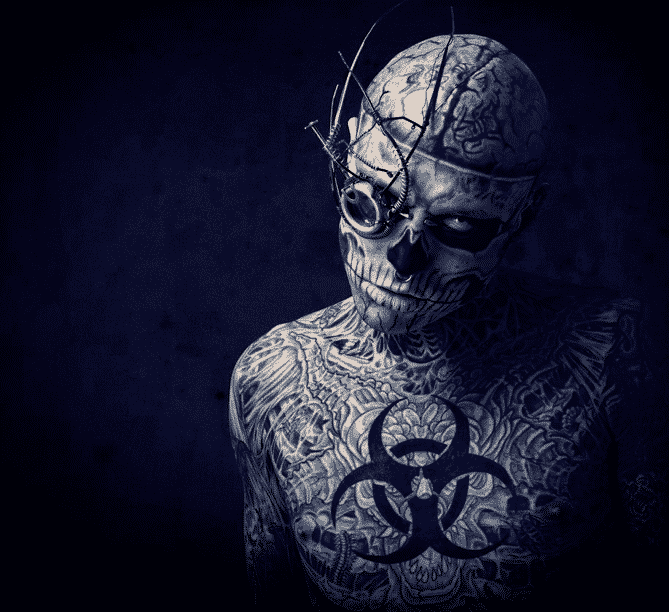 Artiholics: "Who designs your tats, and who actually needles them into your skin?"
ZOMBIE BOY: "My grandmother."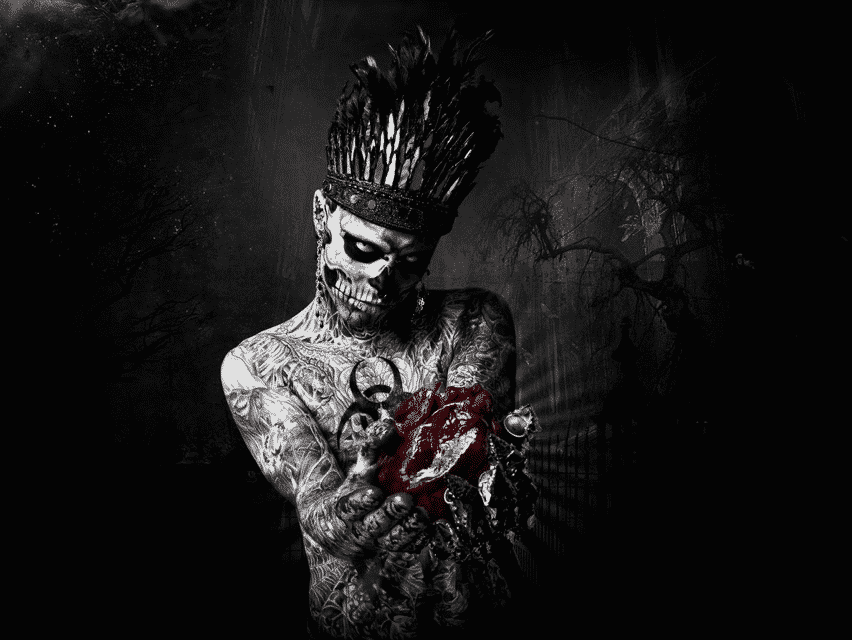 Artiholics: "In your modeling career, have there ever been any outfits your tats have clashed with?"
ZOMBIE BOY: "No, because all my ink is black and white and goes with everything. Except for the time I had to wear the red dress. It wasn't the designers fault though… Or mine. "
Artiholics: "Do you ever find your own body artwork competes with the artwork on the clothes you wear?"
ZOMBIE BOY: "I feel the clothes I model complement my tattoos and vice versa."

Artiholics: "How did you get involved with Gaga?"
ZOMBIE BOY: "I was modeling for Nicola Formichetti the designer of Muglar who is Gaga's designer and we had previously worked together in fashion."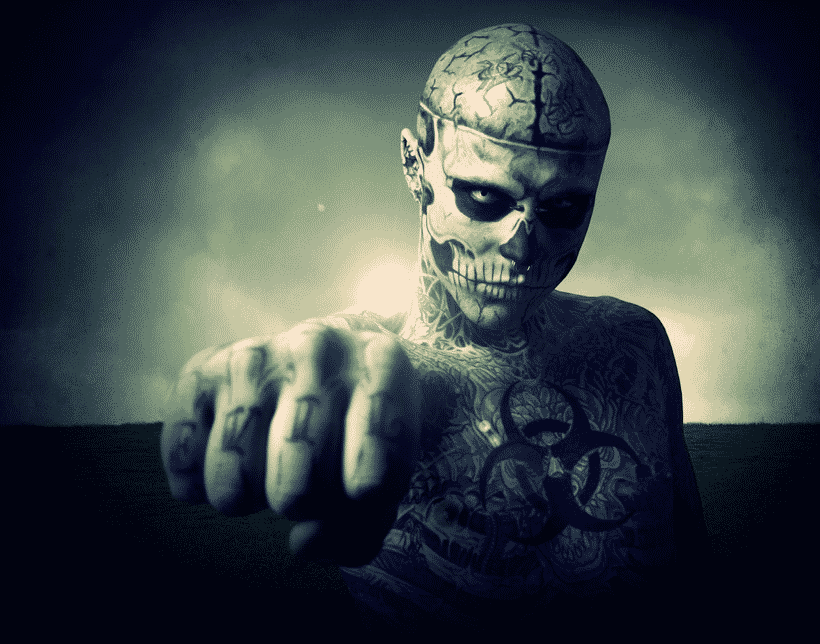 Artiholics: "What's the weirdest reaction you've ever got from a stranger"
ZOMBIE BOY: "Airport security or a bus driver? lt's hard to narrow it down. I once held a door for a little old lady and she went all the way to the other set of doors to avoid me. "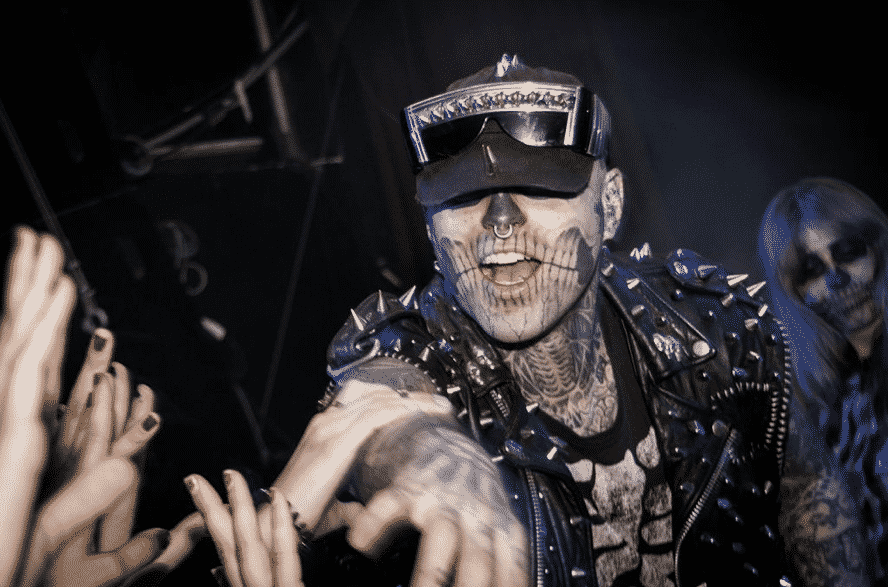 Artiholics: "What was the first artwork you were proud of?"
ZOMBIE BOY: " I did some pretty bad ass finger paintings when I was a kid. And some wicked Lego creations."
Artiholics: "Do you consider your facade a work of performance art, a living sculpture, or a life long installation?"
ZOMBIE BOY: "Facade? (laughs) I'm a living piece of something. Or am I?"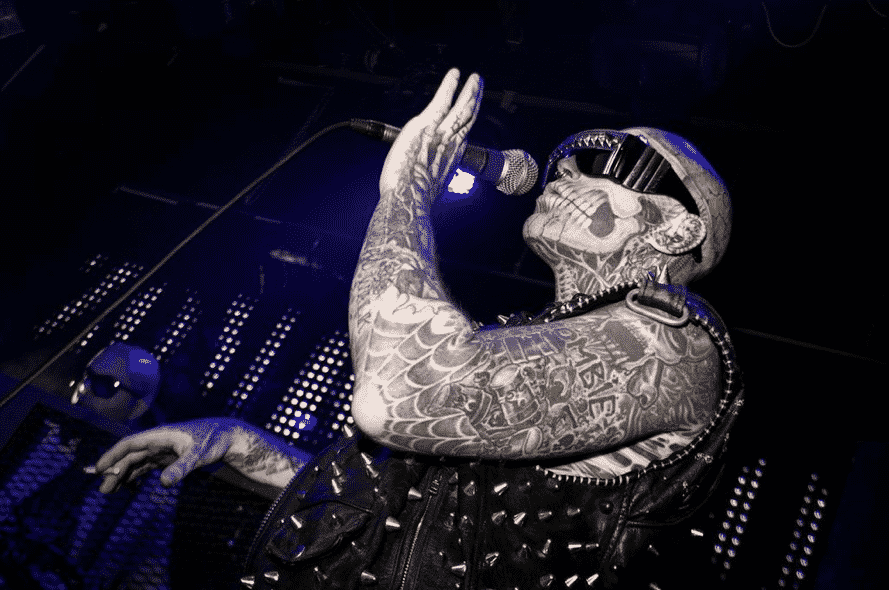 Artiholics: "Now that you have covered your entire canvas, what is your next masterpiece?"
ZOMBIE BOY: " My band, Zombie Boy vs. the World is the main focus of my facade but I'm also working on getting my laundry done."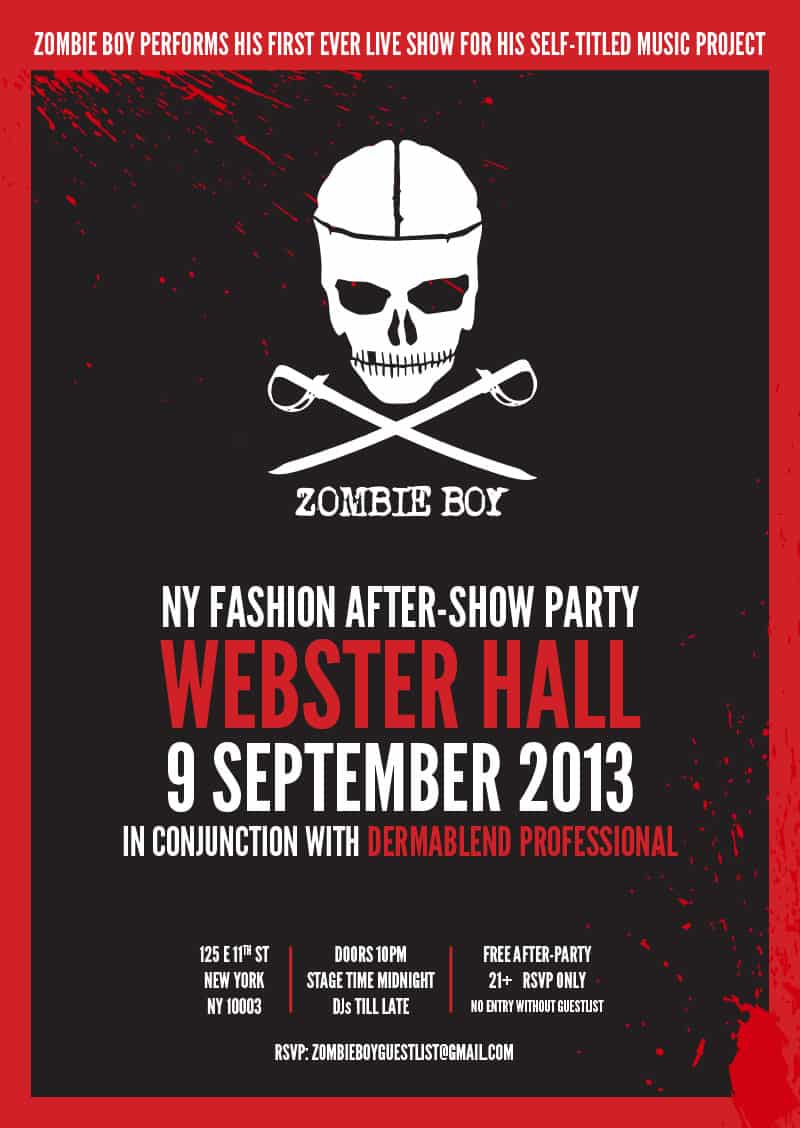 Interview by Cojo "Art Juggernaut"