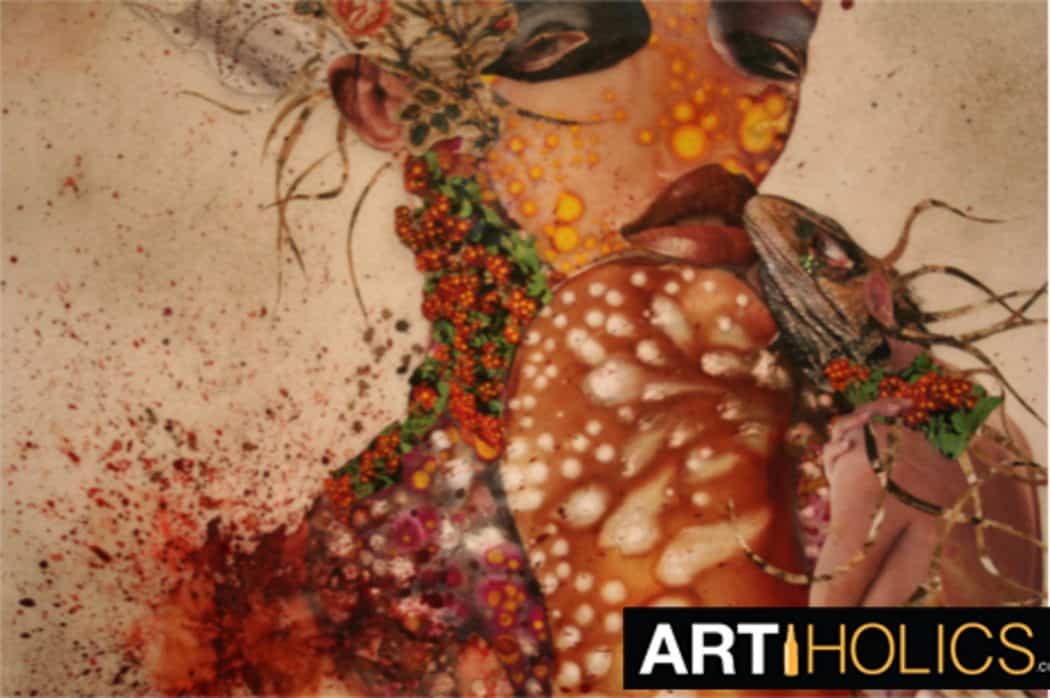 Wangechi Mutu: A Fantastic Journey – October 11, 2013–March 9, 2014 – At the Brooklyn Museum
Wangechi Mutu's new show, A Fantastic Journey, is currently up, and it is beyond a feast for the eyes. One could search her name, and find a plethora of digital photographs of her collages, but to say you've really seen Mutu's work, you need to see it in person. The saturation and dissipation of paint, with all the intricate combinations of pasted photographs, is hard to completely see on a computer screen.
For those who are not familiar with her collage work, she renders the black female form with application of intensely innovative surface quality techniques, all along challenging those who use the term "exotic" to categorize a black woman. Perhaps the title, "A Fantastic Journey" comes from the visual voyage the viewer takes as they stumble across the hidden creatures, and varied patterns lying within a figure that has so many colors, that it brings a new meaning to the word, "colored woman."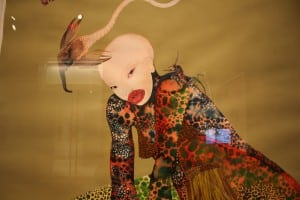 She demonstrates a mastery of balance between ambience and rich, detailed content. The hidden treasures found within her work range from decontextualized elements of animal heads and limbs cut out from magazines, combined with violent red splatter reminiscent of blood massacres, to pornographic images, and machinery parts, all of which compose most often in her works, a slender female warrior.
Viewing these images from a fine artist perspective, she nails all they needs to make visually pleasing and evocative imagery within her collages. Nothing less than extraordinary intuitive placement, each pattern synergistically flows from one to the next. If an art student is running short of what mark to make next, it is urgent to see this show, because Mutu knows how to experiment with color and juxtaposition.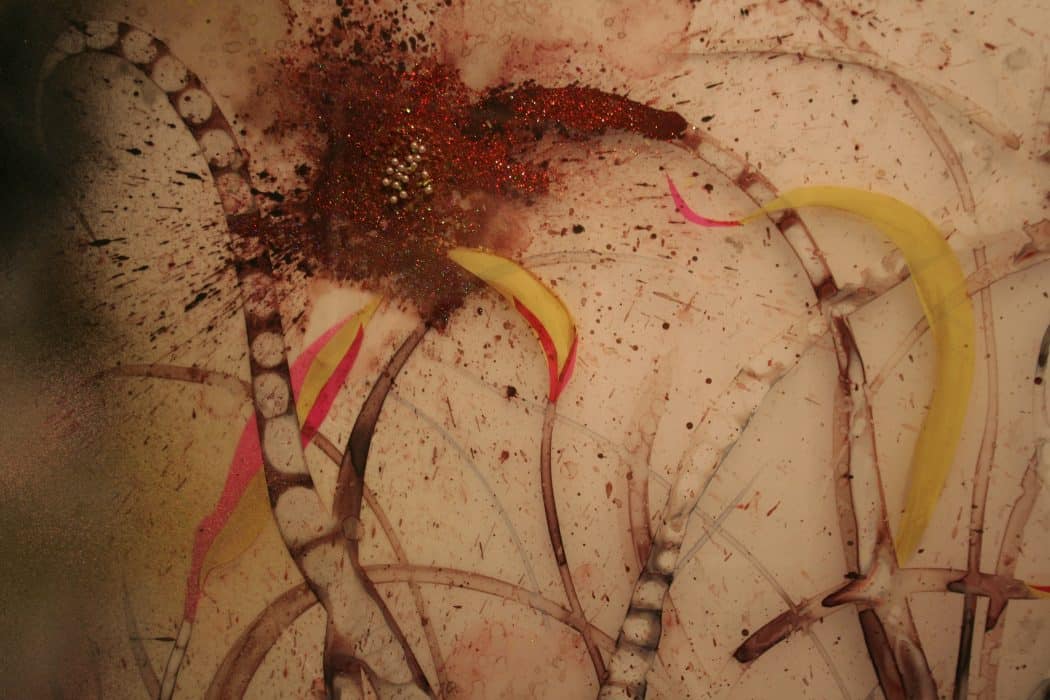 When and if you see Wangechi Mutu's show at the Brooklyn Museum, on the fourth floor, I strongly suggest you actually appreciate it, and pause at each collage, considering the painstaking details, the sophisticated color choices, and those suggestions of gender, war, race, colonialism, global consumption, and science-fiction. Don't breeze past them, because you will regret not being attentive to the wide range of visual language she has developed at and since her education at Cooper Union and Yale. Each of her collages has its own unique hook to allure the viewer into its clusters of warm polka dots, and black mold ornamentations curving to the contours of the figure, or the figure's bulbous lips and wide nose.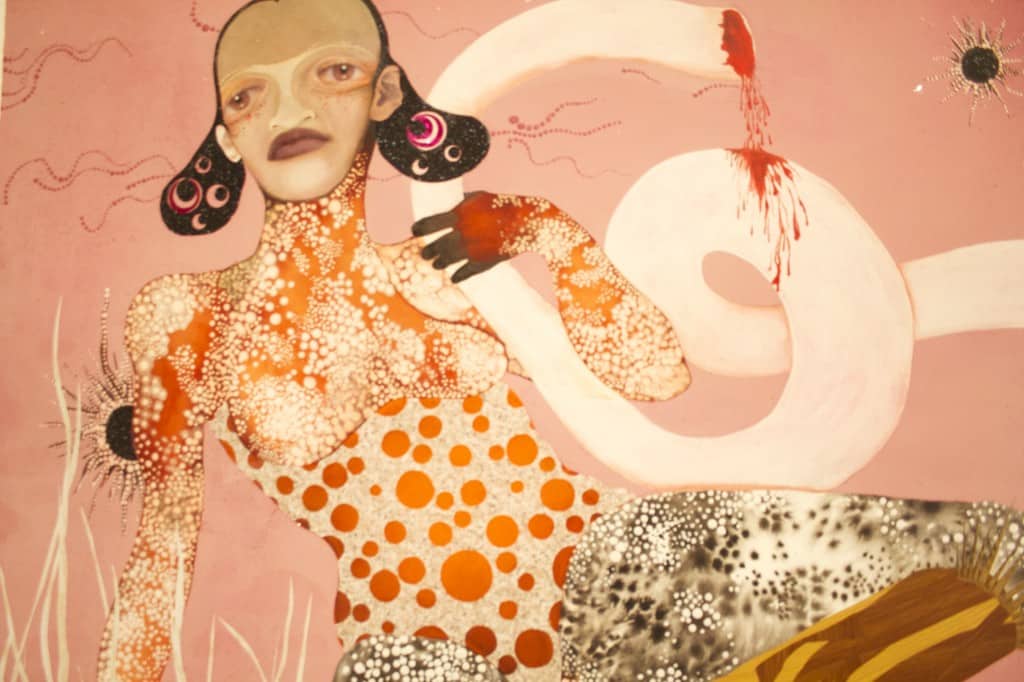 Her collages were her strongest work. Mutu is known for her collages, but this show was also an opportunity for her to demonstrate her strength in video installation, and sculpture. Her video work touches upon how "wild" and "untamed" her black female characters are, as one of her videos displays the artist, herself, eating cake without utensils in a fancy white dress, in some outdoors environment. Her other video, which immerses you within its cinema-like presence, displays a woman with a giant attachment of mechanized, industrial forms, oozing, smoking, eating bats. Her video work recalls the attention to detail and conglomeration of content that her collage work does, but it also moves on-screen.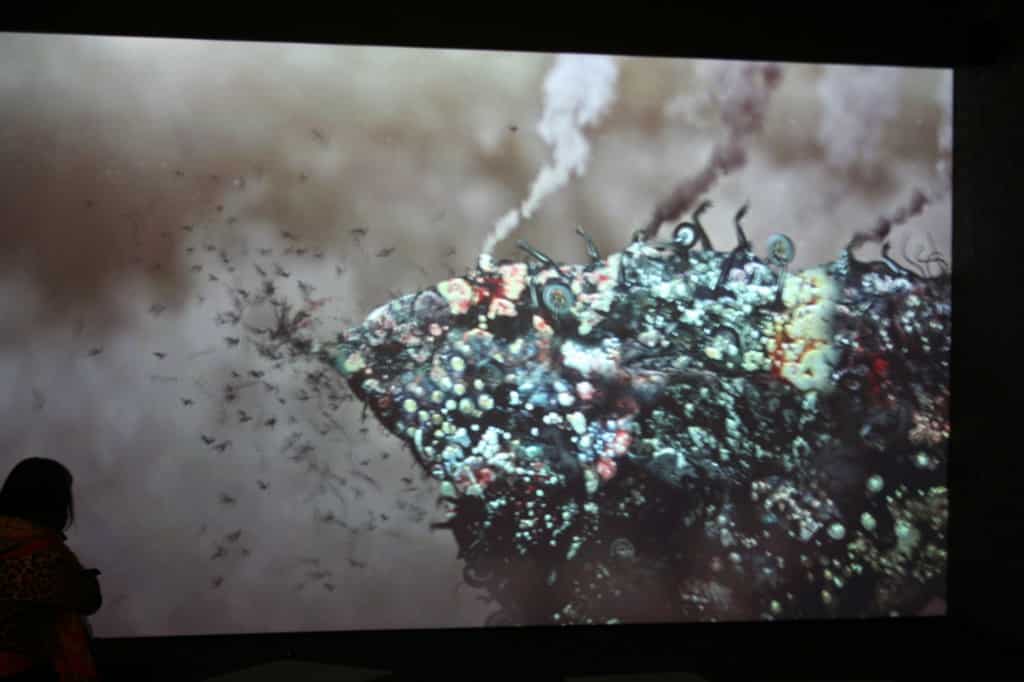 She also installed trees made of multi-colored carpet throughout the exhibition space, and in another room (photo not included), she hung black plastic bags in tied hemp string from the ceiling. Her sculptures omitted the knowledge of color, tonality, and heavy-subject-matter-infused photographs. Her sculptures are simple, exploring the wrinkles the materials make. Her sculptures didn't exploit the colors that people often associate with exotic fruits and flowers, but rather stuck with browns, grays, and earthy hues.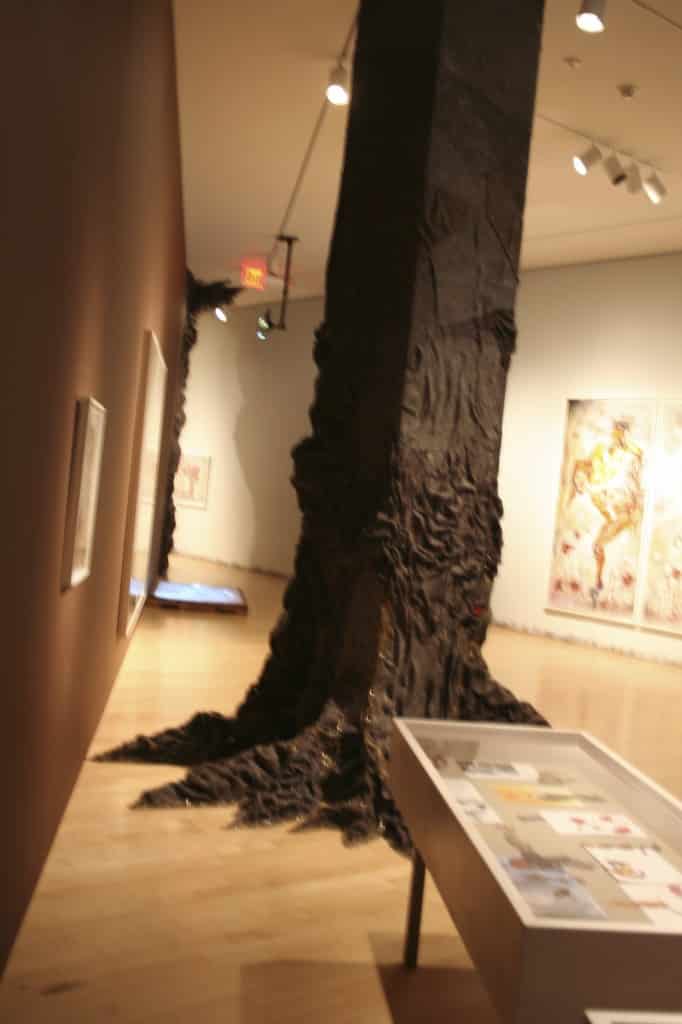 Wangechi demonstrates her vast imagination, and attention to detail so vividly in her fiery, colorful collages, I was hoping to literally walk into one of her worlds, being able to touch the different textured forms, smell the body odor of one of her figures, or hell, even eat some exotic fruit off the branches of her installed trees. Her installations are shadowed by her collage work. Mutu seems to work liberally, without restraint in her collages, and she challenged herself with her sculptures. My hopes were not let down by seeing this show, but I wonder if in the future, her installation and immersive sculptural work will truly compete with the seductive nature of her collages and 2 dimensional work. She is certainly in her element on flat surfaces, but it seems apparent that she could further push her installation work.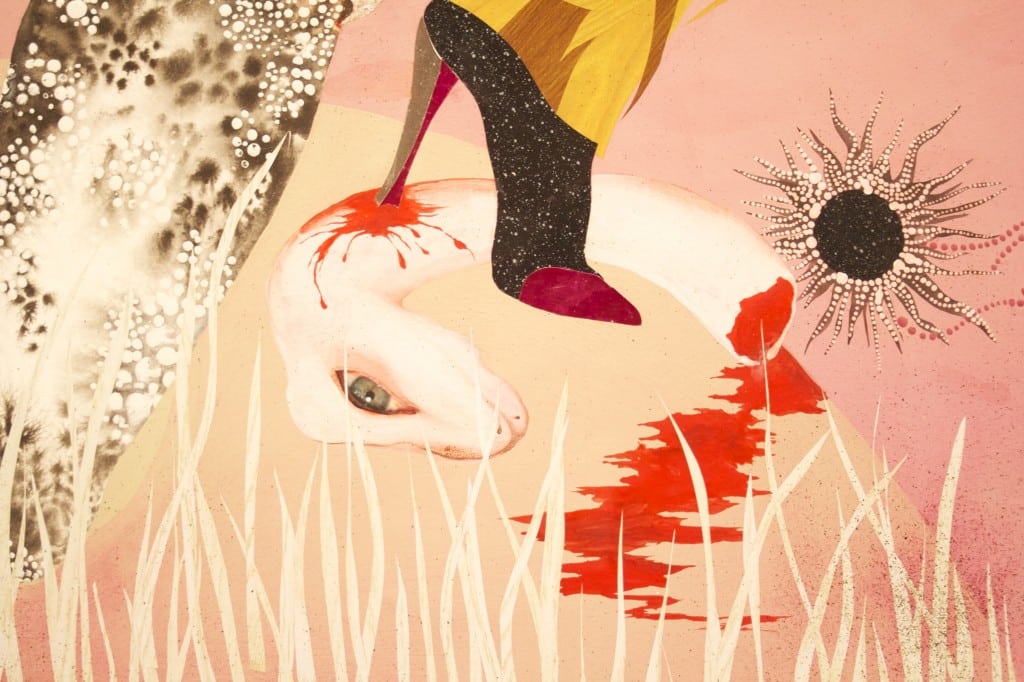 I have no doubt that this artist will continue to grow, and share her incredible gift with the world, especially through her 2-d work, but I'm still waiting for her sculptural work to grab me like her collages do.
Written and photographed by Andrew Kaminski
Error: Contact form not found.