Calling all MHA CCG fans, the time has come to test your mettle in a showdown like no other. With the latest My Hero Academia CCG expansion, Jet Burn, hitting the scene, the excitement is off the charts.
But the real question is, are you ready to dive into the world of MHA CCG with everything you've got?
Welcome to RumbleRama MHA Matches, where the My Hero Academia community comes together for epic battles, and it's your time to shine!
Jet Burn: A New Beginning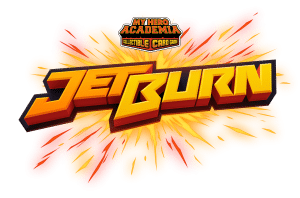 The Jet Burn expansion has created quite a buzz among My Hero Academia fans. It's more than just a set of cards; it's a journey into the heart of the MHA universe.
As you delve into the booster packs, you'll be introduced to a world of strategy, power, and endless possibilities.
Each card is a piece of the MHA puzzle, and it's up to you to build your deck and unleash your heroic spirit. UVS games has gone all in to revamp the MHA CCG, you can read about all the changes here – UVS Games: A New Era for Universus Collectible Card Game
The Hype Surrounding Jet Burn
What's all the fuss about Jet Burn, you ask? Well, the hype is real, my friends. With over 150 new cards, this expansion has something for every type of player.
From newcomers to seasoned pros, Jet Burn offers a fresh start and a chance to explore the ever-expanding My Hero Academia universe.
The excitement is palpable as fans can't wait to get their hands on these cards, and there's no better way to put them to the test than through the RumbleRama MHA Matches.
The Ultimate Showdown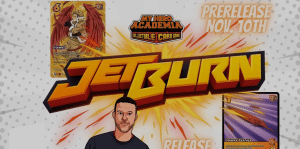 Now, let's talk about the main event – RumbleRama MHA Matches! If you're itching to demonstrate your strategic prowess, compete with fellow fans, and have a blast while you're at it, these tournaments are your golden ticket. Here's everything you need to know:
Tournament Rules: First things first, you've got to play by the rules, right? You can find all the tournament rules on the RumbleRama MHA Matches Discord server in the "MHA CCG" section under the "tournament-rules thread."
Registration and Entry: To secure your spot in these epic battles, you need to register. The entry fee is just $10, which not only grants you entry but also includes 2 Plus Ultra Packs and 1 Booster Pack. You can purchase your entry via the provided links in the official announcement.
Upcoming Tournament Dates: We've got a thrilling lineup of events for you, taking place in October and November. From sealed events to pre-release parties, there's something for everyone. Simply click on the provided links to register for the tournaments that suit your schedule.
Monthly Giveaway: But wait, there's more! Get ready for some extra excitement with the FREEMHA.com Monthly Giveaway. Who doesn't love free goodies?
In a nutshell, RumbleRama MHA Matches are your chance to become a part of the My Hero Academia universe and battle it out with fellow fans. So, gather your deck, prepare your strategies, and show the world what you're made of.
Link To Discord – Discord.GG/ExperienceRick
Link to purchase entry $10 (Includes 2 Plus Ultra Packs + 1 Booster Pack) – link 1 or link 2
Monthly Giveaway – FreeMHA.com
Get more info here – mharumble.com
Recommended – My Hero Academia Jet Burn Booster Box: Your Gateway to Heroes and Villains